The real estate sector is now witnessing growing interest from buyers after almost a decade of slow growth after the 2008 recession. From India to the United States to Germany, home and commercial property buyers are willing to invest more in real estate. Improved financial positioning of respective economies, flexible and convenient banking options and several other factors are responsible for the increased interest.  However, the real estate sector is also prone to one of the highest rate of fraudulent practices today. Very often we hear about real estate scams such as selling a property to multiple buyers by creating fake documents and signatures. How do you solve this problem of fake deals? We believe the solution lies with Blockchain. A blockchain based application to record every real estate record will bring transparency and traceability for the all deals. Let's see how to use blockchain in real estate for preventing fraudulent transactions.
So how exactly does blockchain technology solve the problem of fraudulent practices in the real estate sector?
On a broader perspective, blockchain can establish a decentralized public ledger that can be utilized by real estate authorities to create a property database. This ledger would serve as a public land registry with detailed information about property rights, the number of people who have historically owned the rights, transactional data related to prize and measurements and much more.  Besides moving away from a centralized database based control and compliance system 3 major benefits that blockchain powered real estate validation system offers are:
Added levels of security: Blockchains are one of the most secure transactional frameworks ever developed in the history of technology innovations. With public accountability, the framework is nearly tamper-proof for fraudulent actions.
Auditability: Because blockchain creates a permanent registry system for land databases, it is more favorable for auditing authorities, since information is guaranteed to be authentic over any period of time and all changes made are easily available in the public log.
Transparency: A blockchain entry once recorded is permanently recorded unless all members of the network unanimously agree to change the entry. In either case, blockchain is always transparent in their operations with all members being aware of what happens in the network and no single entity can claim ownership of the entire network's capability.
These 3 key factors would ensure that a blockchain land registry would be less vulnerable to misuse by system administrators and record destruction as a result of natural or man-made disasters.
Practical applications for blockchain in land administration include:  
Time stamping of transactions

Utilizing blockchain applications to manage registry details.

Disaster recovery

Immutable ledger of historical transactions.
How do real estate transactions happen at present?
When a buyer seeks to buy a property, they must find and secure the title and have the lawful owner sign it over. For a large number of residential mortgage holders, flawed paperwork, forged signatures, and defects in foreclosure and mortgage documents have marred proper documentation of property ownership.
In-comes Blockchain in real estate registries
Real estate registry blockchain framework endeavor to fix these problems by making the property title as a parameter attributed to a token – which can incorporate public registry details such as size, GPS coordinates, construction or purchase year, etc. Exchange of token can be tracked every time it changes through a series of buyer's or brokerage firms. When the property is finally sold, the transaction output of the previous owner is recorded and stored. In the meantime, a transaction output of the new owner is created. In this situation, if someone needs to identify an owner of a property, they can simply go through the transaction history – beginning from the initial transaction and completing at the open transaction output. Also, the present owner is able to verify ownership by "signing a message" with their private key associated with that address on the blockchain.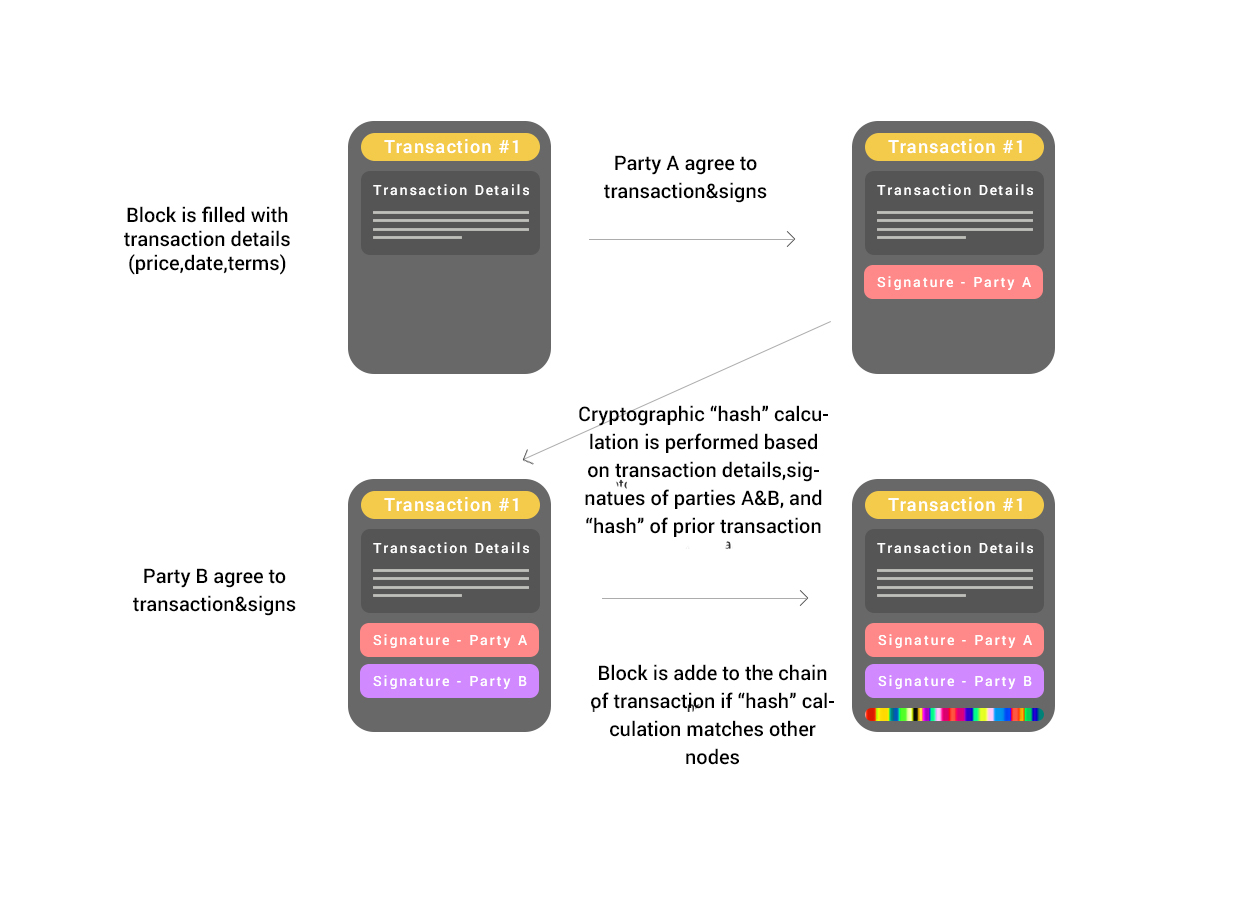 The critical take away here is, this instrument provides an easy, secure way to register and transfer a property. To empower the complete cycle of digital real estate transactions, verifiable digital signatures of a land administrator, as well as signatures of buyers or sellers are used for transfer and sale of a property. This entire cycle can be successfully managed by a blockchain based registry. Blockchains thus can become an integral part of land registration dealings and can create a transparent real estate regulatory and compliance framework. Every year globally, this can result in savings worth billions of dollars, thus integration of blockchain in real estate services are here to further the growth of this industry  in future
If you would like to find out how Blockchain can create a real estate management network that is secure, transparent and devoid of fraudulent practices, then get in touch with us today. Our consultants will walk you through detailed demonstrations on how Blockchain can become the game changer in the real estate sector.
Didn't get what you are looking for ?
Get in touch with our expert Blockchain consultants today to know more.
Get Advice