Trust is perhaps the most critical component in any business or a transaction between two people. For instance, if you are purchasing a commodity online, or creating an account in a social media account, you are submitting a lot of personal data to someone. The factor of trust established in such a system is not backed by any assurance. The fallbacks of such a system are evident in mishaps such as the Equifax hack. A hacker gaining access to a major database exposes all the personal information of users. We have an identity management system that each one of us is using today. However, the current online identity management systems are far from being sustainable. Digital identity is the key enabler for billions of users to transact in the digital world.
Management of digital identity has always been a concern area for enterprises and government bodies.  According to Javelin Strategy, the number of identity theft victims in the US rose to 16.7 million in 2017. The cost of all of that lost data amounts to over nearly $17 billion. Traditional identity management systems are expensive, disjointed and offered considerable hindrance to innovations that enterprises experiment from time to time to improve customer experiences.  Customers are forced to supply personal data repeatedly at multiple business and government entities and they have limited control over the utilization of this data. There is a rising demand for using a technology that supports transparent identity management. The blockchain is the forerunner today in terms of competitors for the honors.
Blockchain technology offers a model of distributed trust to manage digital identity. It enables consumers to have absolute control over their identity and transparently delegate consent to institutions that request information access. No single entity can cause an identity fraud in a blockchain centric identity management system.
Looking to get your business ecosystem blockchain ready?
Get in touch with us today
Contact Us
How does identity management in Blockchain works?
By using blockchain technology, we can achieve Self-sovereign identity. Self-sovereign identity is the concept of storing identity data on personal devices and offering permission controlled access efficiently to agents that request identity validation for any service. It eliminates the need for a centralized data repository for storing identity information.
Let us look at how the concept of identity management in Blockchain (IIB) works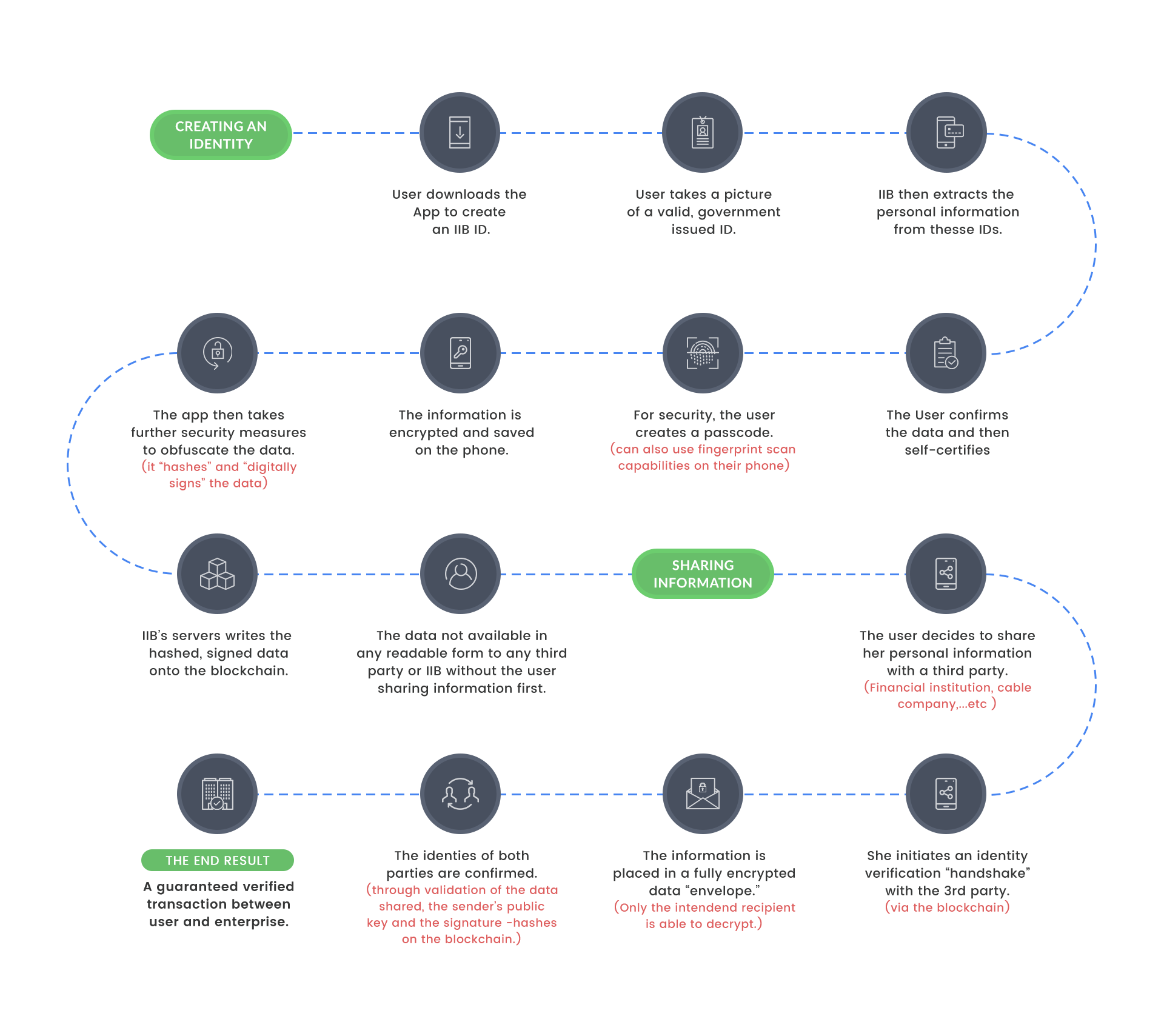 The user submits required details like their personal details, any supporting documents and legal collateral, attestations, proof of authenticity or any relevant information. This information would then be subjected to algorithmic processing to generate a unique identification number that is cryptographically hashed to ensure protection from unauthorized access. Once the number is generated, the information submitted initially would be erased from the system and only the hashed and signed identification number would be recorded on the blockchain. The user gets the number on their personal device for any future use. They have options to create a password-protected access for the number on their device. The users can self-certify their identity or use any other third party applications to validate any request.  
The applications which require the identity of a user can make a request for the same on blockchain based identity management systems. The blockchain based systems would be devised to easily integrate with such identity requesting applications. The user will submit the identity upon request from the blockchain system.  Both parties have to agree to share the data as well as they have to confirm their identity. Thus the decentralized system can be utilized to manage identity. Thus we can achieve self-sovereign using Blockchain technology.
This method has advantages for Consumers, Enterprises as well as Regulatory and Government bodies.
For consumer
Better experience while accessing services

Increased privacy

Stronger personal data control
For Enterprises
Faster and better consumer onboarding experience

Lowered risk of data breaches

Significantly improved compliance assurance and monitoring
For regulators
Enable better standardization of processes

Easier and efficient auditing

Stringent compliance control and data quality assurance
The next generation of business and citizen information management systems will rely on blockchain-based applications for transactions in the future.
[Tweet "Today I learned: The current online Identity Management Systems that we all use today are far away from being sustainable. But, blockchain technology proposes a solution for this by establishing a self-sovereign identity."]