As a team, we always had a purpose – to leverage technology to empower 7 billion creative minds. It is our very Big, Hairy, Audacious Goal. This is the singular vision that drove us at Accubits.
In 2012, when the company was established, the team was comprised of just the founders. They had internalized the vision and they knew exactly how they could get there. It didn't need to be written out. However, as more people started to join the team at Accubits, that message became blurry. We had qualified and talented individuals who could definitely help us achieve our vision. But they had their way of doing things. We needed to work as a unit and as such, we realized that it was time we develop what is now known as the Accubits Culture Code.
So, what's the Accubits Culture Code?
It is basically a codified essence of our workplace culture. Our purpose, our "Why" was clear to all. But our "How", also known as, our core value system needed explaining. If we expected every newcomer to be effective and productive from day one, we had to be clear about how things worked at Accubits and how we made decisions.
Our values tell us how we spend our time; what to do and what not to do. These values had to be worded in a way that spoke to everyone and easily recalled. But most importantly, they had to be an action statement because core values without action are mere platitudes. But we didn't stop there. We thought about what behaviors would be associated with these values. Probably not necessary but details matter. We were making our expectations very clear.
So after weeks of brainstorming and an ungodly amount of coffee, we successfully defined our value system.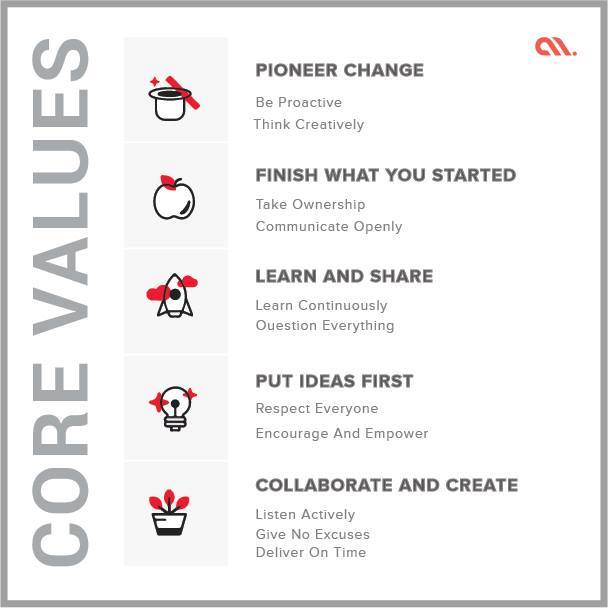 Living these values every day is how we slowly work towards achieving our very bold vision of a world empowered to be as creative as they want to be.
For you to better understand how these core values and how they guide us, let me run you through them one by one.
Pioneer Change
Our first value, 'Pioneer Change', is about adapting to change and leading the revolution. This means we:
Be proactive and

Think creatively.
The IT industry is possibly the most dynamic. What is "in" today will be "out" tomorrow. It's up to us to ensure that we foresee these changes, and adapt to it without shying away.
Put Ideas First
The next value, 'Put Ideas First', is related to the first one. Ideas drive humanity towards greatness. We cannot lead change if we keep putting superficial things like a person's qualifications, age, gender, colour or race. This means we:
Respect everyone.

Encourage and empower.
We all have ideas but we are, at times, hesitant to share those. We worry about what people will think of the idea, we worry about ridicule and so on. At Accubits, we strive to create an environment where people can feel free to be themselves.
Learn and Share
Our next core value, 'Learn and Share', is about being constantly ready for any and all challenges. It's also about ensuring that the community around you is ready as well. This means we:
Learn continuously.

Question everything.
We learn new things using the knowledge bank created by those who came before us. As such, it is our duty to ensure that we contribute back to that bank for everyone who will come after us.
Finish What You Started
We don't start anything we don't intend to finish, and if we decide to start something, we finish it. This means we:
Take ownership.

Communicate openly.
Whenever we decide to work on a project, we make a conscious choice to do so. Which means it is our responsibility to ensure that it is handled to the best of our abilities. But no one is alone when facing challenges; they are backed by a whole team of experts who are ready for anything at the drop of a hat.  
Collaborate and Create
Finally, with this core value, 'Collaborate and Create', we put all our focus on customer service and ensuring that these customers, be it our employees or clients, are entirely satisfied by the experience we have to offer them.  This means we:
Listen actively

Give no excuses

Deliver on time
We are nothing without our employees and clients. If they are satisfied, we live to fight another day. It is our duty to understand what they want and deliver accordingly.
Accubits was about five years old when we codified our workplace culture. By then, we already had about 50 people in our team, and it was a challenge to get everyone on board. But we could now very clearly convey our expectations to everyone. We could be clear about what behavior will be rewarded and encouraged. We even restructured our employee reviews to assess how well employees were aligned to the values.