Live sporting experience from a smart stadium is always mesmerizing. The cheer of the people to the flashing blue and white jerseys of your favorite sports team is a thrilling experience of a lifetime. But the spread of coronavirus pandemic across the world has left a devastating impact in its wake. Unsurprisingly, the sports industry has not been spared and many sporting events have been canceled or postponed. The disruption caused by the pandemic has encouraged many to reinvent the sporting experience for fans. At this juncture, most sporting events are being streamed live for viewers to watch. As a result, stadium attendance has stagnated or decreased greatly. In order to combat this, it is important to elevate fan experience while following COVID-19 precautions. 
Stadiums are shrinking because of lower attendance and millennials' viewing habits. The traditional stadium operations models are not adequate to meet this challenge.
The drop in fan attendance is a result of improved home viewing options and at the same time, the monetary cost and time commitment of stadium attendance remains high.
In 1998, 54% of sports fans said that they would rather be at a game than in their living room, but by 2011 that number dropped to 29%. And the pandemic of 2020 has worsened the situation for stadiums.
Stadiums need to create an in-stadium experience that is more rewarding than what a fan receives on their couch. To ensure business continuity, stadiums need to find opportunities to enhance operational efficiency.
Many organizations have started realizing this and the demand for smart stadiums is at an all-time high. In fact, the smart stadium market is poised to grow by USD 10.16 bn during 2020-2024. By creating an experience that encourages fans to keep returning, smart stadiums can improve revenue generation as well as operational efficiency. They provide fans and staff with a wealth of information and features that enhance customers' satisfaction levels all over the world. 
It is vital to deliver a fan experience that will keep today's fans returning to the stadium, as well as spending their time and money in other associated channels. Smart stadiums are the answer for stadium businesses planning to facilitate a captivating experience for sports fans.
In this article, we will take a look at how deep technologies are changing the game for the stadium experience as we know it. In a nutshell, Stadiums are shrinking. So, let's have a look at how smart stadiums enhance the below areas:
How do smart stadiums enhance the live sports experience?
Enhancing the live experience of the audience depends on different aspects.  So how can smart stadiums compete with the comforts and conveniences of our own homes?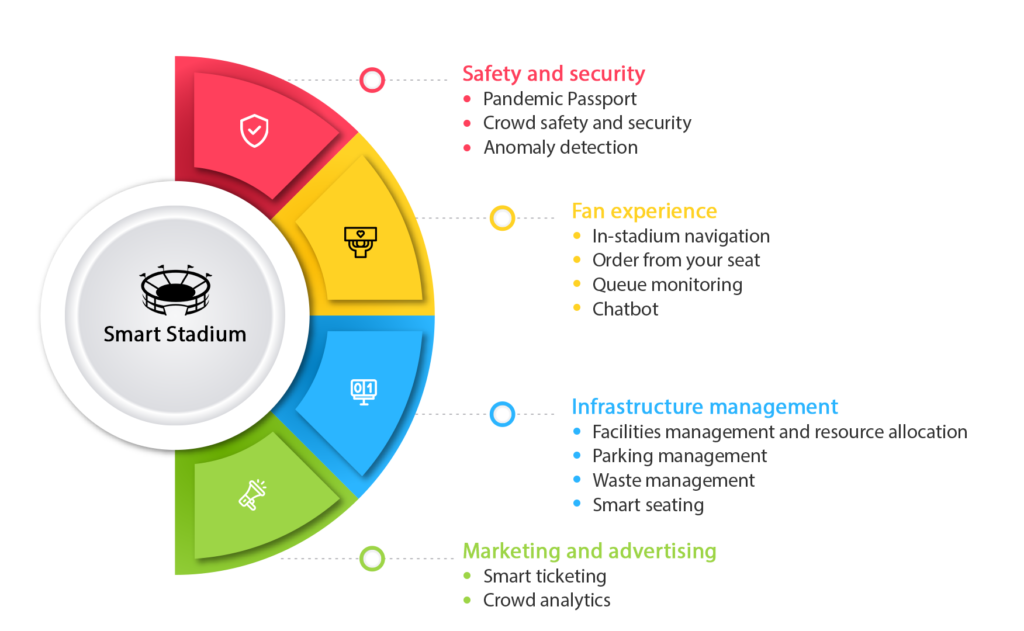 Fan experience
By developing an application that can provide accurate directions to various areas in the stadium, it becomes much easier for you to provide a better customer experience for sports fans. The application can be equipped with high resolution maps for easy navigation of the stadium. It will be able to guide customers by providing them with the shortest route to whichever area they are searching for. Users will simply have to follow the trail shown on the screen in order to get to their destination. 
Contactless menus have become much more popular since the advent of COVID-19. Ensure the safety of your customers and prevent the risk of exposure by providing an 'order from your seat' option. Now you may be wondering how it would be possible to implement such a feature. The simple approach to this would be to use a QR code. Stadiums can print a QR code out and leave it on the seats. A customer can then scan the QR code, browse a menu, place their order, and pay from their phone. The food outlet in the stadium will be given information about which seat placed the order. This allows them to bring the food to the right seat once it is ready. 
Overcrowding is one of the primary reasons behind the quick spread of the coronavirus. In order to prevent this, authorities can use real-time video analytics solutions that can count the number of people in a queue. If there are too many people, a notification can be sent to the concerned personnel so that they can prevent overcrowding and ensure order. 
A chatbot can capture context and provide intelligent and accurate responses. These solutions use machine learning, NLP and NLU to comprehend queries made by customers. By typing in a query, customers will be given accurate responses to this question within seconds. This helps provide a more cohesive and personalized stadium experience. It also reduces the need for human resources to a large extent. 
Infrastructure management
Facilities management and resource allocation
In stadiums, facilities management can be a daunting task due to the sheer volume of visitors. To make matters worse, most of the time, there is little to no data about crowd traffic. This makes it very difficult to allocate resources efficiently. With AI-enabled cameras, it is possible to monitor the movement of the crowd in the premises and display data such as the total number of people present, total employees present in the venue, region of high and low traffic, occupancy details of halls, booths, etc. This enables the management to make data-driven decisions for the arrangements of facilities and allocation of resources. 
Nowadays, AI-enabled solutions are capable of recognizing number plates and identifying vehicles. In smart parking spaces, an AI solution is used to read a number plate, after which the security barrier automatically opens depending on whether that vehicle has been authorized. The signage we see in stadiums can also display directional information about that specific driver, ensuring that visitors and employees are brought to designated parking areas.
Stadiums have often faced problems with waste management. Dustbins get constantly filled up and the cleaning personnel often fail to empty them out in time. Stadiums can now use IoT-based smart bin technology to solve this problem. Such solutions can send real-time data to the cloud about the levels of garbage filled in the bins and subsequently alert the concerned personnel. Generally, sensors will be attached to the bin which would keep track of the load and garbage levels in the bin. 
Smart seating solutions allow sadiums to offer socially distanced seating with reduced capacity during the pandemic. They can build a custom seat map for any type of stadium after considering key factors like venue capacity, distance between seats and the legal number of attendees that stadiums are allowed to hold. By offering customers a visual representation of the seat map, they can choose their seats according to their convenience, while not having to worry about whether their seats will follow social distancing norms. 
Safety and security
A pandemic passport can help countries open their borders for the travel of sports fans all over the world. With this passport, fans can acquire a health card that is generated after exposure analysis and a health diagnosis by local health authorities. This will help identify individuals who have been exposed to the virus. Users with a 'No Risk' health card can be allowed to travel overseas. This will ensure that all of the passengers travelling to a different country will not be carriers of the virus, thus making cross-border travel much safer. The user can simply scan the QR code at an airport or a stadium to confirm their health status for the authorities. 
Crowd safety and security
Incorporating an AI-powered surveillance solution in your stadium's security strategy can help you detect crowd metrics like people counting and group statistics. This enables security personnel to monitor social distancing with precision. Notifications can be sent in real-time to senior staff members as soon as overcrowding occurs, which helps increase crowd safety to a large extent. Additionally, thermal cameras can also be set up to single out individuals with high body temperature. 
A real time video-analytics solution is capable of detecting and identifying abnormal events. For instance, if a fight breaks out between sports fans, the solution can flag this behaviour as abnormal and notify the authorities so that corrective action may be taken. Similarly, other actions like littering, violence and theft can be detected and identified as well. 
Marketing and advertising 
With smart ticketing, customers can use e-tickets to enter stadiums in a contactless manner. All they need to do is present their e-ticket upon arrival, be scanned in and then they can head straight to their seat. Once the ticket has been scanned and verified as valid, the individual will be marked as 'checked in' on the database immediately. This means the check-in process can now act as a track and trace system, with all information about the individual available on the database. 
Enhance fan experience by understanding your customers and crowds from their physical behaviours to emotional patterns and utilize them to enhance your business operations. By acquiring in-depth insights into the behaviour of your customers, their demographics and buying preferences, you can tailor your strategies to improve revenue generation and brand loyalty.
How we can help you out?
Today's technologies have the potential to enhance the stadium experience by making it more personalized, convenient, and engaging. Only these improvisation in technology can compete with high-definition television. Not only can it enhance the safety and security of customers, but such solutions can help improve various other aspects of the business operations in such venues.
If you have any doubts regarding how to develop smart stadiums and the technologies that go with them, feel free to reach out to us for a no obligation consultation. 
Want to develop a smart stadium?
Reach out to us today and get started!
Contact Us