In the sea of new and nascent blockchains networks, Stellar is one of the top ten blockchain platforms which is widely used today. After entering the crypto market in 2014, Stellar blockchain is leading in crypto space as a platform that can easily send and receive digital currencies of all forms.
Now let's brush up on some of the basics by taking a look at the below topics:
What is Stellar blockchain?
Stellar blockchain is a payment protocol whose base lies in distributed ledger technology. It is decentralized in nature and permits cross-border transactions. Stellar blockchain works with the digital currency known as the lumen and its symbol is XLM, similar to what ether is to Ethereum. The distributed ledger on which the transactions happen is public and is shared by people all over the world.
According to Stellar.org, it is a platform that connects banks, payments systems, and people. Integrate to move money quickly, reliably, and at almost no cost.
Birthed by the famous Jed McCaleb along with Joyce Kim, Stellar branched out from Ripple, another blockchain as the latter had some fundamental discrepancies. Now, Stellar blockchain's quick, reliable and low-cost nature has made it a prized possession in the universe of cryptocurrency.
 Stellar network vs. stellar.org
The fundamental difference between the network and the organization is that stellar, independently, is the network of cryptocurrency that uses lumen and stellar.org is stellar development foundation, a non-profit organization that supports the growth of stellar blockchain and works for financial inclusion, initiatives, and tools around stellar blockchain. Workers of stellar.org write code for stellar blockchain but it still exists separately as a platform for moving money online.
Related Article : How to choose the right Blockchain- as a Service  provider?
Features of Stellar blockchain
Decentralized and open source database: Unlike Ripple, Stellar does not have a central authority under which certain employees work. Anyone can partake in its functioning without having to answer to a central power. There are diverse nodes that come together to work and they verify and input online transactions in the ledger. 
High speed and scalability: Stellar network performs transactions with the help of consensus done through nodes. This consensus is reached within a few seconds, hence making the transactions possible within 3-5 seconds.  It doesn't allow mining, which makes the speed faster than other cryptocurrency networks.  Thousands of these financial proceedings take place at once, making the stellar network a highly scalable platform.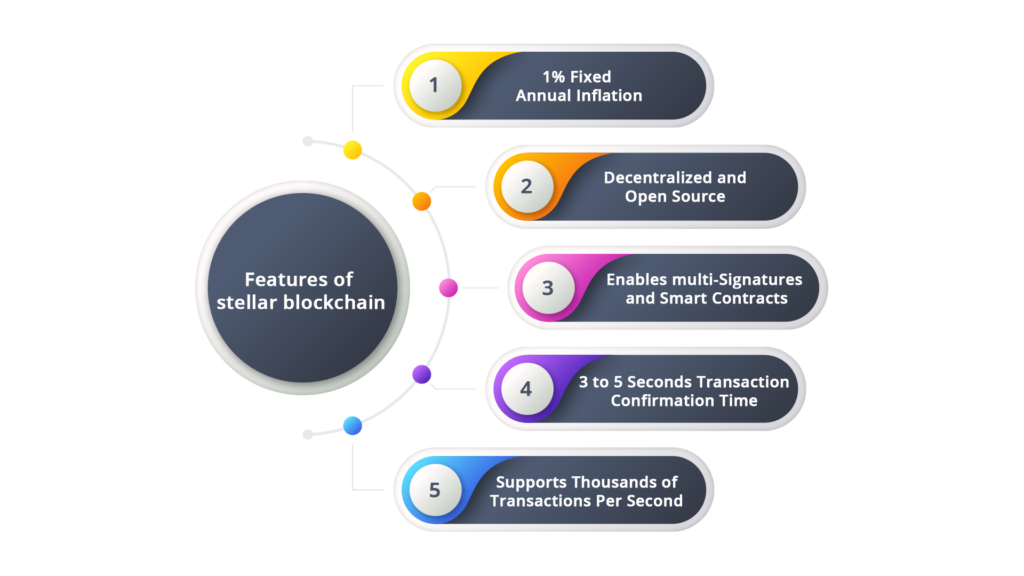 Multi-currency transactions: This is one of the major advantages of stellar blockchain, one can perform transactions in any currency they wish and the system will automatically perform the forex process. It does so by finding someone who wishes to exchange in the same currency. If there is no direct exchange available, it performs several actions to match the transferred currency. The existence of its own cryptocurrency Lumen enables stellar blockchain to perform transactions in multi-currency easily.
Other features include its ability to use smart contracts and multi signatures, asymptotic security, 1% fixed annual inflation, etc.
Need help with blockchain development?
Reach out to us today, to discuss your project
Contact
How does Stellar blockchain work?
Following the steps of other blockchain networks, stellar adds the transactions on a public ledger. Stellar blockchain utilizes a Federated Byzantine Agreement (FBA) which is a special paradigm that reaches consensus between its nodes. This ensures financial security which is integral to its system. Also known as the "Stellar Consensus Protocol" (SCP), this system doesn't wait till all the parties agree to the transaction. Instead, the whole nexus of nodes come into agreement by picking other nodes (or participants)  which are trustworthy, followed by other nodes selecting reliable nodes further.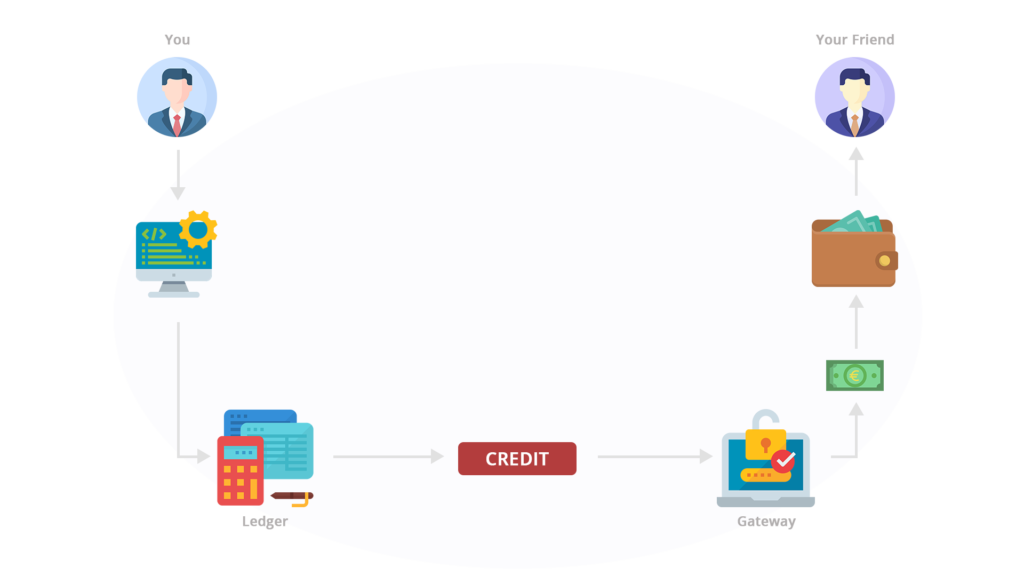 Each participant selects a dependable participant forming a small network or quorum slice. This results in an overlapping quorum after which a transaction is entered on the ledger, ensuring the integrity and safety of the process. There are multiple tiers of nodes that interact to activate a transaction.  It is a quick and inexpensive process that results in the desired transactions.
How does the payment system in Stellar operate? 
The payment system of Stellar blockchain involves "Anchors", units that have the capacity to hold a deposit and lend credits when needed. They are a bridge between the currencies and the network. According to stellar.org,
"Stellar networks (except the native digital currency of lumens) occur in the form of a credit issued by anchors."
Anchors are the entities on which the trust relies. The process will include A sending money to the anchor, the anchor updates the credits, and changes the balance. A sends money to B through the anchor from the balance and B's balance gets updated in their anchor. This process happens on the stellar network and due to the multiple nodes working, the transaction gets updated within seconds. The transactions also include conversion of multiple currencies which happen through an "orderbook". The distributed ledger present in stellar blockchain allows one to automatically buy and sell currencies at a good rate. 
As discussed above, the network forms quorums to interact with different nodes. It is possible for different quorums to form separately and come to different conclusions, causing havoc. Stellar blockchain uses "quorum intersection" which means all quorums will share a common one, preventing different deductions. The Stellar Consensus Protocol ensures that nodes are intersected despite the existence of malicious nodes, guaranteeing safe and trustworthy transactions. 
Business applications of Stellar blockchain
In order to be a part of the new and innovative global infrastructure for payments, several multinational organizations across the world including banks and financial institutions, technical specialists, and payment aggregators, employ Stellar blockchain technology to facilitate a quicker and cheaper way of making transactions. Stellar has been one of  the most efficient and cost-effective solutions for many businesses when it comes to international payments, cross-border money transfers, and frictionless micro-payment processing. 
For instance, Saldo is a company that allows migrant workers from the U.S. to support their families in Mexico by easing their money-sending processes across borders. However, the company was confronted with the problem of international transactions, especially in small amounts, it being extremely slow and expensive. As a result, migrant workers were forced to face the problem of high-cost and complexity in sending money to their family members every month. 
By employing Stellar's interface, Saldo offers real-time settlement for cross-currency transactions without any complications or fees required by current remittance sources. As Saldo issues Mexican-peso-packed tokens, Stellar allows senders to initiate payments in dollars and convert them into MXN in a single transaction, that is, automatic, transparent, and irreversible.  
Stellar is capable of having applications far beyond financial markets as it allows organizations to perform necessary functions without the issue of safety. With diverse features, Stellar blockchain opens up a new door of opportunities and possibilities for businesses. Some of the most creative application ideas are:- P2P lending, mobile and trading clients, merchant plugin, community currencies, volunteer hour tracking, conditional cash transfers, loyalty points programs, and micro saving accounts for various purposes such as school, health, and insurance, etc. 
Stellar Blockchain is a user-friendly, low-cost, high-performance blockchain platform that can be used by businesses to maximize their profits and increase efficiency. With its increasing potential, it's time for businesses to take advantage of its boundless development possibilities.
Need help with blockchain development?
Reach out to us today, to discuss your project
Contact