The real estate industry is now witnessing growing interest from buyers after nearly a decade of slow growth since the great recession in 2008. People are now willing to invest more, thanks to the improved financial positioning of economies and flexible banking options. However, the increased interest also brought with it a higher rate of fraudulent practices. We often hear of real estate scams such as double selling of a property, forgery of documents, title disputes, etc. One way to overcome these problems is to integrate blockchain in real estate industry.
What can be done to counter these inefficiencies?
We believe the solution lies with Blockchain.
Benefits of blockchain in real estate
"The blockchain is an incorruptible digital ledger of economic transactions that can be programmed to record not just financial transactions but virtually everything of value." -Don & Alex Tapscott
By facilitating digital information to be distributed but not copied, blockchain technology established a backbone to share value. Even though the technology was originally devised for the digital currency, Bitcoin, entrepreneurs worldwide are now finding other potential uses for the technology. And it turns out the technology is the best fit to solve many of the issues faced in the real estate industry.
In a real estate transaction, when a potential buyer seeks to purchase a property, they must find and secure the title and have the lawful owner sign over it. For a large number of residential mortgage holders, flawed paperwork, forged signatures, and defects in foreclosure documents have marred proper documentation of property ownership. Simply put, blockchain can set up a decentralized public ledger that real estate authorities can use to create a property database. This ledger can serve as a public land registry with detailed information about property rights, the number of people who have historically owned the rights, transactional data related to prize and measurements and much more.
Some of the major benefits of blockchain in real estate are as follows:
Cost saving and efficiency
The document identification, verification, title identification etc are the major time-consuming process in a real estate transaction. Practical applications of blockchain technology in the real estate indsutry will digitally store this information without compromising on the security, the identification and verification process can be executed faster and efficiently. Moreover, this validation process will establish the trust required to transact without the need for a third party intervention and that would speed up the execution and information verification process. This can improve the cost savings and efficiency of the whole system.
Trust and transparency
Implementing blockchain in the real estate industry can maintain an immutable record of property ownership, encumbrance, and conveyance which provide certainty regarding the integrity of the information and that allow for a greater level of trust and transparency. It gives each property its own digital address where all related information regarding the property will be stored. The data stored include the financial information, leases, tax bills, building performance, physical characteristics, and real estate transaction history relating to the property. This eliminates the need for expensive in-depth title searches. All information relating to the property can be saved in a way that only those with permission of the property owner can access the information. 
Unforgeable
Integrating blockchain technology in real estate documentation steps in as a rescuer for property owners, buyers or sellers. By uploading the title documentation to the blockchain network other users can view and verify but not forge or manipulate it. This will be sufficient proof that the person claiming to be the owner is, in fact, the true owner of the property. It will have all the evidence that you have purchased or sold a property with proofs of ownership, exchange, and transaction.
The inherent qualities of blockchain technology can directly solve many of the pain points in the real estate industry. Let's take a closer look at different applications of blockchain in the real estate industry.
Need help with your Blockchain project ?
Reach out to us today to schedule a call with our experts.
Contact us
Use cases of blockchain in real estate
Automation using smart contracts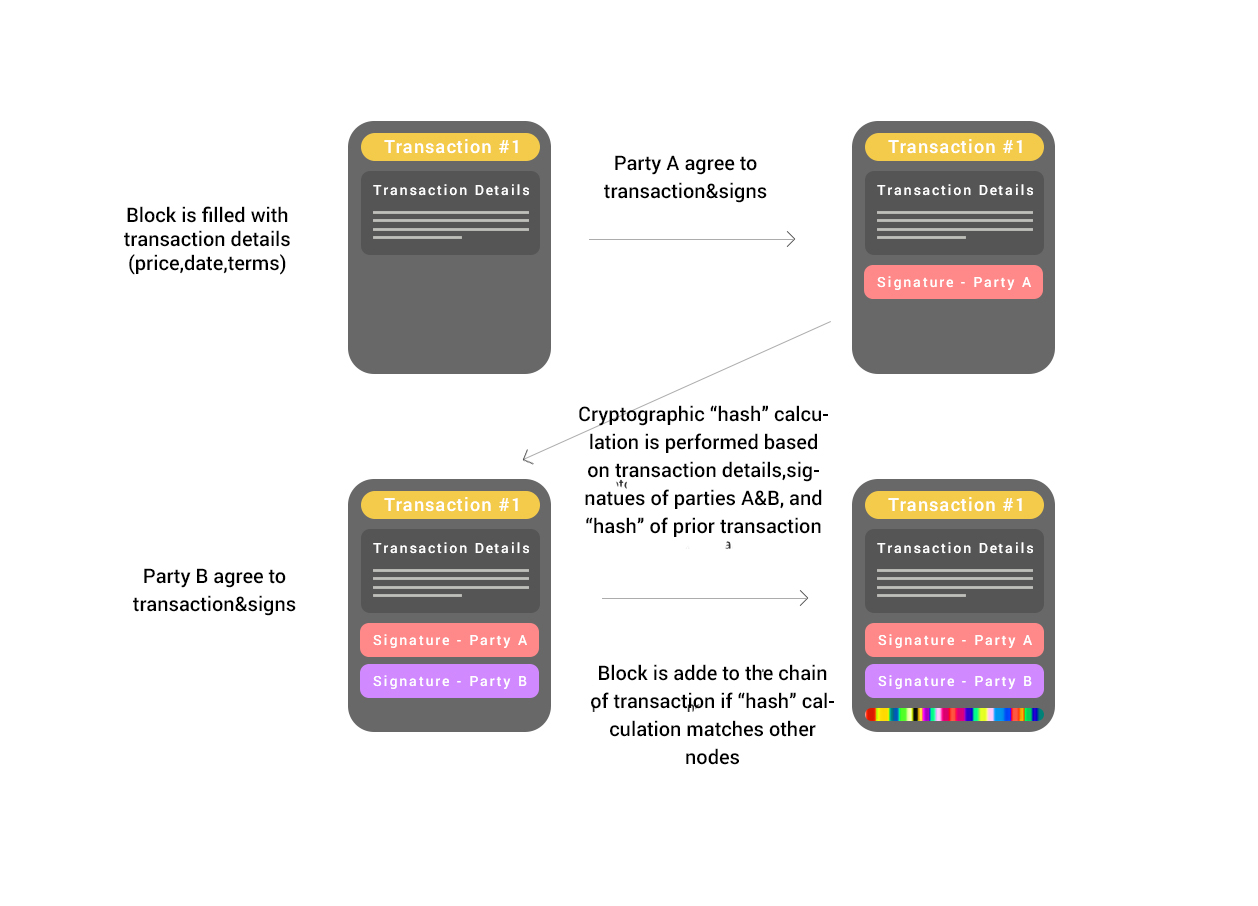 Smart contracts are a set of rules in an electronic format that transfers information and fulfills the contract terms and conditions automatically. They work in a decentralized environment without any human interference. It removes the barrier between the digital and physical world.
Automation of rent payments
Automation of tax payments from the transactions
Automation of profit-sharing from real estate deals
Related article on How secure is your Smart contract?
Land registries on blockchain and efficient title ownerships
Land registry in blockchain frameworks endeavors to fix ownership disputes in real estate by making the property title as a parameter attributed to a token – which can incorporate public registry details such as size, GPS coordinates, construction or purchase year etc.
Exchange of tokens can be tracked whenever it changes through a series of buyers or brokerage firms. When the property is finally sold, the transaction output for the previous owner is recorded and stored and a transaction output for the new owner is created. In this situation, if someone needs to identify the owner of a property, they can simply go through the real estate transaction history – beginning from the initial transaction and completing at the open transaction output. Also, the current owner would be able to verify ownership by "signing a message" with their private key associated with that address on the blockchain.
The critical takeaway here is, this instrument provides an easy, secure way to register and transfer property. To empower the complete cycle of digital real estate transactions, verifiable digital signatures of a land administrator, as well as signatures of buyers or sellers are used for transfer and sale of a property. This entire cycle can be successfully managed by a blockchain-based registry. Blockchain thus can become an integral part of land registration dealings and can create a transparent real estate regulatory and compliance framework. Every year globally, this can result in savings worth billions of dollars, thus integration of blockchain technology in real estate services would eventually speedup the growth of this industry in the near future.
Related article on Blockchain & Land Registry Management
Escrow free payments and fund transfers
Traditionally, escrows are used for real estate transactions to establish the factor of trust between the buyer and seller in a transaction. This is costly as well as time-consuming process. Even if there is a lack of trust between the two parties involved in a transaction, the blockchain can take care of the process without causing any tension. The real estate transaction can be implemented with a smart contract, where a consensus between the buyer and seller is required to actuate the contract to release the funds to the seller.
In a blockchain system, each user has a unique identity, that means the consumer financial information can be shared securely with other parties during transactions. Even if the funds have been sent by the buyer, it won't be released to the seller until the real estate transaction is formally completed. The security provided by the blockchain speeds up the real estate transaction management process. Even if the buyer and seller are not in the same place the property financing is sped up by the existence of a financial record for each party.
Tokenizing assets
Tokenization is a method to convert rights to an asset into a digital token. By tokenizing assets, the real-world asset can be digitalized in the blockchain. Basically, Tokenizing a property means generating a token on a smart contract and giving a value to the token in correspondence to the real asset.
For example, there is a $100,000 property. Tokenization can transform this property into 100,000 tokens. Each token represents a 0.0005% share of the underlying asset. This token then will be issued on a platform supporting smart contracts so the tokens can be freely bought and sold on different exchanges. So when you buy one token you actually buy the 0.0005% of the ownership of the asset. When you buy 100,000 tokens then you will own 50% of the asset.
Tokenization opens the door for more investments in the real estate industry. In a place where only rich people were able to invest in high-value real estate deals, tokenization opens the door for anyone to invest in small amounts. The benefits of tokenization is as follows,
Easier to raise funds
Multiple buyers can collaboratively buy properties
Easy to share ownership of revenue from assets
Construction and fundraising:
Via tokenization, fundraising for the construction industry can be made faster and efficient. For example, Let's consider that a person owns a construction company, raising funds for construction is a hectic procedure like going to banks or finding investors for the process. But tokenizing the asset and launching a token sales event can provide the best way to obtain the required fund.
The seller should issue tokens based on the project and sell it to people who are interested in buying it. The tokens will be traded for money or other cryptocurrencies. As the project develops and becomes a success the value of the coin issued will also increase. A person who has the coin can use this coin for earning profits or even to use the asset as a utility.
Related article on The Scope of Real Estate Tokenization
Closing thoughts
Blockchain technology has gained worldwide recognition for its ability to decentralize trust and secure transactions. When implemented in the real estate industry, it could eliminate the need for middlemen in transactions, improve trust among transactors, act as record-keeper, speed up all contracts, leases, and transactions, improve liquidity, reduce fraud, and reduce costs and fees.
Though the use of blockchain technology in the real estate industry is a novel idea, it shows a lot of promise.Real estate is primed for disruption, and blockchain can be a key driver toward introducing fundamental change to how society works.
Need help with your Blockchain project ?
Reach out to us today to schedule a call with our experts.
Contact us