The digitization of business has been gathering pace for a long time and the pandemic is a massive catalyst to the process. Among the industries that globally adopted digital means of doing business, the real estate business has a fair bit of zeal. They have done so by looking at real estate tokenization very seriously. This is done in recognition of the fact that all assets lend themselves to tokenization quite conveniently. This helps enhance the security of the asset in question and also enables the asset owners to raise funds. That apart, it incentivizes investment in assets in an optimized as well as a secure environment.
Tokenization investments are anticipated to generate at least 4.2 billion dollars in income for the global real estate industry by 2025.
Take a look at the below topics to know more:
What is real estate tokenization?
Real estate tokenization is the process by which a real estate property is divided into tradable shares across a blockchain network. This is looked upon favorably by nations around the world who are actively legislating to enable a favorable business environment to make tokenization of digital assets possible. Viewed in the Indian context, where any large-scale real estate investment by the people is hamstrung by its high entry cost, combined with low liquidity this can have a reviving impact on what has been for long been a barren sector.
It can be leveraged by developers with regard to both constructed and under-construction properties. At the same time, the investor can obtain a potential fixed income source. Which, simultaneously appreciates its value. There are several ways of making these tokens available to the public including an Initial Exchange Offering (IEO) and direct sales to high net worth individuals. That apart, large investors can further repackage and sell these tokens to retail investors
The Scope of real estate tokenization
The scope of tokenization in real estate is virtually endless. It allows any asset in the shape of a property to be leveraged in a safe and efficient manner, by both entrepreneurs and investors. It helps the former unlock the intrinsic value of the property in question and raise funds. It also helps the investor to enhance and diversify their portfolio in a safe and optimal manner. From the Indian perspective, tokenization has the potential to transform the Indian real estate scenario and transform it into the engine of economic growth that it truly can be.
You can obtain a fair idea about the immense scope of tokenization in real estate by looking at the sheer range of real estate properties that can benefit from tokenization. These include single-family homes, high-rise apartments, office spaces, warehouses, retail spaces, and so on. Tokenization will make it easier for both the developers and an increasingly large number of investors including those who would have never considered investing in property step up to the plate and buy these tokens. The sheer flexibility of tokenization is its biggest strength.
It enables the following features:
Access to real estate investors who would traditionally be unable to make that kind of investment.
Increased liquidity by unlocking the inherent value of real estate via the issuing of these security tokens.
Provide better immense value to the issuers by way of liquidity premiums, reduced administration costs, and better capital management.
Related article on How blockchain transforming the real estate.
Benefits of real estate tokenization
There are a fair number of benefits that emerge on account of tokenization in real estate. Let us look at them in some detail.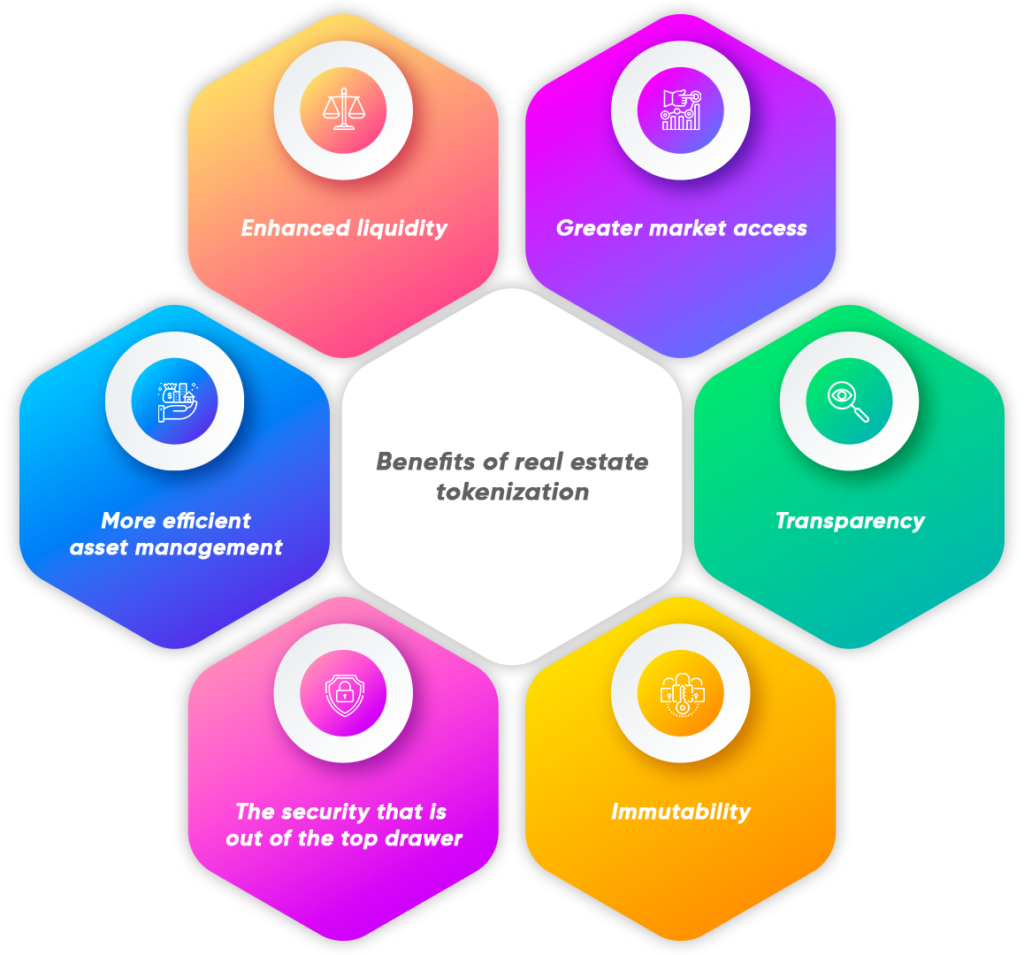 Real estate has traditionally been a low liquidity investment on account of the fact that it involves many people or entities as well as complex paperwork. That apart the requirement for capital is often enormous and there aren't many players in the business when compared to large publically held companies.
Tokenization completely changes the paradigm because it allows easy entry to various investors and the fact that the asset in question is fractionalized enhances the liquidity of tokens. This converts real estate transactions from mere property acquiring transactions to a revenue-generating engine of growth.
Tokenization democratizes access to real estate investment. Anyone with a fair amount of capital and internet access can trade in real estate assets unconstrained by location and geography. What's more, the fractionalized tokens make it easy to scale up or scale down one's investment.
Everything about a real estate interaction ranging from contract details and transaction particulars to one's preference as well as interest payment due dates are stored in the secure digital token. Blockchain transactions involve the recording of every single transaction that occurs within the system.
In the event of a token experiencing a transaction, it becomes apparent to all the participants. This makes it very convenient for an investor to familiarize themselves with a token's history with regard to the pricing and other transaction facts at any given time. There cannot be greater transparency between buyer and seller and that only augur well for the real estate industry.
Because it is based on blockchain technology, any real estate transaction made using real estate tokens cannot be changed, altered, or modified in any way whatsoever. This immutability aspect of tokenization provides an immense sense of security to investors that the transactions in question are nothing but legitimate. Given the sometimes dodgy nature of real estate transactions, the use of real estate tokens will mean that all deals are clean ones.
The security that is out of the top drawer
The blockchain technology that powers tokenization provides the best possible security to real estate investors. That is due to the fact that the blockchain is a distributed ledger that is under no one's control. Every user has an individual private key that connects them exclusively to their blockchain asset. Any investor who enters into a real estate deal via real estate tokens knows that there is no chance of their having to enter anything but bona fide deals.
More efficient asset management
Tokenization leads to more efficient asset management on account of the fact that all it takes is to buy or sell a real estate token via a trading platform. It is as simple as that and with none of the myriad of complications that traditional real estate transactions involve.
Case study
Project Details – The largest Indian tokenization project
The one million square foot property Cyberwalk coming up in Manesar, Gurgaon is to be tokenized on the Digibyte Blockchain platform. Digitbyte is an emerging blockchain organization listed on exchanges like Binance and OKEx. The $40 million projects is being tokenized by the blockchain investment bank EGW Capital, a pioneer in the field of real estate assets as well as stocks and bonds who prefer banking on the Digibyte blockchain technology instead of the one by Ethereum.
Advantages of using the tokenization route
Taking the tokenization route has made it possible for EGW Capital to connect with real estate builders, developers, and investors around the world to take advantage of the immutable and fully secure nature of real estate transactions that happen via tokenization. An investor in any part of the world can obtain fractionalized ownership of the property with zero legal complications.
The tokens representing the property will be duly registered on exchanges thereby enabling investors to both earn annual interest from tenants and benefit from the appreciation in asset value. The tokenization of the Cyberwalk project is being watched keenly by the Indian real estate sector and promises to cause a seismic shift in the manner that the industry functions.
Need help with tokenization in real estate?
Reach out to us today and get started!
Contact Us