There's hardly any discipline that the blockchain cannot revolutionize. After currency, it seems to be having the most effect on social media. Steem, a blockchain database supporting community building and social interaction with cryptocurrency rewards, has completely changed how social media will work in the future. This article will help you gain better insight into what the Steem blockchain is, the benefits of Steem, and how it helps with dApp development.
Let's walk through some of the basics:
What is Steem blockchain?
Steem is an incentivized, blockchain-based, public content platform. It is a decentralized social media platform that rewards users with cryptocurrency for creating or sharing content.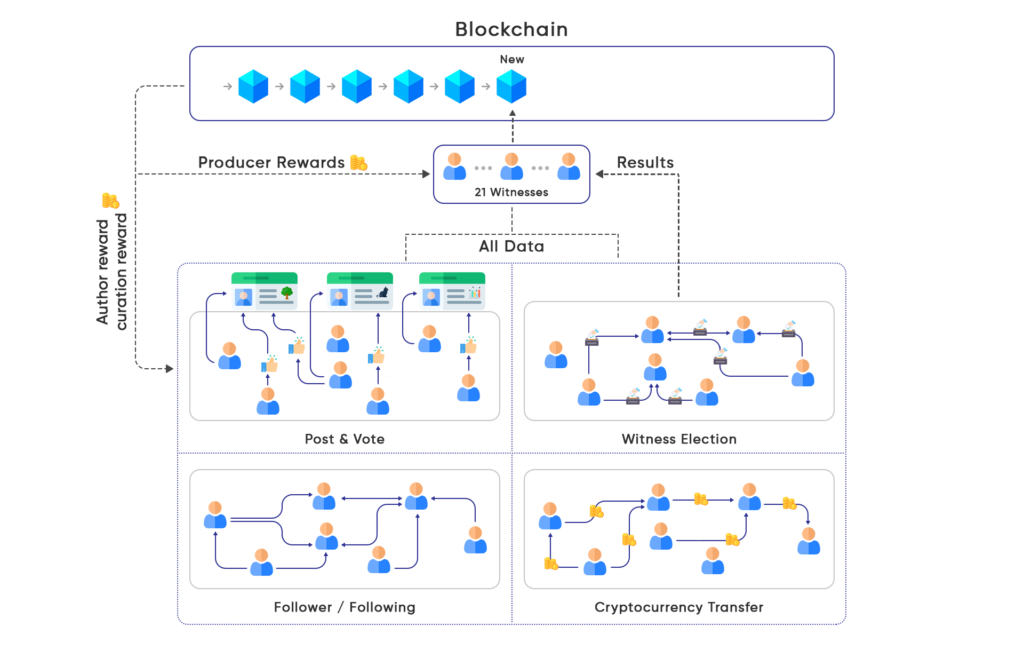 Steem publicizes its uniqueness as a public content platform by highlighting user-generated content that has earned millions for the shareholders of social media platforms while generating no revenue for the content creators.
Steem is different because it encourages users to become shareholders and earn value and rewards for creating and publishing content over Steem-based social apps such as Steemit, DTube, and Utopian. 
In other words, Steem is a publicly accessible social blockchain that stores immutable content in the form of plain text. It is powered by an in-built rewarding mechanism that incentivizes content contributors and distributors with its own cryptocurrency, STEEM.
Read more: What to know before implementing blockchain in your business?
How are rewards distributed among steem users?
The in-built incentivization mechanism is perhaps what makes Steem so interesting. The platform distributes rewards to Steem users who:
Produce and curate content
Participate in content discussions
Vote on the content
The distribution model is mainly dependent on the voting patterns of the users. That said, the vast majority of the rewards are distributed to the users who engage with the most popular content.
Steem users are also entitled to a share of new coins generated during block creation. 10% of the new STEEM coins are paid to the witnesses, while the other 90% are given to content curators, producers, and holders of Steem Power.
Want to build a decentralized social media platform on Steem blockchain?
Reach out to us today to get started.
Contact us
Who can benefit from Steem?
Steem speaks equally to social users, entrepreneurs, developers, and HODLers.
Social users:

Steem engages social users by creating accounts on Steem-based social apps such as Steemit, DTube, and Utopian.

By creating and curating content on these social apps, users get rewarded with free Steem tokens.



Entrepreneurs and developers:

Steem allows entrepreneurs like publishers and online content businesses to develop their own reward-based decentralized social media platforms by developing Steem dApps. Steem's in-built incentivization mechanism assists businesses in rewarding their users for contributing valuable content.

HODLers

:

People can buy, sell, and earn three types of Steem tokens.
STEEM: A liquid token for short-term trades.
Steem Power (SP): A vesting token for HODLers.
Steem Dollar (SBD): A stable coin pegged to USD.
Read more: What are social tokens, and what are their benefits?
What are the benefits of the Steem blockchain?
The unique rewards and incentive program offered by the Steem blockchain make it an ultimate platform for mainstream users. The Steem blockchain serves the dual purpose of being a digital token processing system and a mainstream decentralized social media platform.

Technical benefits:
Primitives designed for content applications:

Users on Steem can publish and store different types of content directly and permanently into the blockchain's immutable ledger in the form of plain text.

Once stored on the blockchain, this data becomes publicly available for developers

. Some primitives that developers can use include Account Names, Posts, Comments, Votes, and Account Balances.
Native name system: Unlike popular blockchains that use long strings of random letters and numbers as wallet addresses, Steem uses each participant's user name as their wallet address. It enhances the user experience for participants who attempt to spend tokens because they can easily verify the addresses from their memory.
Steem blockchain dollar:

SBD tokens are pegged closely to USD, enabling users to know their worth in 'real dollar' terms. SBD tokens are also a relatively stable currency for users to hold.

Decentralized exchange: The Steem blockchain offers a decentralized exchange that allows users to trade their STEEM and SBD tokens through a decentralized, peer-to-peer market. Users can place buy and sell orders, and the blockchain automatically carries out the order matching process. Users can also use the publicly accessible order book and order history to analyze the market. By using the blockchain API, users can interact with the exchange directly.
Payments through Escrow: The Steem blockchain provides a way for users to send coins to each other with a third party designated as an escrow service.

The user acting as escrow service can determine if the agreement terms are met and decide the release or return of the fund.

Hierarchical private key structure: A rather

exciting

and unparalleled benefit of Steem is that it employs the first-of-its-kind hierarchical private key system that facilitates low- and high-security transactions. Low-security transactions tend to be social (

e.g.,

posting, commenting). High-security transactions tend to be transfers and

critical

changes. The hierarchical private key structure allows users to implement different levels of security for their keys, depending on the access each key allows.

The blockchain has three private keys-
Posting: Allows accounts to post, comment, edit, vote, resteem, and follow or mute other accounts.
Active: Takes care of more sensitive tasks like transferring funds, powering up/down transactions, converting SBDs, voting for witnesses, placing market orders, and resetting the posting key.
Owner:

Proves ownership during an account recovery and only means to be used when necessary.
Multi-Sig authorities: The Steem blockchain splits an authority across multiple entities.

This means that multiple users may share the same authority, or various entities are required to authorize a transaction to validate it.

Multiple reward beneficiaries:

In the Steem blockchain, several different people can be financially interested in the reward for any given post.

This refers to the author, co-authors, referrers, hosting providers, tool developers, and blogs that embed blockchain comments. This multiple reward beneficiary mechanism allows-
Different forms of collaboration

A way for platforms built on Steem to collect a portion of the rewards from their users.
Stolen account recovery

:

Steem users can use their private owner key to change the keys associated with a compromised account. In the event of a password-change attack, the user has 30 days to submit a previously functional private key and regain control over their account.
Security through time-locks: The Steem blockchain allows users to store their STEEM and SBD tokens in savings accounts to ensure that funds are not withdrawn until after a 3-day waiting period. Also, a STEEM that is held in the 13-week vesting schedule may only be withdrawn at a rate of 1/13 per week after an initial waiting period of 7 days. These time-blocks prevent an attacker from accessing the full portion of the user's funds immediately allowing the rightful owner to regain control over their account before all of their funds can be withdrawn.
Bandwidth rate-limiting fee-less operations: To place reasonable limits on the system use, each user is given a limited bandwidth. Whenever users perform blockchain operations (like token transfers, posting content, or voting), a portion of their bandwidth is used. When this bandwidth allowance is exhausted, the user must wait to perform additional actions until their bandwidth recharges.

The amount of bandwidth allowed by an account is directly proportional to the amount of Steem power a user has.

That is to say; users can consistently increase their bandwidth allowance by getting additional Steem power.
Rewarding benefits
While getting paid in crypto may seem far less helpful than getting paid in dollars, the Steem blockchain does come with its own set of advantages.
For starters, the platform rewards content creators for participating in the network. The voting system prioritizes quality content, ensuring that users meet the highest expectations.
Since it is a decentralized platform, most voting is done through voting systems. Steem encrypts all user data so no one can access it and find details of an account owner. By rewarding users in Steem power, the platform enables them to increase their influence and profits, thus encouraging them to contribute to the platform more actively.
In addition, the Steem blockchain also offers the following benefits:
No need for advertising: Since the blockchain rewards you, there is no place for advertisers and, therefore, advertising bias.
Harder to game the system:

The blockchain sparingly gives voting power to all its users. Therefore, there is no chance of getting into situations where

advertisers

are prepared to set up digital sweatshops of people upvoting content.
Non-advertiser-friendly content also matters:

Because every user contributes to the blockchain, content that might not seem to be 'advertiser friendly' can also

significantly contribute

.
If you are planning to launch a decentralized social media platform, make sure to consult with a reliable blockchain development company to do a feasibility analysis for using Steem blockchain for your project.
Read more: How to choose the right Blockchain as a Service provider?
How does Steem blockchain help you with dApp development?
Content businesses and developers should consider developing apps/dApps on Steem because:
Steem has a built-in content-specific primitive. It has been designed from scratch to power web and content applications.

Steem supports near-instant fee-less transactions. That is to say, technically, businesses can use it for free. They are not required to build their blockchain for developing social dApps.

By using the Steem blockchain, businesses can incentivize and thus encourage users to post and engage with content on their platform.

A dApp developed on the Steem blockchain will instantly gain access to Steem's one million-plus user base, thereby reducing the cost of user acquisition for brands.
Read more: How to build a DeFi yield farming dApp?
What are the Popular Apps and dApps developed in Steem?
Steem dApps are way ahead in the game, gearing up to embrace the masses. Here are some of the most popular apps and dApps developed on Steem-
Steemit:

A blockchain-based blogging and social media website, Steemit has redefined social media by building a living, breathing, and growing social economy. Steemit believes that the users of a social media platform should fairly receive the benefits and rewards for their attention and contribution. I

t incentivizes users with its cryptocurrency STEEM for publishing and curating content.

DTube: The YouTube on the blockchain, DTube is a fully-decentralized open-source video platform where users can upload videos through popular decentralized techs such as Skynet, IPFS, BTFS, etc., and publish them on social blockchains like Hive or Steem. It rewards users with cryptocurrency for their video creations.
Musing: Musing is a decentralized QnA platform that allows users to ask questions, post answers, and earn cryptocurrency. Unlike centralized QnA platforms, Musing gives the ownership of content to the user sharing it, making information more reliable. Users can earn tokens on Musing by getting endorsed by other users. The more tokens a user supports you with, the more tokens you gain from the daily reward pool.
Steepshot: Often called Instagram on the blockchain, Steepshot rewards people for publicly sharing their lifestyle and visual experience. It is a censorship-free platform that rewards good media content. Users can use the content to share pictures they've clicked or curate and comment on photos of their friends.
Read more: How to approach blockchain app development in 2022?
Closing thoughts
Given the part social media plays in people's life, Steem sure seems like the next big thing. The platform has encapsulated blockchain into something people use every day for hours. With their one million+ user database, Steem dApps are preparing themselves for mass adoption, and the sooner we join the ride, the more benefits we can reap.
Ready to discuss your blockchain project requirements?
Reach out to us today for a no-obligation consultation
Contact us