As the world's population continues to grow and climate change presents new challenges to agriculture, farmers, and researchers are turning to technology to find new ways to feed the world. Smart agriculture, also known as precision agriculture, is one such approach. Smart Agriculture aims to increase efficiency and reduce waste in farming operations using advanced technologies. It allows farmers to monitor and manage their crops, livestock, and land use more precisely, resulting in better yields and reduced environmental impact. This agriculture model is still an emerging field, but it holds great promise for the future of farming. By harnessing the power of technology, farmers can increase their productivity and sustainability and help ensure enough food to feed the world's growing population.
What is Smart Agriculture?
Smart agriculture is an advanced approach to farming that leverages technology to optimize agricultural production, improve efficiency, and reduce waste. It uses various technologies, such as sensors, data analytics, robotics, and the Internet of Things (IoT), to monitor and manage crops, livestock, and land use more precisely and efficiently. It allows farmers to collect and analyze data about soil conditions, weather patterns, plant health, and other factors that affect crop growth and yield. This data can be used to make more informed decisions about planting, fertilizing, and irrigating crops and can also help farmers to identify and address problems more quickly.
By using sensors to monitor soil moisture levels and weather patterns, farmers can more accurately time irrigation and reduce water usage. Similarly, using precision fertilization techniques can reduce the amount of fertilizer needed and prevent excess nutrients from leaching into nearby waterways. Overall, technology holds great promise for the future of farming, as it can help increase productivity and sustainability while reducing waste and environmental impact.
Related Article: Can blockchain make agriculture smart?
What are the types of Smart Agriculture?
There are various types of smart agriculture technologies, each of which serves a different purpose. Some common types include:
Precision Farming
Precision farming, or precision agriculture, involves data analytics, GPS mapping, and advanced sensors to monitor soil and plant conditions, weather patterns, and other factors impacting crop growth. The data collected from sensors can be analyzed to create precise maps of farmland, which can be used to optimize planting, fertilization, and irrigation. This helps farmers to make more informed decisions about when and where to plant crops, how much fertilizer to apply, and how much water to use. As a result, precision farming can help increase crop yields, reduce waste, and lower costs.
Livestock Monitoring
Livestock monitoring involves using sensors and IoT technologies to monitor the health and behavior of livestock. This can include tracking an animal's movements, food and water intake, and vital signs such as heart rate and body temperature. This data can be analyzed to identify potential health problems, such as illness or injury, and ensure that animals are cared for properly. Livestock monitoring can also help farmers optimize breeding, feeding, and other management practices, improving animal health and increasing productivity.
Automated Irrigation
Automated irrigation involves using advanced sensors to monitor soil moisture levels and weather patterns so that irrigation systems can be automated and used only when necessary. This reduces water usage and improves crop yield, as crops receive the right amount of water at the right time. By optimizing irrigation, farmers can also reduce the amount of fertilizer and pesticides needed, which can help reduce costs and environmental impact.
Vertical Farming
Vertical farming involves growing crops in indoor, climate-controlled environments, often with the help of hydroponic systems. This technology can be used in urban environments or areas where traditional farming is difficult due to climate, soil quality, or other factors. Vertical farms can be designed to optimize space, light, and water usage and can also grow crops year-round, regardless of the weather outside. By growing crops indoors, vertical farming can also reduce the need for pesticides and other chemicals and minimize the environmental impact of farming.
Robotic Farming
Robotics involves using robots to assist with planting, harvesting, and pruning. Robotics can help reduce labor costs and improve efficiency in farming operations, as robots can work quickly and precisely and operate continuously without breaks. Robotic farming can also help reduce the need for manual labor, which can be especially helpful in areas where labor shortages are common.
Agribusiness Management
Agribusiness management involves using software and data analytics to manage farming operations, including inventory management, supply chain management, and financial analysis. Agribusiness management can help farmers optimize their operations by providing insights into key metrics like crop yield, costs, and profitability. By analyzing this data, farmers can make more informed decisions about when and where to invest in their operations and identify opportunities to reduce waste and increase efficiency.
These are just a few examples of smart technologies available today. Each technology serves a different purpose and can help farmers increase productivity, reduce waste, and improve sustainability in their operations.
Technologies used in Smart Agriculture
Smart agriculture is a broad and diverse field that utilizes many technologies to improve farming practices. Here are some of the key technologies used:
Sensors and Internet of Things (IoT) Devices
Sensors and IoT devices are crucial for collecting real-time data on environmental and farming conditions. Soil moisture sensors, for example, can help farmers determine when to water their crops, while temperature and humidity sensors can help optimize climate control in greenhouses. IoT devices can also track livestock location and behavior, feeding patterns, and health metrics, providing valuable insights for herd management.
Drones
Drones are used in smart agriculture to collect data on crop growth and health, monitor irrigation systems, and detect pest infestations. By capturing aerial images of fields, drones can identify areas where crops may be under stress or suffering from nutrient deficiencies. Drones can also spray crops with pesticides and fertilizers, reducing labor costs and minimizing exposure to chemicals for farmers.
Autonomous Tractors and Farm Equipment
Autonomous tractors and farm equipment are becoming increasingly popular, as they can perform repetitive tasks such as planting, tilling, and harvesting with greater efficiency and accuracy. Using sensors and GPS technology, autonomous tractors can rapidly plant seeds and detect variations in soil quality, adjusting planting depth and spacing accordingly. Autonomous equipment can also manage livestock, including feeding and cleaning.
Machine Learning and Artificial Intelligence
Machine learning and artificial intelligence analyze the large amounts of data sensors, and IoT devices collect. Farmers can optimize crop yields and reduce waste using algorithms and predictive models. For example, machine learning algorithms can analyze weather patterns, soil moisture, and crop growth data to predict crop yields and suggest optimal planting times. AI can also be used to develop predictive models for pest infestations, allowing farmers to take preventative measures before significant damage occurs.
Cloud Computing
Cloud computing is essential for managing the vast amounts of data generated by smart agriculture systems. By storing data in the cloud, farmers can access it from anywhere and collaborate with other stakeholders, including researchers, policymakers, and investors. Cloud-based platforms can also provide real-time decision-making support, allowing farmers to adjust their operations in response to changing conditions.
Blockchain
Blockchain technology can track food products' origins and ensure transparency of food safety and the supply chain. By providing a secure, decentralized ledger of transactions, blockchain can help prevent fraud and improve traceability. For example, blockchain technology can track the origin of food products, ensuring that they are ethically sourced and sustainably produced.
Related Article: Top 10 carbon-negative green blockchains
Biotechnology
Biotechnology can be used to develop new crop varieties resistant to pests, drought, and other environmental stresses. Genetic engineering techniques can produce desirable crops, such as herbicide resistance, increased yield, and improved nutrition. Biotechnology can also be used to develop new plant-based products, such as biofuels, that can reduce the environmental impact of agriculture.
Smart Irrigation Systems
Smart irrigation systems use sensors to monitor soil moisture levels and weather conditions, allowing farmers to optimize irrigation schedules and reduce water usage. By using data on precipitation and evapotranspiration rates, smart irrigation systems can adjust watering schedules in real-time, ensuring that crops receive the right amount of water without wasting resources.
Farmers can optimize their operations, reduce waste, and improve sustainability by leveraging these technologies.
Use cases of Smart Agriculture
Food Supply Chain
The emergence of blockchain creates trust and transparency in the food supply chain ecosystem and ensures food safety. Food Supply Chain tracking is critical to exploring the food source.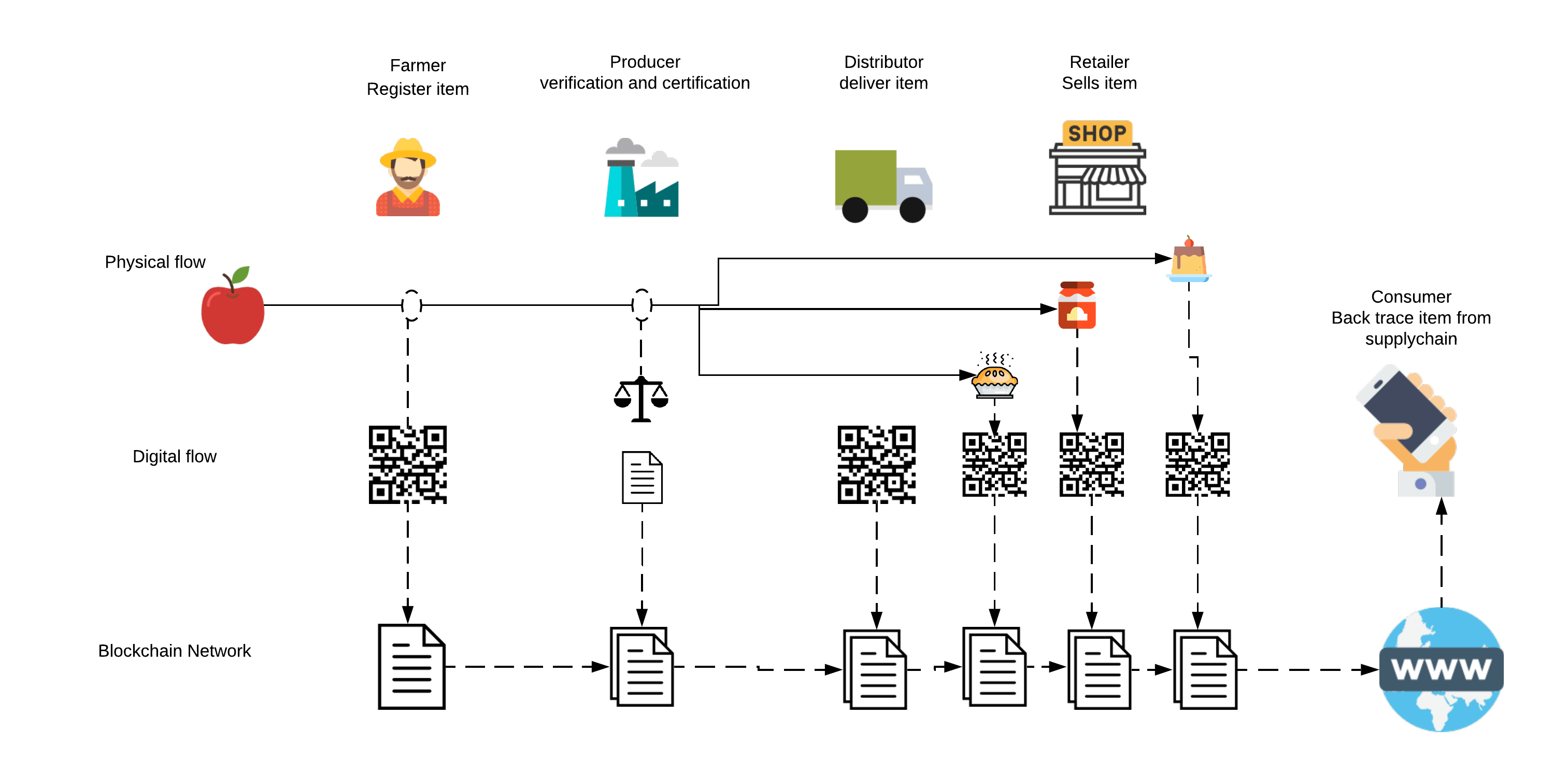 A blockchain-based food quality assurance system that can help maintain a verifiable and tamperproof record of the food products along their journey from farm to fork would be the perfect solution for supply chain fraud. The blockchain system would allow checks to be made at every level of the supply chain, ensuring the highest levels of food security. In the event of contamination being detected, the source of the problem can be easily traced, and only the affected lot can be pulled off the shelf. Apart from drastically reducing food-related diseases, it would also reduce the associated healthcare burden. For example, a 1% reduction in foodborne diseases in the U.S. would save US$ 700 million.
Related Article: RPA in FMCG: Automating from supply chains to shelves
Agricultural Finance
One of the biggest challenges farmers face, especially in emerging markets, is the need for more capital investments. Agriculture needs substantial investments. If the farming does not produce enough yield, the loss has to be borne by the owner, putting them in a high-risk situation. However, innovation in micro-investments and blockchain-based crowdfunding for Agri projects are rising.
The key concept is that investment risk is highly distributed, and the investors can get good ROI once the yield is produced. These models pitch the idea that the loss risk to profit ratio is acceptable for the users rather than one person or company taking the entire risk.
FarmFunder is a US-based equity crowdfunding platform for the agriculture sector. Investors become part owners of farmland and receive annual returns from the crop yield and eventual returns from the value appreciation of the land itself. Steward is another example, a P2P loan company offering debt crowdfunding to farmers. The financial services enabled by blockchain allow smallholders to invest in agriculture and relieve liquidity.
Predicting the Weather Crisis
Predicting and monitoring weather conditions are essential to crop survival, and deep tech makes it easier. For governments worldwide and some industries like agriculture, marine, and aviation logistics, weather forecasting is an entity they watch closely daily. Since it impacts these industries, accurate weather forecasting using AI can help them in multiple ways.
Weather forecasting is a huge industry today, from predicting hazardous climatic conditions well in advance to suggesting the best time for crop harvests and the safest route for flights and ships to avoid stormy weather. As in other business environments, technology has become the key enabler of success in the weather forecast industry. Research predicts that by 2025 there will be nearly USD 4.63 billion worth of global market for weather forecasting systems.
Related Article: The possibilities & limitations of weather forecasting using AI
Benefits of Smart Agriculture
Smart agriculture has several benefits that can help farmers and agricultural organizations optimize their operations, increase productivity, and improve sustainability. Here are some of the key benefits:
Increased crop yields: Smart agriculture technologies, such as precision farming, can help farmers optimize crop growth and increase yields. Using data to guide their farming practices, farmers can ensure that crops are grown under optimal conditions, reducing waste and increasing productivity.
Improved resource management: This approach can help farmers optimize their use of resources, such as water, fertilizers, and pesticides. By using data to guide their decisions, farmers can reduce waste and ensure that resources are used efficiently.
Reduced costs: Technologies can help farmers reduce costs by optimizing their use of resources, reducing waste, and increasing productivity. For example, precision farming can help reduce fertilizer and pesticide use, reducing costs and improving environmental sustainability.
Improved food safety: Smart agriculture technologies can help improve food safety by enabling better tracking and managing crops and livestock. By ensuring that food products are grown and handled under safe conditions, technology can help reduce the risk of foodborne illnesses.
Environmental sustainability: The latest technologies can help farmers reduce their environmental impact by reducing waste, optimizing resource use, and improving soil health. Farmers can help reduce greenhouse gas emissions, protect biodiversity, and preserve natural resources by adopting sustainable farming practices.
Challenges of Smart Agriculture
While smart agriculture has the potential to revolutionize the agriculture industry, several challenges must be addressed to realize its benefits fully. Here are some of the major challenges:
Cost: One of the major challenges of implementing smart agriculture technologies is the cost. Many technologies, such as IoT sensors and precision farming equipment, can be expensive to purchase and maintain. This can be a barrier to adoption for many farmers, especially small-scale farmers in developing countries.
Data management: The latest technologies in the agritech sector generate large amounts of data, which can be difficult to manage and analyze. Farmers and agricultural organizations must have the infrastructure and expertise to handle and turn the data into actionable insights.
Connectivity: Many technologies, such as cellular networks or Wi-Fi, rely on connectivity to transmit data. However, many rural areas need more reliable connectivity, which can limit the usefulness of these technologies.
Privacy and security: As with any technology that generates data, technologies raise privacy and security concerns. Farmers and agricultural organizations must ensure that data and individuals' privacy are secure.
Education and training: The latest technologies in the agritech sector require specialized knowledge and training to use effectively. Farmers and agricultural organizations must be trained to use the technologies and interpret the data they generate.
Conclusion
In conclusion, Smart Agriculture represents a new era in farming that leverages cutting-edge technologies to optimize crop growth and livestock management, improve resource efficiency, reduce waste, and improve food safety. By using sensors, big data, machine learning, and other advanced technologies, farmers and agricultural organizations can make data-driven decisions that improve their productivity and sustainability.
Despite the potential benefits of this agriculture model, some challenges must be addressed, including cost, data management, connectivity, privacy and security, and education and training. However, by overcoming these challenges and embracing smart farming-based models, farmers, and agricultural organizations can transform the agriculture industry and help feed a growing global population while protecting the environment and ensuring the long-term viability of agriculture.