In the previous articles, we have discussed the concepts of Non-Fungible Tokens, how it works and how to create NFTs. In this article, we'll discuss the legal considerations for launching NFT marketplaces.
An NFT marketplace is a platform that connects NFT buyers and sellers. In this platform, sellers can mint NFT tokens with the digital asset they have created and buyers can browse through listed assets, buy or participate in NFT auctions. In read forward, you'll see a few points you need to take care of if you are planning to launch an NFT marketplace. Please note, this article should not be considered as a legal guide and we advise you to get professional legal consultation for an in-depth understanding of this topic.
Legal documentation required for launching an NFT marketplace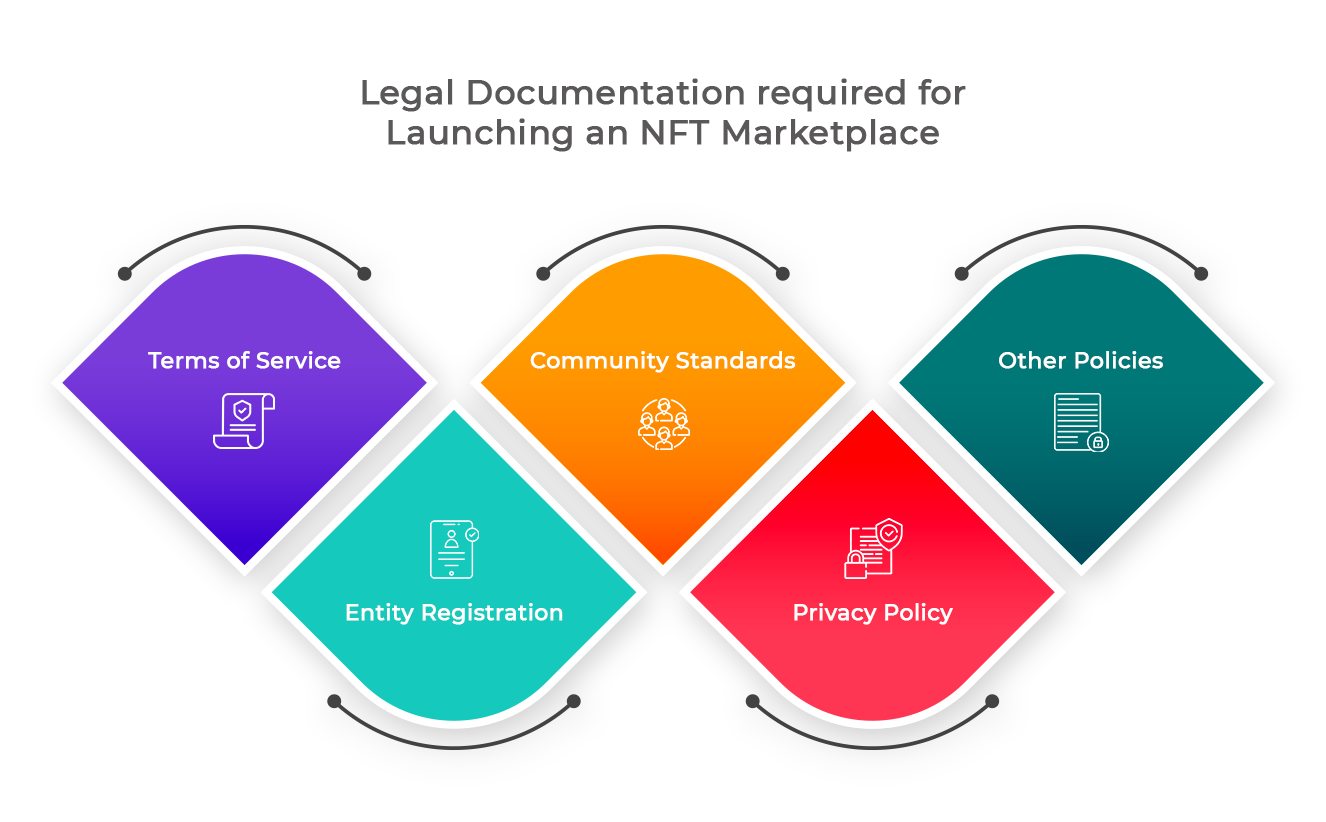 Terms of service

Having legal documents that can be used as a contract between you and your users is of utmost importance. Your terms of service form this contract. If you draft thorough and well-thought-out terms of service agreement, this can help protect your organization from various legal issues.

These types of agreements generally have provisions like limiting the company's overall liability, setting up an indemnification framework to cover your company, etc. They are especially important in an NFT marketplace as these marketplaces have a higher chance of misconduct between users. This makes it easier for these users to blame the company for any problems that might occur.

Entity Registration

It is vital for you to form a corporate entity before launching a marketplace. This will protect you from any liability while shielding your assets at the same time. You will also benefit from a stronger brand image, which can boost consumer satisfaction.

Community standards

In NFT marketplaces, we see a lot of focus on the user. They involve a lot of user transactions and user-generated content. This is why it is ideal to add community standards to make sure that the interactions between users flow smoothly without any hiccups. They can also give your users an idea about how to behave in your marketplace. By defining your values, expectations, and vision, you can form a community of users who are loyal to your marketplace.

Privacy policy

Each company is legally required to provide information about their data collection and use practices. Privacy policies can provide transparency to users so that they don't need to worry about where their data is going. Depending on the privacy law framework applicable to your business (e.g., CCPA, GDPR, HIPAA, etc.), you may need to make additional disclosures and provide other choices to your users.

Privacy policies also go a long way in building trust among your users. A badly written privacy policy acts as a huge red flag to potential customers and may discourage them from joining your marketplace.

Other policies

Given the unique legal challenges posed by NFT marketplaces (covered below in more detail), it may also help to have other documented policies, both internal and external. External policies can expand on your company's position concerning specific actions and behaviors. Internal policies can help you implement and standardize response and enforcement of your compliance obligations, external policies, and other legal obligations within your organization.
Want to build an NFT marketplace platform?
Get a free demo
Get Demo
Important considerations before NFT marketplace launch
IP considerations

Make sure that you always allocate intellectual property rights between the creators/artists, purchasers/collectors, and any other parties that may be involved. If you don't take special care while allocating IP rights, the credibility of your entire marketplace could be at risk. You do not automatically get ownership of a particular piece of work by simply owning an NFT.

The ownership of the original work is copyright ownership that vests in the creator of the original work. If an NFT is minted and subsequently sold, the purchaser or collector will receive (as part of owning the NFT) a set of intellectual property rights from the creator. As an organization, you may need to use the piece of work for promotional purposes like galleries, events, compilations, etc. This is why it is important to make sure that there is correct allocation of IP right from the producer of the work to the company.

Content considerations

There are very high chances that you will often face challenges related to content. This is because these marketplaces have a large volume of user content and transactions. There are also some limitations to the underlying blockchain technology that may cause further issues as well.
Content moderation

Content moderation is necessary for all communities and forums. There are high chances that a user could eventually post something that may be offensive or inappropriate. By putting technical measures in place, you can easily detect and delete damaging content.

Content authenticity

One of the primary characteristics of NFTs is that they are unique. People who buy NFTs will expect it to be absolutely authentic. Unfortunately, it is possible for NFTs to be inauthentic, which leads to several problems.

For instance, a producer can mint different NFTs for the same digital asset by making exact replicas, such as with varying types of files (mp3 vs. mp4, png vs. jpeg, etc.). NFT marketplaces should, at a minimum, prohibit any behavior that would lead to unauthorized commercialization of counterfeiting of underlying works.

Securities law considerations

Although it is important for each NFT to be analyzed for compliance depending on its specific characteristics, NFTs that underlie collectibles should not be deemed as securities. These NFTs are more or less finished products whose value is determined at a sale made directly to a buyer.

NFT issuers must take care not to market their NFTs for potential appreciation, profit, or dividends. The mere marketing of an NFT could transform it from non-security into security. Also, issuers should avoid (and NFT marketplaces should prohibit and prevent their users from):
Marketing an NFT as part of a fundraising effort to build a network or platform for future sales.

Engaging promoters, sponsors, or third parties to drive the NFTs' appreciation.

Enticing purchasers with the prospect of capital appreciation of the digital asset or profit linked to the efforts of the creator or other third party.
Other legal considerations

Finally, there are some legal implications that you need to think about when it comes to NFT marketplaces. This includes consumer protection, KYC, anti-money laundering practices, etc.
Need help with NFT marketplace development?
Reach out to us today, to discuss your project
Contact