The music industry is among the novices entering the NFT space showing potential future for artists to own and distribute their talents in non-traditional ways through NFT Record Labels. NFT Record Labels enable artists to interact with fans much better and run wild with their creativity without the reins of established music labels. It also helps artists with lesser fan followings to earn deserved recognition and money for their talent.
Traditionally artists had to be signed to a record label that would handle the distribution and publicity of artists' work. But NFTs give independent artists better chances of surviving the ever-competitive music industry.

What is an NFT record label?
An NFT record label essentially grants complete ownership access to music artists by providing a certificate of ownership for their unique work incorporated within the NFT. The owner of such an NFT label gets exclusive rights to control how and where the work would be used, sold, or distributed. Note that beyond exclusive access to the content, the owner is also granted the rights to the album cover art or the videos accompanying the music.
NFT label records allow an artist to explore different ways to personalize their interaction with their loyal listeners and even provide a gateway to be included right from the creation of the work. They can also potentially earn the artist better revenue since the traditional intermediaries like big record labels are out of the picture.
What are the pain points faced by musicians in the industry?
All creative fields have their share of starving artists, and the music industry is no exception. For artists to earn money, they need reasonable fame and a wide audience. This climb to fame is a difficult one because of the traditionally competitive environment of the music industry.
Revenue
Record Labels provide experience and exposure to help the artists grow but then some share of the royalties and the masters would remain in the hands of the record label. The bigger share of revenue then comes from other paths like featuring, tours, merch, and other promotional activities. With recent restrictions, concerts and tours have been taken away as their mode of revenue. This means that revenue streams are significantly lesser.
Live show conundrum
Live shows and tours earn musicians a decent chunk of their income. But with the pandemic, this path was temporarily out of service. Even when the touring and concerts started again, the high prices of tickets from well-known artists left fans in a difficult spot. Moreover, fans get a wide selection of options that might leave them confused about their choice of one artist or another.
Reaching sustainable fame
To be popular enough for replays on Spotify or viral on social media is not easy. The market is saturated with many talented artists; hence the competition is high. The artists must bring something amazing to the table for Record Labels and streaming platforms to ensure they get a good ROI. Musicians must spend time finding creative ways to get noticed by netizens.
Jack of all trades
Since fame and revenue are low to come, the artists are often tasked with recording, producing, and editing. This significantly shortens their time to hone their musical skill set. The pressure of tasks is weighed on their shoulders, and success isn't easier to reach.
Artistic expression
As pointed out earlier, the traditional model of Record Labels signs an artist in exchange for mass distribution, upfront payment, mentorship, and expert advice to grow into a well-known musician. But this might mean that label has rights to the original recording of the song, aka the masters. Based on the agreement with the artist, the label can keep the right indefinitely. Artists like Kanye West and Taylor Swift have clarified that they would prefer to own the right to their work. The creative rights to their work are important to them as they grow.
Musicians who believe in NFT record labels hope for a new era of artists that can provide upcoming artists with creative autonomy, financial support, and the opportunity to build a community according to their terms.
Why is there a need for NFT record labels?
The goal of NFT record labels is to create a community of musicians with creative autonomy over their talent, exclusive rights to owning their masters, and control over its distribution and usage.
A community that backs them:
Since most investors are crypto enthusiasts, they are keenly invested in the artist's success and would love to be included in their creative journey. This benefits the artists by giving them a community that backs them and is invested in their success and thus would help in any way possible. Thus helping artists make a successful career without reaching millions of viewers first.
Better opportunities for independent artists:
Independent musicians needn't fit the filtered criteria of big record labels to distribute and earn decent revenue for their talent and hard work channeled to the creation of their art. With the help of their loyal community, they can potentially get a decent revenue and be recognized for their talent. NFT labels open the arena towards a supportive community of passionate collectors and loyal fans who help grow their creative talent into a steady income source.
Better interaction with fans:
Since the artist enjoys autonomy from established record labels, they are free to interact and include their fans in myriad ways. This can be achieved through rewards, ownership, exclusive rights to access to the content, access to immersive experiences, or exclusive and direct interaction with the artist. Some NFT artists currently use Discord as a medium to interact with their fans to understand their responses and suggestions for the music they publish. Moreover, it enables them to share royalties with visual artists.
Can NFTs replace record labels and streaming giants?
Currently, this might be a path just for some artists but not for the majority. Prominent record labels and streaming giants have been at the head of the hierarchy for decades. The traditional approach has its undeniable advantages, like mass distribution and publicity. This community of worldwide fan bases can't be achieved through NFT records alone. Daniel Allen puts this into perspective when he tells Time that NFT records create a "musical middle class."
When streaming giants like iTunes and Spotify make all music available at cheap rates, it's easy to speculate that the common mass would not choose to spend on NFT records. Since NFT labels and musicians in the crypto space are backed by crypto enthusiasts that look into buying music NFTs as a future investment, it might be a niche interest.
These enthusiasts hope it would be the next best thing, and when the time comes, the rarity of their collection will fetch them great value either to resell or as a collectible. These enthusiasts may also financially back up artists because they believe in them and are invested in their talent. Unlike established record labels that can guarantee certain publicity and distribution, NFT record labels depend on not such quantitative metrics of success.
Related article: Top 10 Doubts And Questions On NFTs Answered
If done properly, the NFT label record can fetch artists a good sum of money for their unique work. But regardless, a personal connection with the fan base, creative autonomy, rights over their master, and the opportunity to earn a decent income as an independent artist provides major record labels and streaming services with formidable competition.
Some major league record labels have accepted this and are trying to find ways to make themselves future-ready. Examples are Warner Music Group, Universal Music Group, Death Row Records owned by Snoop Dogg, The Grammys, and Coachella.
How to get started with NFT record labels?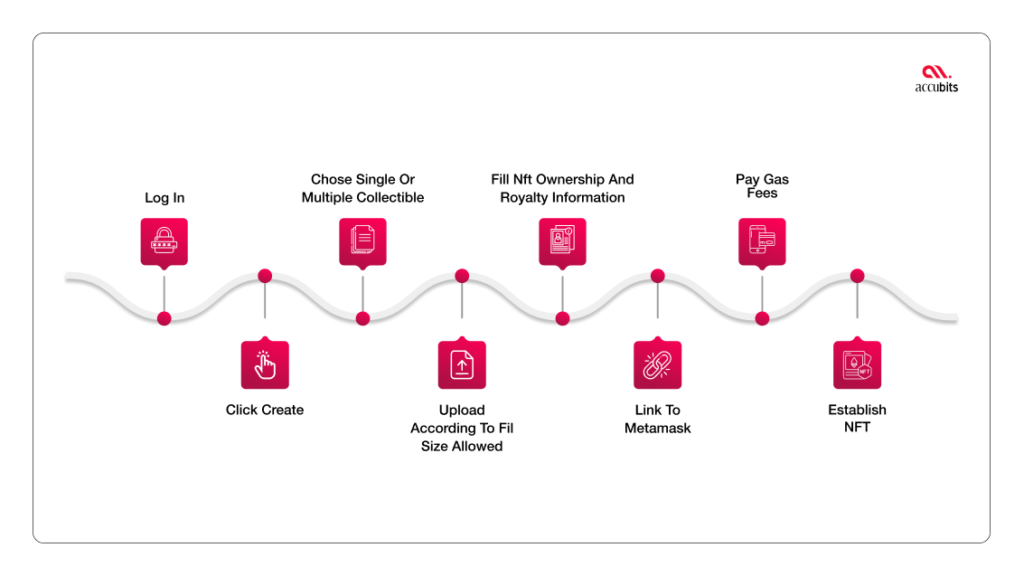 To get started with the NFT record label, you must choose an NFT marketplace platform to help launch your music NFT. This would enable you to create the NFT easily and sell it to earn profits.
The process starts by furnishing details about yourself and logging in to the platform, which would lead you to a click on Create. Then you must choose to create either a single collectible or multiple collectibles. Next is to Upload the file. The maximum file size allowed can vary with platforms. After uploading the file, fill in the information regarding the ownership and royalties.
Specifically, information like the title of the NFT, description of the NFT, royalties for income from secondary market sales, file size, alternative text for NFT for more accessibility, and price for each occurrence of NFT. After updating the information, you can link your Metamask Wallet to the marketplace and establish your NFT.
With that, you'll be required to pay gas fees for creating the NFT and a 2.5% charge to the marketplace, which can be paid through the MetaMask wallet. Now you're all set to sell your musical creation.
Since rarity and demand are two driving forces of NFT collectibles, adequate promotions and marketing are required to ensure that your NFT is at its peak. Moreover, to provide better item value as a rare collectible, the artist must keep in mind the supply and demand of the NFT.
Closing thoughts:
NFT label records are guaranteed to provide complete ownership of assets and the possibility of better income for upcoming artists. Though NFT space is still on its way to receiving mass acceptance, it does possess the undeniable power to disrupt the monopoly of traditional music record labels. With many established labels finding their way to NFT space, it still is a medium for independent artists to flex their creative muscles.
Related article: Where will NFTs pop up next?