Consumer-facing digital channels are set to embrace the power of AI and machine learning to offer better experiences. Alongside this, businesses are adopting new AI capabilities within their operations to help catch up with the pace at which data needs to be analyzed and processed to meet customer expectations. Although entrusting AI systems to handle a business's digital pathway may sound like an attractive option for enterprises, in reality, there is a fundamental problem of trust. This has to be mitigated before going fully-fledged on AI initiatives. The solution to building trust is to engage in developing Responsible AI.
The World Economic Forum in its Future of Work Report 2020 pointed out that by 2025, the rate of adoption of Artificial Intelligence (AI) in businesses will reach a staggering 80% from its present status of around 50%.
In this article, we give you a better understanding of Responsible AI, why it is important and why is it considered the future of AI.
So, take a look at the below topics to know more:
What is Responsible AI?
Responsible AI is a framework or practice of building AI solutions having clear and transparent rules on how it uses data, processes it, and generates insights from both an ethical and legal point of view.
Why is it important?
The impact of an AI initiative that a business rolls out may have a far-reaching impact and not just from a technology or performance upgrade perspective. There could be perceived changes in the way how the societal or cultural traits of a demographic base of consumers react to the initiative. Netflix and Spotify redefining movie and music experience for the masses are examples. Both brands have tons of AI material in their core digital fabric and leverage it from time to time to surprise customers with more personalized engagements.
Similarly, the COVID 19 pandemic saw the widespread deployment of AI-powered chatbots. Nearly all consumer-facing businesses used them to answer the flood of queries coming in from customers in all sorts of areas while their physical business support divisions had to work with limited capacity due to COVID regulations. These traits are likely to continue and evolve into more man-machine interactions.
As the future moves into an economic model where machines play a greater role in society, it is important to ensure that ethics and legal credibility are an integral part of every AI initiative within a business. They mustn't perceive it as an add-on feature that can be integrated at the discretion of developers.
The talk around this AI framework is not just in the corporate boardrooms. Governments around the world are finding ways to promote the use of ethical standards in technology development in high specialization areas like artificial intelligence and machine learning. The European Union has already released guidelines for ethical AI development and implementation in 2019 and other countries like the United States, India, Japan, and China are following a close pursuit.
How does it improve customer experience?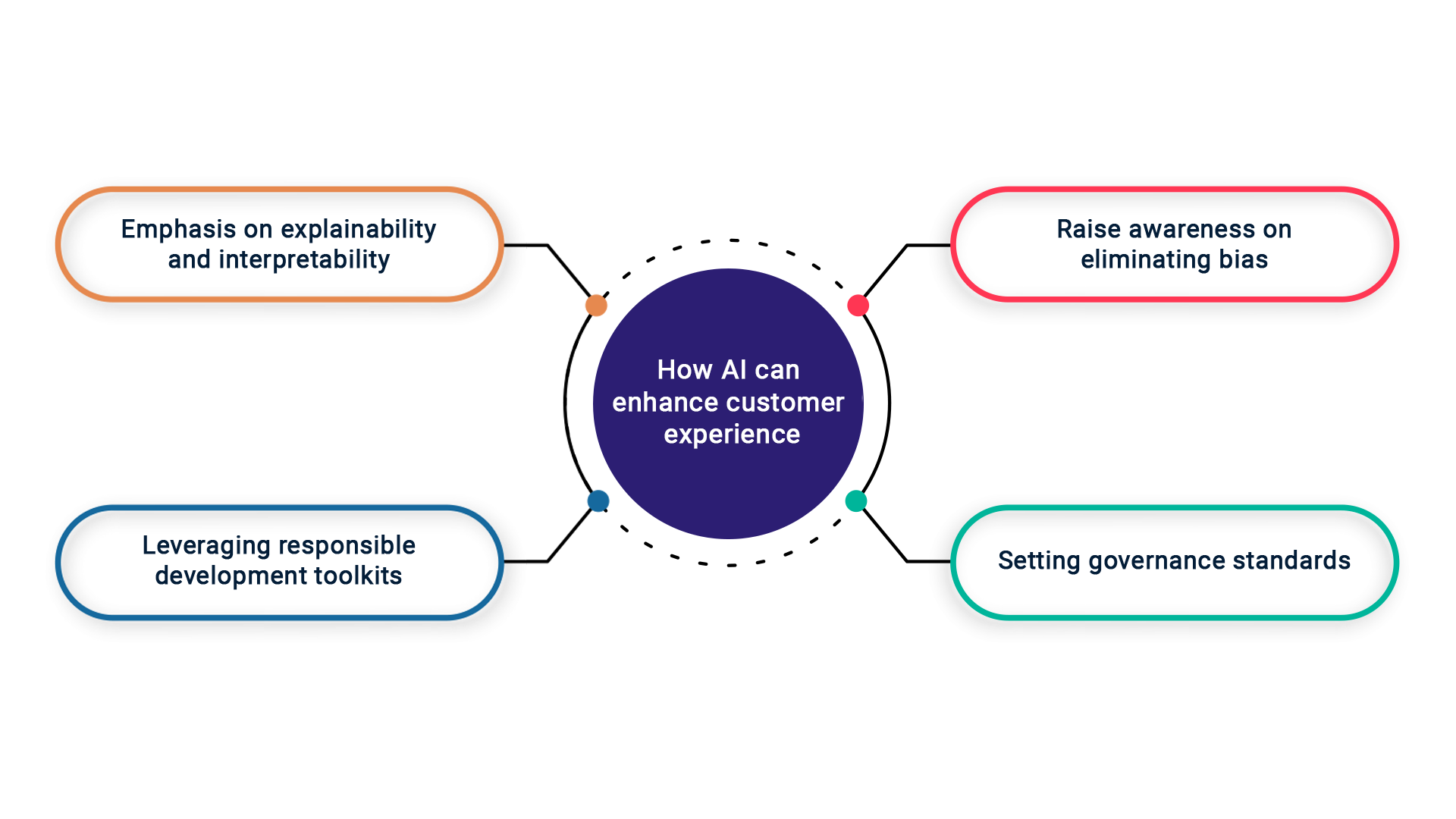 An AI can enhance the customer experience in 4 main ways, they are:
1. Emphasis on explainability and interpretability
A recent PWC survey of top executives found that 84% of leaders believe that the fundamental basis for AI systems to be trusted is to ensure that it is explainable. This means that there should be clear reports available for how the AI system has been trained and with what data and which logic does it use to produce results.
The bottom line is that AI systems must eliminate its popular black-box wherein logic and data interpretation are very often masked from all stakeholders. There should not be a case where even the data scientist and engineers who built the system fail to recognize the model that the system used to arrive at conclusions.
Related article on Explainable AI
2. Raise awareness on eliminating bias
Enterprises need to make a strong commitment to eliminating bias within their AI development initiatives. This can be made a reality if all stakeholders involved in the formulation and development process for algorithms, platforms, and policies in AI development are brought together and the consensus is reached to follow unbiased approaches and any ramifications of the bias should be clearly propagated amongst the team.
A tip for enterprises in this regard is to increase the diversity in the teams behind your AI development. Having a mix of thoughts, race, beliefs, etc. would prove to be a deterrent for biased decisions and mindsets translating into training datasets and algorithm design.
Related article on How to tackle bias in AI .
3. Leveraging responsible development toolkits
One of the best ways to promote the development of this AI framework is to ensure that the tools and models used for building AI applications are certified for credibility and responsibility. Nearly all major AI players have released toolkits that prevent AI systems from making biased learning or even better, they eliminate the usage of biased data sets by identifying them before being supplied to AI networks for learning.
4. Setting governance standards
It is important to ensure a governance framework within your organization that serves as a guideline for all stakeholders. It should clearly delegate accountability, define the alignment of AI initiatives to business goals, set the direction for new process development, define controls, checks, and quality assurance practices for eliminating bias and ensure consistency.
Future of Responsible AI
It has been found that only 25% of business leaders have prioritized the ethical and responsible development of AI initiatives. This leaves a lot of gaps for the digital economy to catch up in terms of creating a trustful environment for the greater good. If your business hopes for an AI journey, ensure that you take the right and responsible route in building AI capability to ensure that it is sustainable in the long run.
Need help with AI development?
Reach out to us today and get started!
Contact Us