With blockchain technology becoming increasingly mainstream, its usefulness is no longer a matter of debate. In fact, corporates, banks, and sectors ranging from fintech and real estate to education and gaming are turning to blockchain technology to provide efficient and secure services to their prospects and customers. When it comes to the choice of software and protocol more and more organizations are looking at Algorand blockchain to fully leverage the potential of blockchain to provide the best service and delivery to their customers.
To understand that let's have a look at some of the basics:
What is Algorand?
The Algorand blockchain platform is extraordinarily good at supporting smart contract functionality on account of its consensus algorithm run on proof-of-stake principles and a Byzantine Agreement protocol. What that achieves for the organization is the creation of an eco-system where stakeholders across the board are empowered to create and exchange value efficiently and in a transparent manner in the most secure environment.
What makes the consensus protocol so effective is its modus operandi of choosing a block proposer and a group of voting committees at every block round to propose a block as well as validate the proposal respectively. Moreover, both the proposer and the committees are randomly chosen out of a pool of token (ALGOS) holders with the chances of being picked impacted by the extent of an account's stake in the network.
Why Use Algorand?
The technology powering Algorand ensures easy adoption of blockchain across industries and sectors on account of its ability to enable decentralization, scale, and security.  This enables an organization to scale up on an eminently trustworthy platform.
The principal advantage of adopting an Algorand blockchain system is that it processes transactions that are as good as free, instantaneous, and extremely secure. A lightning-fast transaction speed makes it stand out, apart from the fact that it is one of the rare non-Bitcoin cryptocurrencies that vies to be the preferred framework for a range of financial transactions and programs.
Related article on Things to know before implementing blockchain in your business.
Understanding Algorand
Launched in 2019 by computer scientist and MIT professor Silvio Micali, Algorand is characterized by its permissionless and open-source blockchain network which can be scaled up by anyone. It leverages a Proof of Stake consensus mechanism alongside distributing validator rewards to all the holders of its native ALGO cryptocurrency. By virtue of it being a public smart contract blockchain that derives its power from staking, Algorand can host decentralized application (dApp) development and impart its scalability. That makes it an attractive alternative to Ethereum as a cost-effective alternative for DApp development and DeFi applications.
Related article on How to launch a DeFi project
What makes Algorand blockchain stand out is the fact that it has adopted a one-of-a-kind Proof of Stake mechanism that goes by the name of Pure Proof of Stake or PPoS. This is characterized by its extremely democratized PoS consensus mechanism with a low minimum staking threshold for participating in as well as securing a network. A single ALGO coin is all that is needed to participate.
Algorand's Stellar Security
Algorand provides breach-proof security against any manner of threats at the consensus protocol and network levels, even as it ensures the safety of the accounts of individual users. Security is one of the three principal components of the "blockchain trilemma" with Algorand incorporating robust security features in its protocol. A three-pronged approach to security comprising of the following components makes the Algorand platform as secure as possible: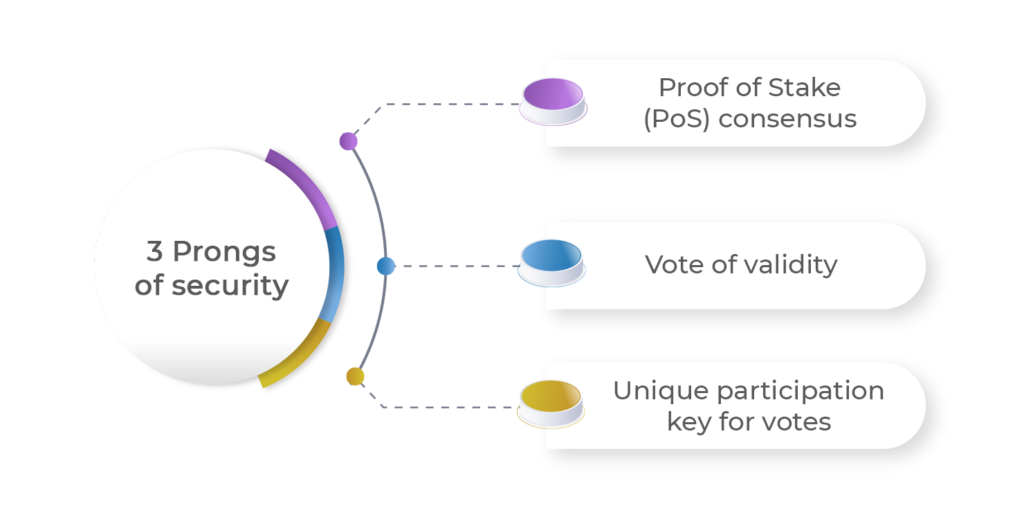 The Proof of Stake (PoS) variant for consensus deployed by Algorand ensures that the block creator for each round is chosen based on their stake. The Algorand algorithm takes care to only notify the block creator of their status, making it extremely difficult for them to be a victim of Denial of Service (DoS)
Forming committees of randomly chosen staked nodes to vote on the validity of every proposed block makes it very difficult to collude against or target the voters.
Lastly, the block validation committee participants are required to digitally sign their votes. Algorand ensures that the nodes generate a unique participation key prior to the vote being signed. This enables the nodes to take part in consensus even while keeping their spending keys secure online.
Want to implement blockchain in your business?
Get a free consultation from our experts
Schedule a call
How Does Algorand Stack Up Against Other Blockchain Platforms?
Algorand blockchain performs quite creditably against other major blockchain platforms. It has, for instance, acquired the reputation of being an Ethereum killer on account of it being the world's very first open-source, pure proof of stake blockchain protocol catering to the next generation of financial products. Algorand blockchain can give Bitcoin a run for its money (pun intended!) as it is expected to earn 2.92 times greater ROI (Return on Investment) than Bitcoin over a 90-day trading horizon. When compared with Solana, Algorand blockchain wins hands down as it is available via SaaS, iPhone, iPad, and Android as opposed to the former which is a SaaS-only offering.
Examples of Algorand Based Projects or Applications
Algorand blockchain has seen extensive use across industries as diverse as real estate, microfinance, copyright, fintech companies, startups, financial services firms, and so on. Among the companies and organizations that have deployed it is Circle-a global fintech firm, Republic-a private investment platform, IDEX-the world's preeminent smart contract exchange, Archax-a digital securities exchange, and Algof-the low-cost crypto lending market.
Notably, Algorand blockchain was chosen to support the first national digital currency SOV which is slated to circulate in the Marshall Islands, alongside the US dollar. It was also chosen to power Smile Coin, dedicated to the task of decentralizing gaming, and Tinyman an all-new decentralized trading protocol. There are many more examples of Algorand being leveraged to impart efficiency, transparency, and security to a host of other businesses, organizations, and applications. Clearly, Algorand has been found extremely useful by an ever-growing number of new-age businesses and organizations. One can only expect to see their number rise in the time to come.
Any blockchain project that is considering deploying Algorand is definitely on to a good thing and should opt for it unhesitatingly.
Want to start your next blockchain project using Algorand?
Get a free consultation from our experts
Schedule a call