Blockchain – what started from Bitcoin, Ethereum, Proof-of-work has now expanded to hundreds of different options including Cardano, Tezos, etc, and a wide range of consensus protocols. The latest addition that caught my attention is the HECO blockchain.
Huobi Eco Chain a.k.a HECO Chain is a decentralized, high-efficient, and energy-saving public chain launched by Huobi Global, which is, according to Coinmarketcap, the sixth largest crypto exchange in the world. It facilitates high-performance transactions and is compatible with secure smart contracts. What makes Heco standout is that it offers to improve the efficiency of Ethereum by Layer2, which will supplement and empower the Ethereum ecosystem. Unlike Ethereum, Heco uses the Hybrid-Proof-of-Stake consensus mechanism.
So, what's the catch?
Crypto assets like Bitcoin, Ethereum, and stable coins can be mapped to Heco with the help of an asset bridge. By doing this, the asset is locked and an equivalent number of Heco tokens can be generated. This opens up a wide range of applications for dApps that require cross-chain functionalities.
For example, the PoW based Ethereum, which is the most used blockchain platform for building dApps, is becoming very expensive. At peak times, Ethereum's gas fee can go astronomical, resulting in an impossible state to do small transactions. Heco offers an EVM-Ethereum Virtual Machine that allows developers to smoothly port their dApps from Ethereum to the Heco ecosystem. This enables developers to offer low-cost on-chain transactions in their dApps.
Another catch, Heco's design is such that the users who hold their HT tokens (HT is the endogenous token in the Heco chain) have to pay comparatively fewer gas fees. Creating a mechanism to drive the token value upwards in the market.
Other benefits
Heco offers great performance when compared to other blockchain networks. On average it is capable of handling 2000+ transactions per second (tps) and has a block time of just 3 seconds.
Low transaction fee
Heco uses the HPoS consensus protocol, which offers low transaction fees, low transaction delay, and high transaction concurrency. The maximum number of validators that are supported is 21.
Cross-chain compatibility
An asset bridge may map assets like BTC, ETH, and stable currencies to Heco. The technique of realization entails locking a particular number of tokens on the original chain before generating a matching number of tokens on Heco.
Need help with blockchain development?
Reach out to us today
Contact
Meta transaction function
The meta-transaction feature is enabled, allowing users to cut gas prices in stages, with Heco covering the cost of the lowered portion. The meta-transaction feature enables DApp developers to reduce their migration costs while also lowering the cost of DApp users.
Should you consider Heco blockchain?
HECO has roughly 11.5 million total addresses and 438 million transactions on its platform to date. This blockchain provides a wide range of adaptability in the development of the Defi ecosystem. The purpose of the HECO Chain was never to imitate existing systems, but rather to take a new approach to create an open, trustworthy, and efficient blockchain infrastructure by using distributed governance through global developers and distributed technology. As a result, HECO maintains constant communication with on-chain developers and keeps a close check on the progress of all projects deployed on the HECO Chain.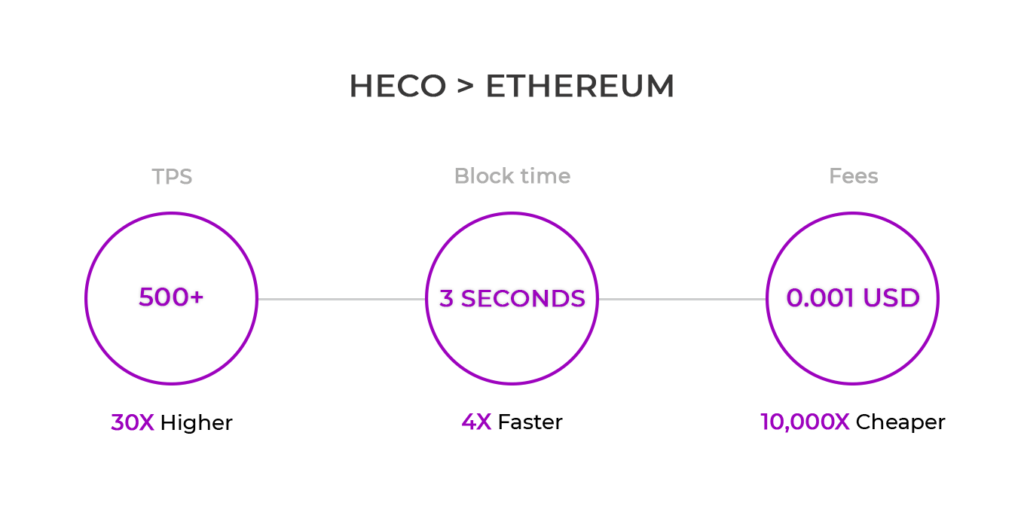 Heco's transaction concurrency can attract efficient solutions in the blockchain space. Moreover, HECO has created a mature Defi ecosystem, complete with wallets, assets, and application rankings. It provides a wide range of adaptability in the development of the Defi ecosystem. And the best catch is, Heco is offering a lot of support for developers who want to build dApps on Heco. It offers financial, traffic, and marketing assistance to developers, allowing them to focus on creating the finest Defi applications without worry. But, at the end of the day, Heco is not as popular as Ethereum. The problems faced by Ethereum would hopefully be solved with the launch of Ethereum 2.0. If your dApp needs to have a lot of interoperability with other blockchains, Heco is a good choice.
Need help with HECO blockchain development?
Reach out to us today
Contact Us
HECO for building Defi applications
Based on what I see, Heco is well built and has huge growth potential in the coming years. A few examples of the dApps that can be well built using Heco are as follows;
Asset management protocols: Asset management protocols in Defi are unquestionably on the increase, and it is one of the most innovative sectors. The adaptability and feasibility that the Heco chain provides can make a huge difference in building trust and efficiency across these applications.
Yield aggregators: Aggregators opt for networks that exhibit low gas fees and faster transaction speed. The Heco chain offers fewer gas fees and a higher sense of security which is indeed a game-changer.
Lending and borrowing platforms: Cross-chain and meta transaction function is a highlight in the chain that gives leverage over other networks. The tamper-proof benefit of smart contracts has gained the upper hand in this application.
Many companies have launched their products and platforms in the Heco chain. A few examples that caught my attention are;
Lendhub: LendHub is a debit and credit protocol based on a version of Compound that allows LHB to mine debit and credit.
MDEX: MDEX is a decentralized trading platform (DEX) that establishes markets automatically based on the notion of money pools. It supports the BSC, Heco, and ETH decentralized cross-chain transaction protocols. MDEX integrates the numerous benefits of the core public chains to provide a well-rounded, high-performance DEX environment. Participants benefit from the "dual mining" technique of liquidity mining and transaction mining. It is supported by the Heco and Binance Smart Chains (BSC).
Channels: This is a lending platform that is completely decentralized. It provides excellent asset protection, mining income, and user experience. Channels concentrate on major lending currencies such as HUSD, USDT, ETH, HBTC, and HT, and consistently prioritize product experience and customer preferences.
Heco blockchain is getting huge traction among blockchain enthusiasts and developers due to its breathtaking features. With these spectacular features, this blockchain offers a huge potential in spreading the adoption of Defi with cost-effective transactions and greater flexibility.
Need help with HECO blockchain development?
Reach out to us today
Contact Us