Remember the days you used to look up in the sky and try to discern shapes out of clouds? These Big, fluffy masses that float in different shapes and sizes regulate Earth's energy balance and it is an essential part of the hydrologic cycle. It's a blessing. But this is just the tip of the iceberg. Clouds can prove to be dangerous, and even deadly in some cases.
Most of us know that NBA superstar Kobe Bryant died in a helicopter crash. What was the cause of this crash, though? Clouds. The pilot was trying to avoid an 800-foot cloud ceiling and got disoriented in the process. The cloud cover went up to 2,400 feet (730 m) above sea level and the helicopter was completely enveloped in the clouds. Inevitably, the helicopter plunged, crashed, and caught fire.
On a different note, cloudy days can cost between 75% to 90% loss for solar companies. The occurrence of clouds affects solar panels. The amount of electricity produced by solar panels is directly dependent on the level of light they receive.
For many industries, the occurrence of certain types of clouds near their location is not beneficial. Such as airports, solar farms, etc. More than that, it is not beneficial for the insurance companies that insured the productivity of these companies.
What if we can predict the occurrence of clouds?
At Accubits, we were recently researching this subject, to build a model for cloud classification. We've deployed multiple high res cameras pointing to the open sky to capture the images of clouds throughout the day. It takes images of the sky and uses machine learning algorithms to gauge which category the clouds belong to. Based on this data we generated and using the data from the world weather records, we built a model that can predict the occurrence of types of clouds at our office location at a specific time. The real catch is, this model can be tuned to predict the cloud occurrence at any location by adjusting the input parameters.
Let's learn a bit about clouds,
According to NASA's Earth Observatory, around 67% of the Earth's surface is covered by clouds, at any given time. These clouds play a massive role in the weather we experience. Grey clouds can indicate that a storm is brewing, while a cloudless sky would mean a sunny day.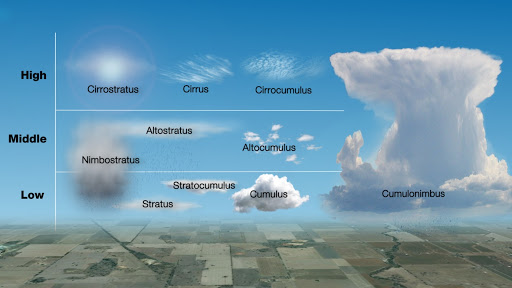 Have you ever heard of tower clouds?
They are said to be the most dangerous of all clouds. They are also known as cumulonimbus clouds and are considered as both low-level and high-level types of clouds. The presence of a towering cloud usually signals a thunderstorm and the turbulence inside one of these clouds can be heavy enough to tear an aircraft to pieces. This is why an aircraft need to be very careful while flying near such clouds.
Clouds and Air Traffic Control Centre
Air Traffic Control Centre or ATCC can benefit a lot from predicting and classifying the cloud occurrence at its locations. The landing and takeoff of an aircraft are highly dependent on the presence of clouds in the region. Due to unforeseen cloud occurrences, landing and take-offs can be delayed and mess up the ATCC operations. Air traffic operators could use cloud classification and occurrence prediction systems to get insights on the cloud cover that would be present in a particular route. This would allow them to map out routes that have lower risks associated with them. Pilots will not have to worry about maneuvering through dense clouds blindly and the passengers would not have to experience any unnecessary turbulence.
As earlier mentioned, cumulonimbus clouds can be extremely dangerous. The Air Traffic Control Centre can receive intel from the prediction system and it can send out alerts to the pilots who are flying aircraft. This can help in the avoidance of any untoward incidents due to the weather.
Clouds and Solar farms
Solar farms are heavily dependent on cloud cover as well. Intermittency is one of the biggest problems faced with solar energy. During a substantial cloud cover, solar panels are rendered useless. Using a cloud classification and occurrence prediction system, these companies can estimate the maximum possible production for the year and plan the business operations accordingly to minimize the loss. Being able to foresee future performance is something invaluable for solar farms.
Clouds and Agro sector
The agriculture industry can also benefit from cloud classification and prediction. Being able to predict the amount of rainfall and sunlight expected on a particular day or a time period could allow for better crop management practices. For example, by looking at nimbostratus clouds, you would realize that heavy rain is coming and there would be no need for crop irrigation. Using such a solution, agro companies can always be prepared for the future.
Cloud Occurrence Prediction for the Insurance sector
ATCC, solar farms, agro companies, etc are all insured by insurance companies. Using an AI-based solution that can classify the clouds and predict their occurrence in a region can help insurance companies to better evaluate the risk associated with insuring companies that are affected by clouds.

For example, a solar farm that is built in a place that is cloudy throughout the year is obviously going to be at loss. Insuring this company would be a high risk for the insurer. Moreover, using such a solution, insurance companies can better evaluate the businesses that are affected by clouds before insuring them.

If you'd like to know more about the cloud classification and prediction model we've built, kindly reach out to contact@accubits.com
How it works
Considering the case of ATCC, the solution incorporates computer vision and artificial intelligence technologies to identify cumulus clouds in the vicinity of an airport. This enables the air traffic control (ATC) to warn, re-route or plan the course of an aircraft as it approaches for landing. Knowledge about the existence of cumulus clouds enables the prediction of upcoming thunderstorms or bad weather conditions. Aircraft can rely on this data to provide a safer and cost-effective service.
In this solution, cameras are attached near the runway, pointing to the sky, capturing images, and relaying it to the central AI computing module. Within the compute module a neural network trained on images of cumulus and non-cumulus clouds makes a prediction, where it tries to see whether the image contains cumulus clouds. If the presence of a cumulus cloud is detected, the information is logged to a database and an alert is sent to the ATC for further actions. A dashboard shows the AI model prediction and recent image from the sky camera. The system is illustrated in the figure below.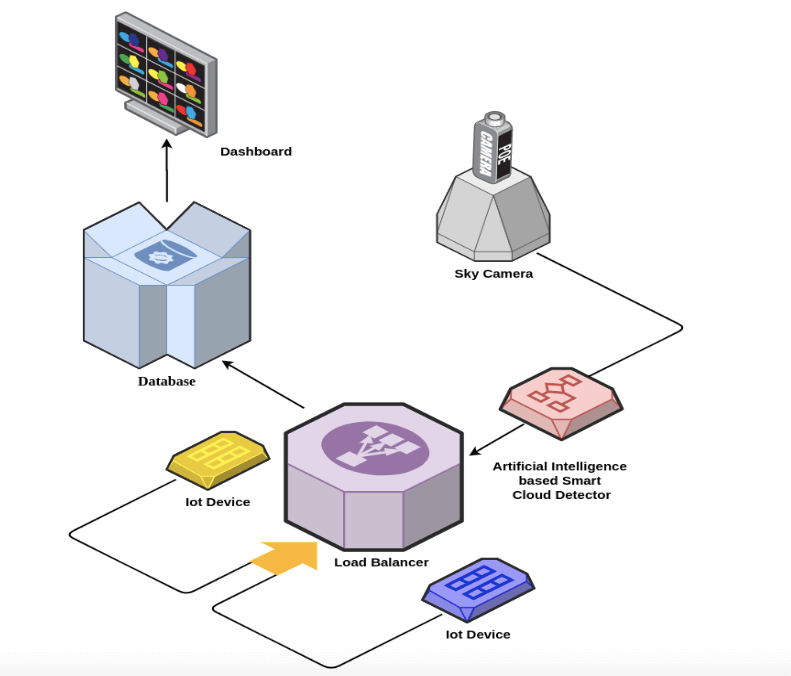 Leveraging the capabilities of artificial intelligence for automating weather-based insight generation can greatly improve the aviation industry. Lower cost of operations, safer journeys, better service, etc could be achieved by enabling such technologies in the commercial aviation domain.