GPT-3 can act as the catalyst for entrepreneurs and businesses aiming for smoother and easier operations. GPT-3's human-like text generation and its ability to process massive amounts of text data might mean the dawn of a new era for information and communication. GPT-3 has been praised for its ability to produce coherent and relevant responses to various prompts, making it a valuable tool. Understanding and leveraging GPT-3 can help make smoother operations quicker, more efficient, and less time-consuming. The business applications of GPT-3 can spark a new wave of success, and it has many advantages for businesses and budding entrepreneurs that hope to ride this wave. We have rounded up a few ways GPT-3 can help.
Let's find out:
Business applications of GPT-3 and its advantages
Innovative technology beckons exploring, discovering, and utilizing possibilities. The advent of OpenAI GPT-3 brings such an opportunity for businesses. Leveraging the business applications of GPT-3 can help enterprises automate routine tasks, gain valuable insights, and improve their overall efficiency and accuracy of business operations. GPT-3 can help businesses understand their customers, communicate with them effectively and help employees cut down on routine work.
Related Article: Getting started with Open AI's GPT-3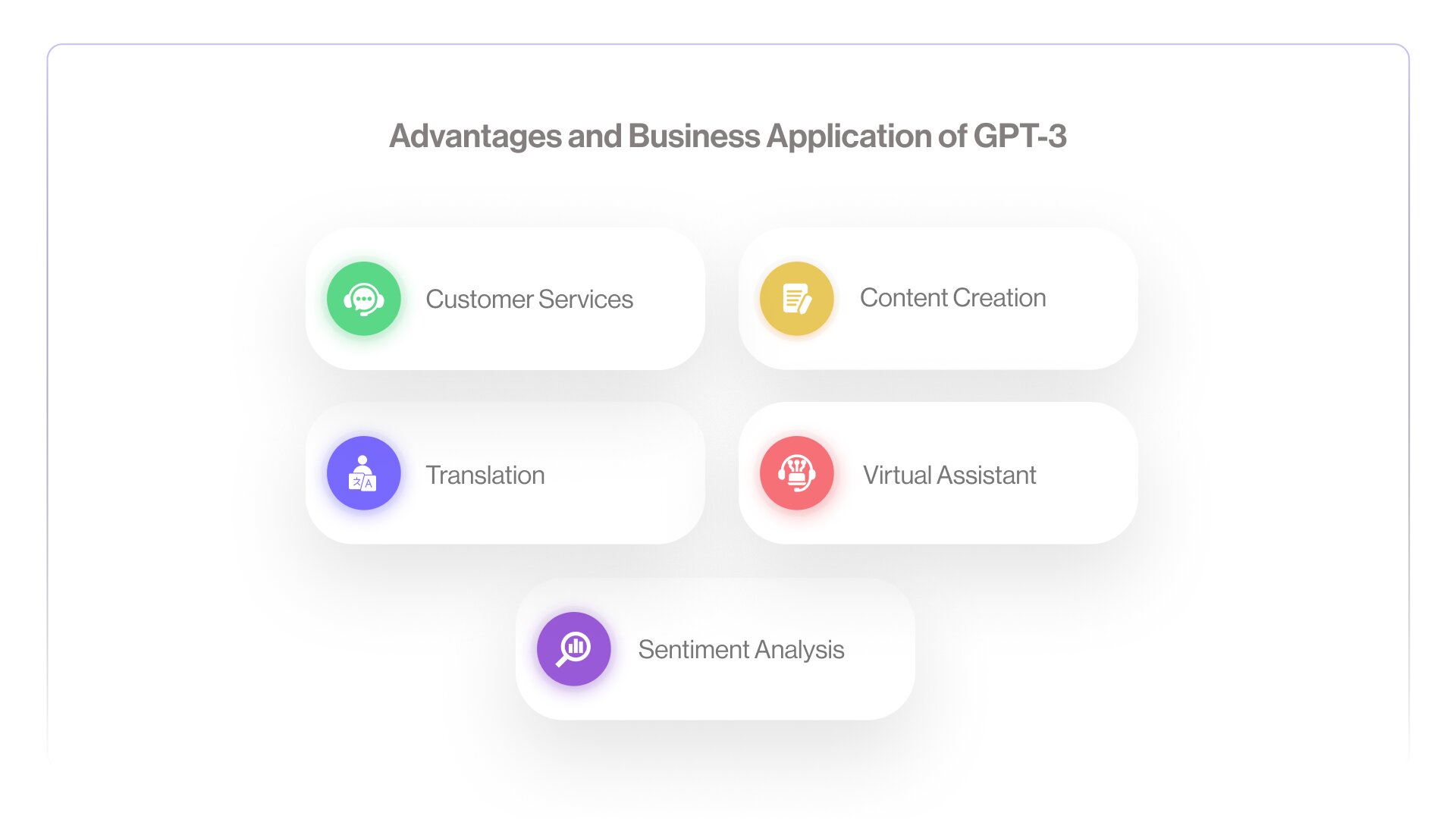 Let's explore the business applications of GPT-3 and its advantages:
Keeping customers happy
One potential GPT-3 application in the business world is in the area of customer service. GPT-3 can be used to build AI-powered customer service chatbots that respond to customer inquiries in natural language. These chatbots can handle a wide range of customer queries, freeing up customer service representatives to focus on more complex issues.
With its ability to understand and respond to natural language, GPT-3 could be used to automate customer service tasks, freeing up employees to focus on more complex tasks. Additionally, the ability to generate coherent and relevant responses could mean that GPT can improve the customer experience and increase customer satisfaction.
Being your writer
Another potential business application of GPT-3 is creating content. GPT-3 can generate high-quality text content such as articles, product descriptions, and email responses. This can save businesses time and resources by automating routine content creation tasks. Additionally, GPT-3 can be used to generate unique and creative content ideas for businesses.
GPT-3 could help enterprises save time and resources while still producing high-quality content, from generating copy for advertisements to creating blog posts and social media content.
Acting as your language expert
GPT-3's language capabilities are well-suited for building high-quality language translation systems. This can enable businesses to communicate effectively with customers and partners in different countries, regardless of the language they speak.
This can go towards reducing the language barrier for more efficient and effective global communication as the business scales globally. Improving accessibility goes a long way in making customers comfortable with the brand and the offered product.
Providing virtual assistance
GPT-3 can be used to build virtual assistants that can help with scheduling, reminders, and answering questions. These virtual assistants can be integrated into a wide range of platforms, making it easier for businesses to automate routine tasks and improve efficiency.
Businesses can help employees focus on more creative tasks by eliminating routine tasks. This helps the enterprise develop new and innovative solutions for its clients.
Knowing the sentiments of your customer
Another business application of GPT-3 is that it can analyze large amounts of text data to determine the sentiment expressed. This can be valuable for businesses looking to understand customer opinions and preferences and monitor brand reputation. GPT-3 can analyze customer reviews, social media posts, and other forms of customer feedback to help reap actionable insights.
Understanding the customer is vital to the success of any business. A deeper insight into the customer's feedback and preferences can help inform the business decisions for the future, such as the changes required or the demand for the product. This helps entrepreneurs narrow down the problem areas and focus on the solutions.
Being a successful entrepreneur requires more than smooth business operations. GPT-3 can aid budding entrepreneurs in multiple ways.
Ways GPT-3 can help your entrepreneurial hourney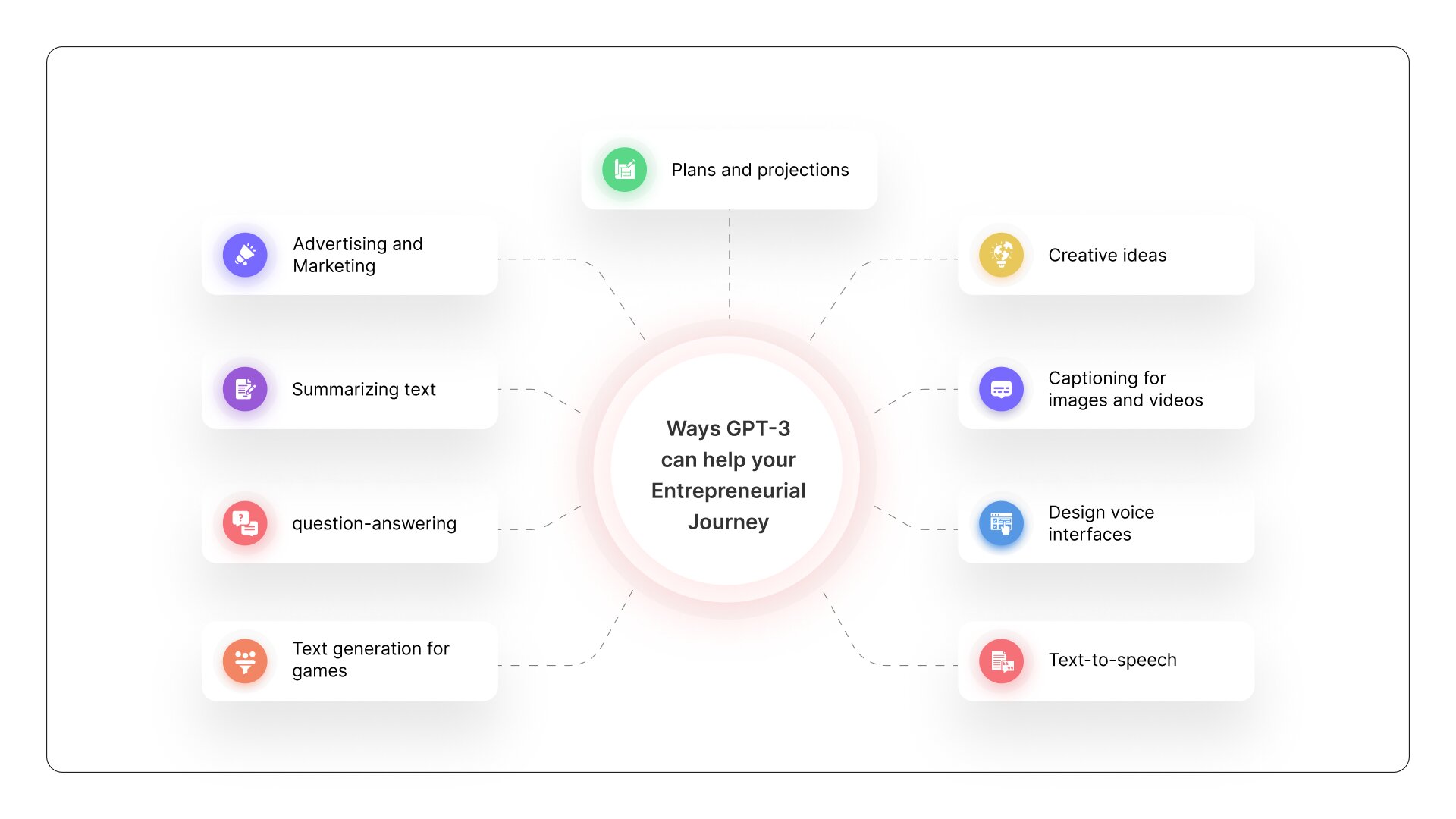 For budding entrepreneurs, GPT-3 can help in various business decisions and help cut costs and time for various tasks. For innovators starting out on their journey, it can help bring the future closer to reality. It can be the partner to their mission. Some of GPT-3 applications are:
Plans and projections
GPT-3 can help generate business plans and financial projections, allowing entrepreneurs to focus on other aspects of their businesses. It also helps entrepreneurs analyze market trends and consumer behavior, allowing them to make informed decisions about their business strategies and watch the year's top trends.
Brainstorming buddy
GPT-3 can generate creative and unique business ideas by leveraging its natural language processing capabilities, an important business application of GPT-3. Entrepreneurs can provide parameters such as a target market, desired outcome, or product features, and GPT-3 can generate a list of ideas that match those parameters. This can help entrepreneurs identify new business opportunities and develop innovative products and services.
Advertising your cause
GPT-3 can generate high-quality text-based content for marketing and advertising purposes. Entrepreneurs can create captions for social media posts, write product descriptions, and other types of marketing content. GPT-3 can also analyze customer feedback and reviews to gain insights into customer preferences and opinions. This information can be valuable for entrepreneurs looking to improve their marketing strategies and effectively reach their target audience.
Getting to the point
GPT-3 can summarize large amounts of text data by using its natural language processing capabilities to identify and condense the key points of a document. This can be valuable for businesses looking to quickly understand the key points of a document or to condense a large amount of information into a more manageable format.
Ask me anything
GPT-3 can be used to build question-answering systems that provide accurate and relevant answers to a wide range of questions is a prominent business application of GPT-3. These systems can be trained on various data sources, such as encyclopedias, news articles, and company databases, and can answer customer inquiries or provide employees with quick access to relevant information.
Speaking to the audience
GPT-3 can generate high-quality text-to-speech conversions, which can be used in multiple applications such as voice assistants, audiobooks, and educational videos. GPT-3 can also generate different accents and speaking styles, making it a versatile tool for businesses looking to provide unique and personalized audio experiences.
Voice interface design
GPT-3 can be used to design voice interfaces for various devices and applications. This can include designing voice commands for smart home devices, creating dialogue for virtual assistants, and developing interactive voice experiences for games and other applications. By leveraging GPT-3's natural language processing capabilities, businesses can create voice interfaces that are intuitive and easy to use.
Captioning the media
GPT-3 can generate captions for images and videos, providing alternative text descriptions for visual content. This can be valuable for businesses looking to make their visual content more accessible to a wider audience, including individuals with visual impairments.
Text generation for games
GPT-3 can generate text-based content for video games, such as dialogue for characters or descriptions of game locations. This can help game developers save time and resources while providing high-quality content. GPT-3 can generate different writing styles and narrative structures, allowing game developers to create unique and immersive gaming experiences.
While the potential of GPT-3 is undeniable, there are also concerns about its impact on jobs and the ethical implications of relying on AI technology for decision-making. Businesses and entrepreneurs should consider these concerns and use GPT-3 responsibly and ethically.
A conversation about responsibility
To fully understand the business applications of GPT-3 in various industries, it is also necessary to understand the responsibilities of modeling GPT-3. So I asked the ChatGPT for the specific guidelines to look out for while modeling GPT-3. This is the answer that came back:
When modeling GPT-3, or any advanced AI system, there are several important considerations to keep in mind:
Bias and fairness: Ensure that the data and training process used to build the model does not introduce bias into the system, which could lead to unfair or discriminatory outcomes.
Robustness and security: Ensure that the model is robust against adversarial attacks and that the system is secure against unauthorized access or manipulation.
Explainability and transparency: Ensure that the model is transparent and that the reasoning behind its decisions can be easily understood, which is especially important for high-stakes applications.
Privacy and data security: Ensure that sensitive personal data is handled securely and that privacy-preserving techniques are employed where necessary.
Scalability and generalization: Ensure the model can scale to handle large amounts of data and generalize to new data and environments.
Human-AI interaction: Ensure that the model is designed to work well with human users, with a user-friendly interface and appropriate safeguards in place to avoid unintended consequences.
Ethical considerations: Consider the ethical implications of the model and its potential consequences, and ensure that the model is designed to align with ethical and moral values.
Naturally, my next question was to ask ChatGPT's level of safety based on these criteria, and this was the response:
As an AI model developed by OpenAI, I have been designed with several important considerations, including robustness and security, explainability and transparency, privacy and data security, scalability and generalization, and ethical considerations. However, like any technology, there is always a potential for unintended consequences or harm. To ensure the safe use of AI technology like mine, it's important to continue to monitor and evaluate the technology and to use it responsibly and ethically. Additionally, it's important to have appropriate safeguards in place to mitigate risks and to ensure that the technology is being used in a way that aligns with ethical and moral values.
Conclusion
GPT-3 can bring a new wave to businesses and entrepreneurs with new opportunities for success. These opportunities can help aid the advent of new innovations. The vast business applications of GPT-3 have the potential for better creation or the aid to help smoothen the operations. The impact of GPT-3 is rippling out to various industries. Time will tell if these impacts can create and sustain continuous reverberations. The key to leveraging GPT-3 technology to its fullest is understanding your niche requirements and experimenting with it to explore the possibilities.