In this article, let's explore the possibilities and benefits of using Robotic Process Automation (RPA) in human resource management. HR department operations are perhaps the most complex and sensitive component in successfully scaling a business. I'd say, if you have the budget to modernize only one department in your organization, choose the HR department first.
Why HR operations need to be modernized?
HR managers are under constant pressure to hire quality employees and ensure their well-being. They need to facilitate a great working environment for the employees and work with many other departments to ensure the smooth operations and growth of the company. In their day to day activities, HR managers have to deal with a lot of quantitative as well as qualitative tasks. For example, processing the salary issuance of employees is a quantitative task. And talking to an employee to understand their outlook on the company is a qualitative task.
When the company grows, the big hurdle HR managers face is to find a balance in managing the quantitative and qualitative tasks. As quantitative activities are readily recorded and reported, HR managers tend to focus more on them. And eventually, the focus given for qualitative activities fade off, resulting in bigger challenges in the long run of the business.
Quantitative tasks are time-consuming, repetitive, involve a lot of paperwork, and above all, it's BORING! Wouldn't it be better if the HR executives are relieved from the quantitative works so that they can focus more on qualitative works? And that is where RPA in HR processes can help.
As per the report from Deloitte, the top executives of top Human resource firms reports that RPA implementation results in 10-20% savings on HR processes and, more broadly, on overall business processes.
To get a better understanding on Robotic Process Automation or RPA technology, let's deep dive into the below topics:
What is RPA or Robotic Process Automation technology?
In layman's terms, RPA or Robotic Process Automation technology enables machines to perform jobs without human intervention. That is, your computer can automate a job for you. It saves a load of time for you and it can complete the given job much faster and more accurately.
If you'd like to build a deeper understanding of RPA you can refer to this article – What is RPA?
RPA technology is growing fast and more industries are finding benefits with job automation using RPA technology. According to a recent Gartner study, the global RPA software revenue is projected to reach $1.89 billion in 2021. Clearly, many businesses are realizing the benefits offered by this technology and reaping the early mover advantage. Let's see how this piece of technology can benefit HR operations.
RPA in HR use cases
RPA solutions can be helpful to the HR department in your organization in various ways. To start with, it can automate most of the quantitative works that suck the energy out of your HR executives.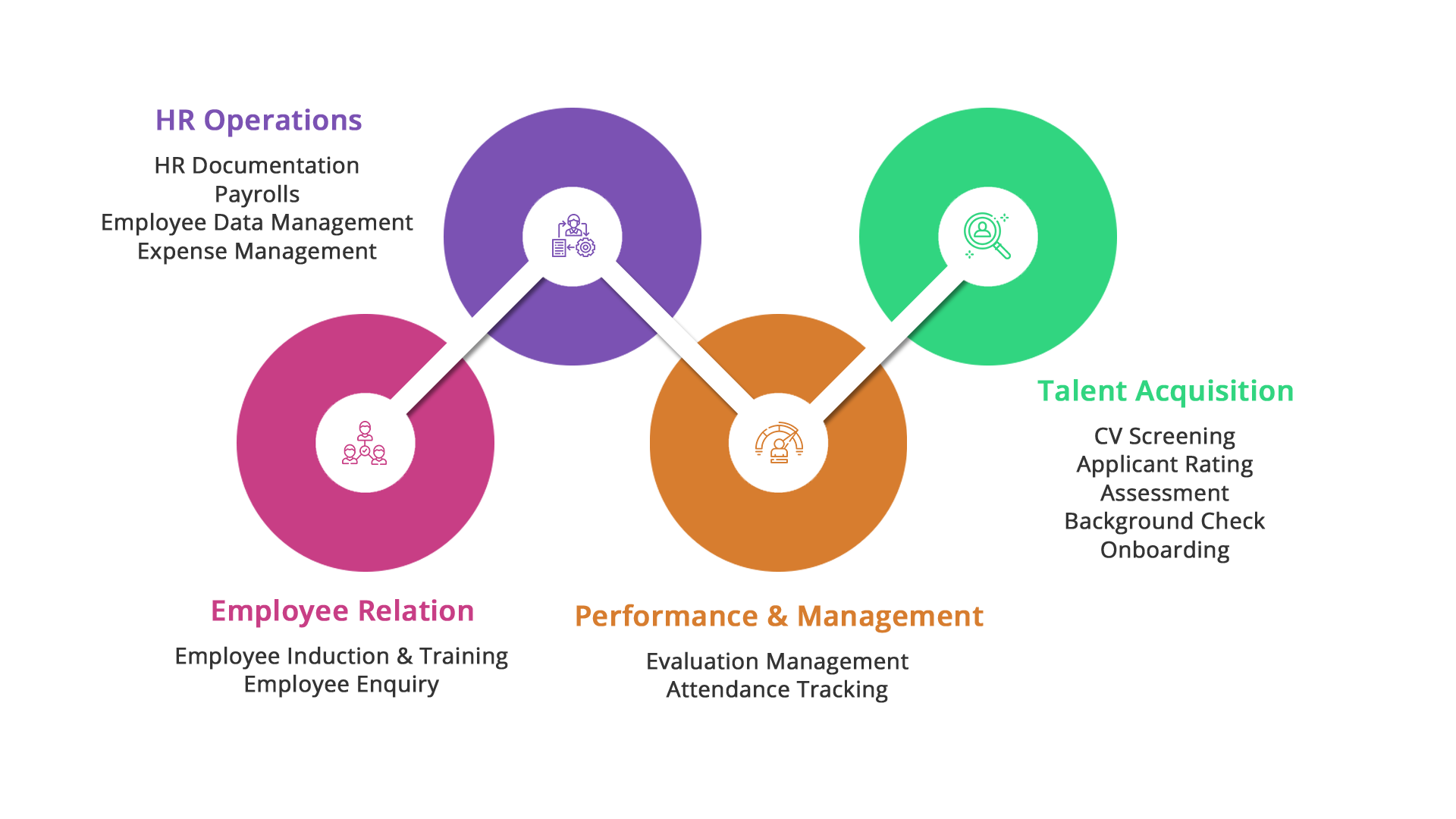 Some of the main use cases of Robotic Process Automation or RPA in HR processes are listed below:
Automating Information retrieval
Information retrieval is the process of extracting the required information from several sources such as resumes, documents, invoices etc. HR executives spend a lot of time in manually retrieving information from different sources. This is an example of a quantitative task that can be automated by implementing RPA in HR.
For example, sifting through hundreds of resumes from potential candidates is a very time consuming task. HR professionals are often found burning the midnight oil in an attempt to analyze CVs and narrow down the list of potential candidates. This process gets even more intense in large organizations which receive thousands of applications every day.
By implementing RPA in HR operations, businesses can automate the CV screening process. RPA solutions can analyse CVs and filter candidates that fit a specified role. Generally, these solutions make decisions based on rules that have been specified by the company's human resources team. They thoroughly analyse CVs and highlight key information like educational qualifications and work experience.
RPA technology is often used to complement applicant tracking systems (ATS) to organize CVs in an orderly manner. If a candidate isn't the right fit for the current role, such tools can automatically search and recommend the candidate for future job vacancies. An RPA tool can also help companies automatically extract all the important fields from expense receipts, saving a lot of time.
May I know the status of my leave application?
Can I get my salary slip?
HR executives receives tons of inquiries like these from employees everyday. Responding to each and every inquiry is not practical. And the delay in responding to these inquiries could affect the employee experience. In this scenario, an AI-powered chatbot paired with an RPA tool can relieve the HR executives from this hectic task. Such a chatbot can enable transparency in employee engagement to a large extent.
These tools can comprehend complex questions asked by employees and fetch an appropriate response. Chatbots can improve employee experience by delivering instant information, quickly processing leave requests, form submissions etc.
We have developed a solution that just solves this problem. If you're interested, go ahead and check out our HR chatbot.
Automating interview status updation
Organizations can use RPA in hr operations to automatically respond to rejected candidates. After the HR team has decided that a candidate is not suitable for the role, an automation tool can be used to trigger an e-mail to the candidate. Similarly, this can work for candidates who have been selected for the job or for future rounds of selection.
Although this functionality is present in almost all ATS platforms, it still needs human intervention to update the status of an interview. What RPA can do to ease the work of HR executives is to automatically identity profiles that are not relevant to the job opening and update the status and send out notifications accordingly to candidates. This can help boost the employer brand and can go a long way in crafting a good brand image. RPA in HR processes can also be used to draft a digital offer letter that contains all the required details like the job description, salary, employee benefits etc.
The reporting process is yet another repetitive task that is extremely time consuming. Managers need to constantly develop reports that fall in line with various labour laws. Such reports include information about things like the monthly labor expenses, employee benefits, and the employees' performance during a particular period.
The manual creation of such reports by gathering and verifying data can take weeks and are often inaccurate. By implementing RPA in HR operations, you can improve the efficiency of this process by reducing the time required to just a few hours with increased accuracy. They can also automatically access the data required for generating reports. It can then merge, process, and format the data to create accurate and customized reports based on predefined templates.
Automating Payroll using RPA
By the end of the month or the start, every employee would expect to get their salary on time. Delaying this would result in a lot of internal problems for the company. You don't want to log in to your software at the last minute and send the amount to your employee. The better and easier way to do this is by implementing the RPA technology.
With the help of RPA in HR processes, the bot can detect the employees' attendance using biometric devices in each branch. In the automation software, the employees can update their leave status, overtime, expenses incurred, etc. After analyzing the details, the bot can calculate the salary for the month. Once the payroll is processed, employees will receive a statement called a salary slip.
Robotic Process Automation (RPA) helps make the payroll process more efficient by recognizing patterns, reducing duplicity, and automating repetitive tasks, resulting in a smoother and more streamlined process. RPA also helps organizations stay updated with local regulations and alerts management through automated triggers if any discrepancies are detected.
Automated planning and scheduling
Once the HR department has finished shortlisting CVs, they need to schedule interviews for the final candidates. This can be quite difficult as they need to analyse work schedules of interviewer and fix on the best time for the interview to occur. The usual process is to go through the calendar of everyone in the interview panel, and find a slot that is open for all. This becomes quite hectic as the number of interviews and the number of interviewers increase.
In this scenario, RPA solutions can automatically find a slot that is convenient for everyone involved by analyzing their calendars and send out an email to the candidate with the schedule information. Scheduling of training sessions is yet another process that can be automated by RPA technology. RPA tools can analyse the work schedules of the recruits and trainers to automatically schedule training sessions at an appropriate time.
Automating regulatory compliance checks
Labour laws mediate the relationship between employees, employers and the government. Companies need to make sure that they comply with these regulations. However, they are subject to change and many HR managers struggle to stay updated on these changes. RPA solutions can automatically sift through various websites and send notifications when there has been a change in compliance requirements.
How to get started with RPA?
Contact us for a no-obligation consultation
Contact Us
Benefits of implementing RPA technology
From the previous section, it is quite evident that there are a lot of applications for RPA solutions in the HR department. However, as a business, what are the major business benefits that you will experience by implementing RPA technology?
Let us take a look at some of the major advantages:
Higher accuracy and productivity
RPA technology uses predefined rules to follow certain tasks. Such solutions consistently execute processes without any room for error. They can also help boost business productivity, as your employees can now focus on high value tasks that actually contribute to the well being of the organization.
Tasks completed by RPA bots will be executed consistently without any variations. In fact, RPA technology was developed for perfect replication and error-free performance, eliminating any kind of output variations during an operational term.
Implementing RPA in HR operations can help organizations save up on a lot of money. This is because the cost of labour per process is significantly lower with RPA bots who operate at scale. These bots can work tirelessly, which leads to very less wastage of effort and lower downtime for the system.
RPA bots provide consistent performance and don't need to take any sick leaves or personal days. They can be put to work at any time of the day and they always deliver error-free results.
RPA solutions are extremely flexible and can follow programmed procedures irrespective of the deployment environment.
As you can see, RPA can add serious value to your HR department. You may encounter a few hurdles during the implementation of automation technology, but adopting them in your business is definitely worth the effort. Our team of experts is always available to help you realize the full potential of RPA.
Learn how to automate your business
Contact us for a no-obligation consultation
Contact Us