The best possible way to attain success in any business sector depends on leveraging the human creative process to come up with innovative ideas that can carry the business into the future. Yet an obstacle standing in the way of achieving this is- tedious, monotonous, and repetitive work. In often cases this might be unavoidable work. With Intelligent Process Automation, businesses can jump over this hurdle by providing a way to automate such tedious and monotonous tasks.
Research shows that the global Intelligent Process Automation Market is expected to reach USD 15.8 billion by 2025. North America accounted for the largest market value of $2624.6 million in 2018, and the market is forecasted to register a CAGR of 10.83%within the next five years. But first, let's explore what it is:
In this article we'll see:
What is Intelligent Process Automation (IPA)?
Intelligent Process Automation is a series of automation techniques that automates repeated actions and takes complex decisions based on the data. Incorporating this technology into the business fields can help free up the employees from repetitive and routine work. An IPA combines two key techniques to build itself.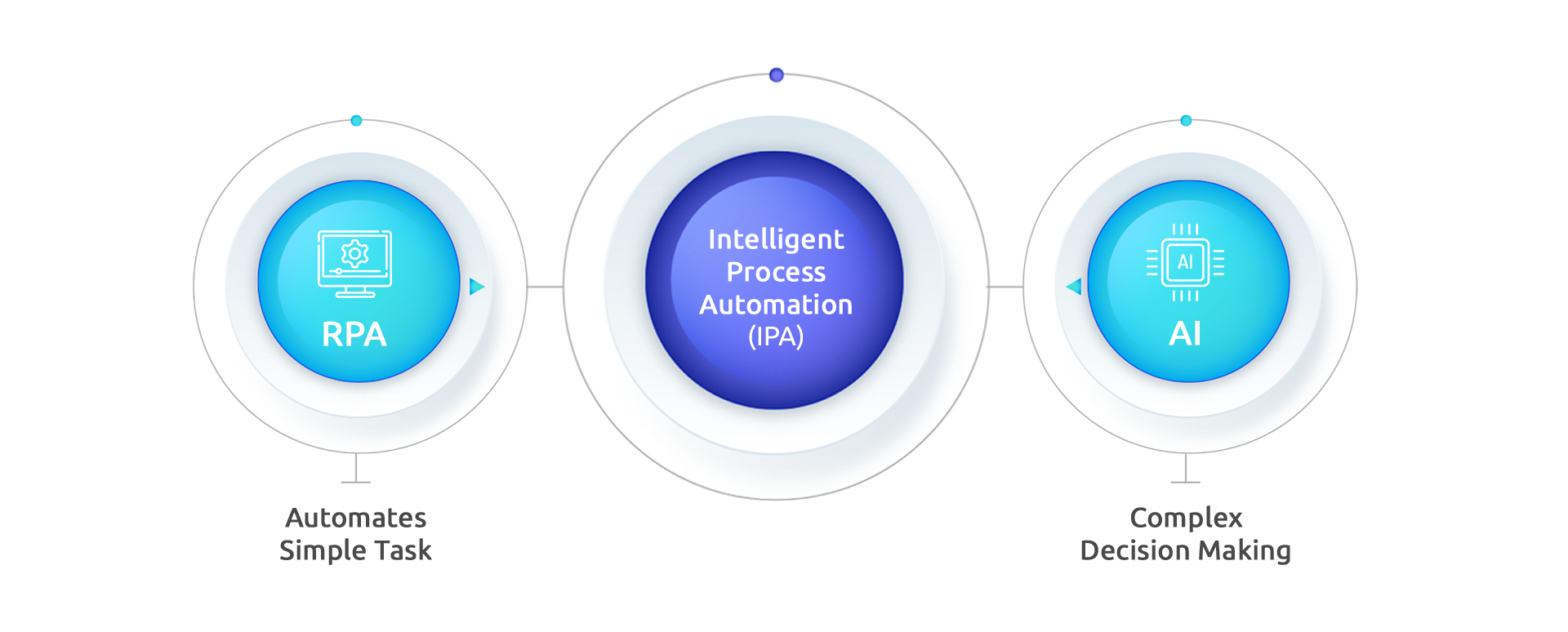 The first one is RPA. Robotic Process Automation, a software that automates simple tasks like checking through files, running applications, and such. The second is AI, which uses machine learning algorithms and analytics to perform actions that involve decision making, anomaly detection, etc. When combined to make an IPA, It has the ability to
Make complex decisions on the situation at hand
Automate a repetitive process.
Benefits of Intelligent Process Automation
Unlike conventional automation, an IPA can work with unstructured data to provide results based on cognitive processing. This means it can take on more complex actions than conventional automation and can free up humans from repetitive and time-consuming tasks. Indico reports that with over 80% of data being unstructured content in most enterprises the best solution to this is IPA. Moreover, an IPA provides measurable results implying that it can help the business calculate the returns after implementation.
IPA aids in reducing the cost of operation by increasing efficiency and workflow. It improves quality by reducing the margin of error. It has the capacity to operate on time-consuming and complex issues without affecting the output of the issue. According to McKinsey, companies that integrated IPA sees automation of 50 – 70% of tasks resulting in a reduction of annual run-rate costs by 20-30%. For most companies, it also provided a triple-digit ROI.
Related article about Robotic Process Automation v/s AI
Industrial use cases
Plenty of industries stand to gain immensely by implementing intelligent process automation in their daily operations. Some of them are:
Finance
The Capgemini report found that over one-third of financial firms saw a 2-5% growth from automation. Adopting IPA in financial sectors can provide an automated method to deal with customer service and make interactions smooth and effortless. The time-consuming act can be left in the hands of the AI which would carry the task without disrupting the workflow.
IPA also helps the accuracy of the procedures and can automate the reports that often take up valuable time of the employee. Data storage and formatting along with its reporting capabilities have significantly reduced the need for manual entry and also the follow-up investigation.
IPA can process invoices without errors. Preparing an invoice is a tedious and repetitive job that can be handed over to the IPA to automate and to make decisions like the employee.
Related article on Automtion in Accounting
Insurance
An IPA can identify and sort out the relevant information presented by various policyholders and can issue the policy based on it. It can also be used to issue claims based on the available unstructured data. The automation of this process enhanced with AI can certainly make the overall work accurate, cost-effective, and time-efficient.
Related article on Scope of AI in Insurace sector
Healthcare
Healthcare has various impacts with IPA. One of which would be maintaining notes and reports for doctors. This can reduce the manual hours put into maintaining this data. The insights gathered from the data can also be used to check the patients' treatments, risks, and status. Discharge procedures and providing information on the dosage of medicines can help the system be more efficient and effective.
Related article on AI in the healthcare sector
Success stories
Companies who've integrated IPA into their workflow have seen significant changes with and achieve a good percentage of ROI. Below we shall example of such companies that have been using it to enhance their performance.
Credit Mutuel integrated its systems with IPA to help client advisors process customer request. As one of France's leading banks, Credit Mutuel had over 3,50,000 online requests pouring in each day. The volume of these requests was growing at 23% per day. Client advisors had their hands full until they adapted to an IPA model. The IPA assisted over 20000 customer advisors throughout 5000 branches. By integrating the IPA system, it freed them to work on more complex and nuanced queries. While the automation system analyzed emails and virtual interactions to optimize the process. This reduces the time spent finding answers down to 60%. And it addressed 50% of the daily emails.
At Accubits we've helped an Indonesian bank with over 1000 branches overcome the problem of signature forgery. Signature forgery is a significant problem and such frauds can cost the bank. Often banks employ specialists to verify the authenticity of signatures. But this is time-consuming and expensive. Our client employed 6-12 people per branch to deal with the issue. Our solution provided a way to automate the verification process and to integrate it with the existing system. The solution matches the provided sign with preexisting data. The AI then provides an output based on the similarity. Small margins of change are accessed and measured to find the anomaly. Based on the results it provides the result. Using this to process loan verifications, and other official procedures can greatly reduce the time required for verification and the manpower for the task. Our client reduced the verification time by 70% and the verification personal from 12 per branch to 2 per branch.
These are some of the possibilities of integrating an IPA into the workflow.
Need help with AI development?
Reach out to us today and get started!
Contact Us