The tech world is brimming with excitement and anticipation. The past year has been a wild ride with unexpected twists and turns. However, as futurists, we must stay ahead of the curve and anticipate the latest tech trends shaping the landscape. According to Gartner, global IT spending is set to soar by 5% this year, reaching a staggering $4.6 trillion. This increase in spending is driven by companies ramping up their digital transformation efforts. We expect digitalization to continue its rapid rise, with AI leading the charge.
Let's buckle up and explore the latest tech trends to watch out for in 2023. From AI-powered innovations to the metaverse, the future is here, and it's time to ride the wave of technological advancement.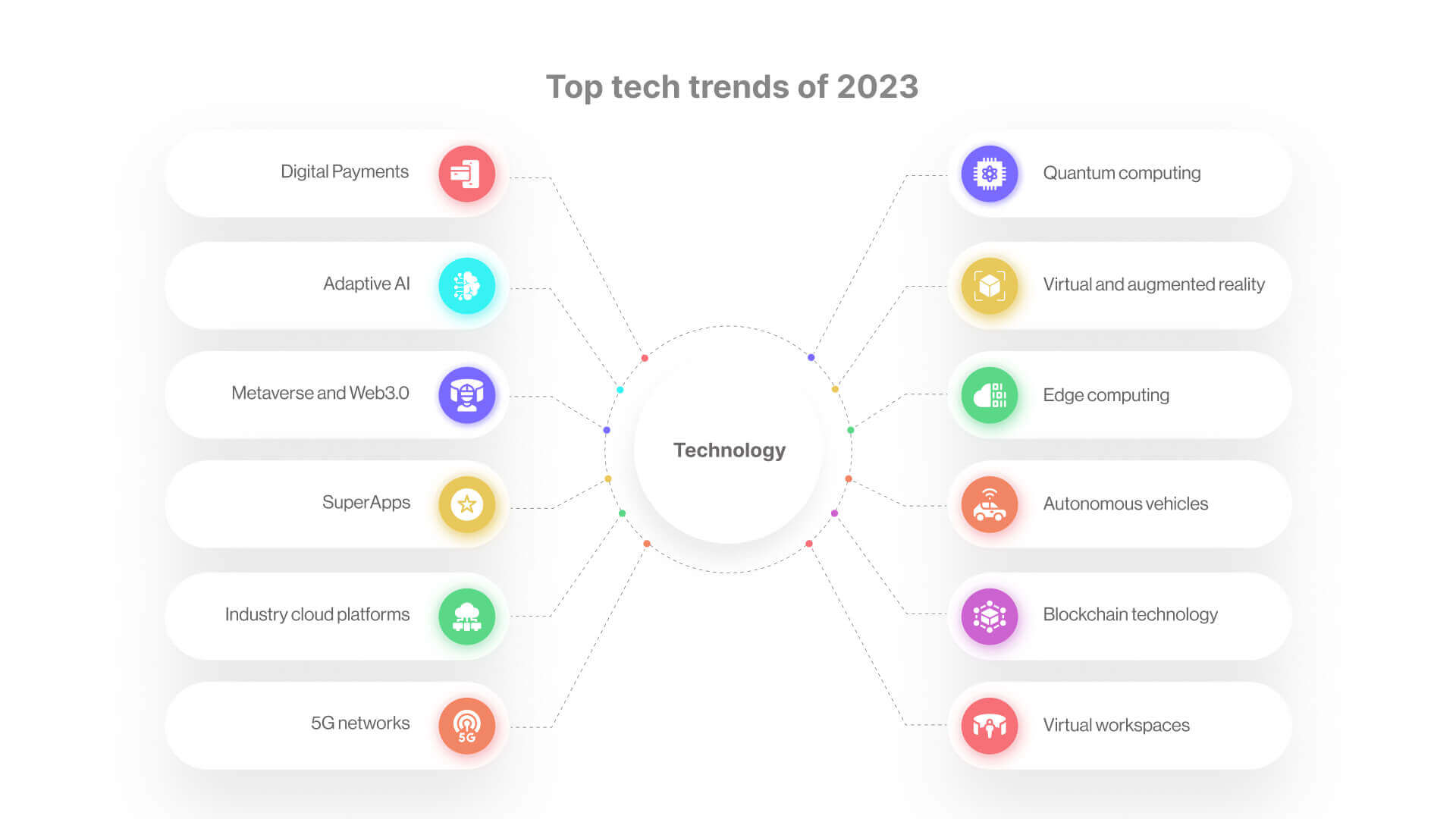 Expected tech trends for 2023
The world of technology is constantly evolving and changing, and keeping up with the latest tech trends can be daunting. However, anticipating the top tech trends driving the future can help individuals and businesses stay ahead and make informed decisions. Here are some of the latest tech trends to watch out for in 2023!
Generative AI
Businesses tightening their collaboration with AI will be the biggest tech trend. One of the most notable examples of this trend is the ChatGPT model, developed by OpenAI. It is a state-of-the-art language generation model that can produce human-like text in various styles and formats. With its ability to generate text that is difficult to distinguish from text written by humans, ChatGPT can revolutionize how we interact with machines and could lead to the development of more natural and intuitive language-based interfaces.
GPT3 has made a huge entrance into the market. People worldwide are astonished by its magical abilities. However, GPT3 is only one of the many Large Language Models available today. BERT, OPT, T5, and PALM are a few other examples. Another notable trend is the use of generative AI in computer graphics and visual effects. Generative models can be trained to generate new images and videos.
Generative AI can impact businesses worldwide by enabling them to automate and optimize various processes and enhance customer experience. For example, it can help businesses reduce the time and cost associated with creating content, such as designs, music, videos, and text. Moreover, it can help businesses offer personalized customer experiences with tailored recommendations and assistance.
Generative AI can analyze large amounts of data and generate insights about future trends and behaviors to help businesses make more informed decisions. For example, optimize various processes, such as supply chain management, resource allocation, and scheduling.
The convergence of technologies like AR/VR, AI/ML, IoT, and Blockchain has given rise to Metaverse and Web 3.0, revolutionizing how customers interact with brands and businesses. The metaverse, a term popularized by science fiction author Neal Stephenson to describe a virtual reality shared by millions of users, is rapidly becoming a reality. With the advent of virtual and augmented reality technology, people can now interact with each other and in digital environments in new and exciting ways. Web3, the decentralized or blockchain web, is a new internet generation that enables direct peer-to-peer interactions and transactions without intermediaries. It uses blockchain technology to ensure trust and security and allows for the creation of decentralized applications (dApps) and smart contracts.
Web3 and metaverse are closely related, as they both aim to create a decentralized, open, and accessible digital world. The metaverse can be built on web3 technology, providing a secure and decentralized infrastructure for virtual reality and digital asset ownership.
Web3 technology can enable new business models and opportunities in the metaverse, such as decentralized marketplaces, digital asset trading, and NFTs, as well as increase user privacy and security.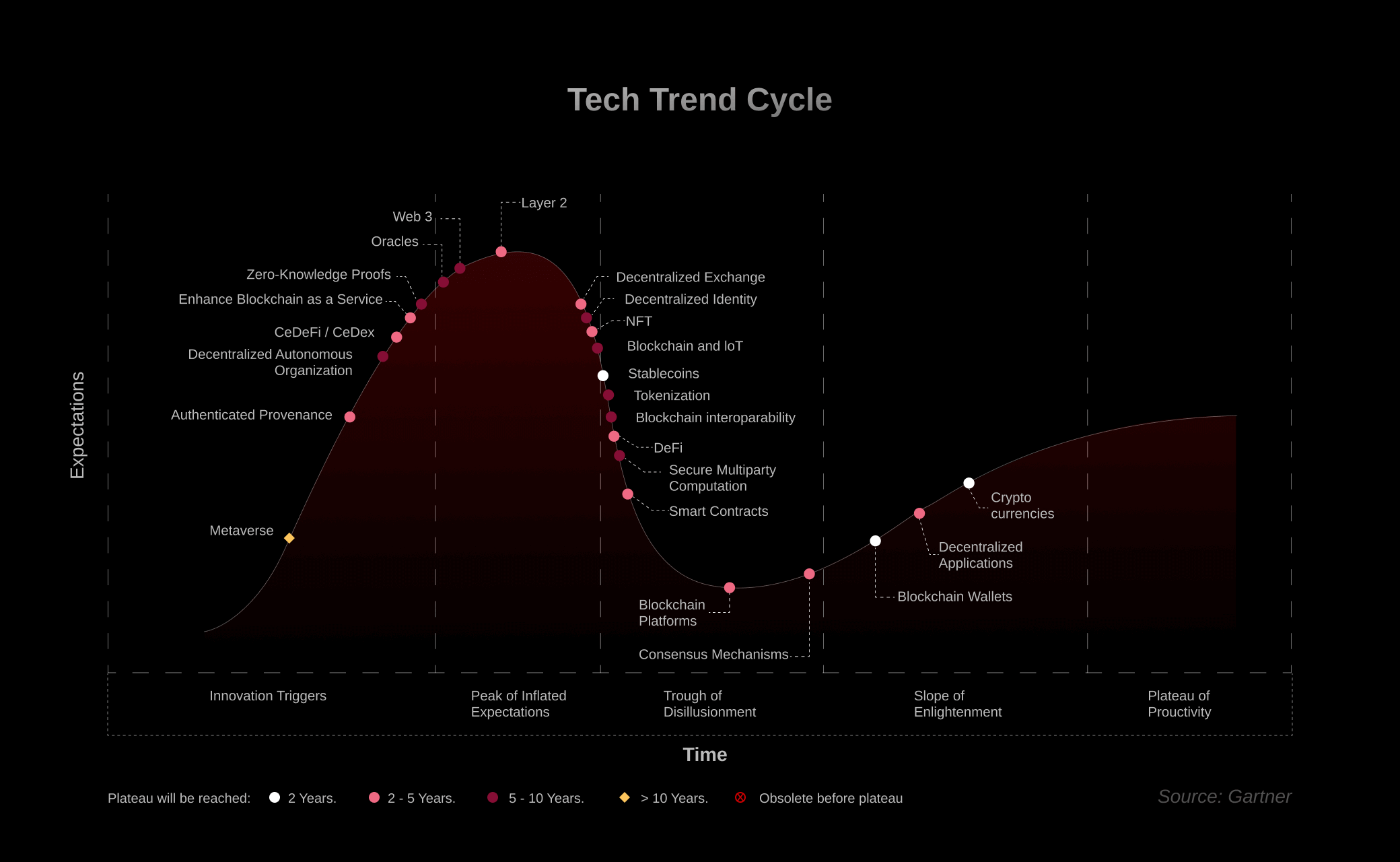 SuperApps
Super apps are mobile applications that offer a wide range of services and features, including e-commerce, social media, gaming, transportation, and more. They are designed to be a one-stop shop for users, providing them with a convenient and seamless experience. Super apps are the future of application design and development, allowing users to control and manage most aspects of their daily life through a single app. According to industry experts, more than half of the global population is expected to be active users of super apps daily. These powerful apps will also feature mini-apps as add-ons, providing additional benefits and capabilities.
One of the most notable examples of a super app is WeChat, developed by Tencent in China. WeChat is used by over a billion people and offers a wide range of services such as messaging, social media, mobile payments, and more. Other examples include Gojek in Indonesia, Grab in Southeast Asia, and Paytm in India.
Traditional companies and startups are developing super apps in other regions, such as Facebook and Google, in the United States.
Super apps can offer several benefits for businesses and consumers, including increased engagement and revenue, convenience, and personalization.
With super apps, transactions become a breeze, as users can connect to all systems and linked accounts, making purchases and transactions across various platforms, all within the app. Imagine an app that can provide you with news in the morning, check your vitals, purchase groceries, buy tickets, provide entertainment, track food delivery, monitor bank account balances, and remind you of meetings, all in one place. Super apps will revolutionize the way we live and interact with technology.
Digital payments
Digital payments have seen a significant increase in popularity due to the growing use of the internet and smartphones and the shift towards cashless payments. One of the major tech trends in digital payments is the rise of mobile payments. With the widespread adoption of smartphones, consumers can make payments using their mobile devices through apps such as Apple Pay, Google Wallet, and Samsung Pay. These mobile payment apps use near-field communication (NFC) technology to allow users to make payments by simply holding their phone near a compatible point-of-sale terminal.
Another trend in digital payments is the use of digital wallets. These virtual wallets store information such as credit card details, allowing users to make payments without physically presenting their cards. Digital wallets can be used on mobile and desktop devices and are becoming increasingly popular for online shopping. Contactless payments are also rapidly growing; this type allows users to pay by bringing their card or device close to a point-of-sale terminal rather than inserting or swiping the card. This is faster and more convenient for both customers and merchants.
The rise of cryptocurrency is also notable in CBDCs and digital payments. Cryptocurrencies such as Bitcoin and Ethereum allow for peer-to-peer transactions without the need for a central intermediary and are becoming increasingly accepted as a form of payment by merchants.
In addition, the use of blockchain technology in payments is also gaining traction. Blockchain is a decentralized digital ledger that can be used to record transactions across a network of computers. It can be used to record and verify digital payments, potentially increasing security and reducing fraud in the payments industry.
In the coming year, digital interactions will be at the forefront of consumer banking, but robust security measures must underpin this shift toward digital payments. Consumers expect flexible, easy-to-use, and secure payment options, which will only increase demand for security.
Industry cloud platforms
Industry cloud platforms are specialized cloud services catering to retail, banking, healthcare, and manufacturing industries. These clouds are designed to provide tailored solutions that cater to the specific needs of that industry. Instead of providing broad solutions, they focus on creating more value within the confines of the industry by digitalizing businesses one use case at a time. This enables organizations to scale their applications efficiently. Industry clouds offer many benefits, such as faster innovation, improved agility, shorter deployment cycles, better compliance, and effective change management.
One of the main advantages of industry cloud platforms is that they are built to address the unique needs of a particular industry. For example, healthcare industry cloud platforms can include electronic health record (EHR) systems and patient data management. Manufacturing industry cloud platforms can include product lifecycle management and supply chain management.
Another advantage is sharing industry data, knowledge, and best practices. This can help companies to improve their performance and stay competitive. Industry cloud platforms can also be integrated with other systems and technologies, such as the Internet of Things (IoT) and artificial intelligence (AI), to provide insights and automation capabilities.
5G networks
5G is the fifth generation of cellular network technology, designed to provide faster internet speeds and more reliable connections than previous generations. With 5G networks becoming more widespread, we expected to see new technologies and applications, such as the Internet of Things (IoT) and augmented reality (AR), becoming more mainstream. The increased speeds and low latency of 5G networks will enable new use cases such as remote surgery and self-driving cars.
5G networks are the latest tech trends in telecommunications technology. They are designed to provide faster speeds, lower latency, and greater capacity than previous generations of mobile networks. These can support new use cases such as autonomous vehicles, virtual and augmented reality, and cloud gaming. 5G networks also have the potential to improve energy efficiency and support a much higher number of connected devices. The deployment of 5G networks is already ongoing in many countries, but it's a complex process that requires significant investments and stakeholder coordination.
Quantum computing
Quantum computing is a form that uses quantum mechanics' properties to perform data operations. It is a rapidly emerging technology that has the potential to revolutionize the way we process and analyze data. Unlike traditional computers, which use classical bits to process information, quantum computers use quantum bits, or qubits, which can exist in multiple states simultaneously. This allows quantum computers to perform certain types of calculations much faster than classical computers, making them well-suited for cryptography, machine learning, and optimization tasks.
In recent years, there has been a significant increase in investment and research in quantum computing, with companies such as Google, IBM, and Microsoft investing heavily in developing quantum computing technologies. Additionally, governments worldwide have begun to invest in quantum computing research, recognizing the potential for this technology to drive economic growth and innovation.
Despite the significant progress that has been made in the field of quantum computing, it is still considered to be in the early stages of development. However, as technology continues to evolve and mature, it is expected to profoundly impact various industries, including finance, healthcare, and transportation. Read more about business Innovations in the post-digital era.
Virtual and augmented reality
VR and AR use computer-generated simulations to create immersive or interactive experiences. Virtual reality (VR) and augmented reality (AR) are both rapidly growing technologies that have the potential to revolutionize many industries, including entertainment, gaming, education, and healthcare. VR immerses users in a completely computer-generated environment, while AR overlays digital information on the user's view of the real world. Both technologies are expected to continue improving realism and functionality and be increasingly used in various settings and applications. In 2023, we expect to see more widespread use of VR and AR in various industries, such as education, entertainment, and retail. For example, retailers could use AR to allow customers to try on clothing virtually, and educators could use VR to create immersive and interactive learning experiences.
Edge computing
Edge computing is a distributed computing paradigm that brings computation and data storage closer to the network's edge, where data is generated and consumed. This approach is designed to reduce the amount of data that needs to be sent to centralized data centers or cloud systems, improving the efficiency and responsiveness of applications. Edge computing is becoming increasingly important as the Internet of Things (IoT) and other connected devices generate large amounts of data that needs to be processed and analyzed in real time. The edge computing tech trend is expected to grow as more devices connect and the need for low-latency, high-throughput processing increases. Edge computing is used in various industries, such as manufacturing, healthcare, retail, transportation, and more. It allows for better data collection and analysis, improved security, and reduced cost. With the increasing amount of data generated by IoT devices, edge computing will become increasingly important to ensure that data can be processed and analyzed quickly and efficiently.
Autonomous vehicles
Autonomous vehicles, or self-driving cars, can navigate and drive without human input. In 2023, we expect to see more development and deployment of autonomous vehicles, which have the potential to impact transportation and logistics greatly. For example, autonomous trucks could deliver goods more efficiently, and autonomous taxis could make transportation more accessible for people unable to drive.
Autonomous vehicles, also known as self-driving cars, can sense their environment and navigate without human input. The tech trend of autonomous vehicles is expected to continue to grow in the coming years as technological advancements make the development of fully autonomous vehicles more feasible.
One tech trend to watch out for in 2023 is fully autonomous vehicles' continued development and testing. Several companies and organizations are developing cars that can drive themselves in all conditions and environments without human intervention. We will likely see more demonstrations and pilot projects of fully autonomous vehicles in the next few years.
Another tech trend is the continued growth of cars' semi-autonomous and advanced driver-assistance systems (ADAS). Many new cars are already equipped with features such as lane-keeping assist, automatic braking, and adaptive cruise control considered the building blocks of the future autonomous vehicle.
Another trend is the increased use of autonomous vehicles in logistics and transportation. Companies such as Amazon, DHL, and UPS are already experimenting with using autonomous vehicles for package delivery, and this trend is expected to continue in the coming years.
Blockchain technology
Blockchain is a type of distributed ledger technology that can be used to create secure and transparent digital records. In 2023, we expect more widespread adoption of blockchain technology, with potential use cases in areas such as supply chain management and digital identity verification. One of the main tech trends to watch out for in 2023 is the increased adoption of distributed ledger technology (DLT) by large enterprises and government organizations. This will lead to development of more enterprise-grade blockchain platforms, which will be more scalable, secure, and interoperable.
Another tech trend expected to continue in 2023 is the growth of decentralized finance (DeFi) and non-fungible tokens (NFTs). DeFi is a growing ecosystem of financial applications built on blockchain technology, which allows for decentralized lending, borrowing, and trading of assets. NFTs are digital assets that are unique, verifiable, and cannot be replicated; they have been widely used in digital art and collectibles markets.
Another trend is the increased use of blockchain technology for digital identity and authentication. Blockchain technology can provide a secure, decentralized method for storing and verifying identity information, potentially improving security and reducing fraud.
Blockchain technology is expected to evolve and mature in 2023, with more use cases, adoption, and innovation.
Learn More: How to choose the right blockchain for your project?
Virtual workspaces
The virtual workspace trend refers to using technology, such as cloud-based software and platforms, to enable remote work and collaboration. With the current pandemic and the shift towards more flexible working arrangements, the tech trend of virtual workspaces has been rapidly growing in recent months and is expected to continue in 2023 and beyond.
One tech trend in virtual workspaces is the increased use of cloud-based collaboration tools and platforms. These tools, such as Microsoft Teams, Zoom, and Slack, allow remote teams to communicate and collaborate in real-time, regardless of location.
Another trend is using artificial intelligence and machine learning to improve virtual workspaces' functionality and user experience. For example, AI-powered virtual assistants can schedule meetings and handle other administrative tasks, while machine learning algorithms can analyze data and make recommendations to improve productivity and efficiency.
Another tech trend is the increased adoption of virtual and augmented reality technologies in the virtual workspace. These technologies allow remote teams to collaborate more effectively and effectively and can be used for training, design, and other applications.
Overall, the tech trend of virtual workspaces is expected to grow in 2023, with more companies and organizations embracing remote work and adopting new technologies to support it.
Wrapping up
The future looks bright as we step into the new year, 2023. The world is on the cusp of a technological revolution, and the advancements of the past few years are only the tip of the iceberg. Virtual and augmented reality tech trends are set to break out of the gaming world and infiltrate every aspect of our daily lives. Businesses will use these technologies to create immersive experiences for their customers, while individuals will use them to connect with friends and family in new and exciting ways.
Artificial intelligence and machine learning will continue to dominate the technological landscape, automating mundane tasks and providing insights that were once unimaginable. With 5G networks rolling out, we can expect lightning-fast connections that will open up a world of possibilities for businesses and consumers. The future is now, and it's an exciting time to live. The possibilities are endless, and we can't wait to see what technology will bring us next.