With nearly 500 million confirmed cases, the Spanish flu is widely known as one of the deadliest pandemics in history. It was a highly infectious disease that started in 1918 and caused more than 17 million deaths. COVID-19 is another such infectious disease. However, we are much more equipped to deal with a pandemic now than we were in 1918. 
The rapid advancements in technology has helped us suppress the spread of diseases. Take a look at how the world is fighting COVID-19 by detecting, containing and curing. 
Pandemic Management System
We've developed a pandemic management system to help governments and health departments to contain the spread of COVID-19. The system can enable early identification of community spread of disease, with options to counter the spread and a health card based access system that can revive the struggling economy.
A partially locked down economy is always better than a complete lockdown. To facilitate a partial economic lockdown, governments can issue e-health cards to citizens to represent their risk level. Access to any public/private infrastructure should be granted only after scanning their health cards. Health card based access for the citizens can enable governments to enforce partial lockdowns rather than a complete lockdown that could tremble the economy. The system assigns health cards to a user based on their recent activities, such as the places they have visited and the people they have interacted with, etc. The health card indicates the threat level of a user in five different color codes;
The platform continuosly tracks the geolocation of a user to identify their exposure to COVID-19. A person is more likely to get affected by COVID-19 if they visit a hot zone – which is a place where many COVID-19 cases are reported. Or if they've come to close contact with a patient. Knowledge about one's exposure to corona risks can help citizens to take necessary steps to self-quarantine and thereby break the chain of transmission. 
Currently, healthcare officials do manual investigations of patients to identify the places they've visited, route map, primary and secondary contacts, etc. To effectively contain the disease, all these processes should happen in a matter of minutes. This too is possible by relying on cellular location data, Bluetooth data and data available from GPS of a person's smartphone. Data obtained from the exposure analysis can be used in defining the health card status of a citizen.
AI to detect crowd, facemasks
AI-powered real-time video analytics can help in detecting the occurrence of crowd in public places such as shopping malls, banks, etc. As it is not recommended to allow public gatherings during an outbreak, the system can send alerts to the authorities to prevent crowding. AI can also help in identifying people who aren't wearing face masks. We've trained multiple AI models for detecting crowd occurrence and face mask detection. This solution is particularly helpful in locations where the spread of pandemic is in its early stages.
Thermal imaging to detect body temperature
Thermal screening cameras can scan through a number of people to detect body temperatures that are higher than normal. This allows authorities to find people who are running high fevers and advise them to visit a doctor. Thermal imaging cameras use heat sensors to capture the heat of the body of the person to produce a 2D image with different temperature levels. When someone stands in front of the camera, the hotter objects are highlighted on the computer screens with a varied colour palette.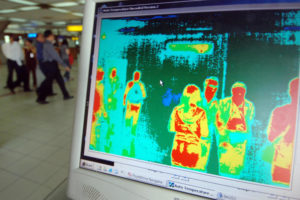 Self-testing Kits
During the outbreak, the sudden influx of patients is bound to overwhelm healthcare professionals. In such cases, being able to test for COVID-19 ourselves would be a great boon. We have partnered with The De Warrenne Companies to develop a self-test kit that will allow us to self diagnose the possibility of COVID19 infection.
The self-testing kit comes with 5 swabs in a packet which can be used to test if a person is infected. The process starts with scanning the test kit packet with the COVID-19 Application, registering the testing kit, following instructions for 'self-diagnosis' in the application.  The user has to take a swab and should keep the swab in their mouth so that it comes in close contact with the saliva further to which the swab should be placed inside the solution that comes with the testing kit. Based on the color change recorded in the app, it'll detect whether the person is infected or not. 
Online Education
Due to the outbreak, most of the schools and universities have shut down temporarily. This has forced many of these institutions to look at other means of education such as online programs. Teaching material is sent via e-mail and professors conduct live classes through Zoom. Teachers are also beginning to familiarize themselves with using digital red pens that will help them draw on powerpoint presentations. Many digital teaching plans are being created with an updated syllabus and teaching schedules. 
Contact-less Food Delivery
Many food franchises like Dominos and McDonald's have begun contactless food delivery where the delivery agents place the food in a particular spot and then leave. This way the customer can come and pick up the food without any interaction required. This can ensure that the spread of the virus through food delivery is reduced. 
While ordering from Starbucks, customers can  order coffee through its app and wait outside its cafes until they receive a pick-up message. Orders can be picked up from tables placed inside cafe entrances.
Many autonomous vehicles are also being used to deliver large amounts of food and essential supplies to people without any human contact. 
Disinfection Tunnels
Employees need to be disinfected before getting to work. In order to do this, disinfectant tunnels can be built that will automatically spray medical disinfectant when someone walks through them. This will ensure that every worker is properly sanitized before coming in to work.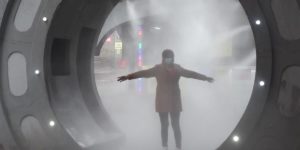 Helping in the development of vaccines
We can use AI to accelerate virus gene sequencing, protein screenings and new drug R&D. Deep learning algorithms can carry out large-scale calculations much faster than classic algorithms. For example, the Baidu linear time, the "LinearFold" algorithm takes only 27 seconds to recognize and solve the RNA structure of the 2019-nCOV that is almost 120 times faster than classic algorithms. This can contribute to finding a vaccine that will help cure the disease.