The spending on Identity Access Management (IAM) is expected to rise by 62% over the next five years, says Juniper Research. The need for identity information is growing rapidly, especially as society moves towards digitization, motivated by factors of remote working and convenience. Earlier, third parties monitored and managed identity information, which raised several questions of trust and reliability. Identity management systems have migrated towards technology such as the blockchain that enables secured and immutable storage and usage of personal data. Blockchain has streamlined and simplified identity-related services such as verification, authentication, and access.
Read ahead for an in-depth insight into IAM systems and how they function better with blockchain.
What is Identity Access Management?
IAM, or Identity Access Management, is a security framework that enables the right entities to use the right resources (applications and data) without interference by using the devices they want to use. Through IAM, administrators assign a digital identity to each entity. They authenticate the entities when they log in, authorize them to access specified resources, and monitor and manage them throughout their lifecycle.
Issues of traditional IAM
Although traditional IAM practices and processes have served their purpose till now, the rising complexity of cyber attacks and identity thefts poses severe challenges. The current encryption services used by the IAM services are increasingly becoming obsolete due to the sophistication of threats. Due to the mutability of entities in the current data storage systems, the transaction and audit trails' reliability is becoming untrustworthy.
Since data is stored in its entirety in most cases, data storage needs to increase, thereby significantly increasing the cost. One of the biggest disadvantages of the traditional identity access management processes is the relative mutability of any stored data. The massive centralized system comes with a single point of failure, and the personally identifiable information of user accounts stored in the system makes them vulnerable to hackers.
More than a billion people cannot afford conventional identification systems due to complicated processes for identification paperwork, lack of knowledge, access, and associated expenses. Users don't have a standardized approach or system for using data generated by one platform for applications on other platforms. Creating a trail of fraudulent identities.
Blockchain-based Identity Access Management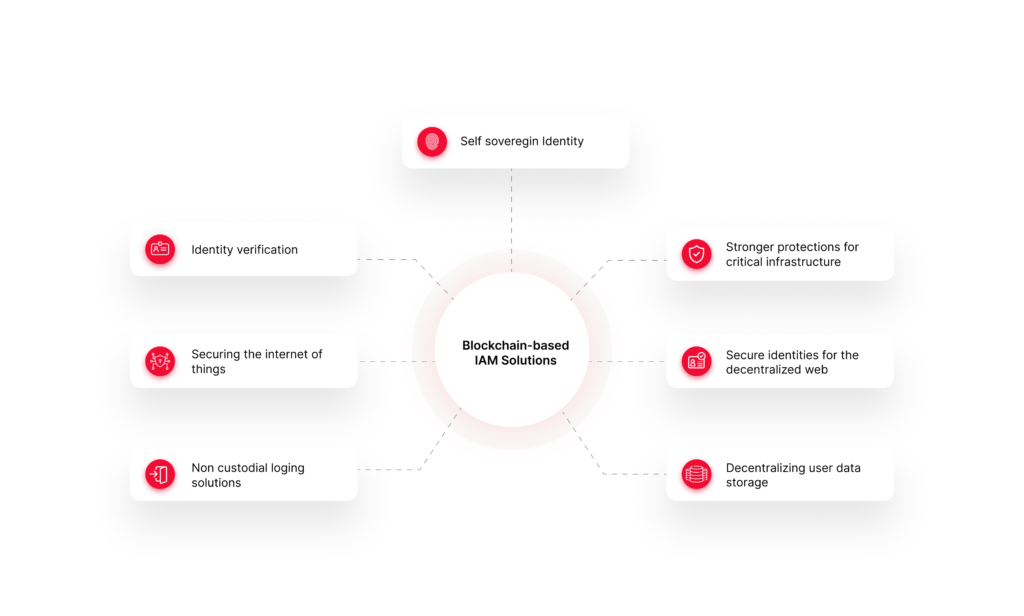 Blockchain technology provides capabilities that can ensure your trusted digital identity network functionalities.
A digital ledger (append-only) containing only one version of the "truth" that can be shared with all legitimate network participants in real time;
Smart contracts are verifiably, and signed business logic is executed in each transaction.
The high trust between known network users helps verify transactions and record validity.
Privacy and security rules grant access only to legitimate parties and prevent the network from potential data violation.
The Potential of Blockchain for IAM System
An IAM program optimized to the needs of an organization help in regulatory compliance management, grants access only to authorized users, and protects valuable data. To cope with the existing problems in the traditional IAM system, Blockchain has the potential to optimize the threats and risks associated with the traditional system.
The users' consensus mechanism for verifying the authenticity of data in the IAM system through various blockchain nodes imposes trust. An immutable state of security is an inherent design for maintaining data in an encrypted manner. Blockchain-based IAM is simple and efficient as automation reduces time and manual effort.
The blockchain maintains integrity throughout all the nodes, preventing any single point of failure. The system also upholds the top feature of blockchains; privacy. The combination of digital signature with blockchain encryption offers inherent privacy in design. The foundation of Blockchain Technology can provide support in facilitating a one-one-digital-identity-to-one individual ratio that can bring security and visibility to access controls. This includes secure and private authentication, provable identity across the enterprise, traceable digital identity, and native audit trail of events (identity events, access events, and entitlement events.
In short, blockchain for IAM has the potential to
Lower transaction costs: Distributed ledgers eliminate the need for third-party verification applications and lower transaction costs.
Immutability: The transaction history is maintained and verified through the network, preventing information falsification and identity and digital assets theft.
Convenience: Record-keeping and transactions of various data in the IAM system can be executed from any device on or offline.
Application of Distributed Ledger Technology (DLT) in IAM
Distributed ledger technology (DTL) or the blockchain is being applied to more than one face of identity management systems. DLT has potential in identity and access services as an information storage and transfer mechanism for different sectors. DLT can be applied as a distributed protocol that gives the users ability to store their identity attestations on a ledger and exposes them to different relying parties, or in a centralized system where the ledger would be owned by a single entity that would provide a consolidated view of the users' attestations for use in transactions, but would not reveal the nature of the credentials.
Advantages of Blockchain-based Identity and Access Management
Blockchain-based IAM systems make it easier to log in with non-custodial solutions and are much faster than paper-based systems.
With blockchain, IAM works differently. There is no centralized database; instead, information is stored in a peer-to-peer environment by adopting a decentralized framework. The data is stored immutably in publicly owned blocks over the network. This solution provides flexibility, security, and privacy with reliable authentication and integrity check.
Why should you implement Blockchain in IAM?
There are many reasons why blockchain-based IAM is better than traditional systems. If your company has a working IAM which could use some betterment, here are some more reasons why you should consider implementing blockchain in your IAM.
Financial Institutions
In financial institutions, the amount of data that flows into the system during various activities like KYC, transactions, etc., is huge. The banking sector can leverage the concept of Blockchain-based IAM platforms using Smart Contracts to provide the top security and data management system there is.
Smart Contract-based KYC Verification System
Blockchain technology allows for creating of a distributed ledger that is shared with all users on the network. This factor means there is no single authority and a point of weakness, as in the client/server model. This means that blockchain databases have immutability, making the data more trustworthy. They can be used to store the identity data of individuals.
For example, if the financial services sector implements blockchain for KYC verification, they can verify users reliably and quickly through an app. The reliability of blockchain databases enables government institutions and companies to rely on the data completely, removing the need for further ID checks.
Government Sector
Government-issued IDs can leverage Non-Fungible Tokens (NFTs) for stronger security, privacy, and streamlined verification procedures. NFTs employ a "smart encryption and validation" method to improve the security of digital assets. An NFT-based IAM solves legacy pain points and enables the following:
Storage of government, citizen, and business data.
Reduction of labor-intensive processes.
Lower costs to manage accountability.
Reduces potential for abuse and corruption.
Increases trust in government and online civil systems.
This will enable government workers and citizens to register their identities on the blockchain, manage assets and security, send and request credentials, authorize transactions, and securely manage data. In these ways, blockchain in government projects is executed.
Healthcare Sector
One of the prominent uses of blockchain technology can be seen in the healthcare sector. Blockchain technology can also be used to store and track the experience and identity of medical professionals and healthcare staff, where trusted medical institutions and healthcare organizations can log the credentials of their staff, in turn helping to streamline the hiring process for the healthcare unit.
Educational Institutions
Education officials can fight fraudulent diplomas and prove the academic legitimacy of individuals' digital transcripts using Blockchain technology. One of the uses cases of blockchain in education lies in building a digital educational passport to record all the educational data into a single system and reduce false rates.
Futuristic applications of Identity Access Management
The growing scope and complexity of modern identity environments are becoming too difficult to manage in the usual ways, requiring IT leaders to evolve their identity and access management (IAM) environments. The solution must be scalable and simultaneously comply with the regulation that offers consumer protection through privacy and security. Since blockchain technology has been tailored to address several privacy-related concerns, one example is through privacy tokens, the IAM system can also be expected to uphold secure functioning.
The three major components of security that must be considered; are the Blockchain Layer, the Secure Access and Data Storage Layer, and the Application Layer.
Blockchain-enabled and decentralized identities are forcing IAM systems to allow users to create, prove (via trusted third parties), and register their identity and related relationship identifiers to utilize digital services.
Blockchain-based IAM lets us connect anywhere computing will further drive the need for smarter access control. It also increases the attention to the number of keys, secrets, certificates, and machines. The hybrid cloud and multi-cloud technologies are driving the IAM architecture maintenance/ evolution, along with the Identity Governance and Administration (IGA) function will evolve to enable blockchain architecture. Overall, it improves the user experience for all users, proving essential for secure digital business. Along with blockchain, other technologies, such as AI for businesses are transforming today's management systems.
Possible futuristic applications of blockchain-based IAM include
Identity-as-a-Service (IDaaS)
Blockchain will be key to IDaaS to validate and verify the integrity of systems. The setup of decentralized identity and access management system with blockchain will typically consist of the:
Identity Wallet: This app allows users to create their decentralized identity and manage their access to service providers.
Identity Owner: uses an identity wallet to create a decentralized digital identity with
Issuer/Verifier: issues and verifies the identity information and signs the transaction with a private key.
Service Providers are applications that utilize the authentication of decentralized identity. They access blockchain/distributed ledger and look for the user-shared DID.
Blockchain/ Distributed Ledger: A decentralized and distributed ledger that provides the mechanism and features for DIDs and functioning.
Decentralized Identifier (DID): A unique identifier that contains details such as the public key, verification information, and service endpoints.
Privileged Identity Access Management
Privileged access management (PAM) is a high-priority cyber defense capability. PAM requires a comprehensive technical strategy based on a zero-standing privilege (ZSP) operating model. Key success factors include visibility and control of privileged accounts across all assets.
Pillars of Privileged Access Management (PAM)
The four pillars of PAM demonstrate how security and business value can be captured by defining and creating a PAM practice that enables Security and Risk Management (SRM) and IAM services to take greater control.
Track and Secure every privileged account;
Govern and control access;
Record and audit privileged activity;
Operationalize privileged tasks.
Self-Sovereign Identity Management (SIDM)
With self-sovereign identity, system users control their digital identity. The identity of people and businesses can be stored on the devices of their choice. It gives users full control, security, and portability of their data. The self-Sovereign identity model tries to remove the trust issue that comes with identity management. SSI tries to give the user full control over their data. The usage of different online services requires an efficient digital identity management approach. These identities often contain sensitive personal data. Knowing how and where these sensitive data are stored and who can access them is important.
DLT-based IAM for Enterprises
Digital Identity aims to standardize and streamline citizen services provided by nations. Hence, a strong digital identity platform can help deliver multiple services, touching our lives in various ways. Blockchain solutions are increasingly being explored, given their inherent characteristics of engendering trust, transparency, and user control, all key digital identity and access management factors.
A crucial aspect of online financial transactions, Digital Identity, ensures accuracy while expediting the customer onboarding process and preventing Anti Money Laundering (AML) and fraudulent activities. Digital Identity and Access Management (DIAM) aims to standardize and streamline citizen services nations provide. Hence, a strong digital identity platform can help deliver multiple services, touching our lives in various ways.
The current marketplace suggests Digital Identity and Access Management (DIAM) could disrupt the economic stability of numerous sectors, creating additional value within the existing system.
Closing Thoughts
In today's business networks, users are forced to create and maintain duplicate identities resulting in an identity sprawl. The use of blockchain's distributed ledger capabilities has the potential to enable users to retain control of their identity. Identity on the blockchain can ensure the immutability of records. This can streamline experiences for users and businesses by eliminating unwanted manual checks and intermediaries.
By merging the decentralized blockchain value with identity verification, a digital ID can create that would act as undetectable during normal use and can be assigned to every online transaction. The solution can help organizations verify every transaction's identity in real time. Users can log in and verify Identities without entering a traditional username and password information. The solution will store their encrypted identity, permitting them to share their data with companies and manage it in their relationships.