There is a new buzz in the tech world every day, usually about something that would simplify tasks even more than today. Neobank is one such tech advancement that has been gaining traction in the era of digital banking.
Let's take a look at key points involving Neobank Vs. Digital banks and how to start a Neobank platform:
What is a Neobank
Neobanks are financial service providers that do not have a physical branch, unlike a digital bank. These banks' wide array of online financial aid appeals to tech-savvy customers. Neobanks do not have a bank license, but they partner with other banks to provide licensed services.
In short, Neobank's features include:
Personalized online banking with AI-powered technology
No physical branch or any physical capital
Operates 24/7
Cost-effective to both service providers and customers
Related article: Getting started with open banking – Standards, Regulations, And Examples
What is a digital bank?
Digital banks or digital banking are the online services provided by traditional banks. The shift from physical to digital has never been more pronounced than during the pandemic. Digitization of crucial banking services has been made possible with advanced automation and innovative programming. Unlike traditional banking, anyone can avail digital banking services anytime and anywhere with a stable internet connection.
Related article: How Artificial Intelligence is redefining the Banking Sector
How exactly does a Neobank function?
Although it might seem that neobanks and digital banks are similar in functioning, their similarities end with the fact that both are banking services accessible through mobile and other devices. Neobanks are simpler, intuitive, and have a modern and attractive user interface.
The basic modus operandi of neobanks is discussed below:
Adoption of the latest technology
Neobanks work completely based on technology and incorporate the latest UI adopted by the majority. To talk in urban terms, Neobanks attempt to accommodate the technology that is approved by the current generation (could also say Gen Z and millennials). Eliminating the bureaucratic nature of traditional banks is one of the goals of neobanks.
AI-powered solutions are one the main foundations for setting up a Neobank. These banks' only infrastructural requirement is tech; building costs are reduced considerably. Data from customers are collected to make strategic decisions. The modernized platform analyzes the data to provide services in the financial ecosystem.
Neobanks with license partners
Neobanks without a banking license usually partners with other banks to provide banking services. The tools may include transactional analysis, budget management, and automated notifications—for example, Yolt and Chime Bank.
Some of the most popular neobanks function with their banking license. Most neobanking service providers partner with traditional banks instead of claiming a license. A popular example is SBI's YONO initiative is a great example of neobanks tied up with traditional banks to back them with online services. Throughout the year 2021, YONO saw a 35% growth and is a convincing indicator of the optimistic future of neobanks.
Neobanks with their license
Neobanks that have their license can provide full fledge banking services. Some include checking accounts, prepaid services, debit or credit cards, currency exchanges, crypto, money transfer, retail, savings accounts, etc.
Most of these services are also rendered by traditional banks, but neobanks provide them online. Examples of fully licensed neobanks include bnc10, N26 (Europe), Xinja (Australia), and Monzo (UK). We know that traditional banks mainly make money through lending. But, lending is not one of the primary services offered by neobanks, unlike traditional banks.
Read more: Payment Service Providers Directive 2 or PSD2: what it means for FinTech businesses
How do Neobanks make money?
Neobanks have lower expenses than traditional banks, which provides a step up for their profit margins; when neobanks partner with banks, lower fees with lower costs can be expected. Other ways neobanks make money include ancillary services payment, interests for deposits, credits, and credit or debit card transactions.
A large portion of neobank's profit is obtained from interchange fees charged when a customer purchases a debit card. Chime, a popular neobank in the US, charges 1.5% for each debit card transaction by its customers.
There are similar charges for credit cards, too, and credit overdue. On top of this, there are interest charges on deposits and account opening and an additional ATM fee. Neobanks is beneficial in today's world, where online services are the need of the hour.
Trying to launch a Neobanking platform
Contact us for a no-obligation consultation
View Services
What are the benefits of a Neobank?
Some of the benefits of a Neobank include: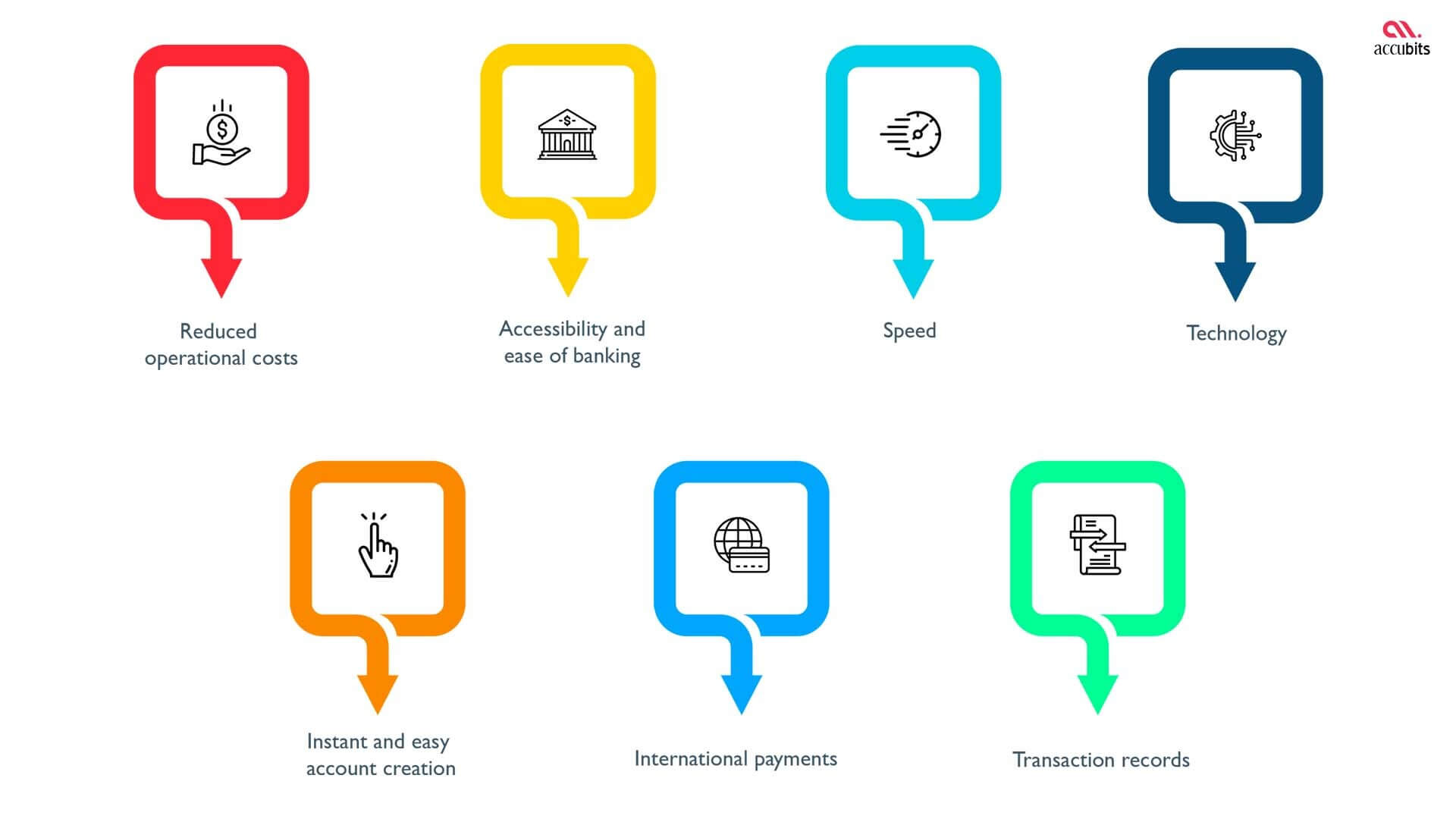 Reduced operational costs
One factual benefit of neobank is that it does not require any physical capital or infrastructure. There are also no branches for neobanks. Thus, they can operate at a cheaper cost. Due to capital savings, consumers benefit from cheaper rates and no monthly fee payments. These banks are capable of providing lower fees and higher interest rates.
Accessibility and ease of banking
Neobanks are extremely accessible, and tech-savvy customers find this a big advantage. Customers can set up accounts in minutes without having to submit formalities. Customers can save time they would spend in queues in a traditional bank for a simple transaction.
Speed
These banks operate 24 hours and all seven days a week. Just a mobile app is enough to provide almost all the services a traditional bank would. With a single neobank account, one can deposit, transfer money, and conduct online purchases faster than the time it would take to go to a traditional bank branch.
Technology
Neobanks come with the aid of the latest technology in the fintech world; as such, many services are AI-powered. Machine learning enables neobank services to be customized to every customer's needs.
Instant and easy account creation
Traditional banks are known to have one of the tedious account creation processes. Submitting documents over documents and visiting more than once to create an account is so much work. Neobanks offer instant account creation with the requirement of only a few formalities.
International payments
Traditional banks require you to have specific upgrades to carry out a transaction using a debit card. Neobanks offer the advantage of one card for all payments. Instant international payments can be carried out with a single card or even without a physical card.
Transaction records
With every transaction one makes, neobank alerts them with the translation details and bank balance. Most traditional banks with a digital presence also have this facility. Neobanks do this one level higher by providing expense records, and you can even customize their saving goals.
If you are planning to launch a scalable Neobanking solution, make sure to consult with a reliable Neobanking platform development company to do a feasibility analysis for your project.
How to start a neobank?
Banking in today's world is about the entire landscape of customer satisfaction. 80% of the services went online during the pandemic, and the necessity to upgrade the user experience has also gone up.
Neobanks fill the gap of the inadequacy in traditional banks while catching up to the latest technology. These rapidly growing technology entities do not have any physical footprint, and the maintenance costs are also very low. This advantage adds on to provide dynamic services to customers.
The prerequisite to building a neobank is to learn about the customer's needs. Good market research will help in this step.
To start a neobank, the following are the primary steps:
Banking license: You can either claim a license or partner with a traditional bank with a license. Partnering with a bank is also called renting a license. You can do it very quickly in about six months.
Developer license: A developer license is required to build the neobanking application. The next step would be to acquire the license before building the app.
Building and testing: The UX/UI for neobanks is extremely important as it is one of the sharp contrast between their current digital banks. After research, mock-up, and testing, a well-thought-out front end is essential with the back end.
Internet presence: Your neobank might need a web presence along with the app. Set up a convenient webpage using a hosting web service.
Related article: An overview of Fintech Regulations: What you need to know before launching your fintech product
How is Neobanks different from digital banks?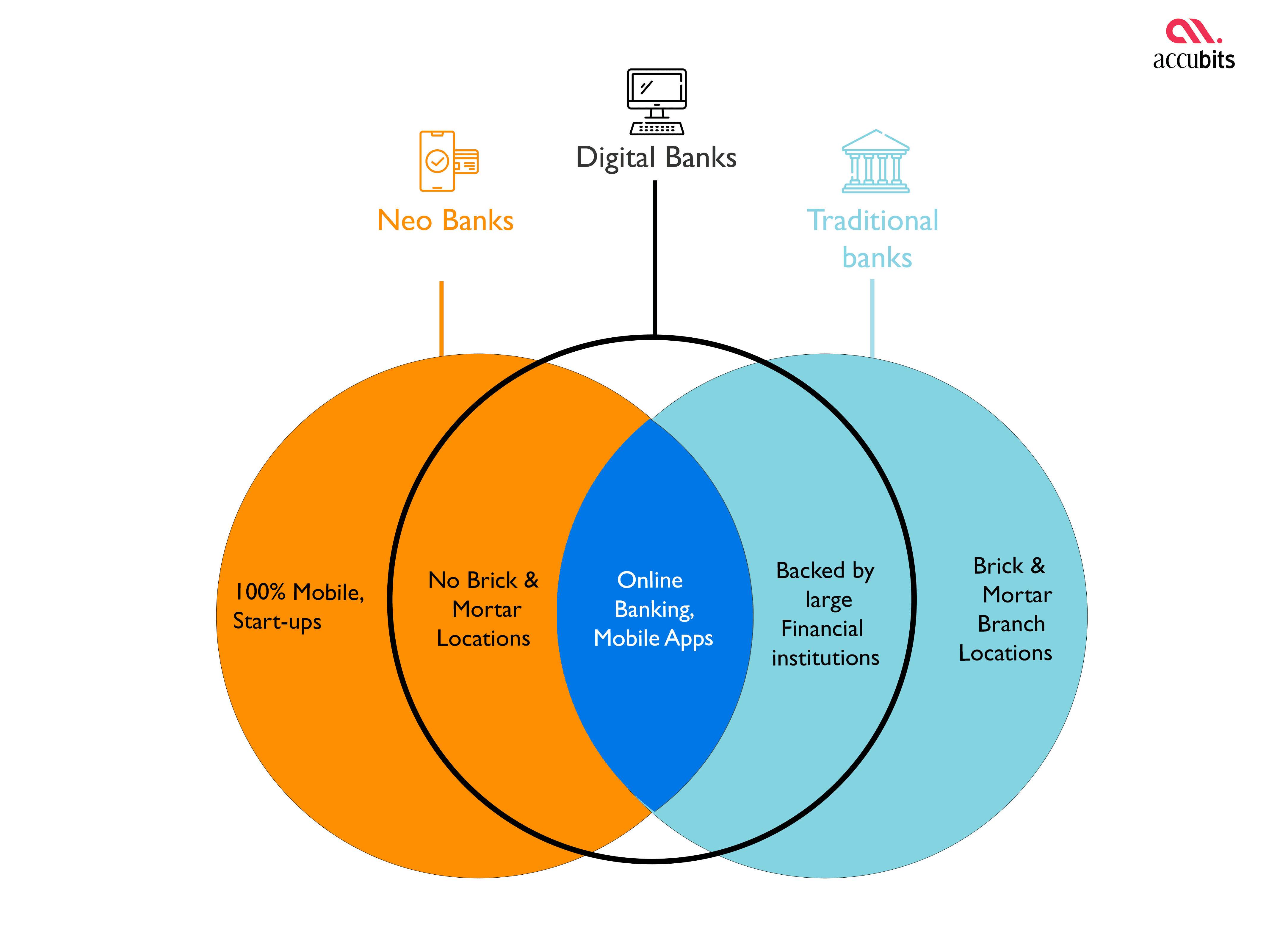 Neobanks and Digital banks are two different financial institutions even though both have a common set of services. Digital banks are an extension of traditional banks, and the services offered are as wide as the latter, whereas Neobanks are exclusively online.
They also back traditional banks that do not have an online presence by offering adequate digital services. Neobanks address conventional banking insufficiency, a much-needed requirement for banks today.
Launch your Neobanking platform
Contact us for a no-obligation consultation
View Services
Bottom line
With the space to adopt sophisticated technology while providing traditional banking services, neobanks can be placed on top. The combination of traditional banks with rooted services and a digital presence is being made possible by neobanks.
When unpredictable and the offline world has become inaccessible, neobanks come out to be the best people can have.