Have you ever accessed Instagram through your browser? Most likely, you would have seen a dialog box that says 'Add Instagram to your Home screen- Get Instagram quickly and easily by adding it to your home screen'. If you click yes, you would have downloaded a progressive web application straight from your browser.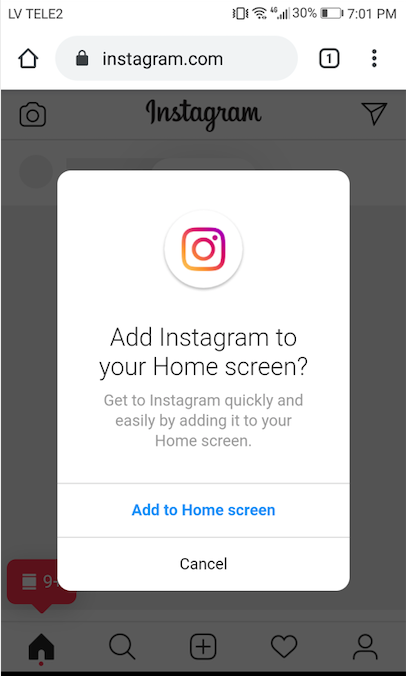 The recent enhancements in the web browsers with the support of service workers, cache and push APIs, has enabled websites to allow its visitors to install a web app a.k.a progressive web apps to their home screen which can receive push notifications and even work offline. It allows a website or app built using web technologies to act and feel like a native mobile application.
Since PWA uses web technologies, it is relatively easier and faster to develop and deploy the application. Moreover, web development is rich with the availability of plugins, a much vibrant developer community, etc that can help if you want a native-like application in a short period of time.
Should you consider Progressive Web Applications?
Consider the case of a native mobile application. To install the native app, the user has to go to an app store and search for the app they want. After this, the user has to follow through with the registration and verification process. Most people would drop-off in between the process. People are busy and they want to see the 'the value' in shortest number of steps.
Now, consider the user journey in using a PWA. Consider that a potential customer of yours is visiting your website via their web browser. Now, a pop up is shown to them, asking if they'd like to install an app to their home screen for easy access. If they opted in, an icon is added to their mobile home screen and they can start using the web app just like how they use any other native app. They can evaluate the value provided by your business in just one step. Later if they'd like to move to a fully-fledged native app, they can download it from the PWA itself.
Moreover, companies have to shell out a large amount of money for developing and maintaining apps for more than one platform (having an iOS version and an Android version, for example). PWAs are built using web technologies instead of platform-specific code and can work anywhere and on any device. They make it much easier for companies to provide users with easy access to their apps without extra cost and effort.
Browser technology has progressed a lot, and PWAs have many new features that were previously seen only in native mobile apps. They can send notifications, facilitate background syncing of data, and provide location awareness as well.
PWAs are well known for their consistent speed. From downloading the app from the web to interacting with it offline, you will notice that they work much faster than native apps. As you can cache the data, starting the app again is very quick even without hitting the network.
They provide us with an integrated user experience
PWAs are very similar to native apps and they behave in an identical manner. They reside on your home screen, send push notifications and can access your device's functionalities like native apps.
They facilitate engagement
They can send push notifications to the users just like how native apps do. This encourages users to stay engaged and updated with the app
Can work with limited connectivity
When you're outside, the network connection can get a bit fuzzy sometimes. What if you're in the middle of an important task and you suddenly go offline? If you're using a PWA, this won't pose much of a challenge. Your work would be stored in a cache on your device, and you could look it up again by revisiting the site even if you're offline.
Using a PWA instead of the native version of an application can allow the user to consume fewer data. For example, Twitter's PWA uses less data by default. It serves smaller media resources and relies on cached data as much as possible. After the introduction of Twitter Lyte, the company observed major improvements in its engagement such as:
65% increase in pages per session
75% increase in Tweets sent
20% decrease in bounce rate
Looking for reliable remote developers?
Choose from our pool of experienced developers
Get rate cards
A few other examples of successful PWAs are:
Pinterest

The social networking site wasn't doing very well in terms of sign-ups, logins or app installs. This was because of the slow performance of the application on mobiles. They decided to rebuild the mobile app using PWA technology, which led to a huge improvement: Time spent is up by 40% compared to the previous mobile web, user-generated ad revenue is up 44% and core engagements are up 60%

OLX

OLX is a marketplace for local sellers and buyers. The app provides chatting options where the users can negotiate product prices. Creating a PWA helped the company in many ways. The bouncing rates dropped by 80% and re-engagement was boosted by 250%

Lancome

Lancome is a cosmetics company that gives a lot of importance to providing seamless shopping experiences for their customers. They found that despite the increasing number of mobile users, their mobile web conversions continued to remain low in comparison to desktop conversions. Their mobile app could only satisfy their loyal customers who have regular purchase needs and therefore are willing to download the app. They decided to build a Progressive Web App and witnessed a 15% decline in bounce rates, a 50% increase in mobile sessions and 17% growth in conversion rates.

Flipkart

The PWA, Flipkart Lite has caused a 70% increase in conversions. It has helped the company in re-engaging their customers and stimulating time spent on site. For mobile users who access the site via a 2G network, the PWA's fast-loading page feature and offline functionality are extremely valuable.

Trivago

Trivago is a travel site that utilizes Progressive Web App technology to improve engagement with customers. Its PWA has an intuitive interface that allows travelers to compare prices of different hotels, read reviews, or book a selected hotel. Using PWA technology, Trivago recorded a noticeably higher conversion rate than its native app. Moreover, its hotel bookings click-through rate experienced a dramatic growth of 97%.

Uber

Uber's PWA allows users to make car bookings on low-speed, 2G networks. The PWA is great for riders on low-end devices, which may not be compatible with the native Uber app. Through its PWA, Uber has enabled quick ride requests regardless of location, network speed, and device. The core app of the only 50kB allows it to load within 3 seconds on 2G networks

AliExpress

AliExpress is a famous e-commerce business where you can find and buy various products. After applying the Progressive Web App technology, the company's conversions have increased by 104%. They also found that their users visit more pages per session and spend more time per session on average.
Starbucks

Starbucks launched its PWA in 2017 to provide fast, responsive performance for its customers. The PWA had images, smooth animations, and offline access as well. Customers can browse the menu and nutrition information and customize their orders with no Internet connection. Since the launch, Starbucks reported a 2x increase in its daily active users. Their PWA requires only 233 KB of data storage, while their heavyweight iOS mobile app needs 148 MB.
Forbes
Forbes needed a solution that was faster than its mobile website. The Forbes PWA provides much more user engagement and personalization. With their new PWA, Forbes registered 43% more sessions per user and a 20% increase in ad viewability, and tripled scroll depth.

Looking for reliable remote developers?
Choose from our pool of experienced developers
Get rate cards
PWAs can do most things native apps can and many native apps could easily be replaced by a PWA. If your business already has a website, why not launch a mobile application in a matter of days? With progressive web apps, you can deliver a native app experience to your customers with minimal investments.