The modern world we live in today is built up by the manufacturing sector. The clothes you are wearing, the medicines you consume, the device you are using to read this article, and everything around you is manufactured by some company in this world. The world as we see it today is the result of the cumulative efforts of the whole manufacturing industry.
What if we can use Artificial Intelligence of AI technology to amp up the operational efficiency of the manufacturing sector, Let's say, by 10%?
Can you imagine how faster humanity would progress with the extra 10% efficiency?
In manufacturing, workers are often asked to perform high-risk tasks like soldering, welding, metal cutting, raw material assembling, etc. Furthermore, magnetic fields, compressed gases, and harmful radiation can adversely affect a worker's health. In addition to this, occupational accidents can result in losses to machinery and the environment while simultaneously lowering business productivity. This is why it is of utmost importance to invest in keeping your production facilities as safe as possible. To a large extent, artificial intelligence can help achieve this feat.
In this article, we'll explore the possibilities of Artificial Intelligence in the manufacturing and production industries.
Let's learn more about this in the below sections:
How AI helps to transform the manufacturing industry?
Making mistakes is a part of human nature. We are fallible beings who are prone to distractions, illness, and fatigue. In the manufacturing industry, these mistakes can prove to be deadly. By incorporating AI solutions in your manufacturing facility, you can prevent most of the accidents that tend to occur during the production process.
Nowadays, the majority of AI-powered solutions are used for measurement, nondestructive testing (NDT), and other processes. Some solutions also help in automated shop tooling, product design, monitoring the machining process in real-time, and monitoring status inputs like tool wear. In many of these applications, machine learning algorithms consume continuous streams of data from sensors, identify patterns, and use analytics to predict possible issues, and notify maintenance teams to take action before they come to pass.
Machine sensors are capable of monitoring activity in manufacturing facilities. Acoustic sensors can listen to the sound of belts or gears starting to wear out. There are also regular sensors that can gauge the wear of the tool. This information can be linked to an analytic model that could predict how much life is left in that tool. In most facilities, additive manufacturing has resulted in the addition of myriad new types of sensors to the system
In the manufacturing industry, the majority of AI applications are based on these technologies:
Machine learning: Here, algorithms make use of data sets to analyze and learn from informational patterns without being explicitly programmed. In fact, Zion Market's report found that the global machine learning market is expected to reach $20 billion by 2024.
Deep learning: This is a type of machine learning that makes use of artificial neural networks to analyze and interpret images and videos.
Autonomous objects: These refer to AI-backed entities like robots or self-driving vehicles that can complete tasks on their own with no human intervention.
Related article on How to implement Artificial Intelligence in your business and measure its impact
Benefits of using AI in the manufacturing industry
Artificial intelligence (AI) applications in manufacturing are broad and innovative. It has fundamentally altered the way things are developed, providing actionable data at every stage of design and manufacture. There are some highlighted positive benefits of using AI in the manufacturing industry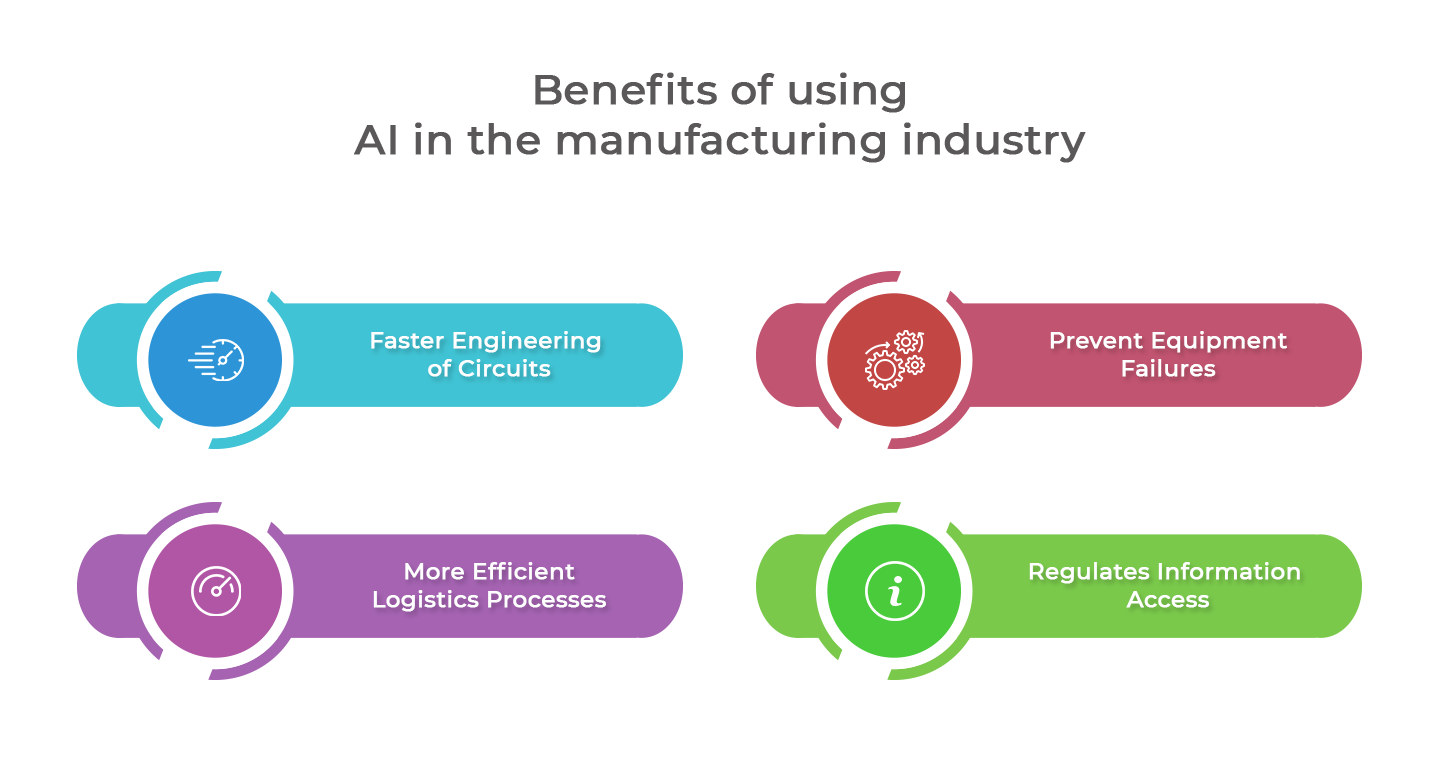 Faster engineering of circuits
Printed circuit boards (PCBs) are a critical part of every electronic device, as they hold all of the important components like its microprocessor and diodes. Due to the highly technical nature of PCBs, it currently takes a bit longer to produce them.
Fortunately, machine learning algorithms can help speed up the process by integrating AI into the system. Machine learning integrated hardware can also analyze previous tape-outs to identify pre-existing bugs and complexities, allowing PCB designers to avoid making the same mistakes again.
Prevent equipment failures
Manufacturers are avid users of internet-of-things (IoT) endpoints to control the production process from one location. However, the most valuable aspect of IoT endpoints is how they can be programmed with machine learning code.
For example, machine learning can be enabled to estimate the Remaining Useful Life (RUL) of a machine and monitor aspects like temperature, processing speed, and failure windows. If the system senses that its RUL score is below average, it can call maintenance to have it fixed. If it's at critical levels, then it will make the recommendation to replace it. This way, factories will always be at optimal efficiency.
More efficient logistics processes
Manufacturing is more than the creation of products and intricate devices. There's also a lot of logistics involved in the process and AI can smoothen the process efficiently. For example, every pallet of raw material can be tracked with Real-Time Location System (RTLS), so the inventory can always be accounted for.
Similar to machine learning integrated hardware, this system's algorithm can also remember past mismanagement incidences and inform companies on ways to avoid them. This ensures that truck paths and inventory handling will be done in the most optimal way possible, saving companies time and money.
Regulates information access
With such a connected IT infrastructure, access to that data, and control over the system must be heavily limited. In 2017, the world experienced a devastating breach called NotPeya, which wreaked havoc on industrial systems and cost the industry more than $10 billion in damage. But with a well-placed machine learning algorithm in place, most of these breaches can be prevented.
Machine learning has the potential to use a framework called "Zero Trust Security." This means that every user, even those affiliated with the company, undergo security validation before they're granted access. Machine learning analyzes how these users access the data and reports any suspicious behavior.
Need help with AI implementation?
Reach out to us today and get started!
Contact Us
Safety is a key priority in the manufacturing industry. Solutions powered by artificial intelligence can help you promote safety and ensure maximum security in the following ways:
Precautionary measures during the pandemic
The COVID-19 pandemic has changed the way many industries operate. The manufacturing industry is no different. It is the responsibility of each organization to keep its employees from being exposed to the virus. Many manufacturing facilities are now using AI to identify employees, conduct thermal screenings, and monitor employee interactions for contact tracing and facility sanitization. Such solutions can guarantee healthier employees, a safer workplace, and continued operations.
Related article on Changing the course of pandemics with technology
Manufacturing process design, problem diagnosis, and resolution in the fabrication process have become much more efficient after the introduction of the digital twin concept. Digital twins refer to absolute virtual replicas of the physical parts of machine tools. They can be considered as exact digital representations of a particular part and mimic its behavior in various situations as well.
For instance, a digital twin can show you how a particular part would react in case of any defects. By understanding how different parts in a machine work under different conditions, you can take proactive measures to ensure the proper functioning of each part. This will in turn prevent any unforeseen issues from occurring, which will improve overall safety in the manufacturing facility.
A lot of issues or flaws are overlooked by humans, especially when these flaws are too small to be noticed by the naked eye. AI solutions possess cameras that are infinite times more sensitive than the human eye. This means that these solutions can easily identify even the smallest of issues in a machine or tool.
ML algorithms are used to analyze the products on a production line and find any mistakes or imperfections. After identification, these solutions can send photos of these imperfections to a human expert who can help take corrective action.
Predictive maintenance is one of the more widely used applications of AI solutions. Here, artificial intelligence algorithms are used to predict when a particular machine or tool needs repair or maintenance. This means that you won't have to rely on guesswork or preventive maintenance, which can save you millions of dollars in the long run.
Predictive maintenance can help you avoid unplanned downtime through the use of highly accurate machine learning algorithms. Technologies like sensors and advanced analytics embedded in manufacturing equipment enable predictive maintenance by responding to alerts and resolving machine issues.
Physical security on the premises
Many production facilities find it difficult to keep up with the heavy costs associated with a live security team. However, these security measures are essential to protect company assets and employees. Traditional security measures that make use of human resources have a lot of disadvantages associated with them such as increased costs and lower efficiency. AI-enabled security solutions can identify suspicious behavior in real-time and notify the authorities accordingly. This can prevent the occurrence of crimes in production facilities to a large extent.
Related article on Artificial Intelligence For enhancing business security
Putting AI solution to use
Artificial intelligence is quickly being implemented within commercial solutions across the entire value chain of the manufacturing industry. These solutions can go a long way in promoting safe working spaces in this space. Additionally, combining AI/ML with other technologies like sensors, machines, and human inputs can drastically improve security, which will, in turn, drive major revenue for your facilities. If you have any doubts regarding how to implement AI solutions in your manufacturing units, feel free to reach out to us for a no-obligation consultation.
Need help with AI implementation?
Reach out to us today and get started!
Contact Us