If you're a crypto enthusiast, then you would have heard of Ethereum without a shadow of a doubt. Universally lauded as the 'Queen of Cryptocurrencies', this open-source blockchain has irrefutably carved a niche for itself in the blockchain community. But with the introduction of up-and-coming blockchain platforms like Solana, is it fair to assume that Ethereum will continue to lead the crypto space in the coming years?
Solana has been garnering quite a bit of attention from the masses due to the great potential it has showcased in recent times. In fact, many experts have started calling it the 'Ethereum killer', citing its advanced technology and high scalability.
The ecosystem has seen multiple positive developments such as Solana-based stable coin exchange Saber raising $7.7 million from high-profile investors including billionaire Chamath Palihapitiya's Social Capital, Jump Capital, and the Solana Foundation. Beyond this, the blockchain's developer, Solana Labs, raised $314.15 million in a private token sale round led by Andreessen Horowitz (a16z) and Polychain Capital.
If you are looking to develop a blockchain project how would you choose the better option?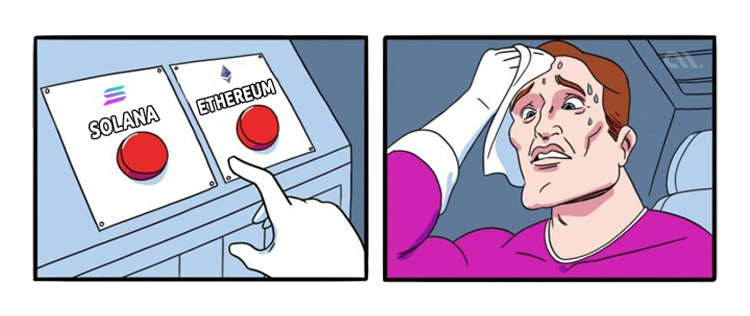 To help you arrive at an answer, we'll show you a comparison of Solana Vs. Ethereum and how it can potentially be used as a solution to existing inefficient blockchain processes.
Take a look at the below topics to know more:
What is Solana?
Solana is an open-source decentralized high-performance blockchain that offers fast, secure, scalable, decentralized applications to its users. It was founded in 2017 and managed to raise more than $25 million across various sale rounds. After its debut, it became one of the fastest-growing ecosystems, garnering the interest of several top crypto companies like Multicoin Capital, CMCC Global, Chainlink, Serum, and more.
The primary aim behind the development of Solana was to develop a trustless and permissionless protocol that enables high scalability. In accordance with this, Solana claims to be the most performant blockchain in the world. Solana guarantees a throughput of 50,000 TPS (transactions per second) across a network of 200 nodes.
Related article on Things to know before implementing blockchain in your business
Under optimized conditions, it can handle over 65,000 TPS, with minimal block-timing of just 400ms and with equally low network fees of around $0.0015 for each transaction. The best part is that the blockchain achieves this feat without adversely affecting UX, latency, or composability.
What sets Solana apart?
Solana offers myriad breakthrough solutions that have helped it become one of the most performant blockchains in the world. Its development team has introduced several new features that have helped it reach unprecedented levels in terms of speed and performance. To get a better picture of the technology used in Solana, it is essential to consider the 'Blockchain Scalability Trilemma'.
At its core, this trilemma states that three key attributes are present in any blockchain- decentralization, security, and scalability. According to the trilemma, only two of these characteristics can work optimally, and that has to be at the expense of the third.
This means that you can have extremely high security, be highly decentralized, but you will have to compromise on scalability. Given this, every single blockchain system has made some sort of trade-off depending on the application and the use of the blockchain.
However, against all odds, Solana has seemed to come up with a solution for this blockchain trilemma. The platform is highly decentralized and secure while simultaneously being extremely scalable. Solana managed to achieve this through its innovative PoH consensus algorithm.
Need help with Solana development?
View our Blockchain development services
View Services
Now that we have an idea about what Solana is, let us understand its unique features and characteristics:
1. PoH consensus algorithm:
One of the most unique features of Solana is the integration of the ground-breaking Proof-of-History (PoH) consensus algorithm. PoH allows the blockchain to scale easily while running smoothly and quickly. It was based on the idea of developing a comprehensive historical record that could speed up the network without any risk to decentralization.
This consensus mechanism enables users to access a digital record that can prove the occurrence of an event during a specific moment in time. In essence, it works like a cryptographic clock that assigns a unique timestamp to each event (transaction) along with the data structure.
Related article on How to choose the right consensus protocol for permissioned blockchain networks
According to reports, Solana has an average block time of 400–800 milliseconds with an average transaction fee of 0.000005 SOL. Each validator on the network has its own cryptographic clock to keep track of events instead of waiting for other nodes to verify and validate transactions. This highly improves block time, making the network more efficient. Solana does not recur to off-chain or second layers whatsoever, making it one of the few, layer 1 blockchains capable of reaching over 1,000 TPS.
2. Turbine:
This is a block propagation protocol optimized to broadcast transaction shreds to all network nodes using User Datagram Protocol (UDP). It helps Solana achieve low-latency and loss tolerating connections between Internet applications.
3. Tower BTF:
The Tower BFT is quite similar to your run-of-the-mill PBFT (Practical Byzantine Fault Tolerance) consensus. It is a crucial mechanism in Solana, since it leverages the PoH cryptographic clock, enabling the network to reach an agreement without time delay.
4. Gulf Stream:
Gulf Stream refers to Solana's mempool-less forwarding protocol. A mempool refers to a set of transactions submitted, but not yet processed by the network. Solana validators can manage a mempool size of 100,000. That means that with a network throughput of 50,000 TPS, a 100,000 transaction mempool is executed in a matter of seconds.
5. Solana Cluster:
This refers to a set of validators that work together. The primary purpose of these validators is to verify the output of untrusted and user-submitted programs. Moreover, it can be used whenever a user needs to preserve an immutable record of events or the programmatic interpretation of the events. Each cluster is a set of independently owned computers. They can track the possession of real-world assets, track which validators did meaningful work to keep the cluster running, and verify the output of user-submitted programs.
6. Sealevel:
This refers to a system that is based on the principle of parallel smart contract execution. The functionality of smart contracts in Solana is unlike that of other cryptocurrencies. Sealevel allows smart contracts to run side by side through the promotion of parallel execution of transactions within Solana's single-layer blockchain. This prevents any disruptions and helps improve performance levels in the network.
7. Cloudbreak:
Using its Cloudbreak feature, the Solana system can access and interpret data simultaneously, using older versions as a backup.
8. Pipelining:
Pipelining is a hardware structure in Solana that is responsible for directing transaction information toward designated hardware. It is a popular reordering methodology in CPU design. It enables the creation of various stages for every hardware to complete its task in a process called a "pipeline of stages."
9. Archivers:
These are hardware structures that work with pipelining and act as Solana's distributed ledger store for petabytes of network data storage. They enable leader nodes to access network-based information at quicker rates.
Solana and Ethereum: How do they compare?
Both of these blockchains have a few key similarities- they are decentralized, open-source, public blockchain protocols. They are also extremely modular and can be programmed to work with a plethora of different applications.
However, Ethereum and Solana are poles apart when it comes to other factors like performance and overall scalability potential. Ethereum is considered a front-runner in the blockchain space, with its underlying blockchain forming the core foundations to many decentralized applications and networks in use today. Blockchain concepts like Defi (decentralized finance) and NFTs (non-fungible tokens) are heavily dependent on Ethereum for its functioning.
Unfortunately, many have begun expressing concern over its scaling capability, network congestion, and slow processing time. In addition to this, many Ethereum users have had to spend a large amount as gas fees, even for simple transactions.
When compared to this, Solana has the ability to handle much greater computational power than Ethereum. It can also be scaled infinitely without any compromise to security or decentralization. Its unique blockchain architecture prevents sharding and users will not face any need for the implementation of Layer 2 solutions.
Let us take a look at the pros and cons of Ethereum and Solana to get a better idea of how both these blockchains compare with each other: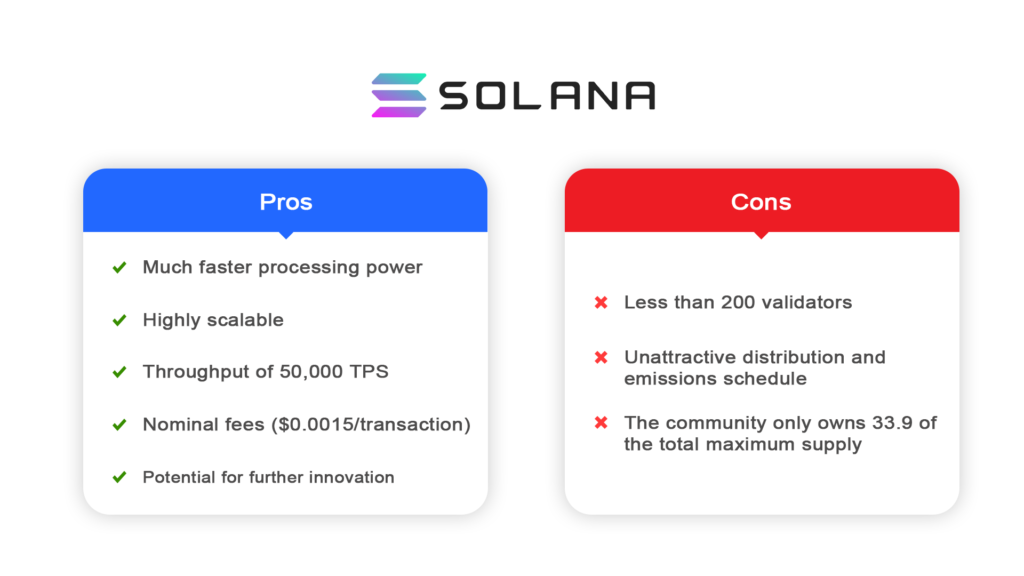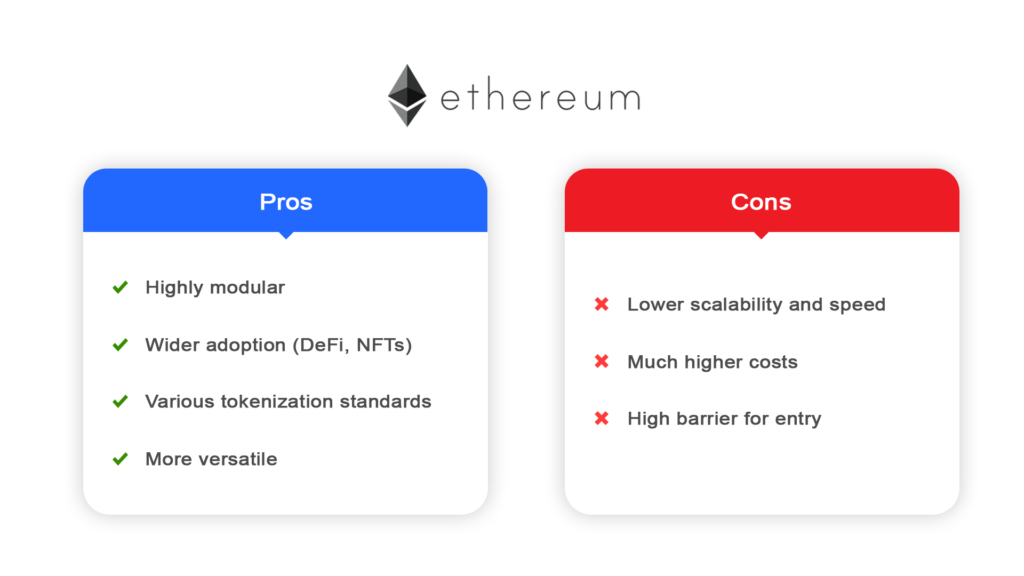 In a nutshell, we can understand Solana's benefits over Ethereum as follows:
Uses no state as part of its programs Since Ethereum stores state, it makes the platform slower.
Miniaturized data packets that can be transmitted via UDP. Hence, it has lower memory requirements.
Executes transactions faster, without waiting for global consensus while maintaining security.
Has on-chain clock verification for trusted timestamps, rather than block height.
Removes the mempool by forwarding unconfirmed transactions to upcoming validators.
The bottom line on Solana Blockchain
Although Ethereum's platform is much bigger than Solana's, it is clear that quite a few things are lacking in this blockchain. Solana compensates for this with its high throughput and low gas fees. Because of this, many Defi projects have started to consider Solana as an ideal alternative to Ethereum.
However, before you jump to any conclusions and crown Solana as the victor in this competition, it is important to consider that Ethereum will soon be shifting to Ethereum 2.0. With this upgrade, the network will be replacing its Proof of Work (PoW) consensus with Proof of Stake (PoS). There are also many speculations that ETH 2.0 will be able to support up to 1,00,000 TPS with 64 sharded blockchains. We hope this article would give you a clear view and present you with the information required to choose your blockchain.
Need help with Blockchain development?
Reach out to us today, to discuss your project
Contact