Yes, technology is an investment. A good understanding, the right strategy, and proper implementation can be an asset to your enterprise. Technology can play many big and small roles in making industries better. A testament to the wide acceptance of tech can be seen in Gartner's projected Worldwide IT spending. According to Gartner's latest forecast, the spending will be $4.6 trillion in 2023. This is an increase of 5.1% from 2022.
Many technologies have shown the potential to change how we approach and understand the world around us. We'll look into the following:
Impactful technology
One example is the emergence of Web3. Web3 technologies are expected to change the way commerce is conducted by 2025. These technologies will allow the trade of physical and digital goods on an open, digital market through smart contracts and the tokenization of transactions using non-fungible tokens (NFTs).
The growth and management of data are also undergoing major changes. The rapid growth of data in recent years has led to issues of privacy, accessibility, management, and affordability. In the future, the data industry is expected to become more inclusive and affordable.
The popularity of technologies such as virtual and augmented reality and brain-computer interfaces will allow communication and expression of emotions within the metaverse, influencing its shape and development. The VR market is expected to experience significant growth in the coming years, with a compound annual growth rate of 33.47% from 2018 to 2024. This growth will increase the VR market value from $7.9 billion in 2018 to $44.7 billion in 2024.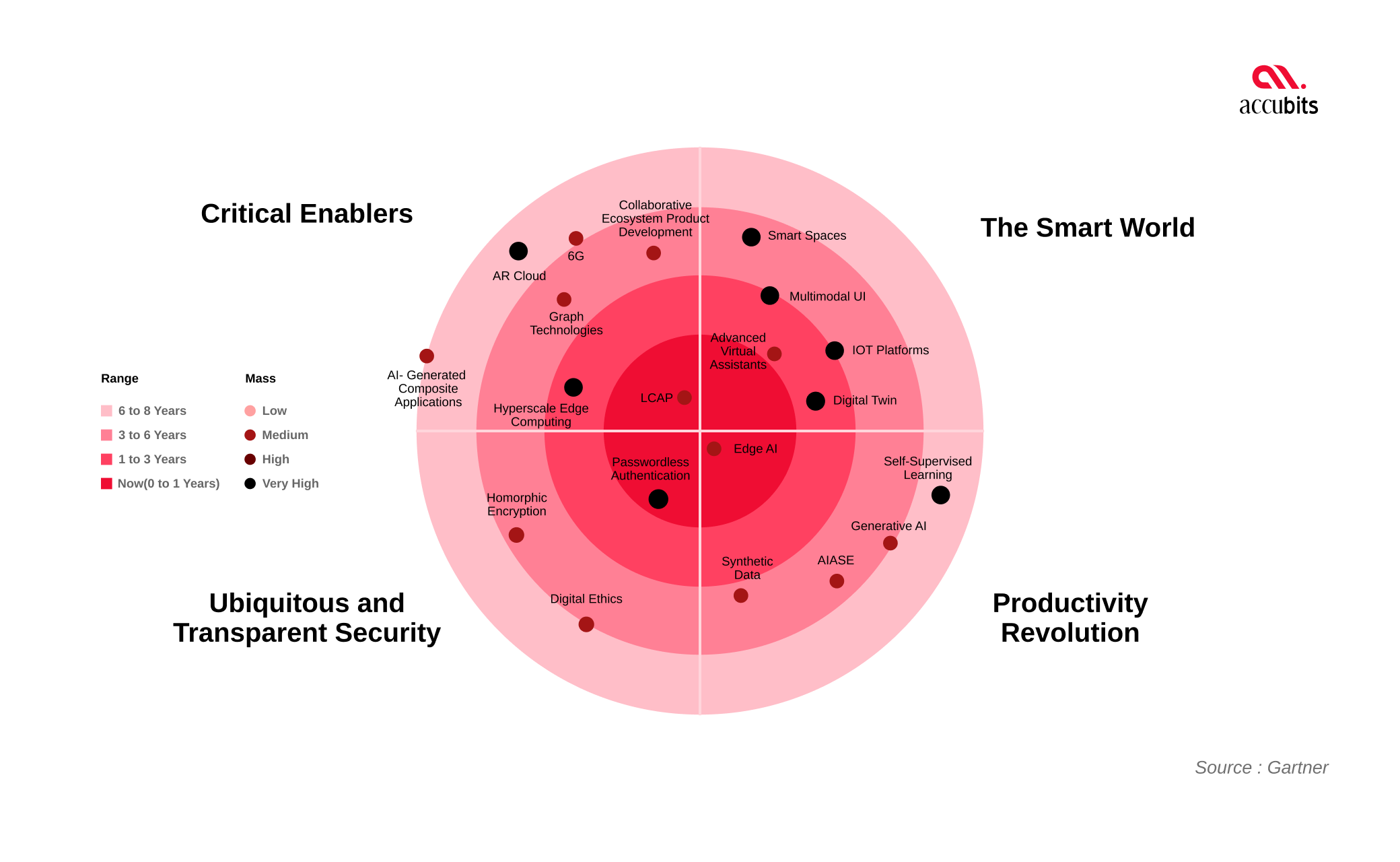 AI is another rapidly growing technology that can help various sectors, but its involvement in architecture can change the general well-being of residents. We can understand that with the prevalence of smart buildings equipped with cost-effective sensors and control points. Using AI to optimize their performance, these buildings can respond to various factors, such as equipment status, space occupancy, and weather.
AI can be used to understand and cater to children's interests, providing guidance for their learning journey. It can also provide insights for parents and teachers and serve as a mentor. The internet already connects children with experts and enhances the quality of education, reducing inequalities. By allowing children to ideate, prototype, test, and iterate affordably, they will be able to innovate and contribute to the well-being of society.
The workforce has seen a major shift in operations during the pandemic. It has also altered the talent landscape, prompting many companies to shift towards global and hybrid talent markets. This presents a real opportunity to tap these markets.
Understanding demand and predicting problems that may arise are another use for AI. Predictive supply chain technology will allow companies to anticipate and proactively address issues in their supply chain rather than simply reacting to problems as they arise. This technology will help to ensure that products are consistently available for consumers, allowing for the smooth operation of businesses worldwide.
How to Maximize the Value of Technology Investments
The latest tech might be glamorous, but not everything might suit your industry and business. Consider some of these questions when developing a technology strategy to improve corporate performance and management teams.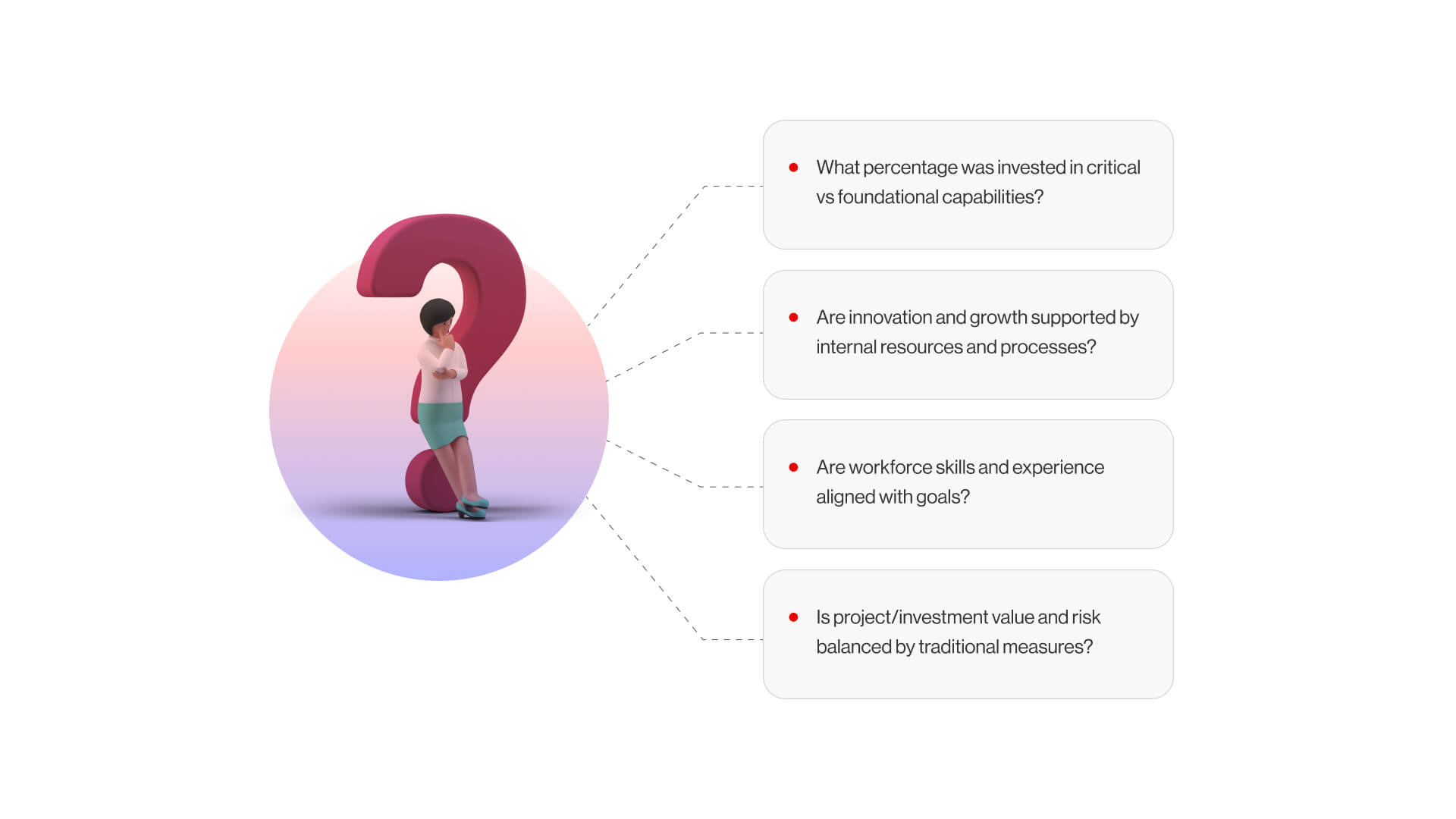 Are the technology investments focused on building critical capabilities or more foundational? What are its percentages?
Has a significant portion of internal resources been dedicated to driving innovation and growth, and are the right operating processes in place to support these investments?
Does the workforce have the necessary experience and skill mix to achieve the target state, and are these skills distributed appropriately among roles?
Are traditional measures used to evaluate projects and investments, and are specific investments' potential value and risk effectively balanced?
The technology you choose and your strategy must be tailored to suit your needs. The versatility and availability of technology make investment opportunities easier.
There are some key components to consider before investing, and technology is no different. Consider the following before investing in the right technology.
Want to maximize your ROI?
Our experts can help you
Read More
Focusing on Unique Business Capabilities and Aligning Spending Needs
To maximize returns on technology investments, companies should focus on unique capabilities that set them apart in the market. This requires a shift in focus from basic necessities to opportunities that give them an advantage.
Retail companies can improve the customer experience through multi-channel strategies, while industrial companies can invest in telemetry technology to track inventory and shipments. Companies should continually define their target capabilities to align spending with capabilities and establish a strong relationship between business and technology. Remain flexible to take riskier and innovative investments.
The Technological Capacity to Execute Initiatives
Effective execution of complex technological projects is crucial for companies looking to transform themselves through technology. Organizations need to assess their current skills and resources and determine if they have what it takes to deliver on their technology strategy. This includes building necessary infrastructure, collecting and analyzing data, and generating insights.
It may also require reassessing the delivery model and ensuring that internal staff has the necessary expertise. In addition, a technology road map can help guide investment decisions and provide a clear path toward achieving future capabilities. However, it is important to regularly evaluate progress against this road map and remain flexible in the face of emerging trends and disruptions.
Risk and Value Assessment
To effectively understand the value and risk of technology investments, companies must conduct a rigorous analysis, including worst-case scenarios, and consider execution, transition, and operational risks.
It is important to regularly assess and update a project's potential benefits and risks and manage the overall risk profile at the portfolio level to ensure a balance of high-risk/high-reward projects with those more likely to generate benefits.
When investing in new technologies with limited experience, such as developing mobile "Internet of Things" solutions, limiting spending to a small pilot test may be beneficial before increasing the scope and scale of the investment.
Targeting technology that gives you an advantage
Companies should focus on targeted capabilities that give them a competitive edge, have the ability to execute large-scale tech initiatives, assess the potential value and risk of specific projects, and have an optimal operating model to sustain the benefits of new technology. To achieve this, they should consider their investment profile, organization focus, workforce experience, and economics.
For example, a traditional brick-and-mortar retailer transitioning to e-commerce would need to understand how to apply best practices in digital marketing, shipping, inventory, and supply chain management and gain web development skills.
Conclusion
Technology and innovation are at our doorstep. They have the potential to change the world in wonderful ways. Technology investments bring your business closer to the future. Choosing the right technologies for your business gives you a chance to increase productivity and decrease unnecessary costs. Technology investments are not just about staying competitive but also about staying relevant in today's digital age. With the rapidly changing technological landscape, it is important to stay up-to-date and make strategic investments in order to reap the benefits and stay ahead of the curve.
Wondering what tech suits you best?
Connect with our experts today!
Read More