Interestingly, according to Retail Insight Network, the keyword metaverse is among the top 5 tweeted on retail technology in the first quarter of 2022. This is thought-provoking because it proves that consumers and retail owners are rooting for virtual reality in hindsight. What if you could wear and test clothes before you buy them? Or see what a piece of furniture would look like in your home before you purchased it? This article will look more into what metaverse retail means for the industry.
Here's an overview of what retail in the metaverse is, what shoppers think about it, and how it's likely to change the retail landscape.
The metaverse is a real-time virtual world in which people can enter using devices such as VR goggles and gloves and view in a 3D perspective. The metaverse worlds will contain 3D elements, and we can exist in the metaverse as avatars. Avatar is similar to how we navigate a character/player in a game.
The metaverse spaces can be anything from a virtual replica of a real-world location to an imaginary world. The virtual manifestations of retail shops collectively form the retail in the metaverse ecosystem. Shops and stores in the metaverse are built in the virtual world using 3D design.
Shoppers can try out items virtually and play games to make purchases. At first, it may seem futuristic, but consumers are warming up to the possibility of shopping in the metaverse. It is also predicted that the metaverse will play a larger role in people's lives. By the end of 2026, Gartner predicts that 15% of the population will spend at least an hour in the metaverse for shopping, working, learning, or entertainment. Let's look at how retail in the metaverse will transform online shopping.
"We believe the metaverse will be the biggest opportunity for modern business since the creation of the internet," said Meta. Some retailers naturally listened to the biggest tech company's words and created metaverse spaces. Others are partnering with metaverse platforms to create an immersive shopping experience for their customers. For example, IKEA has partnered with the metaverse platform Decentraland to create a virtual showroom where customers can browse and purchase furniture. Ikea's metaverse store is still developing, but it's already possible to explore the space and get a feel for how shopping in the metaverse will work.
But what is the general buzz about the metaverse among retailers?

Let's look at some more examples. At the start of the year, Shopify and Contentstack named metaverse one of the main ecommerce trends in 2022. In April, Meta announced that it would start selling virtual goods in the metaverse, and we could see the trends already hitting the market.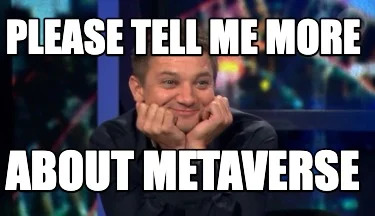 Luxury retail brands have positively projected toward the metaverse as they are already testing and laying out immersive content and experiences. For example, Nike lets users try on its new products in its metaverse space, 'Nikeland' in the metaverse. Balenciaga, a luxury fashion brand, created a retail store in Fortnite. Another clothing brand Gucci dwells in more than just metaverse elements. Gucci embraces NFTs and has two collections, New Tokyo and Gucci Grail. Similarly, Adidas offers four exclusive physical products to its NFT owners. The metaverse is changing the retail industry with a broad range of shopping experiences and even a market for new products.
With the onset of the metaverse, we can expect the future of shopping and the overall retail industry to be more accessible and immersive. Here are some ways in which the metaverse is changing today's shopping.
Tap the senses in metaverse retail
Sensory inputs provided by a retailer appeal to the customer in indirect psychological ways. Humans are automatically drawn to products that evoke a sense of emotion. Brands can leverage this in the metaverse more advanced ways than in physical stores.
For example, sight is the first sense triggered when a customer hops on to shop. Creating attractive environments has been a marketing secret for ages. In the metaverse, these attractive environments can be dynamic and change shape or color upon interaction with a shopper. Cafe music is a very popular playlist title on music streaming platforms. In the metaverse, auditory inputs such as music can be personalized to the user's habits and interests.
Shopping with avatars
Digital avatars in the metaverse are little figurines or characters representing ourselves as we wander through virtual spaces. In metaverse shops, you can go shopping with your avatars. 3D avatars use artificial intelligence to mimic real-world behaviors and human interactions. The avatars can be customized to look like their owner. So while shopping, users can try on clothes, hairstyles, accessories, and more on their avatars.
Metaverse retail for virtual items
Retail in the metaverse is not just an online extension for physical stores but is also an entirely new market for selling virtual goods. For example, you can buy digital clothes for your avatars. There can also be stores selling digital NFT collectibles that shoppers can purchase only in virtual spaces. Thus metaverse creates an entirely new sales and marketing model for things that are not physical. Retailers can also sell an item twice, once in real life for the customer and once virtually for the avatars to wear.
Personalized shopping
In the metaverse, shoppers can talk to store assistants to get style recommendations and use specifications such as size and preferred fabric the next time they shop. Shoppers benefit from smart AI recommendations based on their previous shopping experience in addition to real-time interactions with employers at the store.
Shopping made fun
The metaverse will include elements of Augmented Reality, Virtual Reality, Gamification, etc., in shopping experiences. In an ideal metaverse, we would see gameplay of all these elements merged to create an immersive experience. Some popular gadgets to access the metaverse include Playstation VR, SteamVR, Horizon, and Oculus.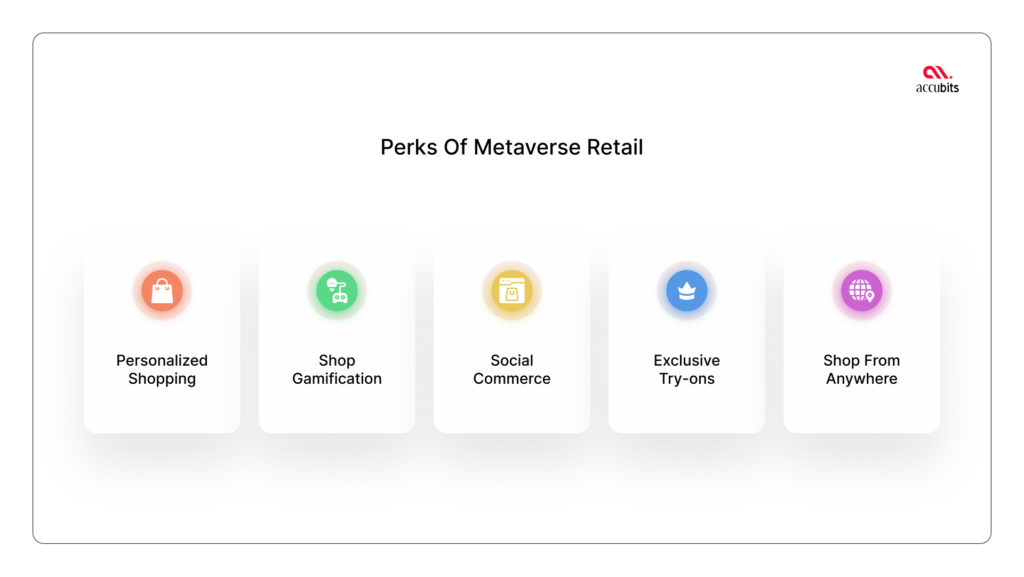 Social commerce in metaverse retail
In the metaverse, shoppers can talk to fellow shoppers and promote social shopping/commerce. Talking to others in the metaverse is much easier via chat thread or a simple emoji reaction. People can get style recommendations or show genuine appreciation for something others have picked from the shelves. This phenomenon is known as social commerce and is a highly-rated psychological tool in retail. People influence people, and interacting with other buyers can boost sales and even retention.
Exclusive try-ons
Firstly, retail in the metaverse will make it possible to try out products before you buy them. This is especially useful for big-ticket items like furniture or expensive clothing. The augmented reality add-ons in a metaverse store let you manifest a digital item into real life using AI cameras. This way, you can see if an armchair goes with the curtains, if a particular color of paint looks good on your wall, or even try on dresses and glasses to see how they look before you spend money on them.
Shop from anywhere
Finally, the metaverse will make it possible to shop anywhere worldwide. You'll no longer be limited by geography when you want to buy something. People are also commenting on how shopping through the metaverse will be much more sustainable with much less energy spent. All the enhanced shopping experience elements discussed above can be accessed from a shopper's bedroom with a device and internet connection.
Some companies that are embracing the metaverse and related technology, such as AR and VR, including
Gucci
As we saw earlier, Gucci has brushed up on the NFT realm. Super Gucci is a new series of CryptoJunky NFTs and ceramic sculptures created by a virtual sculptor. The Gucci Vault is the storage place for all of Gucci's metaverse products. Gucci also purchased a piece of land on Sandbox, a marketplace for virtual real estate.
Jordan
Jordan has connected to release new virtual clothes and conduct Jumpman Zone, an immersive, interactive event in Fortnite's Creative Mode. This metaverse initiative encourages gamers to find Air Jordan 11 'Cool grey' artifacts on a scavenger hunt. Gamers can use a scavenger hunt to find Air Jordan 11 'Cool Grey' artifacts. People can also perform trick shots challenges and access the Jumpman MVP regions.
H&M
H&M, one of the biggest clothing brands in the world, now lets customers wander through their new VR concept store in the CEEK City environment. People can purchase the products they want using CEEK Crypto to pay. Outfits and accessories are available in digital form, which buyers can try on their avatars. H&M extended this feature to make customers physically acquire things they buy in the metaverse.
Hyundai
Hyundai Motor Company launched Mobility Adventure, a metaverse space on Roblox. It featured Hyundai products and presented future mobility solutions. Mobility adventure is a motor company's first similar initiative in the Roblox. Hyundai aims to attract young, tech-savvy minds to explore its product offerings and nurture long-term relationships.
As we move ahead, it is obvious that the torchbearers of metaverse adoption are Gen Z. Data supports the same too. According to Obsess, nearly 75% of Gen Z shoppers have purchased a digital thing within a video game. 60% of young shoppers believe brands should have a store in the metaverse. 54% reasoned that they must be able to shop anywhere they go. While 45% want a metaverse shopping mall. While we have all the data pointing towards the upward growth of the metaverse, we are yet to see metaverse adoption by relatively small retail brands. As the concept gets clearer to the general public, we expect more and more ventures to enter the digital reality.