Hedera Hashgraph is an innovative technology in the field of distributed ledger technology. It uses aBFT – asynchronous Byzantine Fault Tolerance consensus mechanism that allows faster transaction speeds and lowers energy consumption than traditional blockchains. It is also considered more secure and fair than traditional blockchains due to its unique consensus mechanism and governance structure. In the previous article, we learned the core concepts of Hedera Hashgraph with examples and how it works. This article will look at the top Hedera Hashgraph use cases across different industries. So let's get started.
Top 10 Hedera Hashgraph Use Cases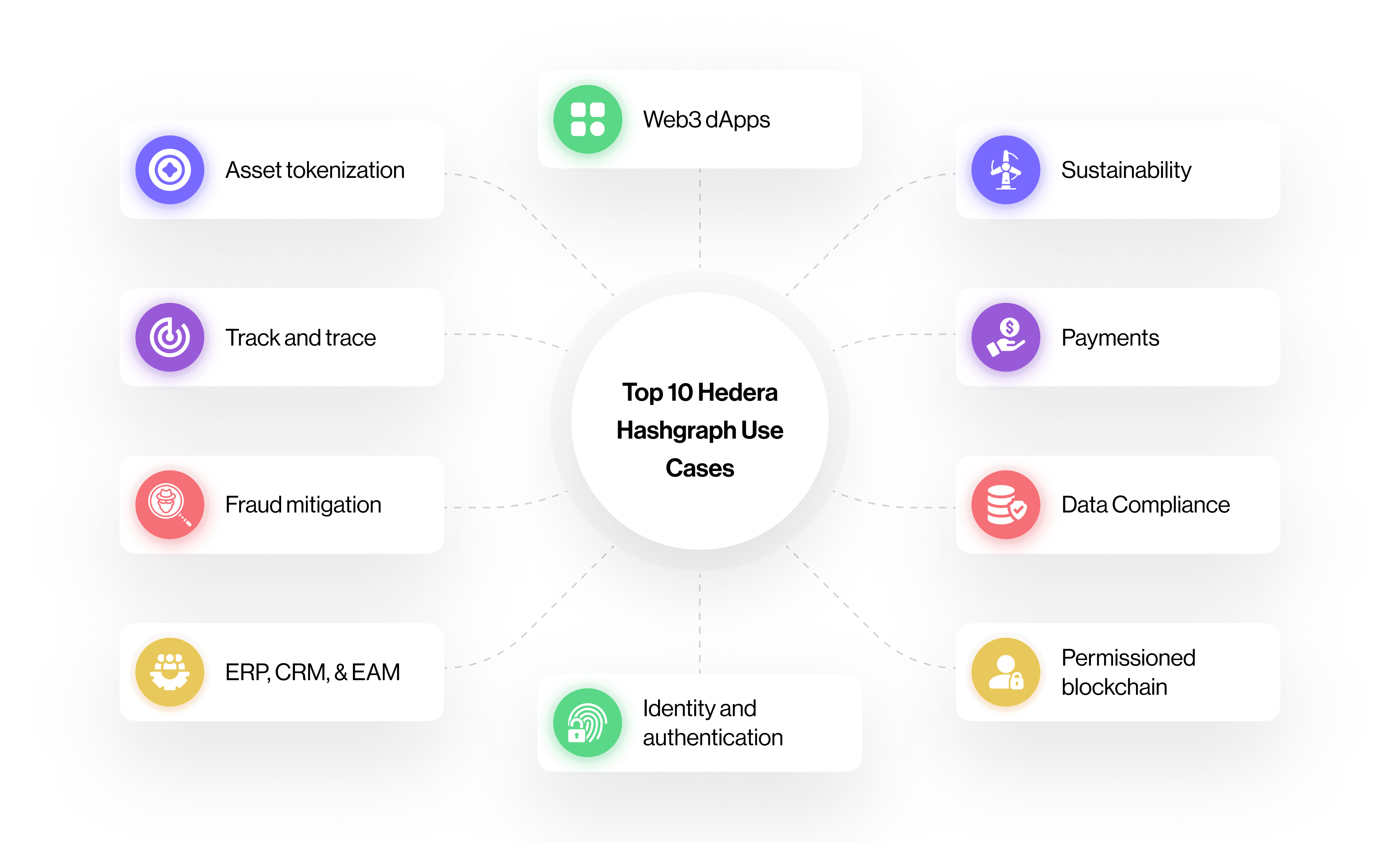 Due to its merits, Hedera Hashgraph use cases best fit various industries, such as supply chain management, digital identity, cryptocurrency, smart contracts, gaming, predictive markets, file storage, and Internet of Things (IoT) applications. The top use cases are;
Asset Tokenization
Hedera hashgraph's consensus algorithm offers fast, fair, and secure tokenization and transfer of fungible and non-fungible assets on the Hedera public network. One of the popular use cases of Hedera is that it is a good choice for asset tokenization. Asset tokenization creates a digital representation of an asset, physical or non-physical. Assets such as real estate, shoes, art, or photos can be tokenized. The tokenized asset is represented by a digital token (an NFT or a fungible token) that can be transferred, traded, and stored on a blockchain or DLT. This process enables the creation of a digital market for the asset and makes it easier for the asset to be bought and sold, and opens up new investment opportunities for a wider range of investors.
The Hedera Token Service allows for easy creation, management, and control of both fungible and non-fungible tokens on the Hedera blockchain. It eliminates the need for expensive and unpredictable fees, slow transaction speeds, and complex smart contract configurations commonly found in other publicly distributed ledgers that offer tokenized assets. This service can transfer custom tokens quickly, fairly, and securely at less than one cent in US dollars.
Hedera's asset tokenization services are highly configurable and have minute-controlling abilities. You can configure keys and tokens flexibly for your account KYC verification and freeze, token supply transfer, management, and more.
Hedera public network enables predictable and low transaction fees for using Hashgraph consensus. It costs under 1¢ USD to transfer any amount of a tokenized asset on Hedera.
The Hedera blockchain network is governed and operated by some of the world's leading organizations, providing robust stability and a commitment to avoiding any forks in the network. Additionally, tokenizing assets on the Hedera network offers a high level of customization, ensuring compliance with various regulations and standards.
Supply Chain Track and Trace
Hedera Hashgraph's unique functionalities of fair transaction ordering, consensus timestamping, and fast finality make it a good choice for building Enterprise supply chain applications. Due to malicious nodes, many blockchains suffer from compromised 'fair access' and 'fair ordering' in nodes. For some use cases of DLT, this is not a big issue. For example, an e-commerce purchase transaction on the blockchain is not affected by compromised 'fair access' and 'fair ordering.' However, time-critical tasks like stock markets, auctions, supply chain traceability, fair access, and fair ordering are critical. A delayed transaction could mean a missed opportunity. Hedera's architecture prevents the compromise of 'fair access' and 'fair ordering,' thus making it a good choice for use cases like supply chain traceability.
Fraud Mitigation
High throughput and more volume of transactions per second are prominent Hedera Hashgraph use cases. Defeating its blockchain competitors by a great margin. Due to high TPS, Hedera can create a shared real-time view of logged application events and transactions. This can enable one to build pattern detection and predictive analysis models to detect fraud in the system even before it happens. This is impossible in most blockchains as the transaction latency is very high, and getting real-time data is not feasible.
Centralized systems controlling applications and backend infrastructure are vulnerable to infiltration and data tampering by both internal and external actors. As more parties are added to the application, such as users, auditors, and administrators, ensuring that everyone is trustworthy and has real-time access to the same information becomes challenging.
Hedera offers a solution by providing high-speed and verifiable logging of business transactions and decentralized identifiers that comply with the W3C Decentralized Identifier (DID) standards. This can be applied to any new or existing application, ensuring all participants can be trusted and that all associated systems have a real-time view of transactions, making it possible to detect fraudulent activities and make predictive analyses based on them.
Reduce costs of digital fraud
Digital fraud is a significant global issue, causing over $600 billion in losses, damage to reputation, and other costs. One way to help reduce these costs is by using technology to ensure real-time consistency and compliance with standards among parties while also increasing the ability to detect and prevent fraud before it occurs. Implementing technology like Hedera can enhance the records' transparency, trust, and immutability, which can be very beneficial in catching fraud before it happens.
Late disclosure and slow detection of malicious activities can damage a company's reputation. Companies can strengthen their fraud detection systems by using real-time and publicly auditable, timestamped logs to build customer trust and loyalty. Using a decentralized platform like Hedera could ensure tamper-proof and auditable logs, providing more transparency and trust for customers and all the stakeholders in the ecosystem.
Effective fraud prevention often requires gathering and analyzing data from multiple organizations. To protect customers while empowering fraud detection systems, companies can utilize Hedera's technology that adheres to data standards and provides real-time verifiability while keeping customer privacy and personally identifiable information (PII) secure. The Hedera platform could be one solution that ensures the security of personal information while providing transparency and real-time data auditing, which are needed to identify and stop fraud.
ERP, CRM, & EAM
Hedera's architecture and integrations make it easy for organizations to plug their ERP, CRM, & EAM systems into Hedera Consensus Service. This can facilitate the organization to achieve trust in transactions. Plugging an ERP, CRM, or EAM software into DLT can provide several benefits, such as improved security, increased transparency, and traceability, better data integrity, enhanced collaboration and automation, reduced costs by reducing intermediaries, and increased efficiency.
Identity and Authentication
Hedera is compatible with the open DID specification. It can enable enterprises with the tools to manage identity credentials through their lifecycle in a secure, standards-based, and privacy-respecting manner. Hedera can be used to store and verify identity information, such as government-issued IDs, biometric data, and other personal information, securely and tamper-proof. This can help prevent identity fraud and improve identity verification accuracy.
Identity credentials capture information such as attributes, skills, and qualifications and determine authorization to access software and systems. Hedera Consensus Service can be used to record key events in the lifecycle of a credential, providing transparency and certainty for each stage.
This includes the issuance, activation, revocation, and expiration of the credentials. Recording these events on Hedera provides a tamper-proof and auditable log of the credential's lifecycle for all the parties involved.
Hedera's credentials adhere to open standards, specifically the decentralized identifier (DID) and verifiable credentials standards developed by the World Wide Web Consortium (W3C). This allows for interoperability with other systems and protocols following the same standards. It also ensures that the structure and format of the credentials are widely understood and accepted, making it easier to integrate with other systems.
Credentials on a decentralized network give users more autonomy over their personal information by allowing them to choose when and with whom they share their identity attributes. This empowers users to take control of their data and decide how it is used.
The Hedera Consensus Service is designed to handle large numbers of transactions, making it suitable for high-volume device identity use cases like IoT. It can handle the scale of transactions needed to support many connected devices and ensure that each device's identity is recorded and verified in real-
Permissioned Blockchain
Hedera can help to bring decentralized ordering and interoperability to the business applications running on a permissioned blockchain framework such as Hyperledger Fabric or R3 Corda. Frameworks such as Corda, Hyperledger Fabric, and Quorum can be connected to Hedera to achieve a decentralized trust model without revealing the contents of the transactions. The Hedera Consensus Service sends a hash of each update made to the permissioned blockchain to the Hedera public ledger. This creates an immutable record that ensures the transaction information remains private while still being auditable by authorized parties.
Data Compliance
Regulatory requirements are causing companies to pay close attention to data compliance. Still, it takes some trust to convince customers that their data is being handled and protected properly. There is no straightforward way to prove to customers that the necessary steps have been taken to ensure compliance with data regulations. One way to address this is to increase transparency and trust in data compliance by having a publicly available log of actions taken and allowing customers to verify their data independently.
One way to decrease liability is by allowing auditors, regulators, and partners to verify user requests and organizations' actions through a clear and accessible set of records. This approach would allow them to see how requests were handled and to check the organization's response.
Improper handling of customer data and failing to address their requests can harm a company's reputation. One of the Hedera Hashgraph use cases includes tools to independently verify data compliance actions on their data. This approach enhances trust and enables companies to demonstrate their commitment to responsible data management.
Auditing can be complex and time-consuming, but it is made simpler by Hedera using data standards and providing real-time verifiability through public access. This approach would eliminate the need for costly third-party intermediaries, streamlining the auditing process.
Payments
By 2023, global digital transactions are projected to reach $6.7 trillion. Public distributed ledgers, like Hedera, which enable the issuance of stablecoins and other cryptocurrencies for payment use cases, can potentially reduce costs associated with traditional payment processors and point-of-sale systems.
The Hedera Token Service presents organizations with a chance to take advantage of the benefits of publicly distributed ledgers in a secure, compliant, and high-performing way for payments, including enhancing the efficiency of payment settlements and generating liquidity for new and expanding markets.
Transactions made using hbars and tokens issued through the Hedera Token Service are settled in seconds, comparable to the speed of the VISA network. This makes hbars, stablecoins, and other cryptocurrency transactions viable in commerce and finance.
Regulation and compliance
Stablecoins and cryptocurrencies intended for use in payments must adhere to various regulatory requirements, which often necessitate configurations at the account level. Hedera allows token issuers to implement account-level compliance measures such as KYC verification, freezing of accounts, management of token supply, and control of transfers.
Sustainability
As industries like carbon markets continue to grow, there is an increasing need for security, transparency, and efficiency. For this market to reach its full potential, it is crucial to ensure that accurate, detailed data can be recorded and accessed without corruption or collusion. The Guardian on Hedera Hashgraph uses cases to combine a trust layer for multi-party data with a digital measurement, reporting, and verification tool to enhance workflows and produce tokenized quantitative results. An environmental impact study by University College London (UCL) has shown that Hedera is the most sustainable distributed ledger network.
Creating and trading climate-related assets
The Hedera network features low, fixed, and USD-denominated fees paid in $HBAR. This makes it affordable for any organization to create tokens for emissions and suppliers of offsets to mint carbon tokens. The Hedera network allows fast and inexpensive transactions using these minted tokens.
The Hedera Consensus Service (HCS) enhances trust in data through its decentralized and auditable platform for logging sustainable information. This platform is designed to record immutable and timestamped data that can be easily audited and made accessible to all parties, resulting in higher transparency and accountability and making cheating difficult.
Web3 dApps
Hedera Hashgraph use cases motivated by its features, such as high throughput, enhanced security, smart contracts, accessibility, compliance, etc., that extends its use cases for building web3 dapps. Its consensus mechanism allows for high transaction speeds and low latency, making it well-suited for dapps that require real-time interactions and data updates. Hedera also provides an easy-to-use developer platform and SDKs for multiple programming languages, making it accessible for developers of all skill levels to build web3 dapps.
Use Cases of Hedera Hashgraph, To Summarise,
In conclusion, the Hedera Hashgraph platform offers a wide range of use cases that have the potential to revolutionize various industries. From supply chain management to digital identity verification and gaming, Hedera Hashgraph's high-throughput and low-latency capabilities make it a strong player in blockchain technology. Its governance model, which ensures decentralization and fairness, also sets it apart from other blockchain platforms. The top 10 use cases highlighted in this article are just a small sample of Hedera Hashgraph's potential. As the platform continues to evolve, we can expect to see more innovative use cases and real-world applications built on it.