As DeFi and NFT communities grow enormously, how to govern decentralized protocols takes on added importance. Over the next few years, one of these communities' most immediate challenges is to figure out governance — managing collective decision-making to optimize funds and operations. At this point, DAO governance models will help sustain a novel governance model that can aid decentralization.
In this article, we will help you gain better insight into what DAOs are, how DAO governance works, and how it can facilitate better governance models in decentralized finance:
What is DAO?
A Decentralised Autonomous Organization (DAO) is a community-led organization with no central authority and is governed by computer codes. A DAO is a completely autonomous and transparent organization where smart contracts lay the foundation rules and execute the agreed-upon decision. The blockchain transparently records all the rules and transactions on a DAO. 
DAO members control the entire DAO governance. These members work together to make critical decisions on the future of a project.
Related Article: What to know before implementing blockchain in your business?
Different types of DAO
Depending on its structure, technology, and modus operandi, a DAO can fall into one of the following categories:

Operating systems: They are standalone platforms that allow one or more organizations to create their DAOs. E.g., Orca and Colony.
Protocol DAOs: These DAOs use tokens as a voting metric to implement the protocol and financial changes. E.g., Uniswap, Curve, Yearn.
Grants DAOs: These DAOs are decentralized venture capitalists with communities that use governance tokens to vote on capital allocation. E.g. Audius Grants, MolochDAO.
Investment DAOs: The main role of investment DAO is to support capital pooling for multiple decentralized finance operations and investments. E.g., BitDAO, The LAO.
Collector DAOs: This type of DAO is for artists and NFTs to support fractional or complete ownership of content and art. E.g., Flamingo.
Service DAOs: Agencies and individuals use these DAOs for hunting and acquiring talent. E.g. Metaverse DAO, DaoHaus.
Media DAOs: The main advantage of a Media DAO is that it's a transparent and decentralized news aggregator that works in the common interest of the consumer. E.g., Mirror.
Social DAOs: They are decentralized social networking platforms. E.g., Seed Club, FWB.
Related article: What are the different types of DAOs?
How does DAO governance work?
The core team of community members uses smart contracts to establish the rules of a DAO on a blockchain. These rules are publicly visible, verifiable, and auditable. DAO works to receive funds and bestow governance based on predefined blockchain rules.
For this, the DAO issues and sells tokens to raise funds that fill the DAO treasury. DAO offers voting rights to token buyers. On completing the funding, the DAO becomes ready for deployment.
Once the code is pushed into production, it can no longer be changed by any means other than a consensus reached through member voting. No special authority can modify the rules of the DAO; it is entirely up to the community of token holders to decide.
Want to launch your own DAO?
Talk to our experts to know more about DAOs.
View Services
When are DAOs needed?
Starting an organization with someone that involves funding and money requires a lot of trust in the people you're working with. But it's hard to trust someone you've only ever interacted with on the internet.
With DAOs, you don't need to trust anyone else in the group, just the DAO's code, which is 100% transparent and verifiable by anyone. The use of DAOs opens up many new global collaboration and coordination opportunities.
DAOs can be implemented for anything and everything, such as charity, album release, business, non-profit organizations, painting, etc.
DeFi in DAO
Decentralized Finance or DeFi refers to P2P finance enabled by Layer-1 blockchain protocols such as Ethereum, Avalanche, Cardano, etc. DeFi apps significantly increase the speed and reduce the cost of financial transactions by eliminating the need for trusted intermediaries.
DeFi relies heavily on DAO governance models for its smooth operation. DAOs manage DeFi apps through individual decisions made by decentralized validator nodes who own or possess sufficient tokens to approve blocks.

The different ways in which DAO governance facilitates better governance models in DeFi applications are:
Tokenization: DAOs utilize blockchain-based tokens to represent voting rights. Consequently, only token holders can participate in network governance.
Autonomous automatization: A single smart contract can only handle simple transactions. DAO frameworks allow DeFi apps to define a complex set of smart contracts that enable multi-party interactions without human involvement.
Self-enforcement: DAO automizes organizational rules using smart contracts, greatly reducing the need for intermediaries that might compromise decentralized decision-making.
Trust mechanism: Smart contracts and other protocol mechanisms codify a certain degree of trust in DAOs, allowing several agreements between network stakeholders without the involvement of third parties.
DeFi offers plenty of other benefits for DAO apps as well.
To begin with, they are autonomous and don't require leadership.
DAOs provide objective clarity and predictability because smart contracts govern everything.
The fully transparent nature of DAO allows it to keep everything documented on the blockchain. In addition, this allows for open auditing of voting, proposals, and even the code.
It offers participants incentives to participate in the community. And while doing that, no participating node will rely on a managerial or central node. So, they will all be relying on each other.
DAOs offer limitless possibilities for NFTs. It allows for collective ownership of an asset, provides models for community governance, and presents the opportunity of forming creator collectives.
Read more: What is DeFi 2.0, and why does it matter?
Steps to create and run your own DAO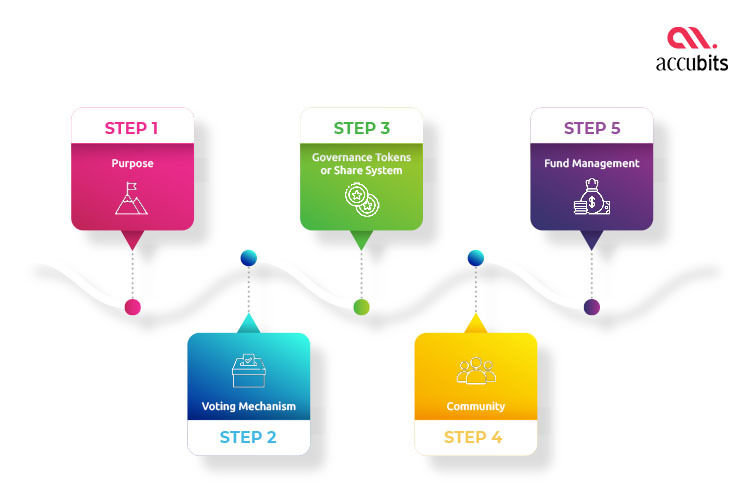 A successful DAO requires the following:
A purpose: An underlying project or reason that the DAO can help organize.
Voting mechanism: It can be created on your own or borrowed from a third-party provider.
Governance tokens or share system: It allows people to prove their right to an opinion in a DAO.
Community: They can work together to keep the DAO running smoothly and efficiently.
Fund management: It is controlled through a multi-sig wallet which is used only when key participants agree.
Creating a DAO requires a mechanism for handling votes and proposals. There is a pool of open-source solutions that everyone can use.
Snapshot is a common example that works on multiple blockchains. Snapshot is a customizable off-chain voting mechanism that uses digital signatures to cast votes based on a snapshot of token owners. To create your voting system on Snapshot, you'll need to:
Own an ENS domain on an Ethereum mainnet.
Link Snapshot to your ENS domain.
Customize the settings of your space. These include admins, terms, voting power strategies, etc.
Verify your space, which requires at least 1000 members, and proof of ownership of the related project.
DAOs offer access to a decentralized environment where incentives align with stakeholders' needs. They implement a structure where an incentive system directs users' interests toward the benefit of the community.
Moreover, this results in an ecosystem of decentralized organizations that access a wide range of financial services while removing most entry barriers and promoting financial inclusion.
Read more: How to launch a DeFi project (DeFi tokens, DeFi coins)?
Future of DAOs
DeFi is in its growing phase and requires a governance model similar to DAO governance to facilitate its framework and workflow better. In addition, DAOs are a break from the centralized past and present of business organizations. Also, DAOs envision a collective organization owned and managed by its members where all of them have a voice. While they are not ubiquitous, DAOs seem to be picking up steam with many businesses.
Want to develop a DAO model?
Talk to our experts to build your own DAO.
Contact us