Decentralized Autonomous Organization, or DAO, has been making a fuzz lately. These are automated companies with less human interaction, i.e., a company or organization without a CEO or controlling authority. DAOs have been in the limelight lately.
So here we answer your top 10 queries to enrich your knowledge about DAOs.
Do DAOs truly offer decentralization?
Yes, it offers true decentralization, so a hierarchical management structure does not govern a decentralized autonomous organization. At the same time, it might be hard to control the group of like-minded people within a DAO since, in the democratic community, anyone can gather to contribute ideas and works. But it is possible to regulate or at least standardize the smart contracts in which the DAO rules are programmed. The creator of a DAO can use these rules to govern the DAO autonomously.
Related article: What are the different types of DAOs?
What are the different models for membership in DAO?
The two types of membership in decentralized autonomous organizations are token-based and share-based models.
Entirely permissionless. Under the token-based membership model, the DAO governance tokens are acquired through decentralized exchanges, while you can acquire a few others by providing liquidity and proof of work. These tokens provide voting rights. This membership type is generally used to regulate large-scale decentralized protocols and tokens.
For example, MKR, the MakerDAO token, is readily accessible on decentralized exchanges. Anyone can invest in having a say in voting to decide the Maker protocol's future. Other examples of token-based membership DAO are Aave, Uniswap, Dash, etc.
Share-based memberships are more permissioned. A potential member can submit a proposal offering a tribute in tokens or work. Shares signify direct voting and ownership power. Members are free to leave and keep their proportionate share of the treasury.
This type applies to human-centric organizations involving charities, worker collectives, and investment clubs. It's also possible to manage protocols and tokens.
For example, MolochDAO is primarily concerned with financing Ethereum projects. They require a membership proposal so the group can determine whether you have the required expertise and capital to make informed decisions about potential funds. You cannot directly purchase access to this particular DAO on the open market.
Interested to know more about DAO?
Talk to our experts to build your own DAO.
Contact us
How is a DAO Governed?
Governance of decentralized autonomous organization is based on automated self-enforcing protocols, .i.e smart contracts. The governance can be either on-chain governance or off-chain governance. On-chain governance is carried out through a sequence of proposals that members vote on via the blockchain, and having more governance tokens often translates to having more voting power.
The voters usually play a huge role in governance in addition to smart contracts, and voting rights are confined to the members who own governance tokens. The memberships can be exchanged using a crypto-wallet. Inactive voters are a governance challenge that prompted voting power delegation to other parties.
In off-chain governance, the process begins with discussions and forum posts that will make their way to on-chain governance.
Steps for the same can be condensed as follows:
Community discussions at a high level via chats and phone calls
A soft consensus is expected on the forum proposal.
To obtain a solid consensus, a token vote will be taken.
If the proposal is passed and a quorum is reached, it will be carried out.
Some popular governance tools are :
Snapshot (token voting)
Tally (token voting & governance aggregator)
Discourse (forum discussions)
Boardroom (governance aggregator)
Messari Governor (governance aggregator)
Read more: How do NFTs and DAOs coexist in DeFi?
How does crowdfunding work for DAO?

Once the developers issue tokens in exchanges for the public to buy, some of them are saved in the treasury, managed by a smart contract. The remaining tokens are sold to pool funds to the treasury. These tokens are also governing tokens, which give voting rights and ownership. Selling these governing tokens is the primary method of raising funds. Hence the capital is formed through this type of crowdfunding.
The voting process takes capital allocation and decisions regarding the system, where token holders vote and the decision is finalized. Further income is generated when stablecoins are issued into the crypto markets and traded utilizing DeFi. A part of the interest earned in such trading is given to token holders or reused for crowdfunding. This is how crowdfunding in DAOs work.
The recent attention towards the ConstitutionDAO shows the power of DAOs in crowdfunding, where a group of crypto enthusiasts raised more than 40 million in eth to buy a rare copy of the US constitution.
Related article: What is DeFi 2.0, and why does it matter?
Is a DAO different from a dApp or a decentralized network?
Yes. dApp and decentralized autonomous organization are somewhat similar in properties, but they are different concepts. It is easy to remember the concept of the term autonomous in DAO. DAO can be viewed as a fully autonomous dApp. But dApps need not necessarily be DAO. dApps are automated applications built on decentralized networks. DAO is fully autonomous, and human interference is very, very low. dApps are automated but not fully autonomous.
Related article: Decoding the STABLE Act and its effects in crypto products, dApps and digitized assets
What does a successful DAO need?
The following aspects are mandatory for a decentralized autonomous organization to be successful.
A meaningful purpose
DAOs are efficient methods to organize funds and communities. If there is no reason or purpose, your DAO will have nothing to look forward to.
A well defined smart contract
A well-defined smart contract is inevitable for a successful DAO as it is the backbone that implements all the functions.
A proper voting mechanism
Voting is essential for the members of DAO to interact with the system and make changes. So the blockchain-based voting system, where every token owner gets a chance to voice their opinion, has to be well defined. The weightage of votes also has to be decided according to the project requirement. Either you can use your voting mechanism or a third-party provider to conduct voting.
A governance token or share system
As we mentioned earlier, to be a member of DAO, people should own a governance token or share. This is necessary to prove their right to an opinion in voting and pool funds for the proper running of the organization. Moreover, this is a fundamental necessity to begin DAO.
Decentralization becomes meaningful when more and more people participate and get a chance to voice their opinion about DAO governance through voting. So without having a community of interested people, proper functioning and implementation of DAO will be impossible.
A fund management mechanism
Most DAOs will have a treasury with well-defined rules or some crowdfunding access. In addition, this involves managing funds securely using a multi-signature crypto wallet that approves transactions only based on votes.
Solutions to overcome challenges in DAO
Since this is a voting-based mechanism, inactive voters are a challenge. Also, a few security vulnerabilities might enable some users to withdraw large funds. A proper mechanism must be employed to deal with inactive voters and security vulnerabilities for a DAO to succeed.
Security
The history of the emergence of decentralized autonomous organizations has a few notorious incidents that are a black mark on DAOs cards. Despite safeguards preventing token holders' votes from being manipulated to win investments, there were a few security flaws. As a result, an attack to withdraw large sums of money from TheDAO was launched in mid-June 2016. On July 20, 2016, the Ethereum blockchain forked to save the original contract. Hence a detailed security mechanism to prevent such incidents is inevitable for a successful DAO.
If you plan to build a DAO model, consult with a reliable blockchain development company specializing in DAO to do a feasibility analysis.
What are the steps to launch a DAO?
There are three major steps in launching a decentralized autonomous organization.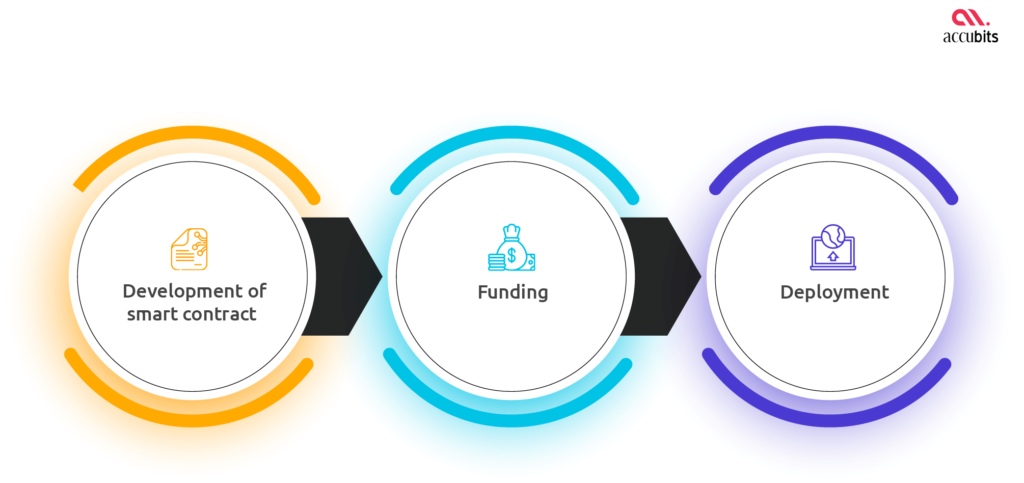 The first step in launching a decentralized autonomous organization is to identify a governance problem and a working solution by the developers. Then developers must put the idea into codes and form a well-defined smart contract. This smart contract is the foundation of DAO working. It includes codes that program voting rights, governance, treasury, and other aspects of working. It can be changed or altered only during governance. So these codes have to be tested extensively before publishing. They execute tasks once the set conditions are met.
The second step is funding. Developers have to decide on a funding model. In most cases, they issue tokens that represent the company's share. These tokens empower the owners with voting rights. These are traded in either public or private exchanges to raise funds for the DAO treasury. This would lead to the development of a stakeholder community.
The final step is the deployment of the DAO on the blockchain network. Developers have no role or authority in smart contracts from this step onward. There will be certain conditions in smart contracts. Once they are met, certain actions are performed. Here the community of token owners or shareholders are the ones who govern the future of DAO through either quorum-based voting or voting power models.
Related article: Blockchain as a Service (BaaS): How to choose the right provider?
What are the legal implications of DAO?
A DAO model is an unofficial organization of parties that functions solely on the algorithm described in its code. As a result, each member/partner is collectively liable for the DAO's actions and responsibilities.
As DAOs lack a central authority, it is good for DAO members to construct a standard legal entity to which the DAO belongs. The legal entity must reflect any changes to the DAO membership or information regarding disputes and membership/shareholding structure.
As DAOs are a nascent technology, developing a "virtual jurisdiction" under which DAOs may function is currently in the planning stages. As a result, future disagreements should be resolved in a private court specializing in digital issues. So, a DAO should include this through a clause in the smart contract.
DAOs can represent anything. It can be fiat money, real-world assets, or cryptocurrency. So employing a multi-signature wallet that facilitates transactions only when all the members act upon it would be the safest option for any DAO.
Cryptocurrencies are considered Virtual Digital assets or VDA. Hence most countries have recently imposed taxes on cryptocurrencies. So DAO tokens dealing with cryptocurrency trading will also be taxed under the same rule.

So DAO tokens received through an airdrop will be considered an income and are taxable based on their fair market value when received.
The DAO tokens received as rewards or profit will also be taxable as they will be reported as personal income based on their fair market value.
Related article: Legal considerations for launching an NFT marketplace
Closing thoughts
A decentralized autonomous organization is a technology with great potential to revolutionize the conventional concept of an organization. But this technology right now is in a nascent stage. More astounding applications of this budding technology are yet to be discovered. Working on minor limitations of DAO technology will soon establish its presence. 
Many experts agree that more and more organizations will adopt this technology in the future as it has a flat hierarchy. On a positive note, we can conclude by accepting that DAOs are excellent crowdfunding platforms for bringing worldwide talents under a single organizational roof. 
Need help with DAO development?
Consult with our experts to know how to build your own DAO.
Contact us