Over $230 million has been generated due to trading NBA Top Shots. Lebron James was solely responsible for a $200,000 Top Shot, with Zion Williamson catching up closely behind. The NBA proactively joined the sports NFTs bandwagon by introducing Top Shots, a trading card system developed by the National Basketball Association and Dapper Labs. Top unforgettable NBA moments become an NFT that can be owned forever.
Highlights of each game were selling out faster than the tickets, owing to extreme scarcity and demand. The world's largest football clubs have also joined the race to make the most out of this digital revolution. If you are wondering why sports fans are suddenly interested in some pixels and, what's the benefit for sports clubs, or what in the world are NFTs in the first place, read ahead, we'll explain.

What are NFTs?
NFT stands for non-fungible tokens, and they are digital assets that live on a blockchain. The digital assets include images, digital art, music, video clips, audio clips, and more. It is possible to know who the creator of the NFT is and who the current owner of the same is. NFTs are unique, meaning there can only be one copy of a particular NFT, and they can be bought with crypto or even fiat currency of the same value.
The 'token' in the non-fungible token is a digital asset that sometimes represents a real-world asset in the virtual intangible form. NFTs first began to gain popularity when digital collectibles stirred demand. One of the first NFTs included CryptoPunk, which had collectible headshots of cartoon humans. Collectibles in the sports world existed long before NFTs in the form of trading cards.
Popular trading cards sold for millions include Honus Wagner, Mickey Mantle, and LeBron James. These trading cards are sold via auctions. In the sports world, these NFTs take the form of a video clip of an iconic goal or dunk or the finish line moment in Formula 1. These video clips are tokenized and put up on an NFT marketplace which also serves as an auction house that decides the price.
Need help with Sports NFT Launch?
Reach out to us today, to discuss your project
View Services
Ways in which Sports Clubs can provide NFTs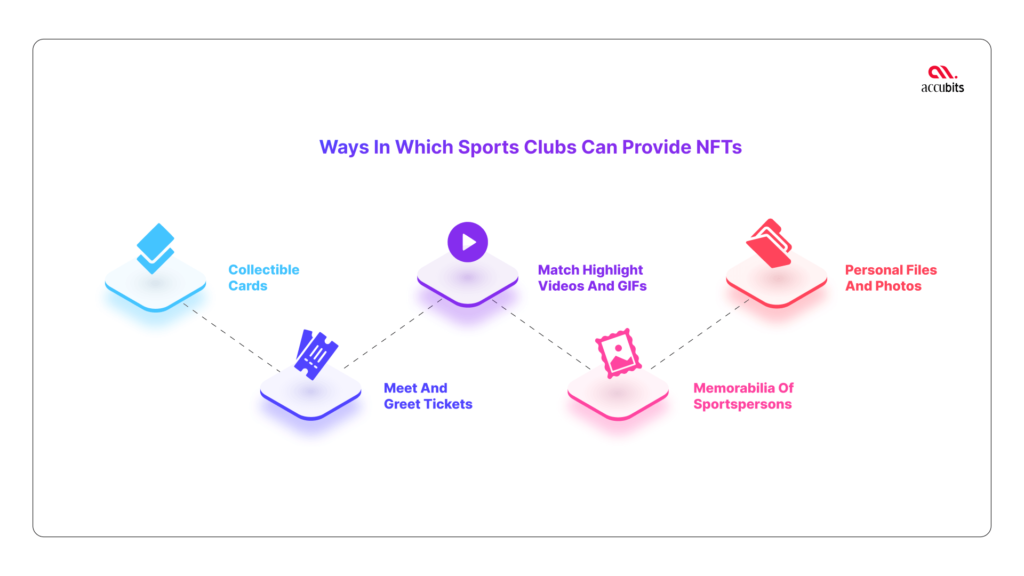 Collectible Cards:
Sports clubs can dive into the NFT business by releasing collectible cards. These cards can be sold on the club's trading platform or secondary marketplaces like OpenSea and Rarible. Collectible cards can also be made available through video games where the players, leagues, clubs, and skins are present as NFTs.
Sorare is an example of a sports-NFT-based video game. They have partnered with popular clubs like Liverpool FC, Real Madrid CF, and Valencia CF to create their NFTs.
Match highlight videos and GIFs:
Priceless moments from matches be it, GIFs or videos can be minted as NFTs. Some of the top moments sold include pre-game rituals, training videos of sports stars, and more. One such popular video NFT is of LeBron James throwing chalk in the air. NBA Top Shots, and SportsIcon are two of the many platforms that sell memorable sporting moments.
Personal files and photos:
Sportspersons, teams, and clubs can mint personal records and files from archives as NFTs. These can be childhood pictures, debut match visuals, and others, especially those that have never been on the internet.
Memorabilia of sportspersons:
Sports equipment, jerseys, shoes, awards, and more from famous athletes can be recreated as digital copies sold as NFTs. Golden State Warriors of the NBA released limited edition championship rings and stubs. The first few bidders and those who bought all the collections received physical benefits.
Meet and greet tickets:
Any sports fan would want to meet their favorite players and idols. Traditional online or paper tickets are prone to be copied, sold, or exchanged, which causes price scalping. Integrating the tickets with NFTs will prevent such malpractices, and fans can meet their heroes.
Rob Gronkowski minted 5 NFTs that represented his career milestones in the Superbowl. The NFTs entitled the buyer to a personal meeting with Gronk.
Related article: Top 10 Doubts And Questions On NFTs Answered
Why are sports fans interested in NFTs?
A person's digital identity is an important characteristic to define who they are in today's world. Personal branding takes form through what we watch, share, create, own, and value. A parallel to this in the real world is the sports team a person supports.
Sports fandoms are one the most happening and engaging spheres. Owning a limited edition or one-of-a-kind NFT might just be a way of enhancing their identity with their favorite team.
Ownership:
What would it feel like to own the original video clip of an iconic sports moment when there is only one globally and when it is in high demand? A sports fan interested in buying physical merchandise would also be interested in pursuing digital assets of their favorite club/team as it evokes a sense of exclusive ownership.
A replica of an NFT video clip is easily detectable, staying true to being non-fungible. Value is created through demand and scarcity. In addition to this, the sports NFT can also be resold legitimately in a flourishing market at desired prices. Thus sports NFTs take fandoms to the next level.
Exchangeable merch:
Sports NFTs can be sold or exchanged by the owner, who in this case could be clubs, teams, athletes, or leagues on the platform of their choice, without the need of an intermediary. NFT holders can make a recorded transaction and legally trade the sports NFTs they hold. They can also bargain or bid for digital merch, just like auctions.
Spur in the online purchase:
Before sports NFTs gained popularity, online gamers started the NFT spree in in-game purchases. With the onset of gaming NFTs, it has been understood that people value digital assets enough to spend millions of dollars on virtual currency.
An anchoring proof for this is that even though there are limitations to the Intellectual Property Rights within sports. The IP rights concerning sports NFT claim that the buyer can only own the NFT, almost like a shelf display, but the sports club or team will still have the IP rights. Despite these partial ownership limitations, the demand for sports NFTs still peaks. Buying digital assets has become mainstream.
To talk in colloquial terms, digital assets are "brag-able," and it's exactly why fans would be interested in sports NFTs.
Related article: Is NFT in Gaming the Next Best Investment?
Benefits for the sports clubs using NFTs
According to Deloitte, $2 billion worth of sports NFTs will be traded by 2022, double in 2021. It was revolutionary to motivate demand by introducing scarce resources into the sports arena.
Especially when stadiums were empty due to the pandemic, the "sold out" was highlighted more for collectible sports NFTs. How can sports clubs benefit by monetizing their digital assets with NFT?
New income stream:
Every match is now aired, and there are digital copies of every moment. Creating NFTs out of the footage and putting them up for sale is merch made with little to no marginal cost for manufacturing. Sports teams and personalities can simply use their already available resources to start a supply chain of digital merch.
Athletes can also do photoshoots or film videos separately based on fan requests. Not just pictures and videos, but the National Football Team, in partnership with Dapper Labs, has released the NFL game, which is based on NFT.
Expanding the merch spectrum:
Designer companies like Gucci and Louis Vuitton have already set up their presence in the metaverse through digital fashion outlets and outfits that contain clothes made of NFT that avatars can wear. Sports companies collaborate with fashion brands to release apparel, and sports teams can do the same now with NFTs in the blockchain world.
Sports clubs and teams can make shoes, jerseys, watches, socks, and more with almost zero physical labor and capital/industry expenses (also, no sweatshop controversy).
Attach a physical utility:
Purchasing these NFTs can also come with physical entities. For example, a pack of limited edition NFT cards can come with physically signed jerseys for a team. This way, the jerseys can also be sold or given away at the price that fans themselves have driven through bidding on NFT marketplaces.
Revenue through fee:
The sports clubs that create and offer NFTs can profit by evoking their intellectual property rights (IPR). Peculiar to the sports industry IPR rights given to the owner of an NFT is partial, and some of it lies with the sports organization offering it. Money can be earned each time an asset is sold to a fan in an IPR fee and the gains through a transactional fee.
Need help with Sports NFT development?
Reach out to us today, to discuss your project
View Services
Famous sports clubs offering NFTs
NBA Top Shot Collection:
NBA Top Shot is a blockchain-based platform founded by NBA and Dapper Labs. Top Shot is tokenizing popular highlights in one of the most followed basketball leagues in the world. The video clips are called 'moments,' The more iconic a moment is, the higher its demand and price. Top Shot also has other leagues such as NCAA and WNBA.
Like physical packs of trading cards, the moments are minted in packs. The packs range from $9 to $250, depending on the rarity. One of the popular packs is the All-Star series which contains moments from top players in history.
Manchester City FC:
The title winner of the English Premier League (EPL, Manchester City is on the road to building "Etihad Stadium" in the metaverse, partnering with Sony. Etihad is based on its top sponsor, Dubai-based Etihad Airways.
Along with the stadium, there will be numerous other digital entities of the FC in the metaverse of which NFTs are also a part. This immersive model is expected to increase e-sport engagement among fans. The e-stadium can be visited by fans using their avatars.
Rario:
Australian Cricket Association (ACA) and Cricket Australia announced their deal with Rario, a Singapore-based collectible platform, and NFT company BlockTrust. Top Australian cricket moments with players of past and present will be available to own and trade.
Rario has also signed deals with Caribbean Premier League, leagues in UAE, and Sri Lanka, with popular stars like Aaron Finch and Faf Du Plessis as brand ambassadors.
Related article: Where will NFTs pop up next?
Closing thoughts:
Digital assets in the form of NFT have grown to serve more purposes than ever, and the recent emergence into the sports industry is one of the big hits. Top sporting moments are minted in the form of NFTs for fans to bid and buy. The Sports NFT market is expected to hit the $2 billion mark by 2022, twice the amount in 2021. Sports associations, clubs, and leagues with large fan-base, like NBA, Manchester FC, and NFL, have already entered the new era of the sports economy. Over time, all sports are expected to greet NFTs in one way or another, whether by selling NFT tickets or by minting photos and videos.
Need help with Sports NFT development?
Reach out to us today, to discuss your project
View Services