Though having relatively humble beginnings as a blockchain technology underlying some projects in the mid-2010s, non-fungible tokens absolutely exploded in notoriety in 2021. Probably the most discussed due to the eye-watering sums involved is how they've changed the face of modern art, but NFTs have also established a place in digital entertainment and modernized the very concept of sports trading cards.
Where else could an NFT make a more pronounced appearance, based on current trends?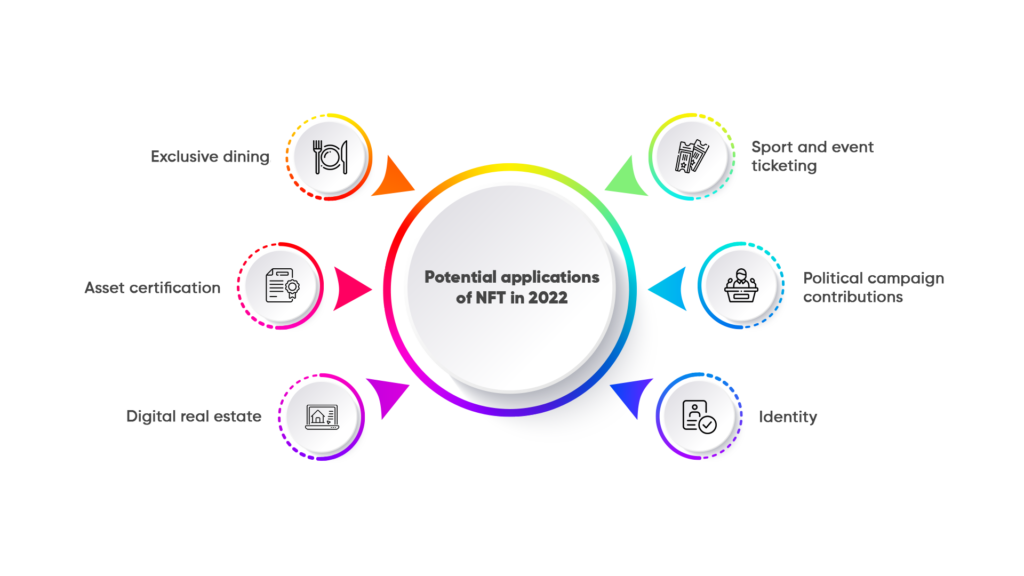 Exclusive dining
The latest stunt of entrepreneurial influencer Gary 'Vee' Vaynerchuk is to open an 'NFT restaurant' called Flyfish in the middle of New York City. NFTs going for the equivalent of thousands of dollars can be bought as a form of permanent club membership that can even be leased to non-holders. The food still has to be paid for — either in fiat or crypto — but different NFT tiers allow access to things like large reservations and a lounge area. If successful after its 2023 launch, expect the model to be replicated.
Need help with NFT development?
Reach out to us today, to discuss your project
Contact
Sport and event ticketing
It's already alluded to that NFTs have digital assets such as GIFs as a kind of riff on older concepts like baseball cards. In addition, sports leagues and teams around the world have already begun to engage fans in membership opportunities via fan token digital assets. These are purchased with cryptocurrency and provide fans with various types of access to special events and opportunities. The next step in this general type of engagement, however, could well involve NFTs replacing more traditional membership or ticketing options a bit like Vee's restaurant. Fans could purchase NFTs that are then used instead of QR or barcodes to enter an event.
Read more: How fan tokens are redefining team loyalty and fan experience?
Asset certification
With the price of high-value items often dependent on their uniqueness, the idea of an unforgeable certificate of authentication is itself of high value. Enter established cybersecurity specialists WISeKey, who announced in the spring of 2021 that they have created a proprietary solution to create such a device using NFTs. The new NFT tech can be used to authenticate digital assets as well as physical assets. The Swiss company already has a track record of creating patented technologies, including their own chip and software design, to authenticate objects.
Read more: How to digitize securities, assets, and capital market instruments using blockchain
Political campaign contributions
Maverick South Korean presidential candidate Lee Jae-Myung (who advocates an extension of national health coverage to include hair implants!) has announced he will be accepting cryptocurrency campaign donations. In return, donors will receive NFTs attached to images of the candidate and his campaign pledges. Similar ideas are being pursued by candidates in the United States, also to attract younger voters.
Digital real estate
As newer generations of simulation worlds akin to Second Life integrate blockchain, serious investment is beginning to pour in. In late 2021 PwC Hong Kong grabbed headlines after it invested in a 'LAND' site in the Sandbox metaverse where NFTs take the role of a virtual land deed, causing the SAND crypto token to jump 7 percent. Expect similar sales to occur in similar projects like Decentraland and, of course, whatever Mark Zuckerberg and co are cooking up.
Read more: The scope of real estate tokenization: Benefits and use cases
Identity
This is the most speculative item on the list, but as a unique identifier, it might make sense for NFTs to be considered as a way to confirm your own unique identity. The concept is already happening on the web. The Ethereum Naming Service (ENS) and its offshoots that replace Ethereum with Solana and Terra are reliant upon blockchain to form what its creators see as the backbone of Web 3.0 — a decentralized version of DNS that uses domains like '.eth' but are based on smart contracts. Something similar could someday be applied to passports or similar IDs.
Closing thoughts
There are wackier ideas emerging for using NFTs than those mentioned above, of course. Some of them are created for the sake of the memes or as scams — time will tell which are going to stick. In the meantime, come back to Accubits for all your blockchain-related needs!
Need help with NFT development?
Reach out to us today, to discuss your project
Contact