For the sustainable growth of an organization, Learning Management Systems are crucial. Here's Why. For an organization that strives for growth, innovations, and advancement, it is essential to focus on growing the knowledge of its employees. An effective Learning Management System can enable this.
An LMS platform can provide you a modern way to enhance the skills and productivity of your workforce. It can be customized and molded to the specific needs of the organization and thereby providing the best results in terms of employee learning. For an organization, an LMS platform can ease employee training and on-boarding processes. But it can be difficult to navigate through the landscape of learning management system development without any prior knowledge.
So, here's a guide to LMS platform development for an entrepreneur who wishes to maximize the output of their business. Let's dig deep into the following topics;
What is an LMS or Learning Management System?
A learning management system or LMS is a platform or a system put in place to create, deliver, and manage content for the education or training of employees/people. Through the software, the administrators can decide what content to upload, what goals to establish, and the LMS will enable a fast, effective, and trackable learning process that makes the lives of the team heads less exhausting.
The learners can sign in to the course on a browser, and the admins can track their progress and help the ones who need it. There are various kinds of learning management systems available for different requirements. Enterprise LMS is meant for large organizations that have a workforce of 500 or more and it has a plethora of built-in features. On the other hand, narrow or niche LMS is utilized for smaller companies who want to make use of certain features based on their company's individual needs.
Who uses it?
Learning management systems can be used by teachers, trainers, and students but they are increasingly becoming a tool for deployment of skills, training, and learning about an enterprise's work methods, services, policies, products, compliance, etc. and ease a novice in the work environment while saving time, energy and resources of the administration. Businesses from all industries like healthcare, tech, insurance, and enterprises of all sizes are taking advantage of learning management systems. Governmental organizations, NGOs, along universities and colleges are developing their LMS for soaring productivity and convenience.
Features of Learning Management System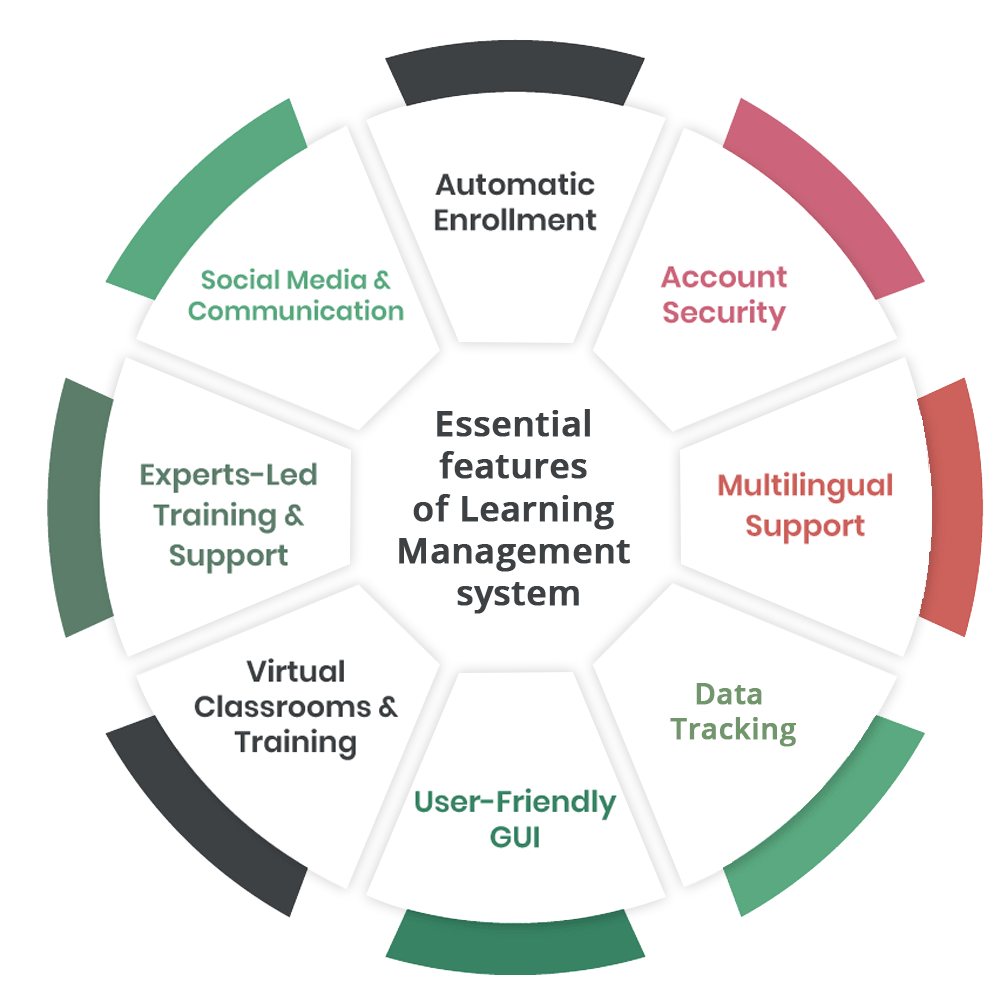 Course management: For the aim of teaching or training, course management is one of the key features of LMS. It aids the admin to create and design the course and input activities and lessons for the course. It also involves testing skills through quizzes, assignments, tests, etc.
Tracking capacity: Perfect for training employees, LMS helps you track the progress of the workforce. Due to the irregularity of timings, unlike a university setting, employees have the flexibility to learn on their own time and for their managers to see their ongoing progress. It is convenient for the learners to be able to track their progress and manage their time accordingly.
Application-based: Many learning management systems have mobile-based applications which make it extremely convenient for learners to access the course/training material on their phone. Learners can access the content from anywhere and anytime.
Remote learning: Since the courses are online, learners from all over the world can collaborate together and complete tests and tasks. It is ideal for companies who have branches all over the world and want to disperse training information remotely, without the time-consuming in-house training modules.
Why does your organization need an LMS?
When you hire new employees, the training process drains human and other resources. Going through the same process again and again, whenever you have a hiring drive and organizing sessions and seminars, often inviting experts to impart knowledge can turn into a hassle. An LMS helps you organize your training resources in one place. When you need a company-wide solution, to reduce inconsistency, it is a good idea to opt for learning management system development. Employees from different shifts can be trained and course instructors can upload uniform information. It will help you deliver training at a reduced time and cost.
Here are a few of the many benefits that an enterprise will receive when they develop an LMS platform for their workforce.
Saving costs: A person-to-person training session costs the company money for the venue, expertise, travel, and the time of the employees as well as the trainers. This traditional method will require the existing team managers to take a time out, miss out on work and train new employees which will indirectly be added to the training expenses of the company. The existence of an online training platform will allow the company to reuse its resources repeatedly, especially if they hire people often.
Streamline processes: There is a spate of formal functions and processes that take place in an enterprise. From sales to IT to marketing, these tasks require easy functioning. The processes which are repetitive and reductive can be taught very easily through a learning management system. Due to its mechanical nature, it provides correct, sequential, and uniform information that helps maintain consistency in operations. The formal framework streamlines training operations, henceforth making the succeeding operations more efficient.
Improved skill set: Along with providing training for new employees, a learning management system can also be utilized to impart new skills and knowledge to the teams. It will help in the continuous development of the workers while tracking the areas where they prosper or lack, hence giving the management a chance to maximize their skill-set and provide guidance when needed.
Train external entities: Instead of just maneuvering LMS for employee training, a business can also use it for its customers and other external partners to teach them about their enterprise. A course can be created and shared with customers so that they can enhance their knowledge as well as profit from the business.
Need help with LMS development?
Reach out to us today, to discuss your project
Contact
Readymade or Custom LMS?
There are a couple of methods to incorporate and develop LMS platforms for an enterprise. Custom LMS development is an attractive option compared to choosing a generic ready-made LMS that won't cater to your specific needs. Building your own LMS platform will assist in business growth by tailoring the software to the company's special requirements. Any new change in the company's technology or devices might require a training session which can be done through a customized LMS. Turning learning into an interactive, engaging, and personalized experience, a customized LMS will magnify the advantages of eLearning. They have built-in tools where the instructors can easily create training sessions. A custom learning management system also helps reduce the cost because you can create the features according to your desired goals for eLearning. As stated above, you can choose a custom or a readymade LMS platform.
A custom-made platform will require dedication and work hours but will result in reduced cost compared to the alternative which will charge a license fee and the latter may also need you to pay computing fees, monthly support fees, and installation fees but can be more convenient. Depending on the size of the business, one should choose their method of installing LMS.
How to develop an LMS platform for your enterprise?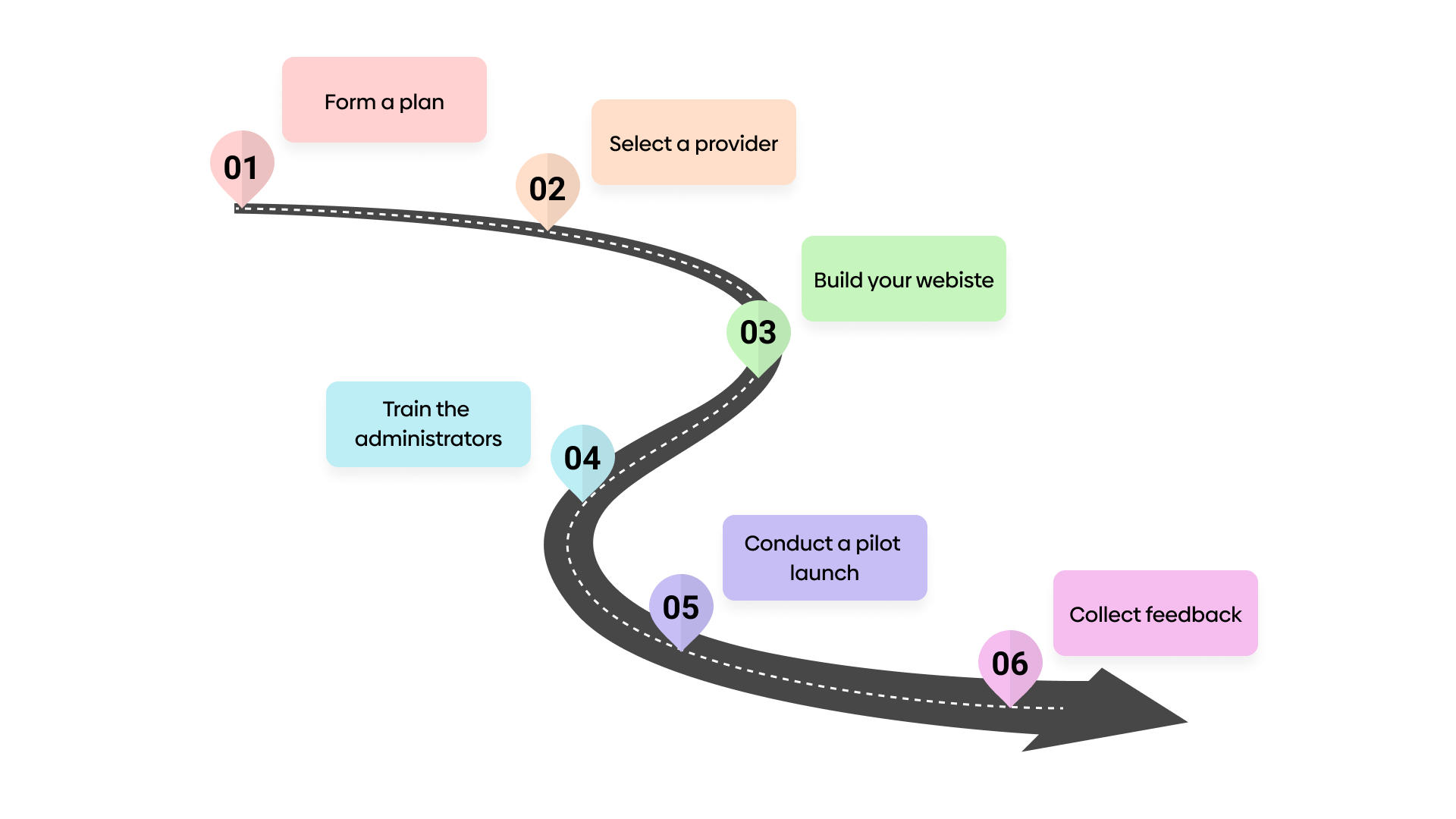 Form a plan: Before you enter the world of eLearning systems, it is essential for you to create a project plan that takes into consideration your workforce size, objectives, and investment. Note down why you want to develop an LMS platform while understanding your aims through it. Finalize a team that will strategize and builds this platform. Create a timeline and divide tasks between this team to conclude the project plan.
Select a provider: Once you have finalized a plan, you need to start looking out for LMS providers who fall in line with your plan. Contemplate your organization's learning needs and research the providers who specialize in that area. Another integral step in choosing your provider should be their reviews and customer response. Collecting feedback from their customers might be a good idea to strengthen your research and spend your money wisely.
Build your website: Once you choose the LMS operator and have the platform accessible, you can start designing courses and adding content. Insert images, videos, assignments, etc., to form a new course for your employees.
Train the administrators: The first people who will use it will be the ones who have pre-existing knowledge of the training modules and will be accountable for managing the LMS. They will be the point person for issues and problems, becoming the in-house experts. They should be trained foremost in the mechanics of the system.
Conduct a pilot launch: After the final check where you investigate the errors and give the final touch, it is time for a launch. This test will help you see how well the LMS system is being received in the work environment.
Collect feedback: The whole point of utilizing a learning management system is to ease the training process. Therefore, it is important to see if the eLearning system has made a difference in the training method and this can be done by collecting feedback from the employees. It will be extremely valuable to get insights on the results of using LMS so that the experience can be further improved and customized.
White label LMS Platform: What is it and why should you consider it?
White-label LMS is meant for the professional branding of a learning management system. White-labeled softwares are developed by one company, however, it can also be sold to other companies for implementation. This trend has witnessed an upturn in recent times because of the benefits it provides to end-users. White-label LMS platforms can provide extensive advantages, depending on a company's requirements and budget. It can assimilate a business' identity into its learning management system. White-label LMS platform can personalize the software, giving it the company's logo, voice, and style. Following are some of the reasons for you to consider White-labeling your LMS platform:
Brand management: If you want to highlight your brand, white label LMS is the way to go. It can be integral to businesses who use LMS to interact with the public, i.e. customers. It can help establish trust and create brand awareness and loyalty.
Limited Resources: Building a learning management system from scratch can exhaust a lot of resources as it requires expertise as well as tools. A white label LMS will help you save the hassle and will also be cheaper than buying a private label LMS. White label LMS platform provides a readymade LMS.
Smooth integration: For an organization that uses multiple applications, it can be cumbersome to customize and develop an LMS platform that will enmesh itself with different applications.
The availability of choices in LMS can be confusing, but once you find out what suits your needs best, it can be very rewarding. learning management systems can personalize the learning experience while helping the enterprise scale globally. With good research and evaluation, one can discover the right LMS for their business and monetize on the gains.
Need help with LMS development?
Reach out to us today, to discuss your project
Contact