The possibility of an economic recession is looming and has been a great concern since the start of 2023. Right now, businesses are laying out their battle plans and strategizing about investments to help them escape the noose of economic recession. Research from McKinsey & Company found that during the last major U.S. recession, distributors who invested in technology were more likely to survive and come out ahead of their competitors.
We're here to advocate for technology as a helping hand during recessions. We'll show you how technology can be an asset during a recession.
Economic slowdown: Balancing inflation and recession
The global economy is on the brink of deflation and uncertainty, pointing to a potential economic recession, with GDP growth slowing from 6% in 2021 to 2.7% in 2023. The International Monetary Fund estimates that a third of the world economy will be in a recession next year. Both the US and Eurozone are facing a gloomy outlook with at least a 4-point decrease in growth from 2021 to 2023.
As consumers worry about losing jobs and cutting back on their expenditures, and business leaders worry about declining sales and layoffs, a vicious cycle is emerging. The data shows that rising inflation pushes 95 million more people into extreme poverty.
Despite the real risk of a recession, there is still a possibility for a "soft landing" where the economy slows enough to lower inflation without causing a recession. The economy is always prone to shocks, but there is a strong chance of getting through the next year without an economic downturn. Central banks worldwide are raising interest rates, making it crucial for policymakers to tread carefully to avoid a recession. It will be vital for businesses to closely monitor the situation and make strategic adjustments to weather any potential economic downturn.
Technology as a lifeline for businesses in an economic recession
As the global economy faces the potential of a recession, businesses must reevaluate their technology decisions. While the instinct may be to cut costs and protect the bottom line, strategic technological investments can help companies weather current challenges and prepare for future disruption. Many technologies have shown the potential to change how we approach and understand the world around us. Read more about technology investments as a catalyst for business growth.
A study by McKinsey & Co found that during the last major US recession, the distributors who not only survived the economic downturn but also came out ahead of competitors were the ones that continued to invest in digital.
So, how can technology help businesses thrive in an economic recession?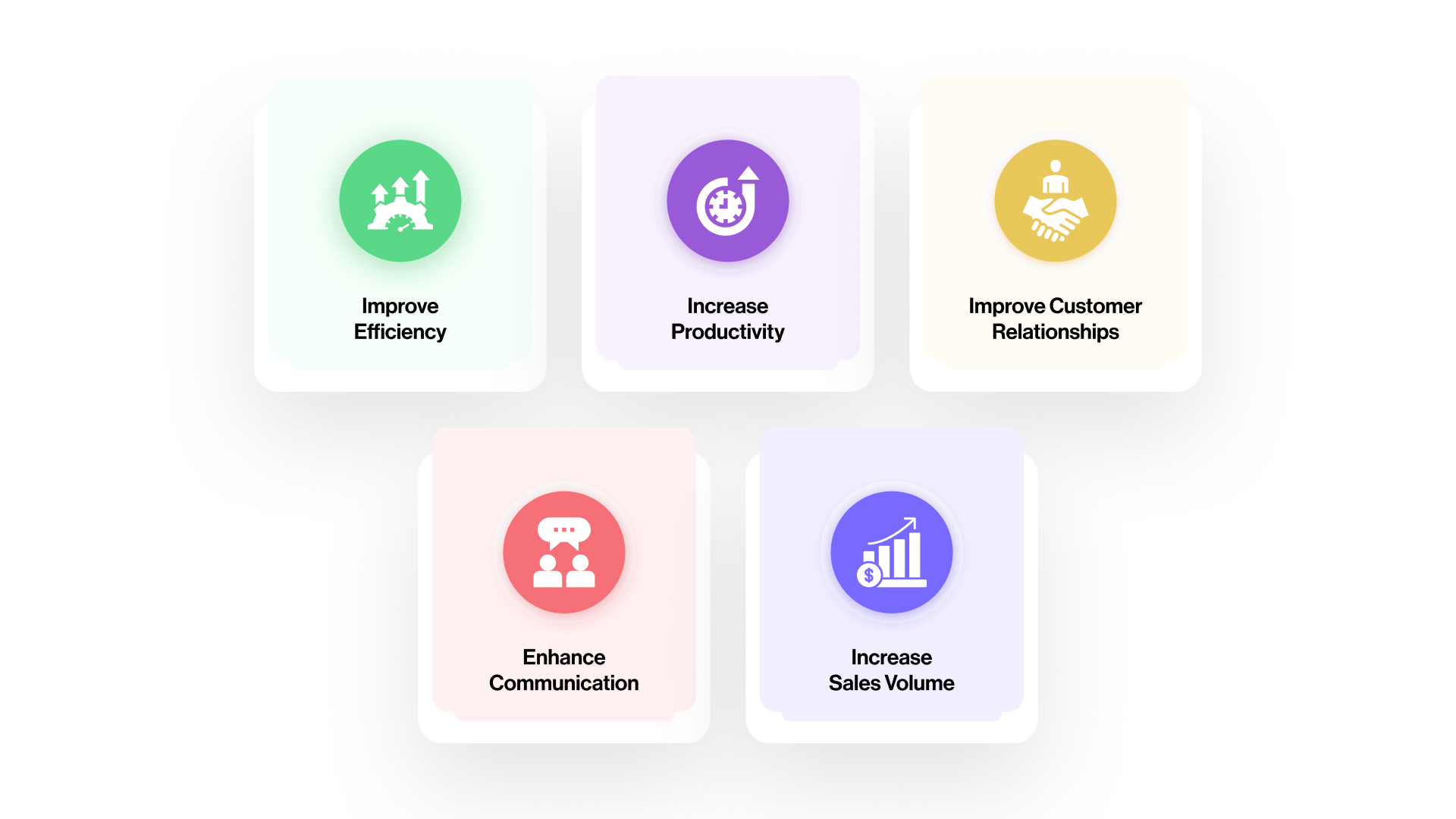 Improve internal efficiencies: Instead of reducing staff or services, focus on improving internal processes. Implement self-service options like chatbots and eCommerce, streamline the ordering process, and adopt a data-driven approach to identify and eliminate inefficiencies.
Learn more about Automating Customer Service using Hybrid AI Chatbots and Conversational Tools
Boost sales team productivity: Provide tools that allow salespeople to maintain productivity and create opportunities to connect with current and potential customers. Investing in the sales team during a recession can help retain top talent and reduce turnover.
Solidify customer relationships: Don't let a potential recession cause you to lose contact with important customers. Utilize technology to gather customer insights and maintain strong communication through customer-facing tools. A robust CRM system can help nurture existing relationships and generate targeted leads, ensuring a strong customer base during economic fluctuations.
Enhance communication: Investing in communication technologies is crucial for businesses to navigate and survive an economic recession. With remote work becoming more prevalent, it's essential to have the right internal communication and collaboration tools. Additionally, keeping in touch with customers and partners through email marketing and social media campaigns is crucial. Telehealth and teleconferencing, Chatbots, and AI-driven customer service can provide support and assistance remotely and save costs.
Read more about Best Practices in Telemedicine App Development and Telehealth Services
Increasing sales volume: Businesses must survive and thrive during a recession. Businesses can achieve this by reducing inventory costs, improving customer satisfaction, tracking profit margins, implementing sales automation, and diversifying sales channels. By implementing inventory management systems, providing excellent customer service, monitoring profit margins, and exploring new sales channels, businesses can increase sales volume and improve their chances of survival during a recession.
Overall, investing in technology during an economic recession can enable businesses to come ahead after the market bounces back. Businesses can ensure their survival and success in an uncertain economic climate by focusing on efficiency, productivity, customer relationships, communication, and sales volume.
In terms of investment, technology may be the best bet.
Essential technologies that can help you stay ahead
Technology enables us to build systems at scale and reduce the human effort required to build things. This ultimately allows us to be smarter with our decisions.
We believe that new technologies coupled with cost management tools (supply chain reinvention, complexity reduction, zero-based budgeting) are the winning solutions. Here are some new technologies that will help you with just that:
Open Banking
Open banking allows payment service providers to implement a smoother user experience that ultimately drives revenue by ensuring high conversion rates during an economic recession. Payment initiation services, for instance, count among the latest tools, which can help any business in need to make or receive payments digitally. It can help cut costs from a business perspective as you no longer need to establish contacts with card acquirers.
AR management technology
Augmented reality management technologies are the tools and software used to manage and implement augmented reality (AR) solutions in different industries. The newest AR management technologies can help reduce late payments and improve financial results. Unpaid invoices will affect staff salaries, supplies, rent, and expenses for day-to-day operations but, more importantly, can lead to debts. SMEs tend to struggle the most without credit controllers to chase pending invoices.
AR management technology provides your business with an intelligent system designed to process customer payments quickly, minimize and deal with late fees and improve reporting, planning, and forecasting.
Metaverse for better connectivity
The Metaverse, a virtual world, offers an opportunity for better connectivity during uncertain times and in the face of climate change. As economies focus on reducing carbon footprint and cutting travel costs, the Metaverse can provide a more interactive and engaging experience for various sectors such as business, education, government, and healthcare. It can serve as a bridge to connect people and overcome the limitations of physical distance during an economic recession.
Find more information on How can Metaverse Help your Business?
Digital twins
Digital twins are virtual replicas of physical objects created using sensors' data. These sensors gather information about various performance characteristics of the physical object, including energy output, temperature, environmental conditions, and more. The digital twin is then used to simulate and analyze the object's performance in a virtual environment, which can help research and development and increase efficiency in various industries.
AI and Machine Learning
AI can also help reduce costs, optimize expenses and give your company agility and adaptability to a changing economic environment. AI can indeed remove manual operations to reduce human error and increase efficiency.
Indeed, an AI chatbot will work 24/7 to offer its services to your customers for much less. But more importantly, in times of economic uncertainty, AI offers unbeaten predictive models. Whether real-time demand forecasting or inventory management, AI guarantees more informed decisions based on detailed data so that you can act and not only react.
Cloud applications
In the event of a crisis, unlike a physical data center, the cloud provides a reliable and secure infrastructure that ensures your business continuity in uncertain times. In times of economic uncertainty, security is vital. Cloud-based application development streamlines data collection to drive revenue by enhancing customer experience during an economic recession.
Workflow and digital management solutions
Many digital solutions, like ERP, can optimize your workflow by improving productivity. By streamlining and optimizing processes, automated solutions can become an asset for your team and boost efficiency, saving precious time and enhancing coordination within departments.
Employees perform better and do more in less time, but it especially streamlines communication within the company. Indeed, everyone can access the relevant data in real-time, drastically improving decision-making and strategy to take the upper hand on your competitors.
Data Science and Data engineering teams
Data science and data engineering teams are essential for organizations looking to gain insights from their data. Data engineering teams can combine raw data with other data sources to generate actionable insights to help businesses better understand their customers and audience. Having a data science and data engineering team in place can help future-proof a business by providing valuable insights that can inform decision-making and drive growth in an economic recession.
Investments that nurture future growth
Through investment in technology, businesses can secure their financial position and better position themselves for future growth.
Open banking, AR management solutions, AI, cloud solutions, and management solutions all share a common point: They ensure a personalized customer experience that can only nurture your relationship with your clients. Retaining your clientele during an economic downturn is key to strengthening your financial position and ensuring you remain ahead.
The latest recessions and crises have demonstrated that technology should never be the first casualty in case of an economic downturn. Conversely, this should be an area of your budget to nurture and invest in, especially in troubled times.
By enhancing your productivity, cutting costs, and boosting your relationships with your customers, implementing technology will grant you a place among the winning companies that can survive through downturns and eventually thrive.
Concluding thoughts
In conclusion, technology can play a critical role in helping businesses navigate and survive an economic recession. By leveraging automation, cloud computing, digital marketing, big data, remote working, virtual communication, and e-commerce, businesses can reduce costs, increase efficiency, and maintain the continuity of operations. Companies must be proactive and invest in technology that will help them adapt to changing market conditions and provide a competitive edge.