Smartphones have given the world easy access to mobile-first experiences for almost everything. Everything from e-commerce, banking, and entertainment to the airline industry is at our fingertips. Today, convenience has taken a step further by providing various services in a single app. These are called super apps. We are witnessing a shift to all-encompassing applications that offer services from different aspects of life within a single app.
In this article, let's understand what they are, how they work, why they are beneficial to users, and what are some of the most successful ones today.
What are Super apps?
A super app is an all-in-one mobile application that assembles different utility apps in one place. That is to say, it handles many user requirements in a single place. This makes it easier for the user to access many digital needs with a single login. This eliminates the need to download multiple applications.
The term was first used concerning WeChat—an app combining messaging, e-commerce, payment, and other activities. The success of this app inspired other tech giants worldwide to develop similar applications. Omni is Central America's fastest-growing super app, and it combines ride-hailing, bike-sharing, finance, and healthcare services across a single platform. Simply put, it is a mobile or web application capable of offering multiple services in one place, embracing different aspects of personal and commercial life.
The concept of super apps rethinks the way web & mobile apps are architected. In a nutshell, a super app deploys multiple modular mini-apps inside it, creating an ecosystem of utilities. This ecosystem increases its value by offering convenient access to a wide range of services within the app. These mini-apps coexist within the same application but may not be related.
Essential Features of Super apps
Low-level features of super apps vary according to the utilities it offers. However, on a high level, all super apps should have three essential features. Inclusivity, Social Responsibility, and Data Privacy.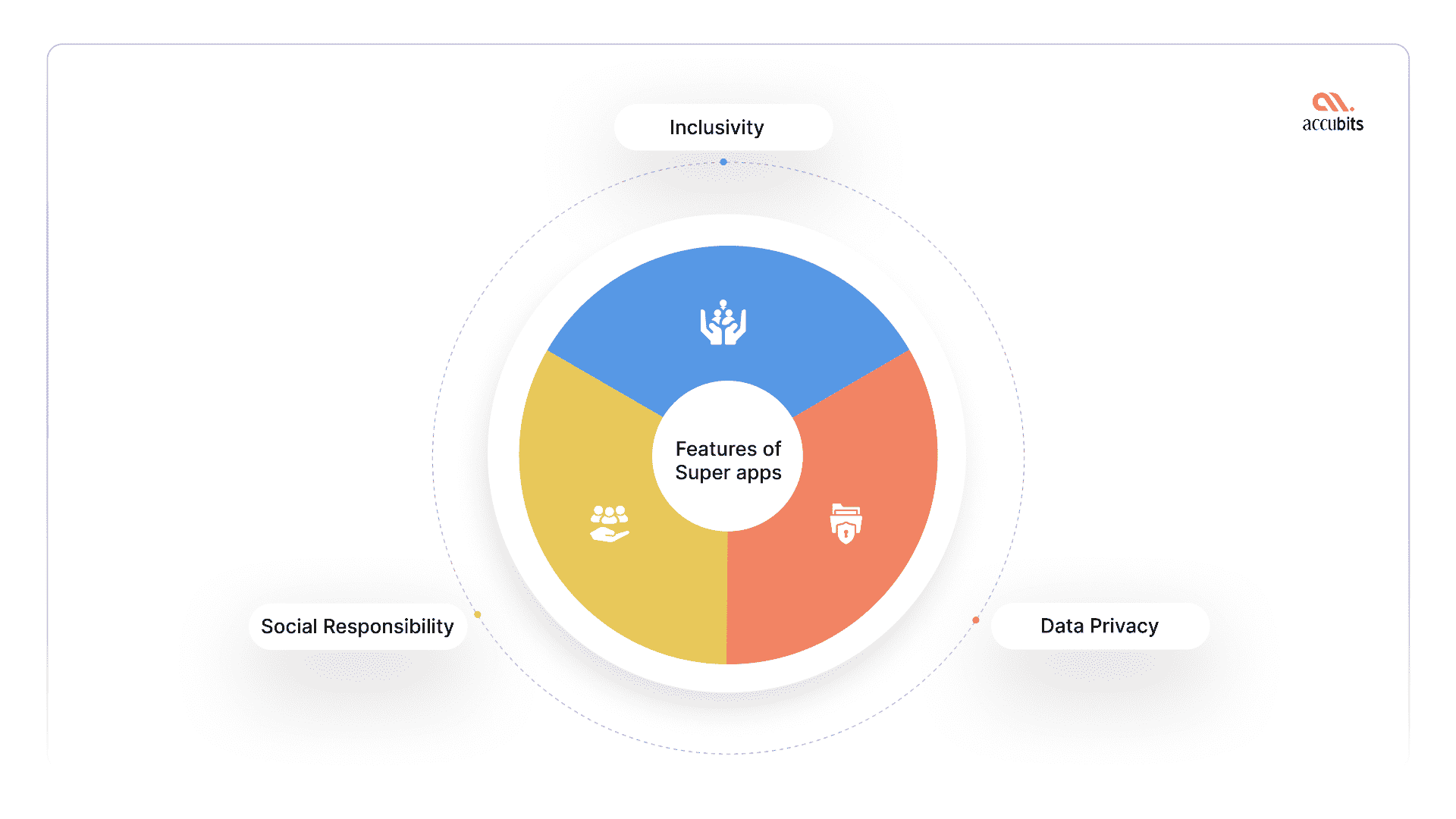 Inclusivity: Modern super apps are easily accessible to everyone irrespective of their age, gender, technical knowledge, ability, social group, etc. It ensures that every user can easily perceive, understand, navigate, and interact with the app. This allows businesses to make apps that can accommodate the needs of people with disabilities (such as impaired vision/hearing, color blindness, etc.), making a brand more empathetic.
Social Responsibility: Businesses have an ever-increasing need to be socially responsible. With these apps, brands can influence their users' way of living and attitudes toward global issues. For instance, an enterprise can contribute to ecological sustainability by actively supporting waste reduction and recycling or using environmentally friendly vehicles.
Data Privacy: A concentration of financial services within a single app can contain sensitive data and hence be at risk of hackers. Therefore, brands must ensure they secure their app against fraud and threats and simultaneously maintain a smooth customer experience. Some tools that can be used for this include digital identity verification, voice and/or facial recognition, fingerprint readers, etc.
Top 10 Super apps to watch out for in 2023
Given the increasing digitization of our lives, it won't be long before super apps are the users' go-to choice for various daily needs. Even though they're not as widely popular as traditional apps, some amazing examples give us an insight into their potential. Below, we provide you with a brief overview of 10 such apps.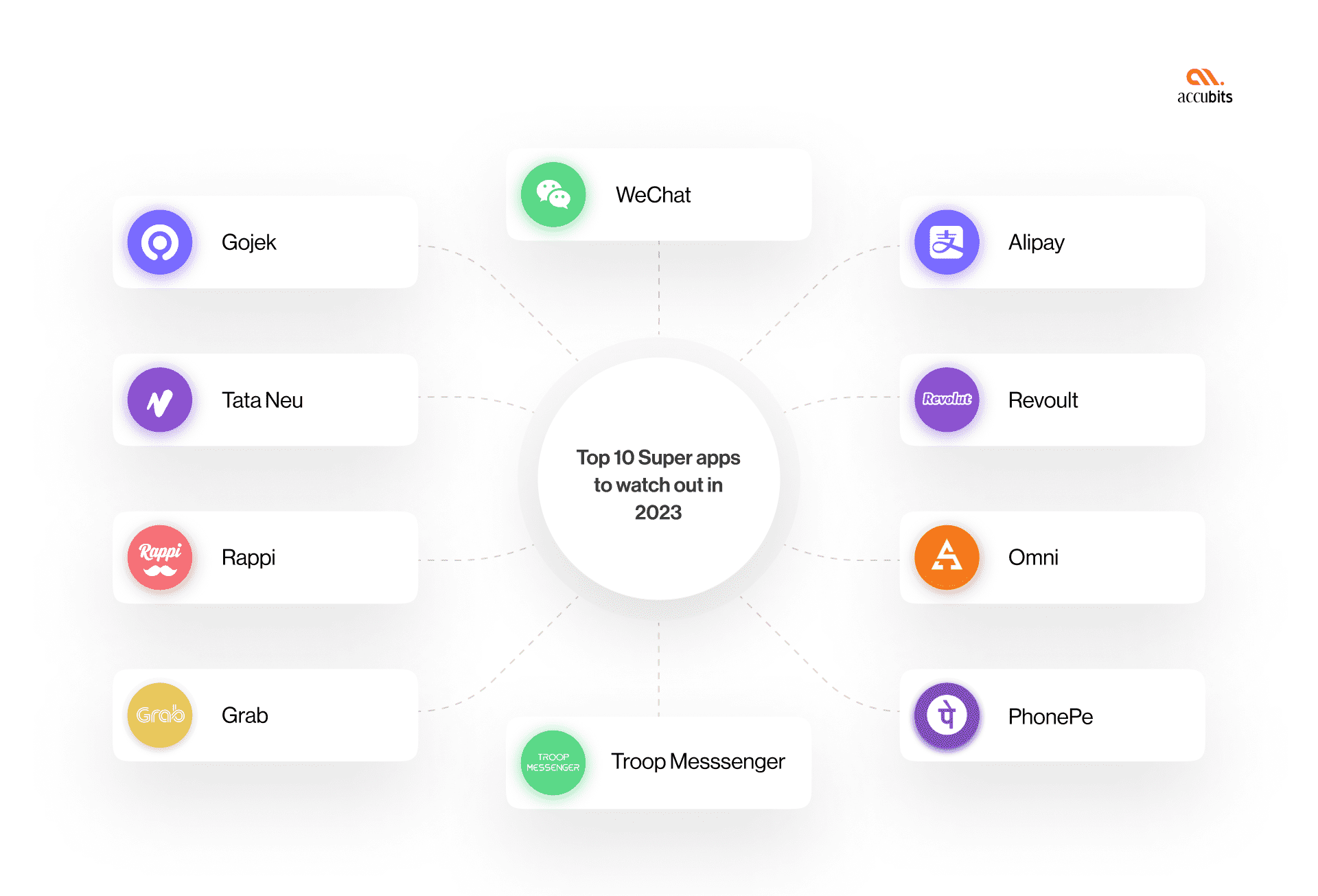 WeChat
The app that's believed to be the first super app, WeChat, went from being a messaging app to one that allowed users to pay bills, transfer money, create company accounts, book tickets, etc. The following are some of the essential features of the app:
Messaging and calling
QR code scan
Search engine
E-wallet
Payments, bills, and loans
News feed
Rail, flight, taxi, and movie ticket bookings
Hotel bookings
Public services
Housing
Flash sales
Alipay
Jack Ma launched Alipay as a third-party mobile and online payment platform that offers other features such as shopping, finance management, and service orders. Alipay users can shop online, order food, avail discounts, transfer money, buy insurance, book a taxi, and send recommendations to friends—all within a single platform.
Alipay also has an e-wallet, allows hotel bookings, and supports up to 12 foreign currencies.
Revoult
Revoult is a financial super app that is used worldwide and helps users make better financial decisions. The app began as a platform facilitating money transfers and exchanges and has grown to become a collection of innovative products with over 150 million monthly transactions. Revoult provides its users with stock information, social payments, trading, and subscriptions.
Read more about fintech applications here.
Omni
Omni is a fast-growing platform that provides access to bike-sharing, ride-hailing, and finance and healthcare services. Based in Costa Rica, the app was launched in 2019 and has become the most downloaded app in the region's Google Play store.
Financial technology, healthcare, mobility, and lifestyle are the prominent features of Omni.
PhonePe
One of India's most popular super apps, PhonePe, is famous for its digital payments and financial technologies. According to the app's users, it is the fastest and safest UPI app that allows them to recharge their phones, buy insurance, pay for OTT subscriptions, and shop for clothes and food.
Food orders, donations, pharmacy and diagnostics, and grocery are the app's most widely used services.
Grab
Launched in April 2019, the Grab super app is routinely used for essential everyday services in most Southeast Asia. While it began as an on-demand taxi service, it has now evolved into an app that offers logistics, food delivery, hotel booking, grocery shopping, banking services, and on-demand movies.
Need help with mobile app development?
Connect with our experts today!
Know More
Rappi
Rappi is a fast-growing Latin American super app that provides fast delivery of food, clothes, and medicines in addition to offering a range of financial services and a platform for booking travel, concerts, events, and hotel stays.
Rappi Cash, Rappi Travel, Rappi Medicine, Rappi Food, and Rappi Mall are some of the prominent features of the app.
Tata Neu
Tata Neu has attracted a lot of attention in India. This super app offers hotel and travel reservations, meal orders, and rapid loans while it's working to develop micro-insurance, micro-financing, and buy now pay later services. Tata Neu has major in-built apps, including Tata CliQ, Croma, Starbucks BigBasket, Westside, Air Asia, IHCL Hotels, etc.
Grocery, medicines, air tickets and hotel bookings, and clothes shopping are some of the major features of this app.
Gojek
Gojek started in 2010 with 20 motorcycles and grew to offer four services—GoRide, GoShop, GoFood, and GoSend—by 2015. Today, it is one of the most widely-used super apps in Singapore, Thailand, Indonesia, Vietnam, and The Philippines.
Troop Messenger
Troop Messenger is a team chat app that provides high-quality services to industries and businesses. Troop Messenger clubs all the essential needs of a business, such as audio/video conferences, remote access, screen sharing, bulk messaging, live location tracking, and other features.
Is it valuable to customers?
Super apps are gaining popularity among consumers for several reasons. First, they provide a highly convenient user experience. Users can log into a single app and access everything they need without re-entering any information. Second, they reduce the risk of data breaches since the user's data will not be scattered over the internet. And lastly, they give consumers a personalized experience across all domains and allow users to avail of special offers that would not be available on individual apps.
Closing thoughts
Although they offer an amazing user experience, building these apps is no easy feat. Yet, the examples discussed above prove that it is possible to build an app that can cater to the various needs and luxuries that benefit both the customers and the business. These benefits place the super apps as an interesting opportunity in the future for businesses to offer better service to their consumers.
Need help with mobile app development?
Connect with our experts today!
Know More