Wrapping tokens is a great idea! A lot of problems we see with blockchain interoperability can be solved by wrapping tokens. In simple terms, the concept of a wrapped token is that — a particular crypto token is wrapped by another crypto token so that it can be used in a non-native blockchain network. Okay, let's make it even simpler.
Imagine you have bitcoin (BTC) and you want to use it in the Ethereum network. Normally, this won't work. Because of the difference in protocols and standards. It would be like someone trying to purchase goods using USD from a local market in India. It won't work. But, if that USD is sent to a custodian in exchange for INR, you can spend all the INR in the local market as you wish. The concept is somewhat similar to this.
If you want to use crypto in a different blockchain network, you can do so by wrapping it with a token that works in the target blockchain. For example, if you want to use BTC in the Ethereum network, you can wrap the bitcoin to create a new type of token (WBTC) with ERC standard and use this token in the Ethereum network.

For wrapped tokens to work, a trusted custodian service is essential. At Least for the time being. Because someone should ensure that the tokens that underwent wrapping (BTC) are in fact "locked" and inaccessible as long as the created tokens (WBTC) are circulating in the market. Several projects are working on creating a custodian-free mechanism for wrapped tokens.
Related article on How to make your ICO successful ?
A few examples of wrapped Tokens are WBTC (Wrapped Bitcoin), BTCB (BEP2 token), Wrapped Bitcoin tokens that can operate on Ethereum and Binance blockchains. Other Wrapped Token examples would be WETH (wrapped ether), wBNB (Wrapped Binance token).
How wrapped tokens work?
Wrapping and unwrapping the tokens is carried out by the smart contracts, and whenever you want to unwrap 1WBTC back to BTC, a burning request is sent to the custodian to release the original BTC back to the owner. Wrapping up tokens involves expenses such as merchant fees, custodian fees, and transaction fees.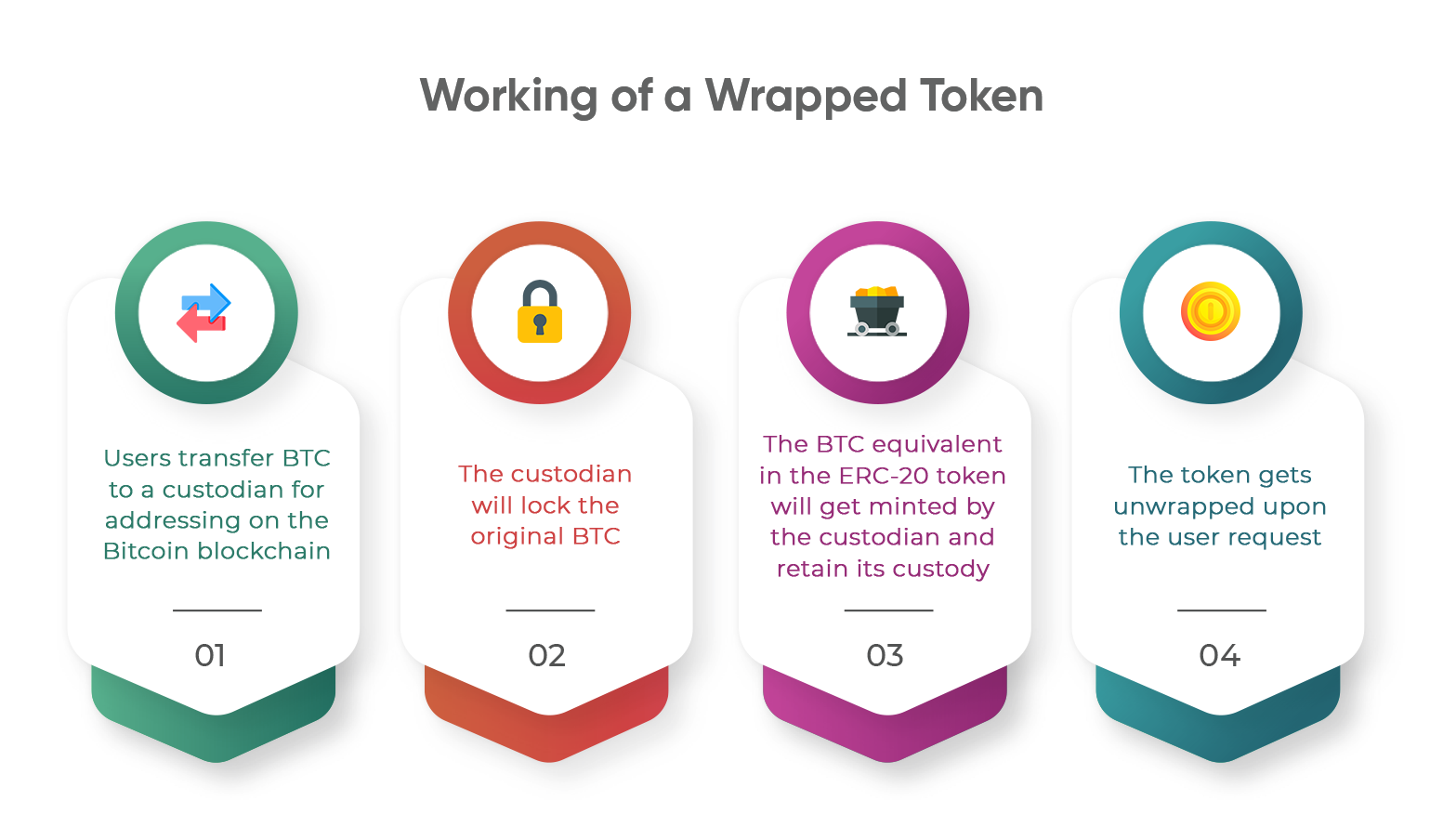 The Ups and Downs
Wrapped tokens, once they are mature, can solve many of the interoperability problems of blockchains. The wrapping can increase the liquidity of crypto assets, in both centralized and decentralized exchanges as assets can move across multiple chains of networks more easily. Can benefit slow blockchain networks by enabling quicker transaction times and lower fees. For example, imagine you launched your crypto token in ERC standards. But the gas price is too high such that people are not using your tokens. A saviour solution could be – wrap the ERC token in a low-cost blockchain network like Tezos and use the wrapped token for frequent transactions.
Related article on How to increase investors' trust in your ICO?
The major flaw is the requirement of a trusted custodian and the gas fees associated with the wrapping and unwrapping process. With further developments in this area, we can expect more appealing versions of wrapped tokens to go mainstream in the near future.
Need help with crypto token development?
Contact us for a no-obligation consultation
Contact Us