Are you someone having dilutable equity? Are you someone looking to raise capital for your organization through your equity? Want to provide your investors with some valued assets through cryptography and blockchain technology? Then you are at the right place at the right time. Acquainting with Equity Token Offering will answer all your questions.
Let's learn about ETO in detail before you make a move. In this article, we'll learn what an ETO is, and how to launch an ETO in 2022.
So, let's have a walk into the world of ETOs through the following subheadings:
What is an Equity Token Offering?
Let us see what is an Equity Token before getting into the ETO. We need to begin with ICO to understand ETO.
During ICO, a company or startup offers tokens in the cryptocurrency market to attract more investments toward developing the network. The value of these coins is determined by the development of the network in the future. An investor could buy tokens during an ICO are either security tokens or utility tokens.
The classification of tokens in an ICO is given below.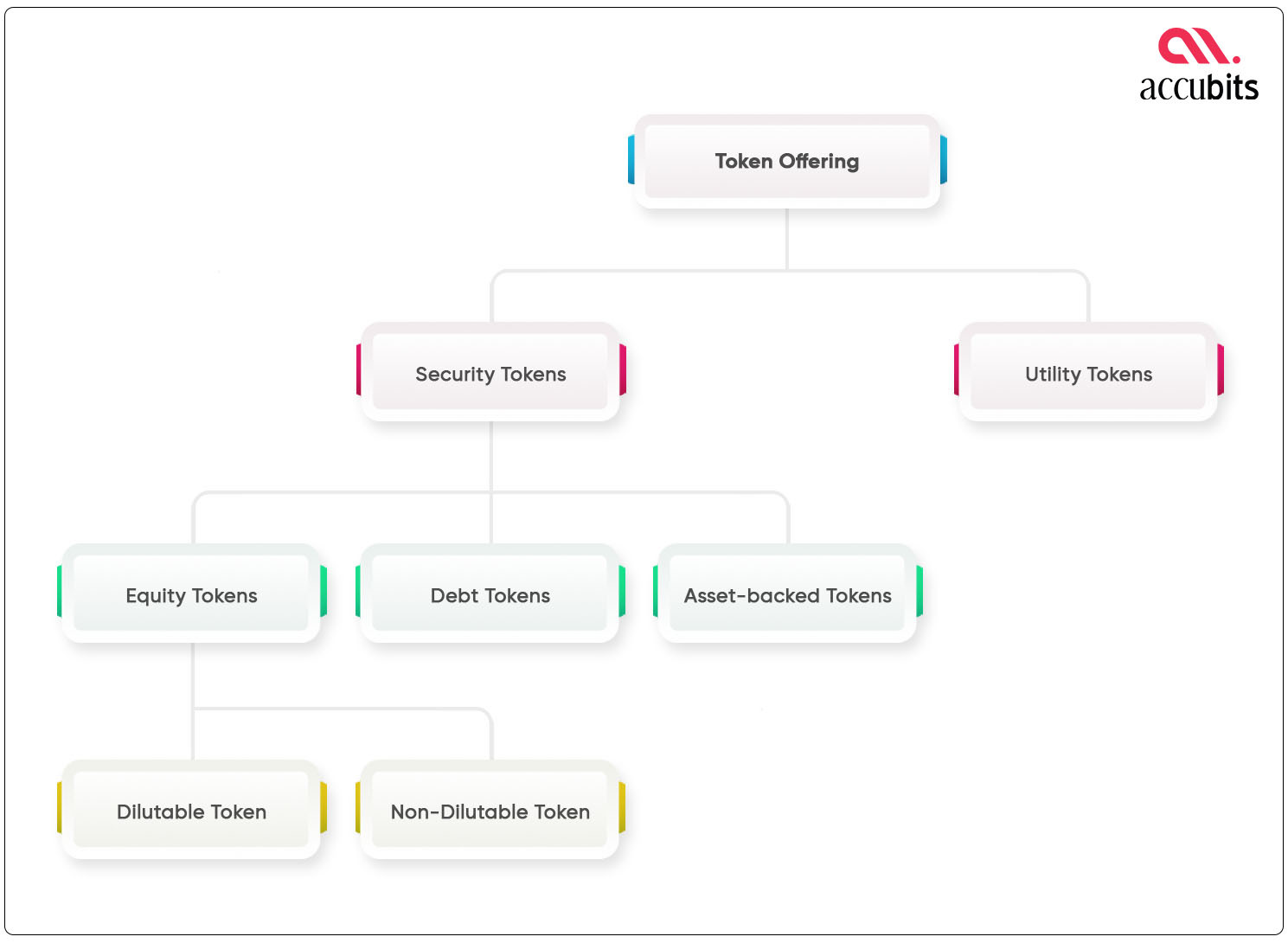 The application, the company, and the network setup decide which type of above tokens will be received by an investor during ICO.
So, as the name suggests, an Equity Token Offering is a fundraising model where a company or startup offers shares or equity to the investors in the form of equity tokens. These tokens can provide the traders with any combination of the following benefits.
Actions
Futures
Options contracts
Tokenized real estate
Tokenized companies
Cash flow
Voting rights
Automated dividends
Buy-back rights
Holdings in another fund
Hope now you are clear with the type of tokens during the ICO and the definition of ETO.
Related article: How to start an ICO? The prerequisites?
How does an ETO work?
Investors purchase equity tokens from the issuing startup or company during an ETO. In addition, this enables the company to raise liquid capital, which is required for the company's growth and development.
As previously stated, investors become owners and receive equity in dividends as the company grows. This offering is more appealing because businesses can issue these tokens on private and public platforms through any regulatory country.
Read more: How to tokenize your company assets via Equity Token Offering?
Types of Equity tokens
Equity tokens in the market are mainly categorized as the Dilutable tokens and the Non-Dilutable Token:
Dilutable tokens
When a startup or a company issues only some of its tokens to shareholders and the public, it is a dilutable token. The remaining tokens are unissued, and they could be set up for sale later. The company will dilute the existing shareholders' shares when the tokens are released at a later stage.
Non-dilutable tokens
If a company has 1000 tokens and issues all of them, and when these 1000 tokens represent 100% of the ownership forever, the tokens are called Non-Dilutable tokens. The majority of the businesses prefer the Dilutable structure over the Non-dilutable structure.
Features of an Equity token
The recent boom in cryptocurrency markets has given rise to many ETO launching platforms. Now, let us get acquainted with the following features that make Equity tokens exceptional.
Programmable equity
The programmability of equity tokens enables businesses to tokenize their physical assets within the organization. Moreover, this allows complete control of illiquid assets through programmable code.
Regulatory compliance
The SEC (Securities and Exchange Commission) regulation is an appealing feature that confirms top-tier asset regulation, making equity tokens unique and outstanding, and fraud-proof. This feature would be a great help in security runs. Furthermore, the security provided by smart contracts can expand investor trust.
Liquidity
The liquidity of tokens is increased using dilutable tokens. But you can prevent this for a year by setting a lock-in period of 1 year.
Secure wallet
Multi-signature and multi-device equity token wallets on independent blockchains that use an elliptic curve cryptography scheme to secure funds storage and assure the safety and security of assets.
Enhanced market:
Equity token provides investors with confidence, gaining more trust and investing in the project with recognizable structures and associated technological advancement.
Custom personal blockchain:
These tokens are built on their blockchain giving full access and power to the owner. Better control is another feature that arises from having a personal blockchain.
Back-end dashboard:
An admin panel is available as an ETO development service to monitor and maintain that everything runs smoothly. It includes managing investors, investors' dividends, profits, buybacks, and other retail and institutional speculators.
Need help with equity token development?
Contact us for a no-obligation consultation
View Services
Benefits of Equity tokens:
Tokenizing equity comes along with truckloads of benefits. Given below are a few of them: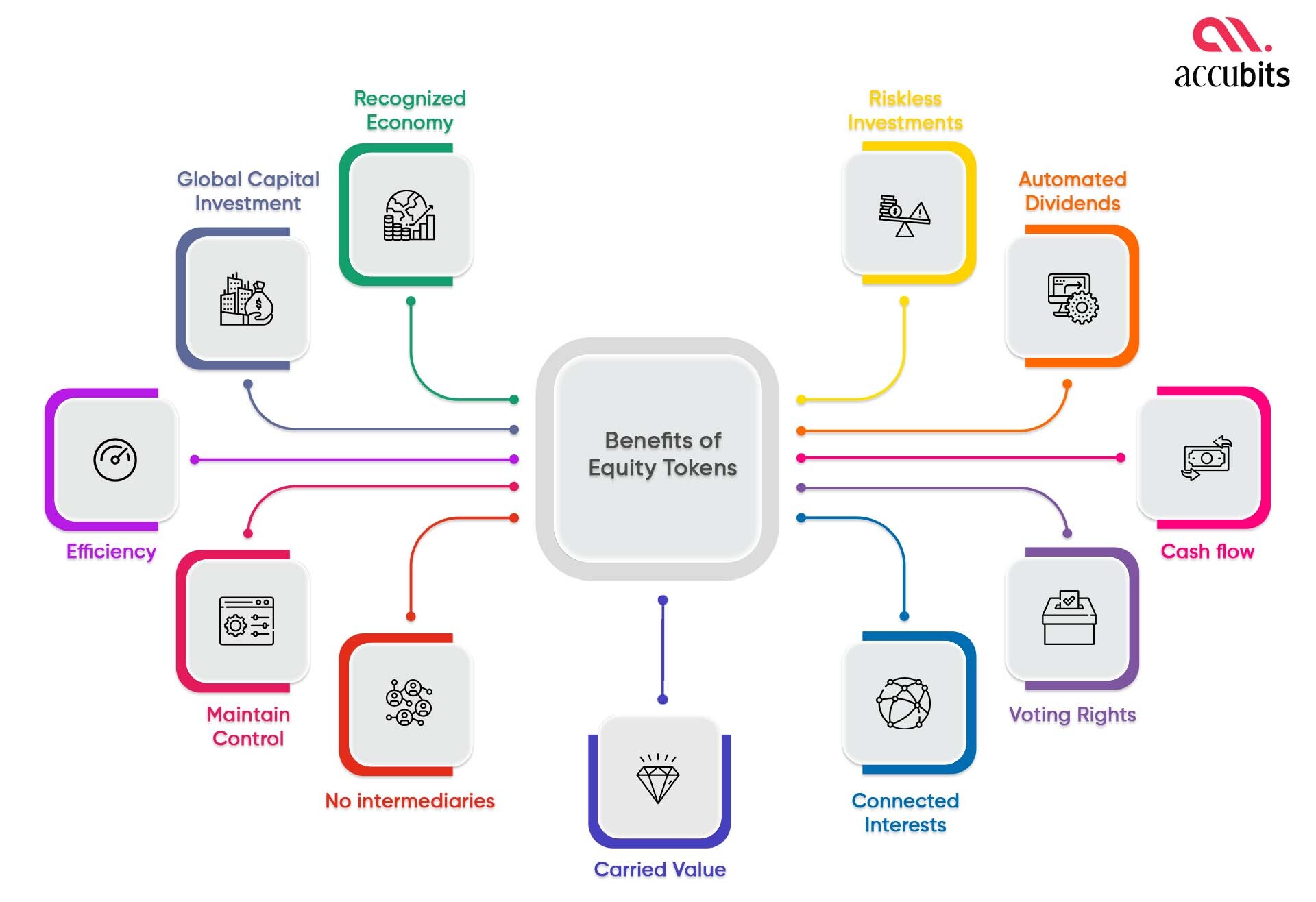 Recognized economy: This is the world's most well-established token economy. They are fairly similar to stocks or shares.
Global capital investment: Since the equity tokens are issued after registering under the native government regulatory compliance, there is a prominent amount of trust and reliability accompanying these equity tokens. So, equity tokens can attract many investors, enhancing rapid growth for the company via ETO. As a result, it paves the way for large initial investments to be pooled globally.
No Intermediaries: Since there are no intermediaries, the interaction is direct between investors and the company. Thus ETO can save the cost of commission to a third-party middle man.
Maintain control: Tokens can be issued as non-voting shares, allowing investors to trade securely while retaining control of your company. Hence, maintaining the authority as a company and keeping things under control.
Efficiency: ETO is less expensive and faster than other current fundraising methods. It is also possible to add utility to our equity tokens. Hence they incorporate the features of utility tokens too.
Carried value: As long as your company is profitable, your tokens will continue to maintain their value.
Connected interests: For ETO platform development, you will resonate your investors' preferences with your own.
Voting rights: Equity token holders benefit from voting rights while making decisions for the company; hence, it ensures transparency.
Cash flow: Cash flow regarding the investment and equity token will be properly ensured according to the immutable smart contract.
Automated dividends: The investment's dividends or profit shares will be deposited directly into the investor's bank account! The Elliptic Curve Cryptography technique is used to secure the wallet on the Blockchain.
Riskless investments: ETOs are safe asset ownership options to invest in as they are strongly regulated and are similar to the already familiar IPO system. There is an added benefit of safety.
Read more: Privacy Tokens: What are they, and how does it work?
Equity Token Vs Security Token Vs Utility Token: How does it compare?
Now, let's explore the similarities and differences between the three in detail.
| | | |
| --- | --- | --- |
| Equity Token | Security Token | Utility Token |
| Has a traditional asset like real estate or real share ownership associated with it. | These are exactly like company shares which are brought by investors in hope of receiving traditional assets. | These coins provide particular use cases may be a particular service or products |
| Shares are diluted into tokens | Backed by an asset as collateral | They are not considered as an investment |
| All Equity tokens are Security tokens. | All security tokens are not equity tokens but some of them are and some are not | They are mostly organization specific |
| Indicates power and authority | Tradabe assets | Very less legal formalities |
| Strict rules and regulations in some countries | Strict rules and regulations in some countries | There are no particular regulations as they are not considered an investment, so they are easy to use |
How to launch an Equity Token Offering?
Now let us peep into launching the ETO step by step.
The first step in launching ETO for any company is registering on an exchange platform. This registering involves submitting all the documents and verifying them for the company. This is similar to getting permission to offer tokens.
The second step is to announce commercial terms that disclose all the offers' provisions. This serves as the information for investors to learn about the offer and conditions. The company must reveal the value and total available investments in commercial terms.
Conducting a Pre-ETO comes as the next step in the process. These campaigns are intended to supply a certain amount of tokens privately to more wealthy investors. This activity will be enough if the private sale reaches the favored level; otherwise, the public sale will be conducted.
Public ETO is opted for when a company has not raised not enough investments in Pre-ETO. The remaining equity tokens are now issued for The general public, including corporations and individual investors, to trade. The parties sign a binding agreement under which investors become legally recognized owners of the acquired tokens. So, this is the final stage of financing. Now, token holders and companies hold an agreement showing how the investors own the tokens. This agreement is proof of ownership of tokens for the investors.
It is the company's responsibility to inform its token holders about the activities and performances of the company. Hence, sometimes a company can form a community to convey the information properly.
If you plan to launch an ETO, make sure to consult with a reliable blockchain development company to gain better insight into how to get started.
Future of an ETO
ETOs and ETs are definitely gonna transform fundraising processes and ICO of businesses as it bridges the gap between emerging blockchain technology and well-established existing businesses. Many crypto experts are nodding their heads to this fact.
The legal assurance and security associated with equity tokens would undoubtedly persuade many upcoming companies to raise funds through ETO and investors to invest more. Utility tokens will lose popularity sooner or later as ETO becomes more closely aligned with the future.
Furthermore, due to the intensity of ETOs and simplicity, ETOs are likely to be globally recognized as the most favored method of raising funds. It provides a secure and reliable environment for investors and businesses, making it a win-win situation. Are you looking to raise funds for your business? Then hurry up and start your equity token offering right away!
Need help with Equity Token development?
Contact us for a no-obligation consultation
View Services