A decentralized social network seems to be the next step in the evolution of social networking. It is a tool that eliminates the need to trust a single entity with your personal information. You are now in complete control of your interactions with others on the network. No big brother is watching over you. You watch over yourself while validating the information you receive. This article will help you better understand DeSo blockchain, its working, and various NFT-based use cases across social media platforms.
Let's walk through some of the basics:
What is a decentralized social (DeSo) blockchain?
Decentralized social networks operate on independently run servers and promote transparency and autonomy for users. Common examples of decentralized social platforms are SteemIt, Mastodon, Steepshot, and Musing.
DeSo blockchain is the first and only blockchain that has been custom-built from the ground up to scale these decentralized social networks. Social applications generate a lot of data that the existing blockchain protocols cannot handle. DeSo is solving this issue by building the first-ever truly decentralized social platform that can scale to billions of users.
At the same time, DeSo allows users to control and monetize their data while ensuring security and privacy.
Presently, any post submitted to platforms like Instagram, Twitter, or TikTok belongs to the corporations rather than the creator who posted it. The monetization from these posts also goes predominantly to these corporations.
DeSo will store all the data on a public blockchain, allowing users worldwide to run nodes that can expose curated feeds. With DeSo, users can create their social network and decide how it functions. Instead of having the content supervised by a central authority, the creator of the decentralized social network can define the platform's acceptable behavior.
The DeSo network project believes that creating a blockchain specific to social media will help accelerate the progress of decentralized social movements. Fundamentally, it is an open protocol that the entire world can build on collaboratively, creating novel ways to unlock the true potential of creators.
Read more: What to know before implementing blockchain in your business?
How does a DeSo blockchain work?
The DeSo blockchain operates as a unique, sovereign, and decentralized chain. It enables classic social functionalities, e.g., generating profiles and posting, and innovative blockchain-native features such as NFTs, social tokens, and social tipping.
Social features on bare metal
Bare metal is a physical computer server that is used by one and only one consumer or tenant. They are often understood in contrast to virtual servers or virtual machines, which are based on computer architectures and are implemented using specialized hardware, software, or a combination of both.
Traditional blockchains like Ethereum use virtual machines which are slower in operation and cannot build custom indexes for querying.
Blockchains like Ethereum are wonderful for building open financial ecosystems. But lack the design needed to scale and handle storage and indexing requirements of competitive social media apps. For instance, DeFi apps typically update balance entries in place without ever creating a new state. In contrast, each post on a social platform creates a new state that is stored and indexed in a particular way.
Unlike Ethereum and Bitcoin, DeSo is not a 'general-purpose' blockchain. It supports a small set of social-oriented features implemented on bare Metal through custom indexes built by every node during consensus.
To understand through an example quoted in DeSo's whitepaper, consider a task of displaying a simple list of a user's recent posts. Accomplishing this on a general-purpose blockchain would require building an off-chain index. But with DeSo, it will be easier and faster because DeSo natively supports multiple indexes, including:
Posts ordered by time stamps.

Profiles are ordered by the value of their coin.

NFT bids are organized based on the NFT they're associated with.
The native support of these and many other indexes decrease the complexity of running a node, increasing the number of apps built on DeSo and the decentralization of each ecosystem in turn.
Read more: What are Non-fungible tokens or NFTs?
Why is it important to store everything on-chain?
A common argument against DeSo is that social applications do not necessarily need to store everything on-chain. For instance, an Ethereum-based app initially registers a user's public key on the chain but stores all posts on a centralized server.
While this may seem like a solution, the problem with this kind of app will be that the person running the centralized server will have an incentive to do so and will eventually turn into a gatekeeper, just like the social platforms today.
However, with DeSo, everything from profiles, posts, and comments to the social token, tipping, and NFT activity is stored on the blockchain. And the structure of a chain can be adjusted as required to maintain this storage.
DeSo is currently equipped to store the following things on-chain:
All profiles, posts, and comments

All likes and follows

All private messages between users, end-to-end encrypted

All NFT activity, including bids

All social token and tipping activity.

All transfer activity for $DESO

Links to all media such as images and video
That said, there are three notable exceptions:
The decision about what profiles to show or hide or how to curate content lies with the operators of the node.

Individual node operators store phone numbers and emails to protect users' privacy.

Raw images and videos are stored in centralized repositories. However, these repositories are publicly accessible and can easily be replicated.
If you are planning to launch a blockchain-based social network, make sure to consult with a reliable blockchain development company to do a feasibility analysis for using DeSo blockchain for your project.
Read more: How to choose the right Blockchain as a Service provider?
Blockchain-native social features of DeSo
DeSo is a one-of-a-kind blockchain that, in addition to social features, also supports features native to a blockchain. These include social tokens, tipping, and NFTs.
Features of DeSo social tokens
Like all blockchain, DeSo has its cryptocurrency that users can use to perform all kinds of tasks on the platform. It introduces creator coins—a new type of asset that is attributed to every profile.
Each profile on DeSo receives its own coin, and anybody can buy or sell this creator coin. A user can have his own creator coin simply by creating a profile. The price of each creator coin goes up when it is bought and down when it is sold.
It even allows users to buy the coins of their favorite creators on the platform.
Read more: What are social tokens and what are its benefits?
What are creator coins useful for?
Creator coins are tied to the reputation of an individual, not a company or commodity. The value of someone's coin is correlated to their popularity. Therefore, people who believe in a creator's potential can buy their coin and succeed financially when the creator makes it big.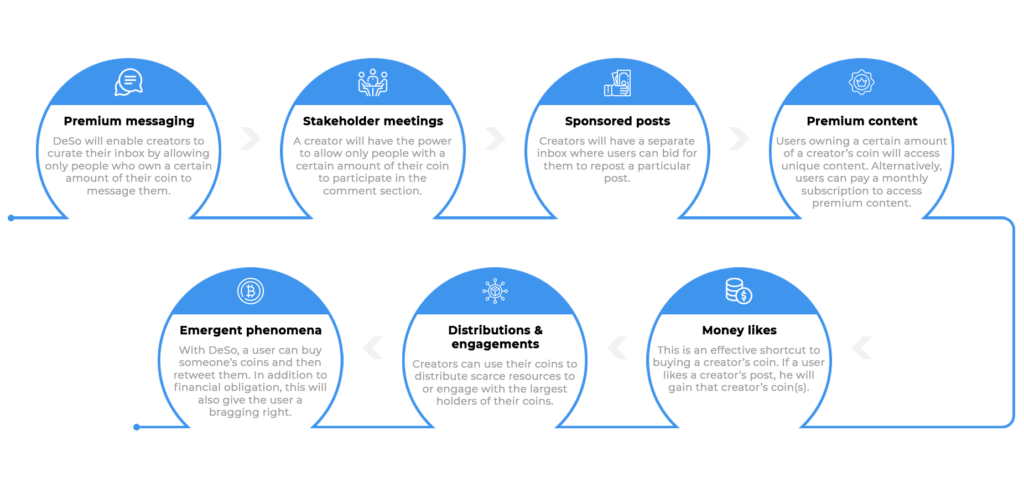 DeSo is also hoping to integrate the following opportunities for creator coins:
Premium messaging: DeSo will enable creators to curate their inbox by allowing only people who own a certain amount of their coin to message them. Creators will also rank and prioritize messages from the most significant to most minor coin holders. Another option DeSo will give the creators is to condition that a certain amount of their coin must be paid directly for a message to reach their inbox.
Stakeholder meetings: A creator will have the power to allow only people with a certain amount of their coin to participate in the comment section. While significantly decreasing spam, this feature will also promote more positive and uplifting conversations, which is impossible on current social platforms.
Sponsored posts: Creators will have a separate inbox where users can bid for them to repost a particular post.
Premium content: Users owning a certain amount of a creator's coin will access unique content. Alternatively, users can pay a monthly subscription (in the form of the creator's coin) to access premium content.
Money likes: This is an effective shortcut to buying a creator's coin. If a user likes a creator's post, he will gain that creator's coin(s).
Distributions & engagements: Creators can use their coins to distribute scarce resources to or engage with the largest holders of their coins.
Emergent phenomena: With DeSo, a user can buy someone's coins and then retweet them. In addition to financial obligation, this will also give the user a bragging right.
Want to build a decentralized social network on DeSo?
Reach out to us today to get started.
Contact us
The DeSo blockchain shifts the narrative of buying an NFT from personal or economic to social. With DeSo NFTs, users have the opportunity to flaunt a creator's NFT collection on their profile and allow other users to engage with NFTs through likes, comments, diamonds, and more.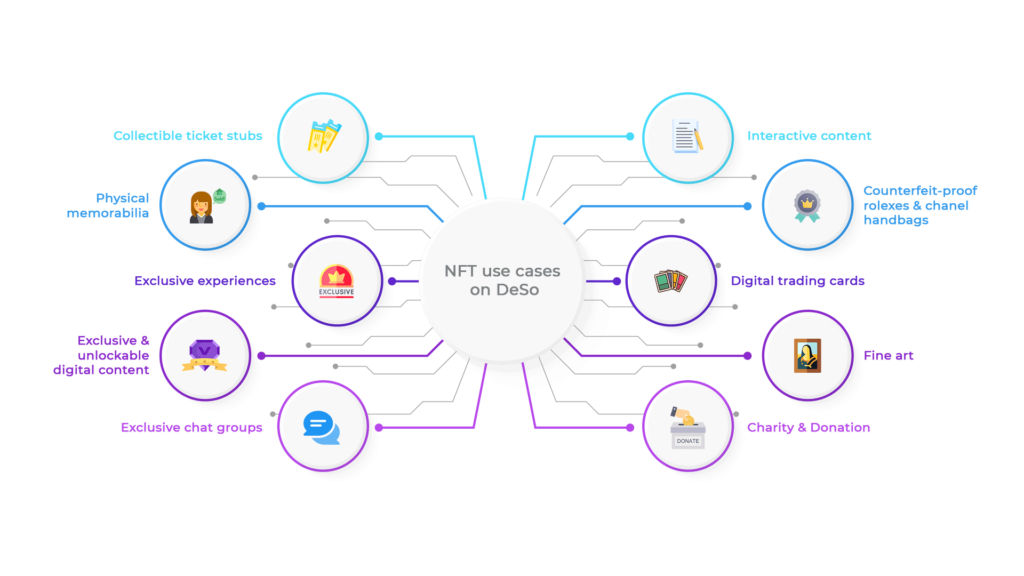 Here is a list of new NFT use cases the DeSo can enable.
Collectible ticket stubs: Tickets to a concert, gala, or premiere can be sold as DeSo NFTs turned into a virtual ticket stub that every attendee can flaunt on their profile.
Physical memorabilia – the digital collector's room: A user's profile can be turned into an inventory exhibiting all the things they own—both in the digital and physical world. The NFTs here will serve as a certificate of authenticity and be signed and issued by the original seller.
Exclusive experiences: Creators with a large following can sell experiences such as QnA or dinners with their coin holders in the form of an NFT. Because NFTs on DeSo are social, creators can engage the followers before choosing a winner. The winners also gain a dual advantage—they get to meet a creator they admire and boast of that fact in their profiles forever.
Exclusive, unlockable digital content: DeSo NFT is equipped with an unlockable portion that only the winner of the NFT can see. For instance, an author can release her new book a week early as an unlockable 1/10,000 NFT to enable only her true fans to read it ahead of time. Not only will this generate extra cash flow for the author, but it will also give users a cool NFT to show off.
Exclusive chat groups: Creators can use DeSo NFTs to offer exclusive chat groups to current owners.
Interactive content: DeSo NFTs can help creators get feedback from fans and guide the direction of their future content. E.g., a creator can include an NFT winner in their next song or video.
Counterfeit-proof rolexes, chanel handbags, etc: Luxury brands can create DeSo NFTs to go with every sale of their products. A user will get digital, unforgettable proof that they are the actual product owner. This ownership NFT can be transferred to another user if the first owner resells their product.
Digital trading cards: Creators can use DeSo NFTs to create a unique artwork that their fans can sport on their profiles.
Fine art: DeSo NFTs will increase the value and utility of NFTs issued by artists by tracking ownership of a piece.
The future of charity: Charities can benefit from the sale of DeSo NFTs and earn the DESO token in return, which they can then convert to fiat currency. The charity and the user will prove that the funds went to charity and we're not stolen through the blockchain.
Owning a piece of history: Any post shared by a user on DeSo can be minted into and sold as an NFT. The owner of this NFT would, in a rhetorical sense, be owning a piece of history.
Read more: Top 10 Doubts And Questions On NFTs Answered
NFT cashflows to coin holders on DeSo
DeSo sends a percentage of the sale of each NFT back to a creator's coin holders. With this, DeSo NFTs close loops between a creator's activities on the blockchain and the value of their coin.
Creator coins on DeSo are directly linked to a creator's activity on the platform, changing the relationship between creator and their fans from one where fans pay for a creator's work to one where they invest in the creator and grow together.
Tying cashflows to creator coins makes sense for the creators and their fans. Coin-holders are investors and distributors for a creator. With this, a creator's DeSo NFTs can trade and produce cashflows for creator coins long after the creator has left.
How do DeSo NFTs function?
DeSo has explained the workings of a DeSo NFT quite neatly in their whitepaper with a step-by-step guide to creating an NFT on the DeSo app diamond.
Create a post with a text snippet and an embedded image or video. All DeSo NFTs start as posts. At the same time, any pre-existing post can be turned into an NFT.
Click "Mint NFT" and choose from the following options:
Mint is either "one of a kind" or "one of an" NFT.
The creator can set a creator and a coin-holder royalty, i.e., a percentage of the sale that will go to the creator and the creator's coin holders. The DeSo platform does not charge a fee.
The creator can set a piece of unlockable content (as explained above) that only the winner(s) of the NFT get access to.
Once minted, users can bid on the NFT. They need to have enough coins in their wallet to cover the bid. However, no amount will be deducted from their wallet until the creator closes the auction, allowing users to bid on as many NFTs as they like.
The creator can close the auction by selecting the winner(s) when ready. Interestingly, they do not have to give it to the highest bidder.
After the auction is over, the winner(s) can flaunt the NFT(s) on their profile.
The DeSo platform also allows node operators to schedule showcases to concentrate liquidity around certain NFTs. Showcases work in the following way:
A node operator selects a collection of NFTs to showcase.
They then schedule these NFTs to 'drop' at a particular time.
The new NFTs showcase themselves on the home page in their tab at the scheduled time.
Read more: Where will NFTs pop up next?
A simple roadmap on DeSo blockchain architecture
The DeSo blockchain architecture works in 4 phases-
Proof of stake: PoS is not necessarily required to scale DeSo, but it is a top priority nonetheless. So, it will happen either before or in parallel with the other scaling apps.
Bigger blocks: The average post size on DeSo is 218 bytes. Besides POST, there are ten other transaction types (such as LIKE and FOLLOW). DeSo currently produces up to 2MB blocks every 5 minutes. That is to say, it can scale approximately 30 transactions per second (or about ten posts per second). Increasing the block size to 16MB every 5 minutes, the scaling value goes up to approximately 240 transactions or 80 posts per second, roughly accommodating 4M users.
Wrap sync: On DeSo, there is no need for nodes to validate the entire history of transactions. Instead, it supports a model where nodes, by default, first sync and validate a snapshot of the current blockchain state and then move on to syncing only a few weeks' worths of blocks on top of that. With wrap sync, the block size can go beyond 16MB.
Sharding: Transactions can be write-sharded to allow for parallel syncing of a node and provide multiple orders of magnitude in speed up, increasing the capacity of a node to shard three folds, supporting approximately 90M users without increasing sync time.
Ultimately, a user ID can shard all transactions into sub-chains, allowing for virtually unlimited parallelization. So, with 30 shards, another approximate 10x multiplier can be achieved on the TPS without increasing sync time. This will lead to attaining approximately 1B users. Increasing the number of shards will further increase this number.
Read more: How to approach blockchain app development in 2022?
The future of DeSo
The decentralized social blockchain project offers a relatively comprehensive alternative to the traditional, centralized, and monopolized social media companies. With a native token, DeSo appears to be a more profitable and fair option for creators. It also offers a whole new dimension of opportunities for creator income and fan engagement. For a blockchain project that is less than a year old, DeSo is pioneering decentralization in social media platforms in an unexpectedly impressive way.
Ready to discuss your blockchain project requirements?
Reach out to us today for a no-obligation consultation
Contact us