The widespread diffusion of social networks has revolutionized the way people interact with each other. The current centralized social media platforms offer inadequate user data privacy guarantees. The only possible solution would be a trade-off between the alternate decentralized social media based on blockchain technology. With the help of blockchain databases, community building, and social interaction, this decentralized version of social media will work wonders in the future. Enhanced privacy, censorship resistance, and built-in monetization features will be the key factors pushing users to adopt decentralized social networks.
Suppose we start putting social media content into a public blockchain instead of allowing certain private companies to monopolize it. In that case, we can create a decentralized social media economy that will be powerful enough to surpass the traditional centralized media that these tech giants have created.
This article will help you better understand decentralized social networks and their benefits to social network users.
Let's walk through into some of the basics:
What is a decentralized social network?
We can define a decentralized social network as a network that operates independently, i.e., it does not have a central server that keeps track of all the user data. It works on open-source software and gives the users more autonomy and control. Blockchains will help store all the data with no governing authority.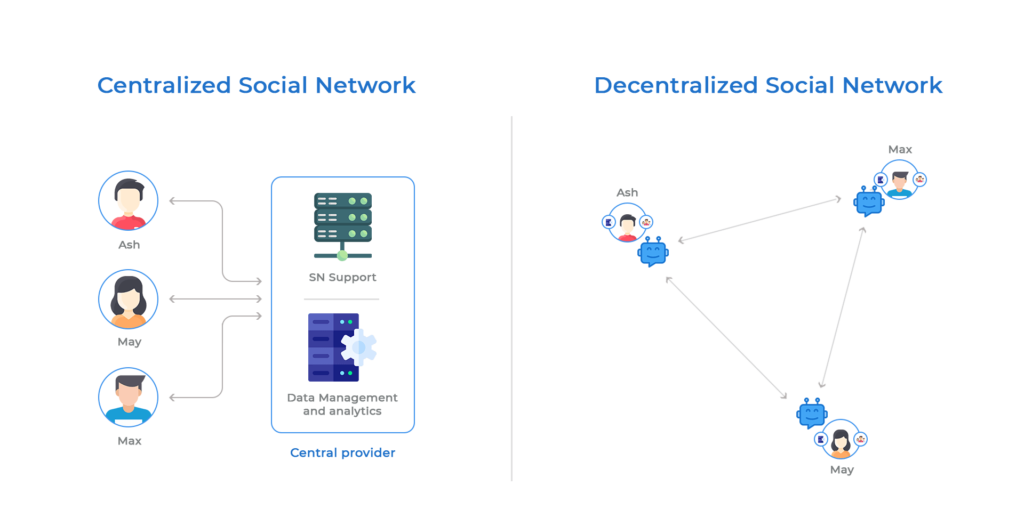 For example, by using a centralized social network like Instagram, your actions will be logged somewhere on the Instagram server. However, no one is in charge of blockchain-based social networks, and user data is secure within a public access database.
Prominent features of a blockchain-based social network:
Confidentiality:

Blockchain-based social networks enable the users to establish the rules for the data generated by them independently. Since this software is open-source, anyone can ensure its reliability and confidentiality.

User rights:

Here, the users can manages themselves by reaching a consensus on common issues compared to the traditional centralized social networks where the ordinary users have almost no rights.

Lack of censorship from above

: Popular Facebook, Instagram, Twitter, or YouTube accounts often suffer because of the site censorship rules in countries where there are problems with the freedom of speech, whereas, in decentralized social networks, the management of censorship is user governed.
Planning to build a decentralized social network?
Reach out to us today to get started.
Contact us
How are rewards distributed among network users?
The in-built incentivization mechanism is what makes social networking in blockchain so interesting. The platform distributes rewards to the users who:
Produce and curate content

Participate in content discussions

Vote on the content
The distribution model is mainly dependent on the voting patterns of the users. The vast majority of the rewards go to the users who engage with the most popular content.
Who can benefit from this decentralized social media model?
Social networks speak equally to social users, entrepreneurs, developers, and HOLDers.
Social users:

Social networks engage social users by creating accounts on blockchain-based social decentralized apps such as Steemit, DTube, and Utopian. By creating and curating content on these social apps, users get rewarded with free Steem tokens.

Entrepreneurs and developers:

Blockchain allows publishers and online content businesses to develop their reward-based social media platforms by developing dApps. Their in-built incentivization mechanism assists businesses in rewarding their users for contributing valuable content.

HODLers

: This social media model helps people engage in the buying, selling, and earning of tokens.
Read more: What to know before implementing blockchain in your business
Why is it a golden opportunity for blockchain innovators?
Blockchain brings transparency to be opaque or corrupt systems, hence bringing security and ensuring individual privacy while guaranteeing autonomy by building trust. Today, the blockchain industry is full of unprecedented innovation, but these innovations do not provide a sound reason for people to move from centralized systems to decentralized ones. Blockchain is the fundamental building block of the metaverse and NFT, while cryptocurrency governs its digital economy. Therefore, Facebook's transition to Meta is, in fact, a golden opportunity for the blockchain industry. Even Twitter and Reddit have plans to incorporate NFT platforms and cryptocurrencies in the future. With the world's leading social networks planning to include blockchain technology to the core, it is indeed a golden opportunity for the blockchain industry and its innovators.
Read more: Top 10 Doubts And Questions On NFTs Answered
How to build a decentralized social network?
Social networks are the next big decentralization opportunity since they function independently, and all their data is distributed effectively without depending on a single third party.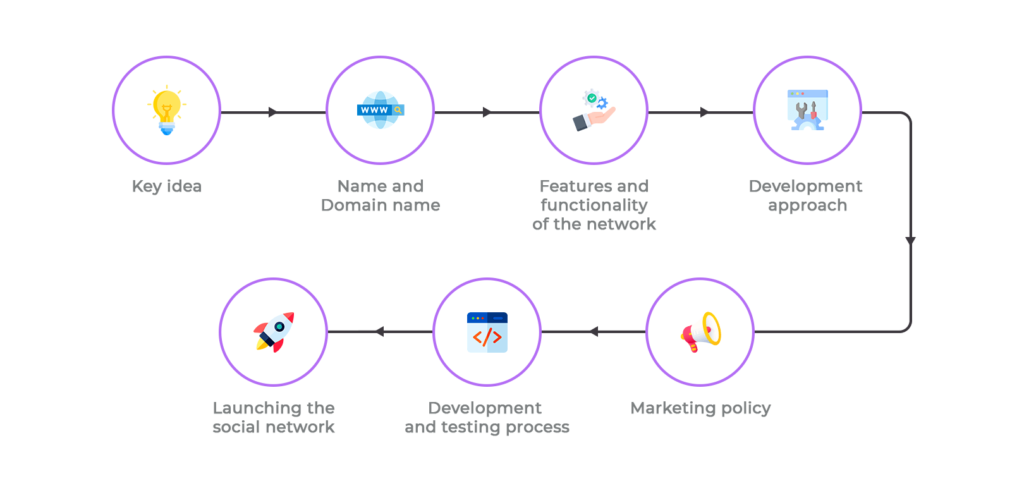 If you are looking to build a blockchain-based social network from scratch, these guidelines will help you on that –
Working with blockchain is a complex process, and it is mandatory to have a clear vision for your blockchain-based social network. According to your capabilities, implement the idea. Make sure it has the potential to get popular with many people and encourage them to communicate.
Once you have an idea, your next step should be to create a domain name that is easy to pronounce or remember—for example, YouTube, Twitter, Facebook, Google, etc.
Features and functionality of the network
The next step is defining the requirements for creating a decentralized social network, such as its features, security, code quality, design, things to be decentralized, storage and distribution of the profits, etc.
To develop a decentralized social network, it is always better to start from scratch, even though it will take a lot of money and time. Existing social media networks like Facebook, Twitter, YouTube were all developed from scratch, and it helped them stand out from their competitors.
For the success of a decentralized social network, social media influence and good marketing policies are mandatory. Promotions, questionnaires, targeted advertising, influencers, and content marketing are ways to introduce many users to the new social media network.
Development and testing process
Once all the above preparatory steps are complete, you need to start the development process, which requires a good team. Depending on the approach and complexity of the project, coding can take time from a week to a year. Next, proper code testing should be done without errors or bugs, making your platform more reliable, faster, and safer.
Launching the social network
The last step is to wait for the users to join the network after the site's launch through proper advertising. We can advertise on profile resources like relevant sites, forums, or celebrities.
If you are planning to launch a blockchain-based social network, make sure to consult with a blockchain development company to do a feasibility analysis for using blockchain for your project.
Read more: How to choose the right Blockchain as a Service provider?
Popular Apps and dApps developed on blockchain-based social networks
Decentralized dApps are way ahead in the game, gearing up to embrace the masses. Here are some of the most popular apps and dApps developed on blockchain-based social networks:
A blockchain-based blogging and social media website, Steemit has redefined social media by building a living, breathing, and growing social economy, a blockchain-based blogging and social media website. Steemit believes that the users of a social media platform should fairly receive the benefits and rewards for their attention and contribution. It incentivizes users with its cryptocurrency STEEM for publishing and curating content.
YouTube on a blockchain, DTube, is a fully-decentralized open-source video platform where users can upload videos through popular decentralized techs such as Skynet, IPFS, BTFS, etc., and publish them on social blockchains like Hive or Steem. It rewards users with cryptocurrency for their video creations.
Musing is a decentralized Q&A platform that allows users to ask questions, post answers, and earn cryptocurrency. Unlike centralized Q&A platforms, Musing gives the ownership of content to the user sharing it, making information more reliable. Users can earn tokens on Musing by getting endorsed by other users. The more tokens a user supports you with, the more tokens you gain from the daily reward pool.
Often called Instagram on a blockchain, Steepshot rewards people publicly sharing their lifestyle and visual experience. It is a censorship-free platform that rewards good media content. Users can use the content to share pictures they've clicked or curate and comment on photos of their friends.
Read more: How to approach blockchain app development in 2022?
Closing thoughts
The fundamental flaws of modern-day social media platforms are well known, and decentralized technologies are here to remedy them. Social media platforms take privacy seriously, and decentralized networks with military-grade upgrades and secure data storage will offer better security against hacks and data breaches than traditional social media platforms. So, a privacy-focused social media network is unlikely to please everyone, but it definitely can offer greater personal control.
Decentralized social networks can promise us a platform where we can have the ability to socialize and form connections with friends and family without any third-party influence, either to intermediate or censor our relationships. With blockchain behind social networks, we can enjoy the ultimate form of protection if it comes into existence. Blockchain protocols' borderless and permissionless features may help the users lead a more engaged, open, and interconnected social media ecosystem.
Ready to discuss your blockchain project requirements?
Reach out to us today for a no-obligation consultation
Contact us