The term metaverse has been blowing up the internet for the past few months. The news about Facebook being renamed Meta was mixedly received with skepticism and excitement (mostly from the Matrix and Black Mirror fans). Experts define it as a new meaning to connect with people virtually that could potentially replace its equivalent in the physical world. While the world debates over the use-case of an extravagant virtual reality, one should be looking at what Metaverse has to offer (other than holograms and pixelated street graffiti that move). The new version of the internet, Web 3.0, has given NFTs and blockchains new hope.
This article will help you understand how to build a metaverse virtual world and why a metaverse launch is needed for your business growth.
Need help developing your Metaverse Project?
Reach out to us today for a no-obligation consultation
Contact us
Feel free to jump to the topic that interests you from the list below.
Metaverse is an ever-existing, online, three-dimensional world of multiple virtual spaces. Day-to-day activities can be carried out online, making remote meetings, working, and entertainment more vivid. Metaverse is yet to be built in its full form, but some platforms have put out elements similar to it.
The amalgamation of virtual and augmented reality has taken social interactions to a higher level, promising realistic virtual concerts, games, movies, and travel in the digital world. Tech giants like Facebook and Microsoft have been plotting the concept of a Metaverse way. Facebook brought in Occulus, a revolutionary VR headset, in 2014. Just a few years before that, the birth of cryptocurrencies took place. One common result is that we have been rewired to accept the changing trends of the internet to a decentralized framework wherein the authority and control are not in the hands of one single entity but shall be managed by millions of users around the globe.
The main technologies that power the metaverse as its backbone are Virtual Reality (VR), Augmented Reality (AR), and Mixed Reality (MR). Other secondary technologies that can play a big role in the metaverse include Blockchain, DLT, and NFTs. These, along with the sensory output devices like VR goggles and headsets, give us the full metaverse experience. Metaverse is an interconnection of many technologies primarily focusing on networking. Apart from its foundation, the main players in a modern metaverse are cryptocurrencies, an extended reality that includes VR and AR. NFTs are the flesh of the metaverse. The components of decoration and functionality in the metaverse are predominantly tradable NFTs.
Read more: Where will NFTs pop up next?
The metaverse is popularly understood as many interconnected virtual spaces that a person can access through VR headsets. With time, we can expect many more organizations to set up their own metaverse spaces. Eventually, all these entities in a metaverse would need to do transactions with each other. And guess what the best tool for that is? Crypto it is!
The foundation of the metaverse is in the decentralization that encourages an individual user-owned economy. Metaverse is already playing with big money. People invest in virtual real estate in the metaverse in exchange for real money, and the highest-selling virtual plot was sold for $1 million. For example, Decentraland is a virtual-reality marketplace created by Ethereum where one can create, explore, buy or sell virtual real estate using the token MANA. Decentraland has surpassed over 130,000 land sales at a total price of $92 million. Due to the demand, MANA's price has also been increasing.
XC Infinity, a trading and battling game in a metaverse built on a blockchain, allows players to collect, breed, and raise creatures called "axies." Axies are digitized as NFTs. After 18 months of its launch, the company estimated that an average player had spent around $400 on the game. The play-to-earn model of the game lets players earn a token created on Binance as an Ethereum-based cryptocurrency.
The most popular cryptocurrencies in the metaverse are NFTs. Digital assets can be traded, bought, and sold as NFTs. Any person can create digital identities and assets and put them for sale in a marketplace within the metaverse. Moreover, cryptocurrencies can be used as a commodity of exchange for digital goods. It is the key to ownership, value transfer, governance, and decision making and a key to accessibility within the metaverse.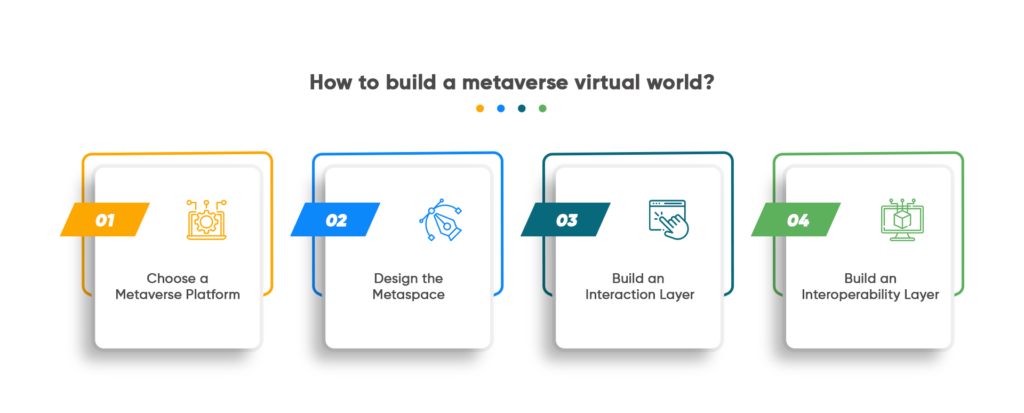 Metaverse is complex, and the structures we build into it must support interoperability and be persistent, as synchronous as possible to the real world. It must also be secured enough for transactions, thus creating an economic base. And the cherry on top is that the virtual world must be filled with content and experiences staying true to its meaning. On a high level, the steps involved in building a metaverse app are;
Let's dig deeper and understand what needs to be done in each step.
If you plan to launch a metaverse space or an app, you first need to choose a metaverse platform. You can choose from the metaverse platforms already launched in the market, for example, Facebook Meta. Or, you can choose to build your metaverse platform from scratch. The second option is costlier but more apt for custom metaverse requirements, especially for enterprises. The platforms available in the market today are mostly in their nascent stages, so the features, functionalities, and developer communities are not that evolved.
Meta, formerly Facebook, is the biggest name in virtual world space today and is expected to be the largest metaverse platform. Given the fact that Meta owns some of the biggest social media networks in the world and has easier access to the world population to build up an early-mover consumer community. But Meta isn't the only player; Microsoft puts forth a strong competition. Microsoft Bets on 'Metaverse' with a $69B acquisition of Activision Blizzard. Large and small, several players have introduced metaverses. You can choose the right platform based on your project idea or build a custom metaverse.
Once you have figured out the metaverse platform, the next step as obvious is to design the metaspace. A metaspace can be an app, a virtual meeting room, a virtual conference hall, or even a virtual home theatre. Metaspace is a virtual space that a user can access via a VR headset. Inside a metaspace, people can interact with the environment and other people in it. So, if your idea is to build a virtual meeting room for your business, you have to design a virtual metaspace that can be added to the metaverse.
To design the virtual 3D space, you'll need the help of a multimedia development company focusing on 3D designing and virtual reality development. Feel free to contact us if you need help with this piece. Below is a metaverse POC we developed for one of our clients in the hospitality industry.
Step 3: Build an interaction layer
The third step is to build an interaction layer so your user can interact within the metaspace you have designed. For example, a 3D model of a meeting room is useless, with the option for people to interact inside it. The interaction layer defines the user controls, access criteria, navigation controls, and communication protocols between the users. The interaction layer also defines the integrations with third-party tools and software needed to support the functioning of the metaspace. For example, if you need a Zoom call feature within your virtual metaspace, you should have provisions to integrate Zoom APIs or SDKs into the metaspace you are building. It also takes care of the hardware components and external output devices like haptic gloves, smart glasses, virtual goggles, VR headsets, sensors, etc.
Step 4: Build an interoperability layer
Interoperability standards enable the operational processes to support the exchange and sharing of information between different systems. The goal of interoperability is to access and use data and digital objects autonomously by humans and machines. Interoperability standards are a common language set of common expectations that enable interoperability between two parties. Metaverse supports payment gateways that allow the transfer of virtual money/crypto. Choosing a blockchain to route the secure, transparent, and decentralized transactions is required to have a fully functioning virtual world.
Need help developing your Metaverse Project?
Reach out to us today for a no-obligation consultation
Contact us
One common worry about the metaverse is its safety and the fear of leaking identities and privacy. It is too early to find user bugs as the metaverse is still being built. Presently, the metaverse is as safe as its foundation or the blockchain it is being built on. Hacking and tampering can still occur, but enough trust has been gained after witnessing cryptocurrencies reassuring the power and reliability of decentralization. Suppose you are a total novice in this space and want to build your metaverse virtual world. In that case, we advise you to get expert advice from a highly experienced and professional metaverse app development company.
A metaverse is a space in the digital world where artificial environments are created. People can have secondary identities just like they do in video games. With sensational output devices, the metaverse can give us a look and feel of the real world even though it exists in computer programs supported by virtual and augmented realities.
Multiverse is similar to metaverse in terms of being a digital space. Multiverses are built to perform one particular function or task at a given time. A good example is gaming platforms with a virtual world that lets you only play the game and trade within. You cannot convergently be connected to another marketplace. They are defined as isolated virtual ecosystems that are not interconnected.
The difference between metaverse and multiverse is that metaverse is a digital environment comprised of several linked virtual spaces. It is similar to how a website is a collection of related web pages where one thing leads you to another all around. A multiverse contains a distinct virtual world that is usually sparkly different in its functionalities and thus cannot be linked together to create a hub.
Building a virtual world in a metaverse is time-consuming and skill-intensive, using today's finest technologies. Considering the fee that one must pay the tech experts and the time and energy spent on building and launching, a custom virtual world project should cost from $20,000 – $300,000.
Need help with getting started with your metaverse project? Let's talk! We can help you with end-to-end support for metaverse UX/UI designing to frontend and backend development, including smart contracts, oracle, etc. Apart from advanced technical services, we offer blockchain development for metaverse, interoperability components, and platform development to present the best designs for what you want. Reach out to us today to have a chat on your metaverse idea.
Need help developing your Metaverse Project?
Reach out to us today for a no-obligation consultation
Contact us