The global focus on wellness, driven by various factors, including the pandemic we faced, has increased interest in the potential of the metaverse to positively impact people's physical, mental, and emotional well-being. Imagine a world where you can be whoever you want, explore new and exciting places, and connect with people worldwide. That's where metaverse wellness comes in. It's about ensuring that we're not just having fun and connecting with others in the virtual world but also taking care of our mental and physical health. "Metaverse Wellness" is becoming inevitable as people and businesses seek out new technologies that can more effectively promote wellness on a larger scale.
Metaverse wellness refers to using virtual reality technology to improve physical and mental health. This can include virtual exercise classes, meditation and mindfulness practices, and even virtual therapy sessions. Metaverse wellness is about finding ways to make the virtual world just as good for our well-being as the real world. With more and more of our lives taking place in the metaverse, we must find ways to make it work for us. The metaverse has the potential to provide a virtual environment for individuals to explore and engage with and to revolutionize the way we approach wellness and healthcare. Read on to find out more.
Metaverse wellness is a field that explores the use of virtual reality and augmented reality technology to enhance physical, mental, and emotional well-being. Using virtual environments, avatars, and social connections, the metaverse can offer new opportunities for people to improve their well-being and connect with others in new ways. This technology can be used for relaxation, physical activity, therapy and mental health, and community building, among other applications. The possibilities of metaverse wellness are vast, becoming an important aspect of modern life. Here is a video that can give you better clarity on metaverse.
A recent report from McKinsey & Co. estimates that by 2030, consumers ' and businesses' global spending on the metaverse could reach $5 trillion. Health and wellness are expected to be a major area of growth within the metaverse wellness, as new technologies such as virtual reality, augmented reality, haptic technology, blockchain, gamification, and cryptocurrency will provide more opportunities for people to engage in health and wellness experiences.
The wellness industry, including sectors such as fitness, travel, beauty, mental wellness, medical wellness, nutrition, and employee wellness, is expected to benefit greatly from the emergence of the metaverse. This is an opportunity to leverage the capabilities of the metaverse to create new and engaging consumer experiences and reshape the wellness industry. Read more about How can Metaverse help your business?
There are several ways that people and organizations are working to incorporate wellness into the metaverse. Some examples include:
Smarter wearable tech
Experts predict that the value of the market for IoT-enabled health devices will hit $267 billion by 2023. The latest wearable devices will be able to analyze a wide range of physiological data, including blood sugar, respiration rates, blood pressure, temperature, and pulse oxygen. The smarter wearable technology will enable individuals to track their progress and set health and fitness goals. The information gathered can also help practitioners diagnose illnesses and provide virtual healthcare.
Smart fitness tech in various devices
Smart fitness tech appears in a wider range of devices, such as skin patches, rings, earbuds, and intelligent clothing. For example, Neviano smart swimsuits feature waterproof sensors that link to your smartphone to alert you when UV levels are high, reminding you to apply more sunscreen. Wearables and sports apparel that collects biometric data like body movement, muscle stretch, and heart rhythm can also help improve workout performance results, especially when combined with AI technology for home and virtual fitness.
Find more insights on How to Mitigate AI Bias in Healthcare Applications.
Virtual fitness
VR and AR fitness apps will continue to provide immersive experiences for people who want to shake up their fitness routines, work out from home, and gamify their exercise routines. When combined with artificial intelligence technology, using virtual reality and augmented reality in your fitness routine can: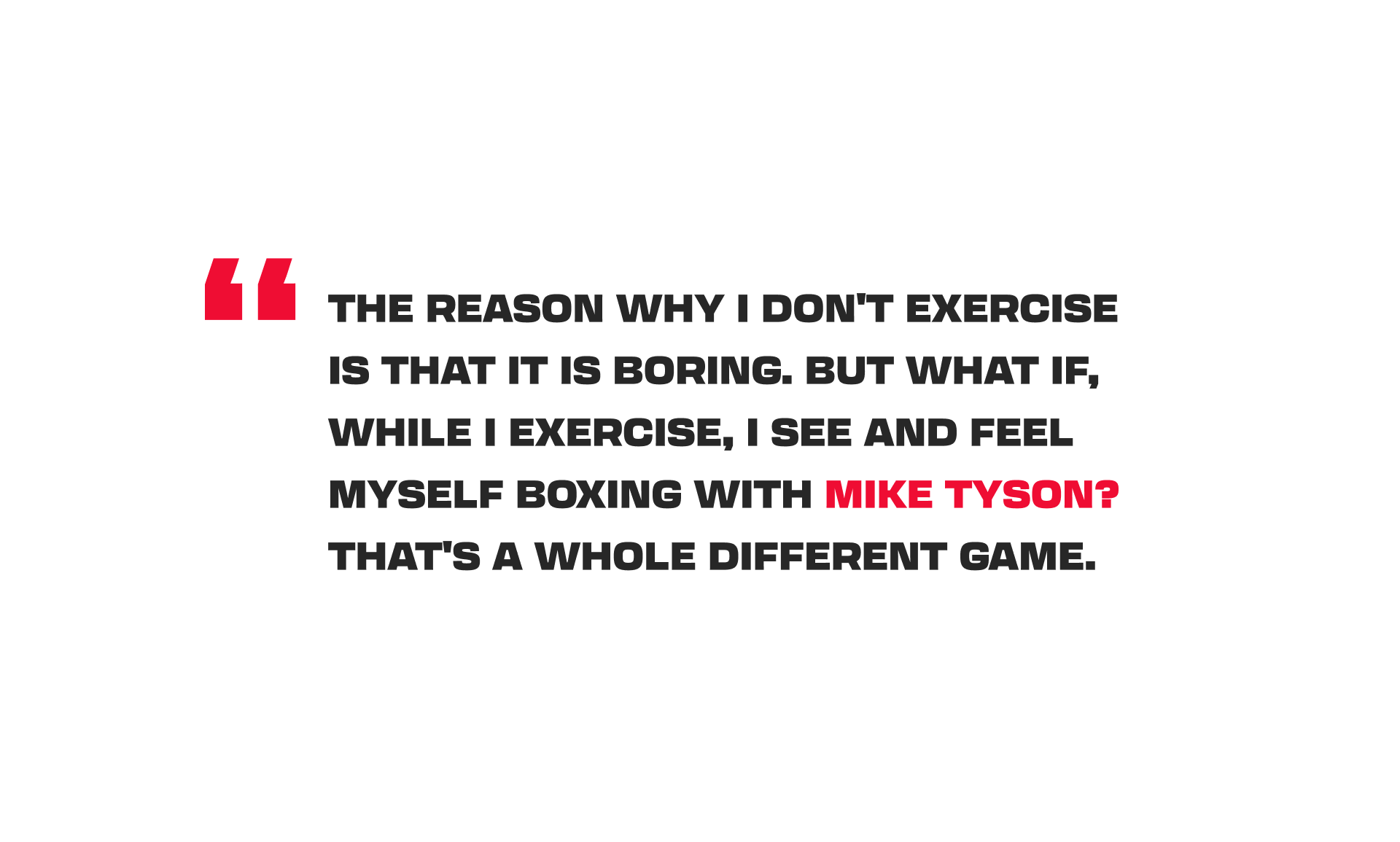 Provide access to virtual instructors
Give you real-time feedback on your workouts and overall health.
Gamify your workouts and add healthy competition to make working out more fun.
Offer cross-training opportunities and other wellness possibilities (like meditation) to help you round out your workouts and prevent injury.
Help you select personalized workouts and set fitness goals.
Personalized fitness
AI-powered fitness apps can now provide personalized recommendations for each user based on physical and health levels and fitness goals. Personalization will continue to the next level in 2023 as the field of exercise and wellness genetics expands. In this emerging field, companies analyze user DNA, looking for genetic differences in metabolism and muscle structure and the ability to use oxygen and gain muscle mass, then provide personalized recommendations for diet, exercise, and lifestyle changes.
Advanced home fitness
During the pandemic shutdown, the demand for high-end home workout equipment spiked. The market will continue to flourish in 2023, and the technology will become more sophisticated and intelligent. Smart fitness technology and equipment that includes built-in cameras, touch-screen displays, access to classes and trainers, and motion sensors can help you feel like you have a fitness studio right in your home. Examples of this equipment include the smart fitness Mirror and Tonal's digital weight machine.
Learn more about Diabetes Diagnosis using Machine Learning Technology.
Virtual self-care and wellness apps
Many virtual self-care and wellness apps allow users to track their well-being, set reminders for self-care activities, and connect with others in the community. These apps include guided meditations, mood tracking, relaxation techniques, etc., that can help manage stress, improve sleep, increase self-awareness, etc. Some popular examples of virtual wellness apps include Headspace, Calm, and MyFitnessPal.
Gamification of wellness
Some companies are using gamification to make wellness activities more engaging, such as virtual challenges, rewards, and leaderboards. The main goal of gamification is to make wellness activities more fun and engaging. Gamification programs can be used in different scenarios like corporate wellness programs, weight loss challenges, and mental health initiatives. Studies suggest that gamification can increase self-esteem, improve mood swings, help manage weight loss, and improve sleep routines.
The healthcare and wellness industry is changing because of new technologies like AR, VR, AI, blockchain, robotics, and the Internet of Medical Things. These technologies make communicating and sharing information easier for doctors and patients. VR is becoming more popular because it can help people with pain, eye problems, and mental health issues. Blockchain technology can keep patient information safe and private. The metaverse is a new technology that combines all these different technologies in one place, making it easier for patients to access different types of care. For example, with a VR headset, a patient could go to a virtual meditation class, then have a virtual appointment with a doctor, all in the same virtual world. This will improve the customer and patient experience by making it more convenient and seamless.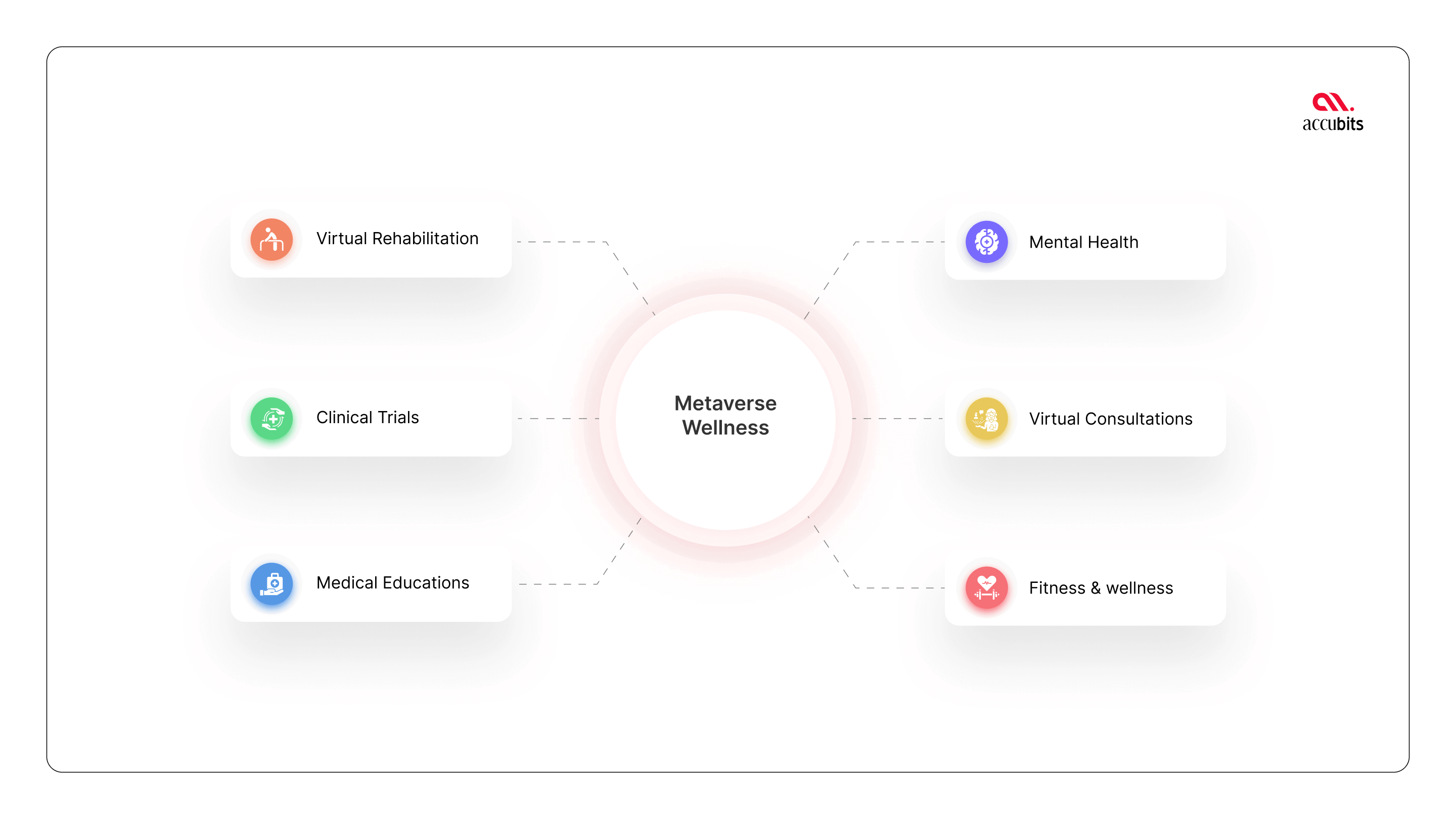 The metaverse has the potential to transform healthcare in several ways.
Virtual consultations: The metaverse allows for virtual consultations between doctors and patients, which can greatly increase access to healthcare services for patients who live in remote or underserved areas. This can also be more convenient and efficient for patients and doctors, allowing them to communicate in real time, share medical data and images, and even perform virtual exams.
Virtual rehabilitation: The use of virtual reality in rehabilitation is already well-established; it can provide patients with an immersive environment that can help to improve their physical and cognitive abilities. The metaverse can take this a step further by providing patients with a virtual environment that simulates real-world scenarios, allowing them to practice and improve their abilities in a safe, controlled setting.
Virtual clinical trials: The metaverse also allows for virtual clinical trials, which can improve the speed and efficiency of drug discovery and development and increase access to clinical trials for patients who live in remote areas.
Virtual medical education: The metaverse can also be used for virtual medical education, providing students and medical professionals with access to interactive simulations and virtual training environments, enabling them to practice and improve their skills in a safe, controlled setting.
Moreover, the metaverse can also provide patients with a digital twin technology to monitor and track their health status, detect potential health issues, and provide personalized medical advice. The metaverse can also enable patients to share their medical data with researchers and pharmaceutical companies, helping to advance the development of new treatments and cures.
Metaverse wellness is a rapidly growing space where many brands have integrated their services to offer new and immersive experiences for wellness and fitness. Here are some examples of such brands:
Alo Yoga: Alo Yoga, a lifestyle and fashion brand cooperating with the famous Roblox, created a digital platform on the game 'Alo Sanctuary.' The platform has an immersive theme and sound aim to cool the nerves as users can carry out Yoga exercises in a social space guided by an instructor.
Playinnovation: Playinnovation is a platform created for users seeking to get in shape but can't afford the cost of a personal trainer. It is an in-home virtual space that allows users to try out virtual machines, work out, learn how to use their equipment effectively, receive counseling from virtual trainers, and socially interact and work with friends and strangers.
Esqapes Immersive Relaxation: This virtual reality platform offers users the experience of a day at the spa. With up to ten themes, users can set the tempo they prefer, experience the sensation of heat or cool, and receive a massage. Each session on the platform lasts for about 30 mins, where relaxation and stress relief is guaranteed.
DeHealth: DeHealth introduces a Metaverse that links doctors and patients; It uses VR, AR, and Mixed Reality, allowing users to represent themselves as avatars on the platform in a 3D format. Users can get virtual assessments of their digital twin by real-time doctors and even sell their medical data to earn HLT tokens issued by DeHealth.
Help Club: Help Club is a virtual reality aimed at addressing mental health issues and supporting those in need. Built by Very Real Help, the platform created a space for people to discuss their problems and find solutions with trained coaches. Users use avatars to remain anonymous and interact with their coaches through a VR headset. The platforms enable users to enjoy privacy and intimacy without being at a specific physical location.
These brands are just a few examples of the many offerings in the metaverse for wellness and fitness. With the use of virtual reality, augmented reality, and other technologies, the possibilities for immersive and personalized experiences are endless.
Find insights on How Technology Investments act as a Catalyst for Business Growth
Concluding Thoughts
As we explore the vast expanse of the metaverse, we must remember to take care of ourselves physically and mentally. The virtual world offers opportunities for self-improvement, from virtual fitness classes to virtual therapy sessions. However, it is up to us to actively seek out and engage in these opportunities for self-care. Let us make the metaverse a place for connection and entertainment and where wellness and self-improvement are at the forefront. By prioritizing our well-being in this digital realm, we can create a metaverse that mirrors and enhances our physical world.