Metaverse is expected to grow from $100.27 billion in 2022 to $1,527.55 billion in 2029, at an annual growth rate of 47.6%. This number is just a cherry on top of the million other things metaverse is accomplishing today. Imagine working from home but in a virtual office. Going to school and trying on clothes realistically, all from your bedroom. Cutting-edge technologies like blockchain, augmented reality (AR) and virtual reality (VR), 3D reconstruction, artificial intelligence (AI), and the Internet of things (IoT) are being used by companies to make the metaverse experience more immersive to power the 3D world and thereby starting an era of metaverse business opportunities.
Let's understand how the metaverse and related technologies have the potential to revolutionize businesses.
The term metaverse was first coined by author Neal Stephenson in his sci-fi novel Snow Crash in 1992. The metaverse is an all-encompassing digital world that exists parallel to the real world. Virtual worlds or early metaverses have been introduced primarily in video games with releases like Second Life, The Sims, GTA V, Fortnite, etc. Another representation of the metaverse in pop culture is the movie's central plot, "Ready Player One."
Currently, the metaverse is being turned into a reality by a handful of companies. Mesh, a virtual team collaboration space, is Microsoft's gateway into the metaverse. Apple is also currently developing AR/VR headsets to enter the metaverse. Meta (formerly Facebook) is working towards developing digital solutions for everything. Metaverse has been the core of Decentraland since its inception in 2017; it's a virtual world where users can own a piece of real estate. Roblox is one of the best-placed metaverse companies. It has numerous user-generated games in a virtual world where people can build, create, and interact.
The Seven Layers of the metaverse are: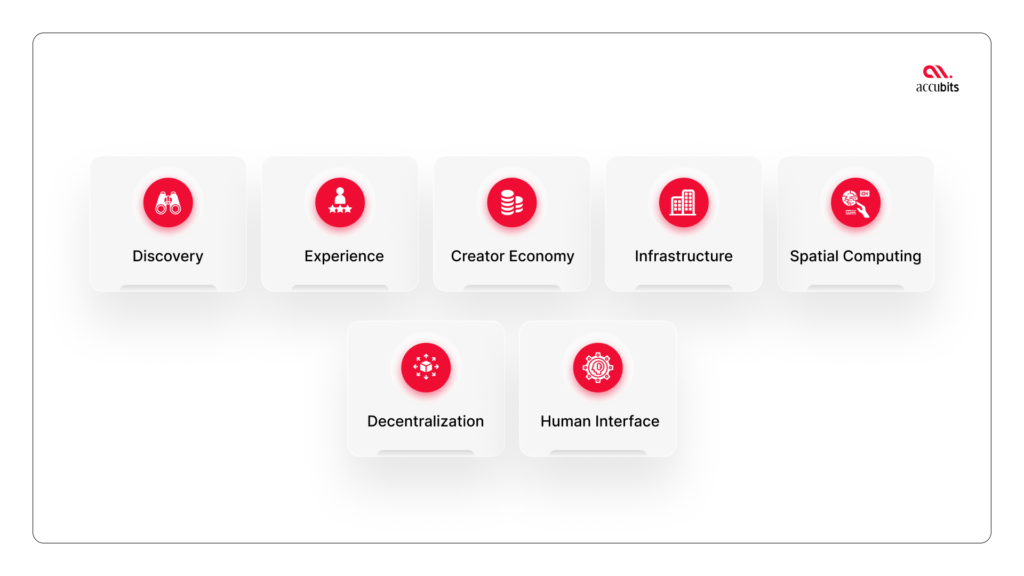 Experience
The virtual reality of the metaverse has the potential to provide experiences that the real world can never offer. The life-like experience that the metaverse provides has created a buzz and attracted investments. For example, when someone wants to buy a house, they will be given a virtual tour to understand things easily. Apart from this, people also take virtual renovation tours before renovating their homes because it gives them a clear picture of everything.
Discovery
The discovery layer is the most lucrative for businesses. The Discovery layer is "the push and pulls that introduce people to new experiences ."While "pull" represents an inbound system where users proactively look for information, "push" is a process that informs users about what experiences await them in the metaverse. Inbound discovery includes digitization of social structures and putting a decentralized identity ecosystem in place. By that, the power shifts from a handful of monolithic entities to social groups, allowing for the frictionless exchange of information and experiences. Outbound discovery includes display advertising, notifications, emails, and social media.
Creator economy
There will be a dramatic increase in the number of creators, which will define the economy accordingly. Taking the example of YouTube and TikTok, we have already witnessed a rise in the creator economy. Experts believe that metaverse will make the creator economy a billion-dollar industry. The experiences provided by the metaverse creator economy will be highly personalized. There are numerous creators worldwide, and there is a huge demand for content from these creators on social media platforms. Metaverse is believed to allow creators to saturate the market through new promotion opportunities for products and services.
Spatial computing
Facebook plans a high-end virtual and augmented reality headset codenamed "Project Cambria." Facebook CEO Mark Zuckerberg says it's a new product that will sit at the "high end of the price spectrum." Spatial computing combines AR, VR, and MR to bring the idea of the "metaverse" to life. It has already made our lives easier, and now it's all set to enable work, shop, and socialize in avatars in a 3D world that mimics the real one. Spatial computing allows users to interact with the virtual and the real world simultaneously in real-time.
Decentralization
Decentralization is one of the key features of the metaverse, as it will be devoid of a single authority and will be open and distributed. Decentralization Process parts include blockchain, smart contracts, open-source platforms, and eventually, the possibility of self-sovereign digital identity. Decentralized metaverse projects use blockchain technology for users to provide experiences that resist censorship and ensure interoperability. Individuals and corporations are already grabbing land in decentralized universes of the metaverse.
Human interface
The human interface is the major feature of the hardware layer of the metaverse. The human interface layer defines the hardware that will enable users to experience the real power of the metaverse. By combining spatial computing and human interface, we'll soon be able to gather information about our surroundings, use maps and even create shared AR experiences by just looking around the physical world.
Infrastructure
The seventh layer involves the technology that makes everything real. This layer concerns the technological infrastructure required to create a fully functional and interoperable metaverse.
The most important fancy thing to enter the metaverse is the metaverse itself. But other outputs and input devices depend on where you want to go and what you want to access and how realistic you want the metaverse experience to be. Facebook released its Oculus Quest 2 VR headsets that costs around $300. People can also use the new Facebook Cambria, in which the featured camera passes high-resolution full-color video to the headset's screens.
There are also several other VR headset makers: Valve, HTC, HP, and Sony, whose gear works with PCs or a PlayStation 4/5. Many gadgets released to date have focused more on the metaverse gaming side with virtual reality elements. More new headsets that might start connecting with phones by the end of the year.
The emergence of Metaverse as a Service (Maas)
Firms & companies are deploying the 'as-a-Service' model to Metaverse, giving rise to Metaverse-as-a-Service, or MaaS. MaaS will allow organizations to develop and strengthen their presence in a 3D virtual world. MaaS will provide opportunities for tech product owners and others to support collaboration on metaverse business opportunities, investments, banking, cryptocurrency, and other related use cases. MaaS is a new technology, but it has already attracted numerous providers. MaaS helps businesses to get profit from technology with minimal risk.
For example, World Lovelace, a cryptocurrency and NFT platform, unveiled a MaaS solution in Oct 2021. It has its cryptocurrency token, LACE, and plans to provide MaaS services to help people adopt the Metaverse. Touchcast is a Microsoft Azure Cloud-based 3D and VR event startup introducing MCity as its MaaS service. Organizations can register for the metaverse domain, which will provide access where they can create metaverse campuses.
Companies without extensive digital experience can develop Metaverse products. It will encourage investment in this experimental technology. MaaS will allow companies to invest and gain from the technology with minimal risk. The loss is that organizations could risk vendor lock-in, which is not beneficial. As the metaverse is evolving daily, and the legal implications of metaverse are also getting clearer, it will be more easy to move MaaS investment.
Lastly, let's break down the role of business modernization made possible because of the metaverse. The metaverse will create realistic interactions between users, and it will help in fueling the creator economy, enhancing work from home, remote education, online commerce, and brand-customer interactions. New metaverse business opportunities will be created using models like learn-to-earn, play-to-earn, and create-to-earn, turning fun and recreational activities into proper work. Brands like Microsoft and NVIDIA are leveraging the metaverse. This is beneficial for business modernization using the metaverse.
There are numerous activities people will be able to perform in the metaverse universe, such as buying digital land, constructing virtual homes, and decorating them with digital art and collectibles, purchasing outfits and accessories for 3D avatars, interacting with digital humans for hiring employees, customer service, and other business operations, and engaging in virtual social experiences, such as online classes, work meetings.
Enhanced Social Media Experience
Metaverse will be an extension of social media, bringing a new experience to consumers. It will combine familiar aspects of social media based on virtual reality (VR) and augmented reality (AR). With platforms like Meta and businesses like Nike investing large amounts of money and resources into the metaverse, people and businesses clearly think it's the future of social media. Oculus (the VR headset business that Meta already owns), NFTs, and cryptocurrency are part of Meta's long-term vision, as Meta already invested $10 billion alone in 2021.
Metaverse Business Opportunities in Communication and Productivity
The Metaverse allows co-workers to collaborate and work in real-time on the same project via holographic experiences across different devices. It also optimizes communication and provides effective tools at the fingertips. Microsoft Mesh is the best example, where co-workers can connect, even working remotely using avatars.
Immersive Sales and Marketing
Digital marketers understand the metaverse and its full potential. Millennials and Gen Z are the target market as this generation are avid users of some form of metaverses. Some examples include highly interactive metaverse virtual stores.
Revolutionized Online Education
Educators, instructors, institutions, and other online learning portals look at the metaverse as an excellent tool for building online education platforms to promote e-learning. Metaverse will create an engaging and life-like online classroom. It will also promote communication as the physical distance will not be a hurdle, and learners can study and collaborate with each other.
It will also support immersive learning as it helps them to put theory into practice, retain knowledge better, and increase engagement. For example, interactive curriculum and practical application of concepts.
Futuristic Blockchain Applications
Metaverse platforms are set up by Highly advanced Blockchain or crypto influencers. They are working to build, develop and own virtual real estate as NFTs. Combining the capabilities of virtual reality, Blockchain, and NFT technology is creating a metaverse marketplace to provide virtual space and sell it as NFT to buyers. E.g., users can buy a commercial space as virtual real estate built on Blockchain technology networks and earn money by leasing, staking, advertising, and developing it.
Each metaverse marketplace has its own unique space. Virtual property owners get a sense of ownership, and it also opens a passive door of income. Star Atlas having a foundation in Solana blockchain, is a VR game for the next generation. It can buy digital assets such as ships, crew, and land. SOLANA is the game's main prize. Solana is known as the Ethereum Slayer, where there are no exorbitant gas prices or scalability issues.
Bottom Line
Metaverse business opportunities and modernization using the metaverse have a bright future, and annual growth of 44% is expected over the next six years. In 2021, the total market for trading in metaverse-like environments was around $1.3T, of which $586B came from advertising, $475B from social commerce, and $94B from digital events.
The statistics around metaverse development are posing for a convincing route to modernization. Like with the emergence of the internet, it will all depend on how, when, and where it is adopted. Mass adoption will take time, but businesses are realizing the benefits of the metaverse rapidly, as seen in the diverse metaverse-related products and services that are getting launched daily.