The constant evolution in the cryptocurrency domain gives birth to various platforms of innovations and new products like Wallet Holder Offering (WHO). This was pioneered by the Safepal Wallet.
An innovative airdrop mechanism, WHO offers SafePal users the first token in the reward allocation system. The major purpose of Wallet Holder Offering (WHO) is to reward SafePal software and hardware wallet users by giving them access to the airdrop tokens in a secure and user-friendly way.
Let's dig deep to understand the process and benefits of Wallet Holder Offering:
On March 16, SafePal launched its own unique airdrop mechanism known as Wallet Holder Offering (WHO). Wallet Holder Offering is a kind of wallet that distributes its partner tokens to its users to complete specific tasks.
Furthermore, the reward token amount is based on the number of participants and the number of tasks the participants complete.
Take an example, to participate in any offerings on Safepal, a certain amount of native SEP tokens in the wallet are required that are based on reward allocation, tasks, and timeline. Then, after completing simple tasks, users get the assigned reward.
Related article: ICO Airdrop Programs : How to do it for the maximum results ?
What is Wallet Holder Offering?
The Wallet Holder Offering act as a bridge between the users to learn and participate in numerous projects. Apart from this, WHO permits blockchain projects to get worthy community feedback in a huge and active user ground.
There are three major characteristics of the WHO mechanism that are:
Earn by learning: With SafePal, a fair mechanism is provided to users in which users can safely earn rewards via learning the process.
Simple and Easy: Users get the rewarded tokens into the SafePal wallet with the help of airdropping system.
Secure and Fair: A completely secure platform while airdropping payments to safeguard users from any scammy activities.
Related article: Blockchain as a Service (BaaS): How to choose the right provider?
How does Wallet Holder Offering Work?
Before you begin with WHO, it is essential to comprehend that each SafePal Wallet Holder Offering (WHO) is different from one another since every crypto project is naturally different.
An Example of the SafePal x OpenOcean Wallet Holder Offering (WHO) campaign is mentioned below
Entry into the whitelist is mandatory to participate and get the rewards from the 800,000 OOE reward pool.
Only the first 20,000 users who are whitelisted successfully are allowed to participate in the campaign as per the participant limitation rule.
For signing in, you will find a wallet holder offering quite familiar to an airdrop. The registering process includes signing up to complete a set of social actions after that receiving tokens in the form of a reward. However, the complete process is a bit different.
Also, SafePal is the sole wallet that has launched a few successful WHOs. This implies to participate, users need to download the app. Besides, WHO is connected to various funds that will be shared among participants. The completing of tasks will help wallet holders to get a share of the total reward pool.
To understand it in a better way, let's take an illustration; WHO has 100.000 tokens to distribute to a maximum of 20.000 users. The mechanism of WHO will work in the method like: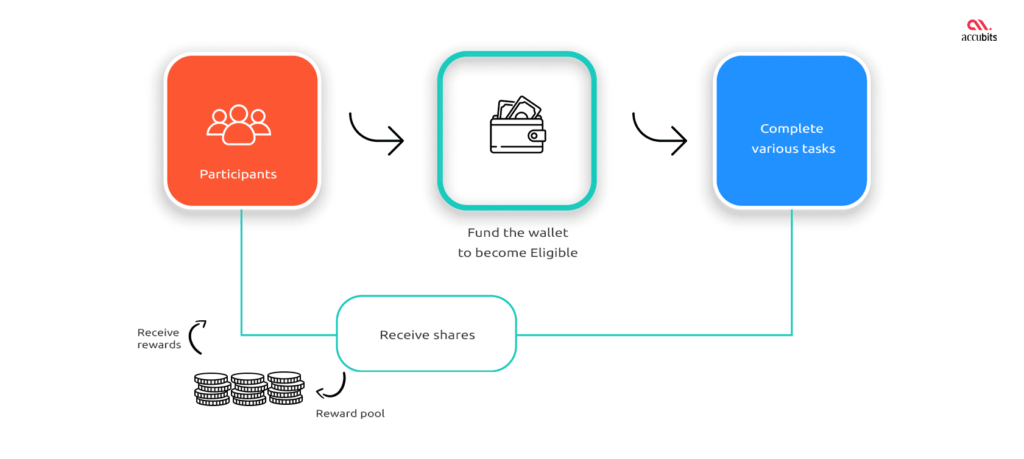 0.1 shares- for following & retweeting the official Twitter account of the blockchain platform grants.
0.1 shares- registering the official Telegram channel grants.
0.1 shares- referring any program to a friend.
Thus, to put these in a nutshell, if the person follows, retweets, and joins Telegram, he/she will be liable to get will 0.2 shares of the pool, equating to 200 tokens. In this, way, the more tasks a user completes, the elevated reward pool they will receive.
Related articles: What Are Social Tokens and What Are Its Benefits?
Benefits of WHO for blockchain projects
Wallet Holder Offering (WHO) acts as an excellent way for the user base, provides real engagement in product usage and feedback, and removes the large capital expenditure towards marketing. So, it allows quality project teams to emphasize product development.
With the help of the state-of-the-technology, crypto airdrop models obtain significant performance for new crypto projects. Blending standard, bounty, holder, and dedicated airdrop models into one by the SafePal Wallet Holder Offering. The aim is to assist quality crypto projects to pull off their growth metrics via these:
Genuine UserBase:
While in the old Airdrop mechanism, blockchain projects may issue tokens to whales or scammers, who are not able to bring any value to the project or not interested in the project. They were more inclined toward getting rich in quick schemes without any value.
And, in WHO, user contribution is vital for a project and users as well. As a project acquires an authentic user base who understands the project and looks at its value in it because they have cleared various tasks and gained information about the project. And, users just by following simple tasks can get big rewards in the form of tokens.
Need help with crypto wallet development?
Contact us for a no-obligation consultation
View Services
Prompt UserBase:
WHO projects not only attain a valuable user base but also acquire them quite swiftly with the help of the existing user base of wallets where they are distributing tokens.
In Airdrops, it was tough to get public attraction, even in an authentic project. As this requires a good marketing strategy to attract users.
Cost Friendly:
WHO to a great extent diminishes the capital expenditures toward marketing channels for procuring initial users. This saves the cost and the time of the project team and their effort is transferred towards the growth of project development.
Correct Dispersal of Tokens:
WHO offers tokens to only users who participate fairly after completing tasks. As compared to Airdrop, where whales acquire most of the tokens.
Related article: How to approach blockchain app development in 2022?
What are the benefits that WHO gives to wallet users?
Not just for a blockchain project, the WHO is beneficial for wallet users as well. Check it below how:
Better Insight With Earning: WHO offers a better insight into projects and a great chance to earn. Completing different tasks help users in making informed decisions. Also, users will get an opportunity to earn airdrops where they will use the respective blockchain project and share their feedback.
Safe & Secure: With the help of a third-party wallet that is known and faithful, users are saved from falling into any trap of scammy activities.
Effortless Process: No complex rules, just complete the tasks and get the rewards straight into the wallet.
Related article: What is the best token sale model for your ICO?
How to launch a Wallet Holder Offering?
Presently, SafePal is establishing the groundwork on how these wallet holder offerings are managed. Also, the participating factor plays a vital role as they all have a different set of rules. Yet, there are certain common steps, users need to follow:
Installing the SafePal wallet app on your phone is the first requirement for participating in the WHO.
The next step is to fund your wallet with some SFP tokens. SFP is BEP-20 tokens founded on the Binance Smart Chain and this will let you register for the whitelist snapshot and permit you the right to enter the WHO. ( Avoid this step, if you have already purchased a hardware wallet from SafePal)
Step into WHO via your SafePal wallet.
After entry, try to complete all the different tasks and challenges in the WHO. The different types of challenges are following, retweeting, referring, etc which are already explained above.
That's it. There were the simple steps of WHO that can assist you in filling your wallet with rewards.
Related article: How to launch an ICO, STO, or IEO in 2022?
Closing thoughts:
To conclude, WHO is the platform that will help the crypto community in the improved development of the project. Also, keep in mind that Wallet Holder Offering (WHO) is quite different from Initial Wallet Offering (IWO).
Even though WHO is a novel thing in the crypto world and the futuristic thing this will be one of the superlative ways to attract more attention to blockchain projects. They also delivered a safer environment for the user and shield them from any kind of scams and frauds.
Till now, all three offerings obtained a great response from the Safepal users. But currently, apart from Safepal, no other wallet came forward to set up with the WHO.
Need help for your blockchain projects?
Contact us for a no-obligation consultation
View Services