Day by day, the world of decentralization is becoming more of a reality as blockchain initiatives expand. The ability to combine huge transaction volumes with the highest level of security has been leveraged by several ventures to fit into this fast-paced world. With cutting-edge fintech supported by web3, DeFi, and blockchain, we are witnessing the rise of the Venom Blockchain. The Venom foundation is working to support the world's economies with a strong base for CBDCs and several Web3 initiatives.
In this blog, let's dissect the Venom Blockchain and its foundational interests and know more about why it is poised to be one of the finest solutions today.
The Venom Foundation
The Venom Foundation is the first crypto foundation officially registered in the Abu Dhabi Global Market (ADGM). With the ability to operate blockchain technology and issue utility tokens, the foundation is poised to bring a fresh wave of innovation to the world-renowned financial hub. Strategically located in the capital of the United Arab Emirates, ADGM has earned its reputation as an award-winning international financial center and a hub for cutting-edge fintech and financial services.

The ADGM, an International Financial Center in Abu Dhabi, has already established a framework to regulate spot crypto asset activities, including those conducted by exchanges, custodians, and intermediaries operating within its jurisdiction. The foundation offers B2B blockchain services to help governments, developers, and companies implement solutions such as NFT marketplaces, derivatives exchanges, and fiat-backed stablecoins. The Foundation will work with stakeholders to ensure compliance with regulations set by the Abu Dhabi Global Market (ADGM) once the necessary regulatory approvals have been obtained.
What is the Venom Blockchain?
The Venom blockchain is a state-of-the-art technology that offers limitless scalability and heightened security through its dynamic sharding and adaptive, flexible nodes. This asynchronous blockchain provides decentralized solutions with improved security features.
Venom is managed by the Venom Foundation, which concentrates on three key areas of innovation: Essential Infrastructure, Support for Incoming Projects, and Developer-Friendly Platforms. With a focus on the Middle East and North Africa, the Foundation's goal is to help corporations and governments seamlessly transition to Web3, enabling them to handle large transaction volumes without sacrificing speed or incurring excessive network fees.
Services in the Venom Blockchain Ecosystem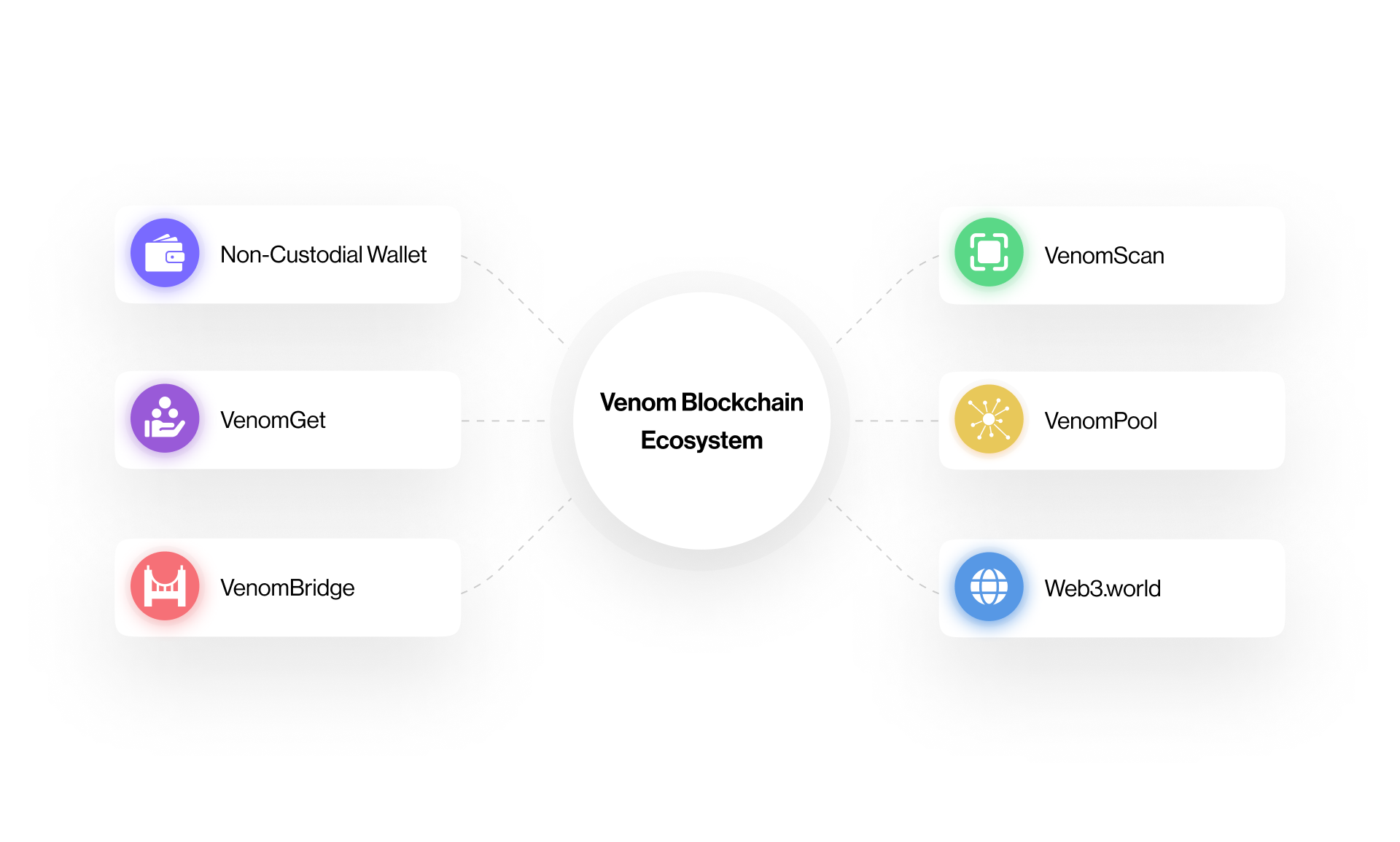 Non-Custodial Wallet: The Venom Wallet provides a user-friendly interface for accessing and utilizing the Venom blockchain. It lets users easily send and receive assets and securely log in to dApps within the Venom ecosystem. To start using Venom, users can download the wallet.
VenomGet: The multichain interface allows users to acquire Venom tokens by exchanging cryptocurrency.
VenomBridge: Helps to transfer crypto across different blockchains with a low fee and less time.
VenomScan: This lets you explore addresses, transactions, tokens, and other activities in the Venom ecosystem.
VenomPool: You can stake on validator nodes so smaller token holders can participate and gain from validation.
Web3.world: This platform is built on the Venom blockchain to enhance liquidity pools, swapping, and farming assets.

Other services such as Backed Stablecoin, Derivatives Exchange, Metaverse, Social Messaging Platform, NFT, Marketplace, and Launchpad are under development to be released soon.
How to Get Started with Venom Blockchain?
To utilize Venom, an individual must establish a Venom wallet account. The Venom Wallet platform offers various account options, including personal accounts (default) and multi-signature accounts for corporate purposes. Upon creation of a default wallet account, a seed phrase is generated. Users can install the Venom Wallet browser extension or obtain the IOS or Android app to create a new Wallet Account.
Step-by-Step Guide for Setting Up a New Account on Venom Wallet:
Step 1. Launch the Venom Wallet browser extension or app and select the "create a new account" option under wallet setup.
Step 2. Read the decentralization policy and, if agreed, select "I accept."
Step 3. Press the "submit" button.
Step 4. A one-of-a-kind seed phrase will be automatically generated.
Step 5. Enter the seed phrase words and press "confirm" to confirm that you have accurately remembered the unique seed phrase. If you have successfully entered the words, you will move on to creating a password for your wallet.
Step 6. Establish a password to secure your wallet transactions. The password must be at least eight characters and contain a mix of uppercase and lowercase letters, numbers, and special characters.
How to Sign into the Wallet Account with the Seed Phrase?
To log into your Venom wallet account, the user should use the unique seed phrase as a key. This verification process is deemed safer and more secure to access the account.
Signing in Using an Existing Seed Phrase:
Launch the Venom Wallet browser extension or app.
Choose the "sign in with seed phrase" option under the wallet login.
When signing in, enter your unique series of words from the seed phrase in the correct order in the sign-in form. The interface allows the option to automatically transfer the complete seed phrase with one click by pasting it into the designated field.
After entering the seed phrase, input the password created during the account setup process to confirm transactions in the wallet.
Upon successfully entering the seed phrase and password, you can access your wallet and carry out transactions.
Venom's $1 Billion Initiative in Blockchain with Iceberg
Venom Foundation and Iceberg Capital Ltd, a UAE-based investment firm, unveiled a $1 billion cryptocurrency investment fund and announced they are heading a $20 million investment in Nümi Metaverse, a virtual reality platform.

The launch occurs amidst a downturn in funding for crypto startups, as the global financial climate becomes risk-averse, and several crypto failures, including the high-profile collapse of FTX, have shaken investors' confidence along with the recession. Cryptocurrency markets are recovering, with bitcoin hovering at $17,421 after experiencing a 64% drop in 2022.
The $1 billion venture fund is a collaboration between Venom Foundation, a layer-1 blockchain solution, and Iceberg Capital, an investment management company based in Abu Dhabi Global Market (ADGM). Iceberg Capital aims to utilize its existing network to provide incubation programs and connections within the industry, marketing support, technical assistance, exchange listing, legal support, and regulatory guidance.
Concluding Thoughts
In conclusion, Venom presents a valuable opportunity for businesses to manage their crypto assets securely. Its multi-faceted account options and easy-to-use interface make it a practical solution for companies of all sizes. With the option to sign in using a seed phrase and password, businesses can ensure the protection of their assets at all times. The collaboration with Iceberg Capital and its incubation programs, industry connections, and support for marketing and technical, legal, and regulatory matters make Venom an attractive choice for businesses looking to invest in blockchain, DeFi, and Web3 products and services. Overall, the Venom Blockchain is a promising platform for businesses seeking a secure and efficient way to manage their crypto assets.