Imagine shopping for your dream car from home, navigating through all its features, and interacting with the salespeople more fluidly without any showroom visits and petrol refills! Yes, you heard that right! Metaverse provides virtual showrooms allowing you to skip a visit to the showroom and buy cars virtually. Metaverse is emerging as a key enabler in accelerating growth and delivering customer delight in the automotive industry. According to MarketsandMarkets, the metaverse market for automotive is projected to grow from USD 1.9 billion in 2022 to USD 16.5 billion by 2030. Worldwide, the automotive industry is making a leap into the metaverse automotive . With the help of virtual showrooms, in-store VR/AR, virtual factories, etc., they are trying to connect with the gen-next consumers!
Metaverse Automotive is bridging the gap between the customers and automakers by allowing the customers to see and virtualy test drive vehicles in the metaverse itself! Metaverse is a concept that has recently entered the public consciousness, all thanks to Facebook rebranding itself as Meta. The building blocks of the Metaverse are Virtual Reality and Augmented Reality. The automotive industry is tapping into the potential of  Metaverse to step ahead of its competitors. Metaverse impacts all facets of the auto industry, including manufacturing, product customization, community, and brand loyalty. Automakers are looking to thrive in a world of metaverse supported by web3 technology considering digital vehicles and NFTs as important opportunities to create valuable assets, expand and diversify revenue streams, and grow brand equity. 
Several automakers have started placing their pawns and making their moves in the metaverse that will eventually impact the automotive industry. Automakers are banking on the benefits of the metaverse with immersive customer experience, closer integration, and seamless collaboration with suppliers, partners, and dealers internally. Interactive holographic widescreens and 3D virtual stores are some of the pawns that are being placed by the automakers to contribute to Metaverse or, should I say, benefit from it!
Need help with Metaverse development?
Reach out to us today!
View Services
Automakers and dealers are stepping into the Metaverse automotive to attract and engage the digital consumer, use design and production technology, and profit from the new commercial opportunities. As per the Asia Pacific report, "The global Metaverse share in the Automotive Market is predicted to be valued at USD 116.5 Billion by 2030, "attributable to a rise in the number of automobile companies focused on developing metaverse platforms with the adoption of advanced technologies such as Augmented Reality, Virtual Reality, and Artificial Intelligence in the automotive sector.
Cupra, a Volkswagen Group subsidiary, announced Metahype in February 2022, which will serve as a collaborative space for brands, startups, and content creators to collaborate and host a wide range of events and experiences for the public.
Unity Technologies and Hyundai Motor Company have announced plans to develop a digital twin setup for Hyundai's factories in the coming years. This will allow Hyundai's factories to complete processes faster and reduce operational errors due to tests in simulated environments.
Hyundai unveiled its Hyundai Mobility Adventure in September 2021. It is based on a Roblox Metaverse adventure where users can interact and meet as avatars.
BMW will launch its streaming platform, JOYTOPIA, in September 2021. It is a metaverse that raises the bar for corporate and brand communication. It's a new virtual world for users to create immersive digital experiences with their personalized avatars.
Opportunities in the metaverse sector are vast. With several players entering the metaverse to build virtual factories, launch NFTs, and open digital showrooms, the metaverse is mainstream. Automakers who enter the metaverse today are well-positioned to capitalize on opportunities.
Virtual showrooms: Metaverse facilitates virtual inspections during vehicle auctions within the metaverse marketplace . It adds a new sales channel to traditional online channels helping showcase the latest automotive product virtually. Virtual showrooms give consumers a near-live experience of the ecosystem to promote the brand to the target audience. Recent development has forecasted that connected vehicles will have in-vehicle access to the Metaverse from in-vehicle embedded devices. To the extent that vehicles are now connected objects, like mobile phones or computers. It could therefore offer access to the Metaverse from the in-vehicle display.
Better Team Collaboration: Extended Reality allows teams to operate in the same "virtual space," even without sharing a physical space. Employees can work on digital twins of products in a shared Virtual Reality environment or see a holographic representation of a car using Mixed Reality. Extended Reality also gives employees more freedom to work with different materials and experiment with scale; there's also more freedom for creativity in an immersive landscape.
Streamlining Supply Chain Management: The Metaverse and related technologies are used to simplify supply chain management, and it can help automakers to establish virtual production facilities. These virtual factories help producers streamline the arrangement of production lines, accelerating the acquisition of resources, and managing inventory. Metaverse offers a strong simulation environment to undertake research, design, procurement and testing securely and economically.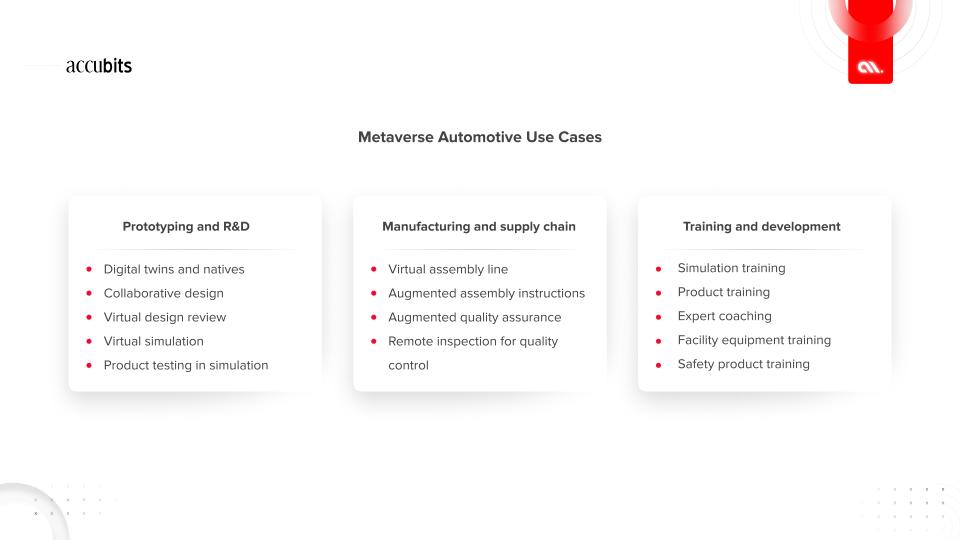 Virtual Prototyping: Employees can work with digital twins to create prototypes using digital technology in a virtual world. VR solutions ensure companies iterate and discover new ideas more rapidly in the fast-moving innovation landscape.
Interactive Training Opportunities: Virtual Reality training is helpful for both manufacturing and after-sales. It can be part of corporate training programs, including servicing (after-sales), equipment usage training, and skill development training to ensure quick onboarding and proficiency in matching a brand image.
Next wave of Advertising: The metaverse use in advertising opens the door for the next wave of automotive brands. As we all know, virtual malls and retail spaces are already building in the Metaverse. Through this auto, advertisers can serve the customer more impressively.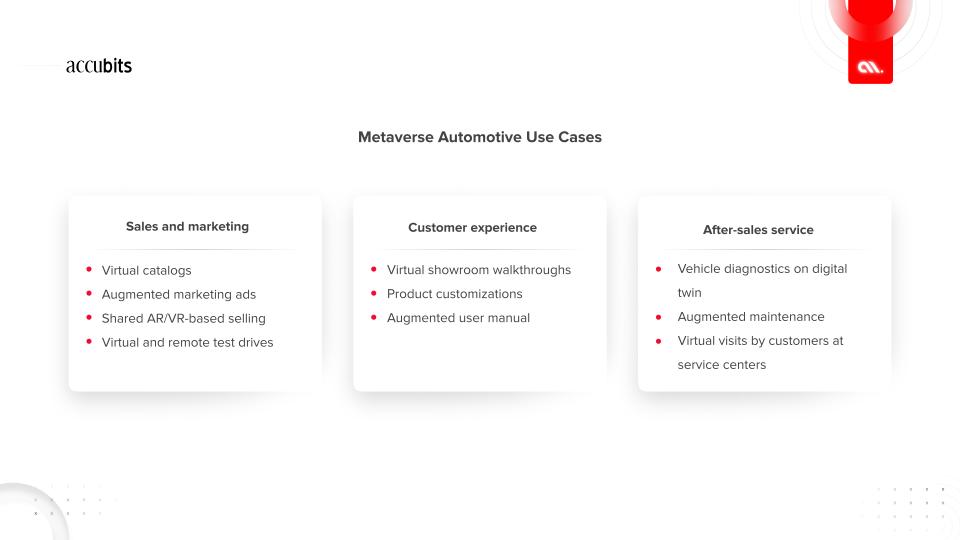 Remote Shopping: The metaverse use might offer a distant bridge between the car dealership and buyer's shopping. It is due to increased online car shopping following the pandemic. Also, it will help the sales team by reducing the physical time spent showing cars and conducting test drives.
Near-original experience: Anywhere, anytime, Metaverse offers a near-original experience to customers. Also, the user would take a virtual test drive that would include a virtual assistant, a new driving experience, explore innovations and interact with salespeople. It provides more fluidity than shopping on a website.
So is Metaverse the next evolution of buying and selling cars? Even though there is no replacement for the actual test drive, Metaverse can bring better opportunities to interact with consumers beyond traditional advertising. Imagine being able to place a 3D life-size image of the car you want to buy in your garage! Well, the metaverse automotive technology is so good that it gives try it before you buy it experience for prospective car buyers. It helps in virtual car tours that allow you to sit inside and feel what it feels to own it!
Want to sell cars in the metaverse?
Reach out to us!
Contact Us
For Example, Maruthi has launched NEXAVerse, a 3D version of NEXA line car showrooms where users can shop cars in an immersive way. To buy a car in Nexaverse, NEXAVerse allows you to select an online avatar . This avatar will walk through the virtual showroom with the cars and interactively check the car's features. Similarly, Audi has the world's first digital showroom, known as Audi City. It helps buyers to choose and customize their cars through their smartphones which can be accessed from select international spots. 
Metaverse automotive is already making its way into the minds of automakers and dealers, and many dealers have already started implementing them into their sales processes. Some of the automotive companies moving into the metaverse world are listed below:
Audi
Audi's partnership with VR company 4D Pipeline allows users to build and drive a car through VR and 4k technologies. Audi will become the first automotive manufacturer in the world to bring virtual reality (VR) in-car entertainment into series production. From June 2022, back-seat Audi passengers can use VR glasses for an immersive experience of games, films, and other interactive content.
Hyundai
Hyundai Motors has also stepped into the Metaverse with the online entertainment platform Roblox. They have bought Hyundai Mobility Adventure, where the users of Metaverse can communicate and interact. They can play games, have fun, and a lot more.
Nissan
Nissan has started working on "Invisible-to-Visible" (I2V) technology, which aims to increase commuter satisfaction and driver comfort. It has moved into the Metaverse with its I2V Invisible to Visible AR concept, launched at CES 2019. The system highlights problems through a display inside the vehicle to enhance safety and driver comfort. It also allows individuals to appear in the vehicle's passenger seat as a 3D avatar. This might be a friend on a long drive or a local guide to answer questions and give recommendations. Nissan hopes to roll out the technology in its vehicles in 2025.
Making car sales completely remote may be possible by extending into the larger Metaverse. Also, customers looking for cars may be able to access dealerships remotely using a headset from a location other than the dealership.
Concluding thoughts
The metaverse technology is here to stay, and the early adopters will have the most advantage. Even though it may take years for Metaverse automotive to become mainstream, it can bring in healthy competition to lure automakers to find new and innovative ways to stay on top while passing some of the benefits back to the customers. Overall, it is hard to predict the Metaverse's future. Still, dealers and automakers can get on board with it and help customers make their car buying experiences easier and more immersive.
Need help with Metaverse development?
Reach out to us today!
View Services