The first-ever tweet on Twitter by the CEO Jack Dorsey himself was purchased as an NFT or a digital asset for $2,915,835.47. Following the world's first tweet auction, a single JPEG was sold for $69 million. NBA entered by selling clips of top shot basketball moments for ginormous amounts, and recently a Lebron James top shot was sold for 280K USD. Not just the popular stuff, but a graphical cat GIF was sold for $600K!
You cannot always be as lucky as that cat, as an NFT project requires strategic funding, distribution plans, and community-building exercises. Encompassing all this is an Initial NFT Offering or INO. The legendary ICO inspires this NFT offering model. ICO (Initial Coin Offering) is a notable model for the same that uses crypto incentives for initial investors. Apart from ICO, other models include Initial Dex Offering (IDO), Game Asset Offering (GAO), an Initial Exchange Offering (IEO).
Take a look at the below topics to understand how an INO can help your project.
What is an Initial NFT Offering or INO?
INO is the short form of Initial Non-Fungible Token Offering. It was recently developed as a crowdfunding technique carried out through decentralized platforms. Non-fungible tokens are sold at the early stages of a project in limited amounts for a stipulated period. This sale raises money for further project development while bringing in committed investors for the NFT asset.
Mimicking the ICO, Initial NFT Offering is effective for fundraising in the NFT world. Apart from getting limited edition NFTs or getting their hands on the genesis NFTs (first batch of NFTs of a new project or first-gen NFTs), investors of this offering also get other perks. Some projects offer community voting opportunities to participants, who get a say in the project's future. A native cryptocurrency backs the NFTs in an offering. The investors or token holders can burn the NFTs to retrieve the cryptocurrency from them, almost like a real-life scratch and win.
Related article: What are Non-fungible tokens or NFTs?
The non-fungible tokens in an offering can be collectible arts, music or audio files, or trading cards. New artists and NFT developers face friction in the selling process. With an initial offering, the investor benefit from the intentional supply scarcity of NFTs. When the NFT market develops, there will be incentives for the investors.
What makes an INO different from existing crypto fundraising models?
The INO model is not so different from other existing crypto fundraising models. Other models like ICO (Initial Coin Offering), IEO (Initial Exchange Offering), etc., provide crypto in exchange for investment. The cryptos offered have a use case that the investors can redeem.
Related article: Top 10 Doubts And Questions On NFTs Answered
The NFTs offered in exchange for funds are either collectibles or NFTs with utility. INO model is solely for NFT enthusiasts and its potential investors. Investors who believe in the scalability and growing popularity of NFT companies invest in INO as they carry a wide spectrum of digital assets apart from ease of investment and transferability.
How does INO work for a project?
INO model works for your project as described below:
Through the option to launch an offering provided by many NFT platforms, developers first share technical documents, plans, and roadmaps to the community as an initial trust-building action. This also promotes the token and their work.
The project creators then establish a first-come, first-served, or distribution model in the platform. Boosting community engagement is also a consideration in this step.
Some platforms give access to digital assets based on the number of crypto tokens the user holds, which is also seen as a drive to get users to hold more crypto.
The digital assets in an INO model include different NFTs ranging from fashion accessories, games, music, and photographs to metaverses and videos.
A tweaked version of the model called Initial Staking NFT Offering (ISNO) was developed by a crypto project called Torum. A limited-edition NFT can be staked and offered in an ISNO and also gets the benefit of certain Defi elements. Torum has shaped ISNO to offer more rewards in a 'stake to unlock' system. The crypto reward is shared between the users and the creators on some platforms.
Related article: Where will NFTs pop up next?
Benefits of an INO
Starting in the non-fungible token world regarding project adoption and investment is difficult. One of the necessary actions is fundraising, as it gives you a leveraging hand on your upcoming journey with NFT. Initial NFT Offering is one of the crowdfunding models that can fund and increase popularity and trust. NFT artists can also understand their audience base and study what they want in art and other NFT content.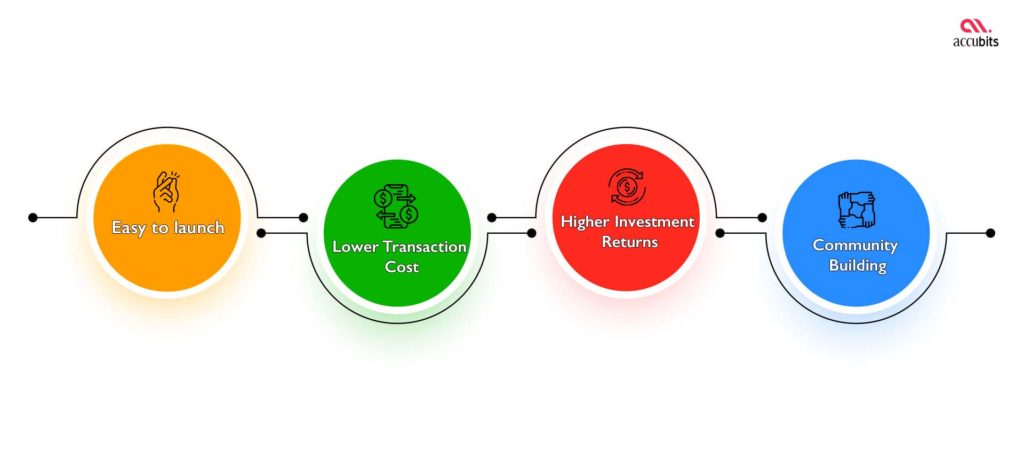 Easy to Launch: Launching NFTs through an Initial NFT Offering is much easier than launching them in other ways. Small projects especially gain a lot from this fundraising model. It funds the project with a cheap listing cost and contributes easily accessible liquidity before the project launch.
Lower Transaction Cost: The transaction fee in buying or selling NFTs in an offering is much lesser. Investors can benefit from not having to pay more than they should.
Higher Investment Returns: this model rewards the investors in plenty. Investors benefit from the supply scarcity of the limited editions, which can present them with decent returns. Along with this, they also get other perks such as an addition to their collection, voting rights, or utility benefits.
Community Building: The investors of the offering will have a strong sense of community as they collectively own a scarce asset. Your engagement and interaction strategies will also add to building a community. One conscious effort you must take is to retain these investors for other project stages. This can be done by offering exclusive perks for the investors. It could be by providing a stake to earn crypto, governance rights, or upgrades in a gaming platform.
Related article: How can sports clubs redefine fan experience with NFTs?
How to launch an INO?
The steps involved in launching an INO are:
Let's dig deeper and understand what needs to be done in each step.
Step 1: Come up with an idea
To launch an Initial Coin Offering is to make sure that your project needs it. Come up with ideas to conduct the. Plan distribution model and the returns users get through it.
Step 2: Know your competition
The next step is to know your competition. Find out at what rates your competitors are giving out NFTs in the initial offering and bring in a balance. You need not always try to be different than your competition. Sometimes what works for them might work for you too.
Step 3: Research the legal side
Some countries have crypto regulations, which might affect programs like INO. So it is a prerequisite to be aware of the legal requirements of your country that might affect you.
Step 4: Limited edition NFTs
Create limited edition NFTs or genesis NFTs through a Launchpad. How do you want the limited edition to stand out? What can motivate investors to participate? NFTs' content and design are important factors of motivation for people to buy them.
Step 5: Distribution plan
The first thing to have in line after the launching is a solid distribution plan. NFT offerings are limited in quantity and time; thus, deciding who gets those benefits is important. Most launches have a first-come, first-served basis for the tokens.
Step 6: Choice of blockchain
The NFTs put up for offer are the first batch in your collection. Thus decide on a suitable blockchain framework to build. Some popular blockchains that host NFTs are Ethereum, Flow, Binance Smart Chain, Cardano, and Solana.
Step 7: Creating a white paper
Creators of the NFT should share the whitepaper, future roadmaps, and others with the users. Transparency is important, especially at this stage, because this will be the first set of customers they get. Thus, build an early community of supporters with interaction and engagement.
Step 8: Launch
Create a launchpad or make use of an existing launchpad platform. Ensure the smart contract is intact and be aware of the procedures in case of a security breach. Finally, you must be able to launch your Initial NFT Offering. This is also a stage where you exhibit complete transparency. Having a whitepaper ready to be displayed and explored only conquers the trust of potential investors/holders. Lastly, with all the tools and support systems, you can either pick a launchpad or use an existing launchpad to launch. One way to ensure safety is to rely on an external exchange platform that can act as the launchpad.
Need help with your INO Launch?
Reach out to us today, to discuss your project
View Demo
How to keep your INO safe?
Smart Contracts: Strictly follow the programming recommendations of smart contracts to avoid failures. Smart contracts are always built with a security system, and data protection is a top priority function. If you are using an external smart contract, look into the recommended counteracting procedures for safety. Make sure that your smart contract is not vulnerable and doesn't give a chance to scammers in any way.
Be sure of your sources: Basic cyber security rules apply here too. Hackers might hide malicious content in plain sight, and the hacker or a scammer might be one of the thousand investors you will encounter. One common way fraudulent activities are carried out is through embedded links; thus, ensure you have verified links before clicking them—never click on random or broken links sent by unknown sources.
Help out your users: Ensure others do not trick your users. One way to do this is by regularly communicating with your users via your website and social pages and asking them to use the right website ( URL) for any transaction. Tell your users not to act on spam emails and messages and give your official email id.
Crisis management team: Keep a close eye on your offering process and act quickly when needed. Set up a team to address the issue immediately. Being proactive with regular checks of safety can help you foresee the worst. Take measures to protect your project and community from hackers.
NFT safeguard: Make sure you never share your recovery phrase with anybody during the offering. Keep your seed phrase (recovery phrase) away from your phone and computer—store it offline ("cold storage"), with multiple copies in safe places. Seed phrases are a series of words created by a cryptocurrency wallet, giving access to the crypto inside. One way to avoid pickpocketing in the blockchain or online world is by storing the unlocking phrase offline. It is also recommended to lock down your NFTs in a hardware wallet.
General safety: Keep checking your code regularly and get it tested by experts. A report from Microsoft in 2019 found that two-factor authentication effectively prevents 99.9% of automated attacks. Use two-factor authentication to add an extra layer of security.
Related article: How record labels can embrace NFTs to add more value to their fans?
Bottom line
Alongside cryptos, NFTs have been gaining attention enough to turn the heads of giant organizations like the NBA. This widespread acceptance of NFT tokens has also put them on the good side of financing for issuance with revolutionary solutions like Initial NFT Offering. It solves more problems than just fundraising. It holistically helps an NFT be established in a market, aiding in liquidity, risk aversion, the listing process, and user experience.
Looking to launch an INO?
Reach out to our experts today to discuss your project requirement
Get Consultation