Ever since Facebook's rebranding to Meta, the concept of Metaverse has been capturing a lot of public attention. The metaverse is considered to be the next evolution of social connection. It lets you socialize, learn, collaborate and play in ways beyond imagination. Another disruptive technology we all know is Blockchain; it's the next evolution of how we share value. But, what could be the role of Blockchain in the Metaverse?

Let's figure it out in this article. In read forward, we'll cover the following intriguing questions. Feel free to skip the sections you want.
What is blockchain technology?
A Blockchain is essentially a digital ledger of transactions that is duplicated and distributed across a decentralized network of computer systems. Okay, Let's not obsess over this complicated definition and understand this through a simple example.
Assume we have a pearl necklace, with each pearl representing a different block. Each pearl has specific information written on it. And you are not allowed to break the necklace or rearrange the pearls. You can only add new pearls when a new transaction or piece of information is provided. As a result, one will have a long necklace at the end of the day. In blockchain technology, this is exactly what happens.
Every time a new transaction or any new modifications are introduced, they are added as blocks, like we added pearls to our necklace. It is impossible to change the sequence, and also the process of digitally validating the sequences and transactions is known as mining or data mining. If you'd like to learn in detail about blockchain, you can refer to this article – What is blockchain?
Blockchain technology has disrupted the way we exchange value. Businesses across multiple industries came up with innovative and groundbreaking use cases and solutions using blockchain technology. The video below explains how blockchain can help businesses to perform better.
In simple words, the Metaverse is a virtual digital space constructed using three-dimensional technologies. A person can create his avatar in the metaverse. And via this digital avatar, the person can interact in the virtual world. For example, socialize with other people, connect and interact with them, do transactions, buy digital arts, play immersive games, and a lot more.
Metaverse mimics the real world by using virtual reality technology. It essentially helps you live digitally. With the growth of the internet, smartphones, and VR goggles the metaverse is getting more relevant day by day and a lot of companies are trying to create their own metaverse ecosystems. This video below explains the whole concept of the metaverse and its business opportunities.
Okay, so now the question arises: If people can socialize in the metaverse, how do they transact in it? What is the virtual world's currency? What do we get in response to a transaction?
Blockchain becomes necessary for developing an ecosystem in the metaverse where one can own, create and monetize the decentralized assets. The blockchain applications in the metaverse provide access to a digital space free from the interference of a centralized institution.
The primary use case is the application of NFTs or Non-fungible tokens in the metaverse. People want to mimic physical world experiences in the digital world. For that, it is essential to have replicas of physical world commodities available in the digital world, and NFTs will make sure that they're unique as they stand for proof of ownership.
If you own a limited edition Nike shoe in the physical world, wouldn't it be cool to have a digital version of your Nike shoe in the Metaverse? Yes! And NFTs would enable you to have that. Using NFTs, you can create a digital twin of your physical world assets.
NFTs can also be utilized in digital art exchange, immersive games and purchasing game assets, unique user avatars, virtual real estate, and a lot more.
Need help with metaverse development?
Reach out to us today for a no-obligation consultation
Contact us
The next important blockchain use case would be the application of P2P transactions. Now, the metaverse will be a digital platform where people "digitally" co-exist and are bound to mimic almost every actions that we do in our physical world. From personal shopping to real estate transactions, metaverse will host a plethora of transactions. In the physical world, people transact with each other directly without the necessity of a third-party mediator. But in normal online transactions, a third-party mediator like banks and payment gateways are required. P2P transactions powered by cryptocurrencies would enable people in the metaverse to do direct transactions without the dependency on mediators. Crypto-powered P2P transactions can save money for users and offer great convenience in doing transactions in the metaverse.
Another important outset in enabling the metaverse is its unique digital identity. As metaverse applications would host avatars of people, it is essential to have an identity verification mechanism within metaverse to avoid unauthorized access and malpractices. Businesses can implement user identity verification with the help of blockchain-based identity certificates. The identity certificates can be KYC verified so that the users can do financial transactions within metaverse. User identity authentication eliminates the possibility that someone will commit illegal actions under a false name within the virtual ecosystem.
Given the current trends, the metaverse will be more decentralized and autonomous than the physical world. For example, a high-value asset like a painting would be owned by a single person or an organization in the physical world. But in the digital world, it can be owned by thousands of people with fractional asset ownership. And Decentralized Autonomous Organizations or DAOs can have a virtual organization in the metaverse where people can join and take part in the organization's operations.
Without doubts, we can say it isn't easy to implement a fully-fledged virtual environment without blockchain technology. With features like digital proof of ownership, money transfer, governance, accessibility, interoperability, etc., we can see the inevitable role of blockchain technology in the metaverse.
If you plan to launch a metaverse that runs on a decentralized ecosystem, make sure to consult with a reliable blockchain development company to gain better insight into how it can be done.
Even though Metaverse and Blockchain are two different concepts, these two technologies flourish to their full potential to give astounding experiences to the users only when combined.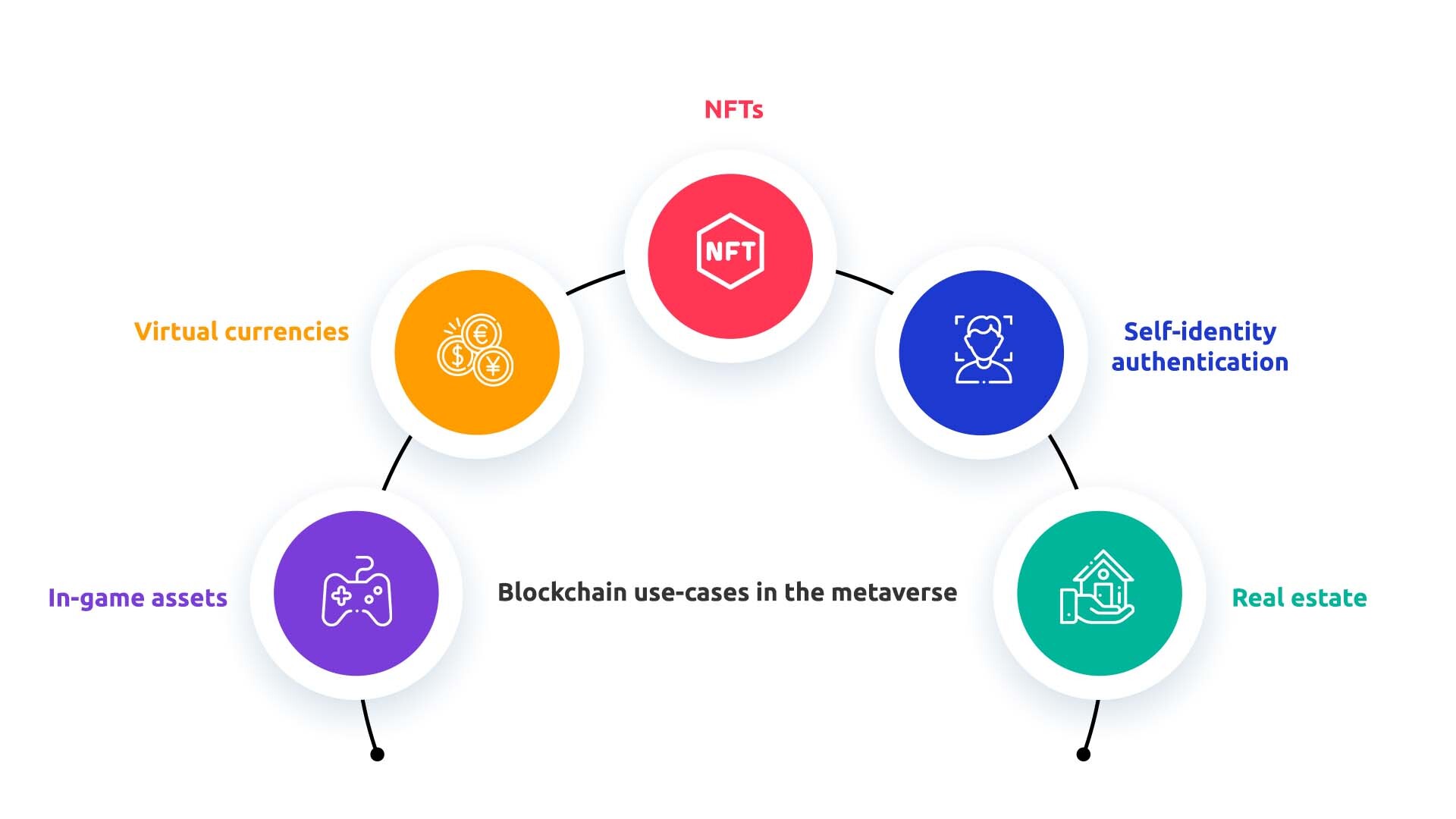 Ingame assets: The extensive development of metaverse games predicts that it will soon enable players to gather in-game assets as Metaverse non-fungible tokens. That will help them earn real-world money and do transactions in a specific economy. In that case, Blockchain protects the data.
Virtual currencies: One of the most prominent applications of blockchain in the metaverse is in financial transactions. Customers will soon be able to shop in virtual storefronts. Because consumption is continually expanding and retail is increasingly turning to online businesses. Million-dollar deals are being settled in games like Decentraland. Developing DeFi technology promotes a lot of virtual transactions; hence Blockchain is inevitable with the growing scope of cryptocurrencies.
NFTs: Having a wide range of applications, NFTs are attracting attention. They are vigorously used in trading digital arts and finding their way to other trading areas. The ability of NFTs to show proof of ownership and its applicability in different metaverse ecosystems makes it a key to owning a certain part of the metaverse.

Anyone can clone the assets within an NFT, but blockchain technology is mandatory to maintain original ownership of the NFT. With the help of blockchain technologies, we can create virtual NFT marketplaces in the metaverse environment.
Self-identity authentication: With the increasing number of users, it is important to store user data, not promote fake identities, manipulate identity data, and engage in illegal activities. This objective is achieved only through blockchain technology. All the details of an individual are saved on the Blockchain, assuring reliability and transparency of data.
Real estate: Few challenges in real estate involving Metaverse are assessing and regulating digital properties. Blockchain mediates all the activities, including creating, changing, purchasing, selling, or disposal of digital land.
The video below is a discussion by industry experts on the topic "Decoding metaverse and its business opportunities"
We discussed the inevitable relationship between metaverse and blockchain in the previous sections. Now, we shall learn how blockchain helps overcome some potential challenges in building a metaverse ecosystem.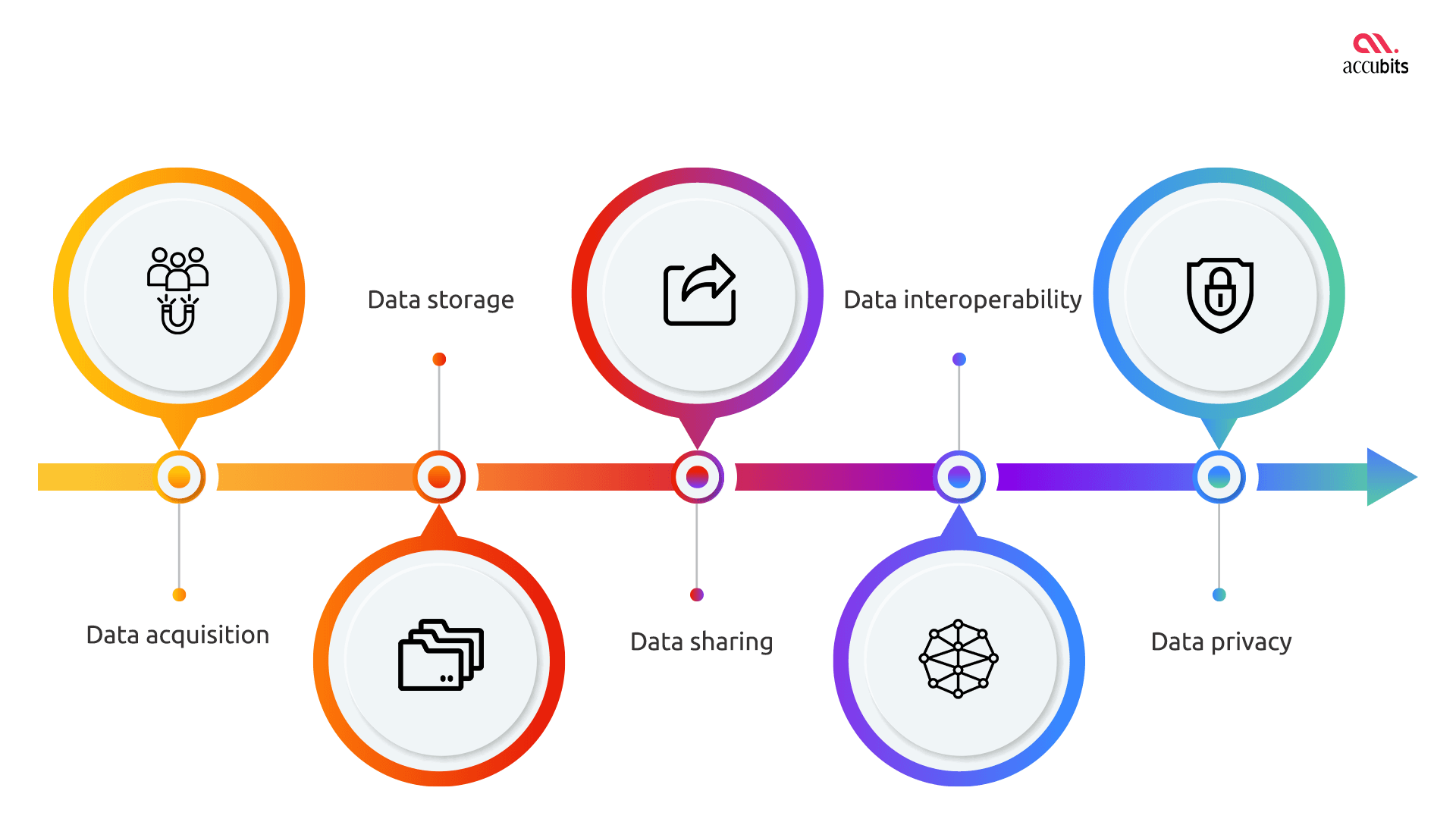 Transactional Data acquisition
Challenges in transactional data acquisition:
Since there would be truckloads of immense unstructured and real-time transactional data, the quality of data can determine the reliability and integrity of the services offered in the Metaverse. The volume of data collected will be so enormous that it can burden the data acquisition systems. Duplicate and inaccurate data may also be piled up, which tampers the quality of the data.
How does blockchain tackle the issue:
The distributed ledger in the blockchain will validate the transaction records and trace the metaverse data, making it easier for different applications to acquire verified and authentic transactional data. The data collected in the blockchain technology is secured in each block containing a cryptographic hash of the previous block along with a timestamp and the metadata so that they are resistant to attack.

Thus the specific validation procedure powered by various mechanisms in the blockchain technology prevents alteration and duplication of the in-process data. Hence the data acquired with the help of blockchain-enabled acquisition systems in the Metaverse will be 100% reliable.
Data interoperability
Challenges of data interoperability in the metaverse:
There is a restriction on transferring a user's digital possessions like NFTs and Avatars from one digital environment to another. The lack of openness makes it difficult to relocate to the virtual world. For example, using the same account in Decentraland and Roblox is not possible.

The metaverse interoperability is dependent on the capacity to manage the interactions between virtual worlds in an appropriate manner which is a serious limitation of the traditional approach.
How blockchain tackles the issue:
A perfect solution will be a cross-chain protocol that allows trading possessions like Avatars, NFTs, and payments between the virtual worlds. Thus, businesses can employ cross-blockchain technology to avoid the need for intermediaries in the metaverse.
Data privacy
Challenges related to privacy preservation in the metaverse:
Attackers can misuse personal data to trick other users. As a result, keeping personally identifiable information private is a matter to address. Even if we corporate validity information in the metaverse. It would complicate the large data management and thereby add additional challenges.
How blockchain tackles the issue:
Blockchain technology is the best solution that one can use to protect confidential data. The users can control their data by deploying private and public keys. Thus third-party intermediaries are not permitted to misuse or acquire data from other parties. Also, there is a facility in Blockchain where the data owners can decide when and how a third party can access their data.

The adoption of zero-knowledge proof on the blockchain allows individuals convenient access to identifying essential data in the metaverse while protecting their privacy and maintaining ownership over their possessions.

Zero-knowledge proofs are the mechanism of the blockchain by which users can persuade others that something about them is real without disclosing the information. Hence, blockchain protects the complete privacy of sensitive information.
Related article: Solana Vs Ethereum: Which one to choose for your next blockchain project?
Is Blockchain really necessary to create a Metaverse?
No. It has to be kept in mind that the Metaverse is not a single entity. Anyone can create a virtual space. Sandbox is an example of a metaverse. It is an ecosystem or Metaverse where users can create, manufacture, and sell their Non-Fungible-Tokens, play games, and buy real estate. These may sound stupid at first, but the popular American Rapper Snoop Dog and Adidas have bought virtual land in SandBox.
This metaverse ecosystem has its coins called sand. So just like in the real world, you can earn sand coins, buy new NFTs using sand and make sand coins by selling your assets. Here comes the importance of blockchain technology. An NFT or virtual land becomes valuable only when it can be sold and moved out of its ecosystem.
So only the Blockchain makes this kind of transaction possible from a virtual economy to a domestic economy. The transparency and security of the assets and precision in blockchain technology transactions play a vital role here.
Moreover, we are transforming our physical assets to digital assets and vice versa during the metaverse transactions, so don't you think there is a need for reliability for these transactions? Blockchain in the Metaverse is nearly the only technical option that could now guarantee the necessary level of confidence for a business when it comes to Metaverse economy-based transactions. Thus, making the role of Blockchain in the Metaverse inevitable.
Related article: How to build a metaverse virtual world?
Conclusion
Is Metaverse the future of the internet, or is it just the hype around this hot advent? Everyone is eagerly awaiting a response, but the truth is that we don't know for sure. However, the Metaverse appears to offer a plethora of possibilities and Blockchain is unquestionably an essential technology for Metaverse's core components, including digital evidence of ownership, money transfer, governance, accessibility, and interoperability.
Need help with metaverse development?
Reach out to us today for a no-obligation consultation
Contact us