Launching an app in today's world is not the same old game we played for decades. Technologies have changed, Diversity is more diverse than ever, and Consumer demands have changed. To build a lovable and addictive app, you need more than just an app development team. It would be best if you had Behavioral analysts, Psychologists, Design futurists, and Developer masterminds.
Making something addictive or habit-forming requires dopamine (a neuromodulatory molecule that gives humans a sense of pleasure). To build an addictive app, you have to design its user experience such that the minute details gives the user a dopamine release. In this article, we'll learn how to approach your app development. Feel free to jump to the different sections covered in this article from the index below.
Behavior Analytics focus
As the term suggests, behavioral analytics deals with the analytics of user behaviors as they use your app. It is tracking and analyzing your users' behavior to understand how well they like the app, its features, and the utilities it serves. Insights from behavioral analytics can help you improve the user experience.
One feature is all it takes
When an app is tested in an office, a good Wi-Fi mixed with a focus on marketing hides the reality. In contrast, the regular world is hectic and unpredictable, and users are not always connected to high-speed internet. Users' attention and behaviors towards the app are not always steady. They usually just want to get a job done through the app with minimal time and effort.
Fred Wilson, a renowned American venture capitalist, insists that apps should just do one thing well. The simplicity of an app lies in how easily it can get users in and out of service. Considering the app as a functional mediator between the user and a purpose, a single feature gets more loyalty than a rich and layered app experience.
For example, barcode scanning apps just do one thing. Scan barcodes and reveal the link embedded in them. Comfortable features like flashlight mode to scan in the dark and the history of scanned codes will put an app above others. Even though there are limited functionalities, the apps perform what they are supposed to — scan barcodes.
Read More: Our insights on using Flutter for mobile app development
Almost all highly addictive mobile apps serve a purpose in a really short time. TikTok took over the world with 15-second videos. Before that, Vine could do the same in just 6 seconds. In fact, these apps are partly to blame for reducing the attention span of average people. In just 6 seconds, the users laughed, and the dopamine convinced them to stay longer, scroll more and share it with others. Similarly, in 15 seconds, TikTok teaches a recipe, hairstyle, fun fact, and more.
Microsessions of satisfaction, fulfillment, and engagement are great sauces for the recipe for building addictive mobile apps. Apps like Uber, DoorDash, and Zomato do the same for real-world functionalities. A cab is just 2 minutes and an OTP away. Food delivery apps provide everything for cravings under one roof with enough filters for personalization, making users too comfortable to walk away.
Gamification – make it seem like Nintendo.
Apps have become a way of escapism, and people need a thrill out of them. Introducing a sense of competition or 'gamification' can make mundane things interesting because nothing is more addictive than winning. Google Pay makes payments (something which could be heartbreaking) fun by rewarding each time with coupons and discounts for online shopping and services. The new game is to gradually build a house every time you pay to reap the rewards at each milestone.
Snapchat's main life support is its Streak feature. The app counts the days you and your friend send snaps to each other. If either of you misses a day, the entire streak you built one by one every day is lost! This is a simple yet creative way to gamify something so regular as sending photos. Snapchat adds flare to the same with filters, unique editing options, encouraging reminders when 100 days are crossed, etc. Thus, adding little game elements is another way to build addictive apps.
App Design Trends
App designs are influenced by rapid growth in technology. Front-end developers should always watch what's comfortable and what is not. Sometimes, a popular app might influence people's user experience preferences, and you might have to adapt to that.
For example, Pinterest observed the ease and satisfaction of double-taping a post on Instagram. Sometimes people double-tap just because the flashing red heart feels good. Now you can like posts on Pinterest similarly, and a red heart with eyes and mouth appears.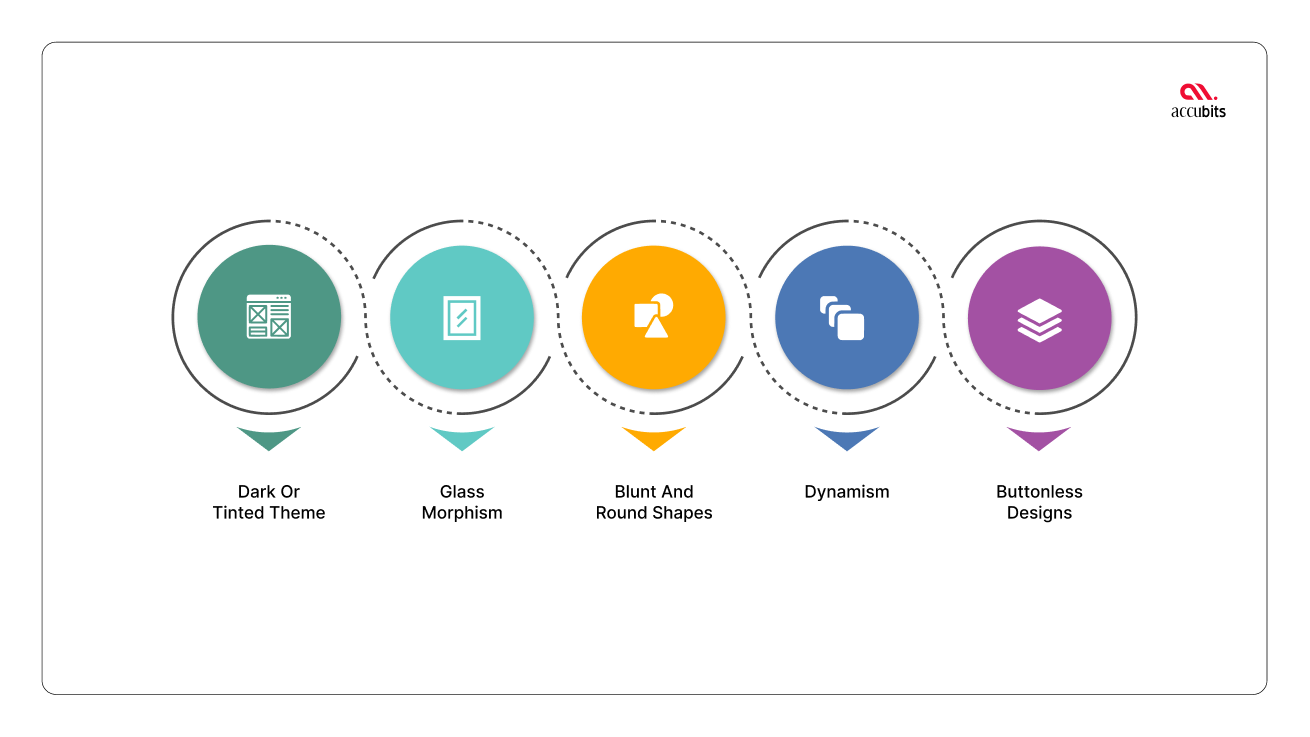 Designs can be driven by demand just as they can be by comfort. UX/UI is one area where adequate market research goes a long way.
1. Dark or tinted theme
The UX of Netflix is such that it gives you that dark movie theater experience with vibrant posters all around. Youtube's dark mode was an instant hit. A survey by Android revealed that 81.9% of mobile users use dark mode on their phones and 9% switch between light and dark. Besides emitting less blue light and aiding in sleep, dark themes have better contrasts with light-colored features helping with accessibility. Tinted themes are also a trend in the era of dark themes as they give your app an extra layer of personality.
2. Glass Morphism
The trendsetters of UX/UI, Apple, Microsoft, and Dribbble, had recently adopted transparent and blurred backgrounds for their interfaces, known as glass morphism. The design looks like a frosted glass that also seems to be floating. Apple brought this design through iOS 7, and Microsoft uses it in the name of 'The Acrylic.' Glass designs give out a 3D experience that is especially rich in depth. Multiple layers underneath the glass design set the color theme and the overall personality of the app.
3. Blunt and Round Shapes
Whatsapp recently made its chat bubbles more round and colorful. Round and blunt designs qualify as 'cute' and are generally associated with being approachable. Sharp and edgy designs are more confirming and decisive. Sharp designs, such as mobile banking UIs, are usually used for serious purposes with a substantial conclusion. Causal apps resort to round non-conforming designs, which have lately been everywhere. The non-linearity of an app evokes a sense of friendliness and comfort; thus, users are subconsciously less triggered. Rounder designs could be a subliminal ingredient for building addictive mobile apps.
Need help on building an addictive mobile app?
Reach out to us today for a no-obligation consultation
Contact us
4. Dynamism
Icons and symbols that move or make a sound upon clicking give life to the app. Micromovements make the user experience more lively and vivid. They also aid in driving the users from one option to another inside an app. For example, when you like a post on Facebook, an addictive popping sound is heard.
5. Buttonless Designs
Like smartphones, apps also go for buttonless designs where there is no back or exit button from one page to another inside an app. Mobile applications have evolved so much that users need not be told what to do with icons. Gestures and swipe designs are quick and comfortable. Years of app usage have nourished the users with intuition, so why waste design energy on perfecting a home button. For example, on Instagram, you can just swipe to move from the story of a profile to the next profile. No button says "next," as the job is done with just a swipe.
Retention Makers
If you are to go back to something you closed, two of the many reasons could be; that you have unfinished business or do not want to miss out on what's happening there. The stickiness index and the duration people spend on a website in a single session used to be relevant. But app developers and users have evolved into short and instant use cases where it is counterproductive to stay on an app for a long time. With games and rapid social media being an exception, the number of times an app is reopened and the number of users retained is a more reasonable measure of an app's success.
Here are some user retention ideas to consider while building addictive mobile apps.
1. The onboarding hook
User onboarding is perhaps the most crucial for retention. It is the first impression presented to an acquired customer. User onboarding must present the best of your features, but it should not overwhelm the user with too many details. The signing-in and account creation processes are a few stones users have to jump through so that you retain them for a long time.
Many apps provide a demo at the start about using the app. It is the first look into the app UI and graphics. Engaging visuals with an option to 'skip' for busy users is the template for building addictive apps. Remember, the Day 1 retention rate will determine a third of your retained users.
2. A Habit
App developers must create user habits to stand out as a frequently visited app. Users get more value from an app the more they use it. Many games offer points or other bonuses each time a player opens the app. E-commerce stores have limited deals that can only be availed if the user logs in from time to time. Social media apps always win at the metric of creating a habit. A personalized routine the user develops with the app is a great reason they will retain as loyal customers. Thus a focus on personalized habits is essential in the recipe for building addictive mobile apps.
Duolingo, a language learning app, sends notifications reminding users to spare 5 minutes to learn Spanish or French. You get brownie points for logging in every day. As a learning app, Duolingo rapidly tests users after every session and immediately rewards them for their performance. The timely reminder and instant gratification keep Duolingo on the home screen of many smartphones. Duolingo's Day 1 retention rate is 55%, and it is twice the percentage for an average Android app.
3. Triggers
Push notifications are one of the best ways to keep in touch with your users. Zomato does this perfectly by sending push-notifications around lunch and dinner hour (usually with a lame pickup line that makes you laugh) to get people to at least browse the app. Social media apps notify you about likes, comments, or DMs through push notifications. Just remember not to overdo it by spamming too much.
4. Growth Cycles
The more we invest in something, the more we stick to it. This is called the 'sunk cost trap,' and it can be used to retain the users of an app. One way to do this is by introducing growth cycles. Adding a feature highlighting the users' progress in creating a profile (for example, LinkedIn) or other app features gives users reassurance and satisfaction for investing their time in an app. And as an ROI, you get higher retention rates.
Analytics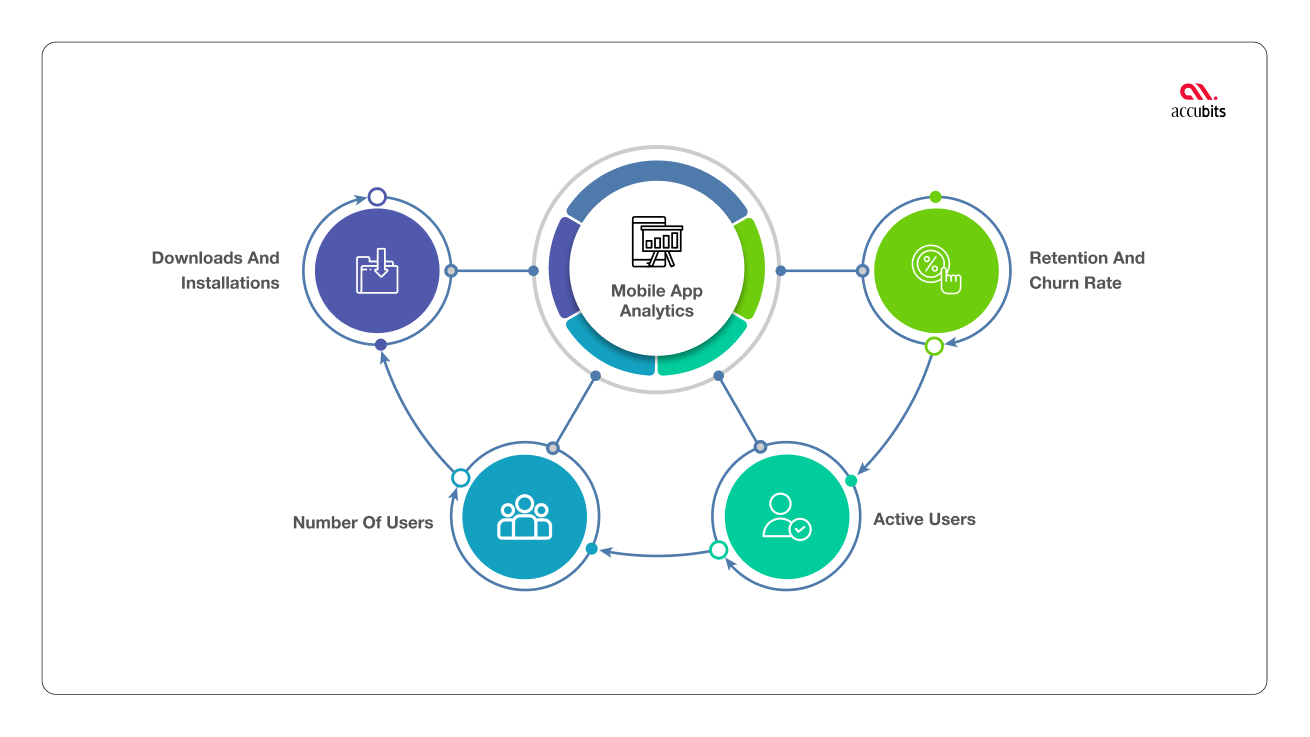 1. Downloads and Installations
The number of downloads is probably one of the oldest metrics and an indicator of an app's popularity but not necessarily its success. For instance, Candy Crush is the best-selling app on the play store, but the most downloaded is Garena Free Fire. When building addictive mobile apps, the last step is perhaps to get people to download them. Even though the download count may not be as relevant as other analytics, getting downloaded by people is the cherry on top of all the effort put into building an addictive app.
2. Number of Users
The number of mobile app users differs significantly from the number of installations or downloads. For example, a person might install an app on their phone and tablet, so the download count is two while the user count is one. The best metric to foresee an app's retention rate is to count the number of users signed in. Thus an app should also focus on scalability to maximize the number of users and the traffic.
3. Active Users
Users who actively engage with an app are less likely to discontinue using the app, reducing the churn rate (more about this in the next point). According to Sequa Captial, if the Daily Active User (DAU) rate divided by the Monthly Active User (MAU) rate is above 20%, it is considered decent. Apps with over 50% active users are considered legends; one of them is Facebook.
4. Retention and Churn Rate
Comparatively, retaining an app user is much harder than acquiring one, which may not be that easy in itself. The Customer Churn Rate (CCR) indicates the users that stop using the app in a given time frame. The active user count data can give insights into who has retained and churned out. If users stop actively using at a certain point in their journey through the app, that's where the change should be. Calculating the retention and churn rate helps diagnose what went right and wrong while building addictive mobile apps.
Top Addictive Mobile Apps 2022
Mobile apps that made it to the top 10 monthly active users include Facebook, WhatsApp, Instagram, TikTok, Twitter, Spotify, and Netflix. Apps built for communication and connection, such as WhatsApp and Telegram, seem to have mastered the recipe for building addictive apps, while music and entertainment stand right behind them.
One of the reasons TikTok and Instagram are addictive is their smart recommendations. If you watch a category of TikTok watched by others, you are likely to get similar videos in your scroll that others with your interest have watched. Another reason is the concept of the attention economy. Users' attention can stay put only for a few seconds. And apps like TikTok, Instagram, and even Youtube prevent you from exiting the app by rapidly bombarding your senses with more content.
Cloud meeting and video conferencing app, Zoom also takes a spot next to the top 10. Gaming apps have taken a tour into 3D graphics and storytelling. Clash Royals and Genshin Impact recently gained popularity as gamers experience in-depth designs and sounds, making more than just winning a round.
Future of App Development
The future of app development will be focused on adapting to advanced technology like 5G, AI, AR, and VR-based. Faster internet speed, high performance, and the provision to add wearable devices will encourage app developers to add more actionable features. Parallelly, the deep dive into technology may also demand tighter security; thus, a larger focus on security systems can also be expected in the apps of the future.
Need help developing an addictive app?
Reach out to us today for a no-obligation consultation
View Services