Ever since Mark Zuckerberg and his team stirred the conversations around the word Metaverse, it has become the center of attention for tech giants worldwide. Many market leaders across different businesses have already started establishing a presence in the virtual world. However, a fully developed version of this technology might still be far into the future. Regardless of its nature and size, every business can make metaverse a part of it, just like any web application available today.
This article is a brief guide to a metaverse, its benefits for retail stores, and how a retail store owner can launch a virtual store in the metaverse.
The Metaverse is a collective virtual open space created by converging virtually enhanced physical and digital reality. It is physically persistent and provides enhanced immersive experiences. Activities in isolated environments (buying digital land, constructing virtual homes, participating in a virtual social experience, etc.) will eventually occur in the metaverse. The metaverse combines multiple technologies that allow users to live in a digital universe.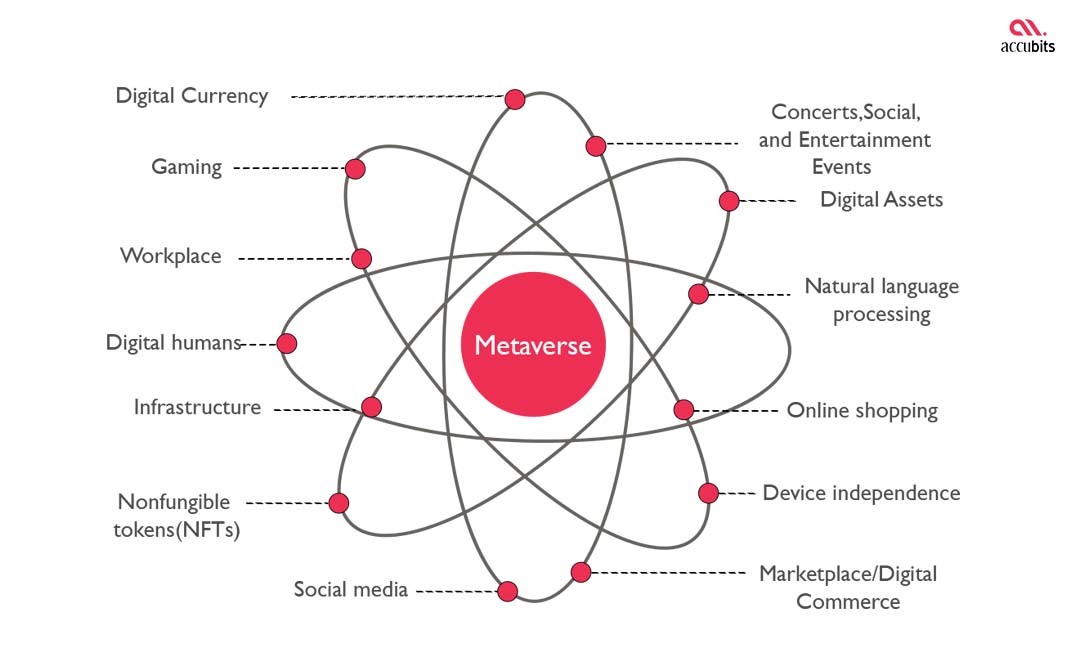 According to Gartner, Inc, by 2026, 25% of people will spend at least one hour a day in the metaverse for work, shopping, education, social, and entertainment. A metaverse will be made up of multiple virtual worlds and everything we have in real-life—just in a virtual form. This includes home designs, fitness programs, games, shopping, travel, meeting rooms, etc.
Related article: The inevitable role of blockchain in the metaverse
The metaverse is rapidly becoming the next digital frontier. A huge credit for that goes to Facebook's rebranding itself as Meta and announcing that it would invest billions into metaverse-related projects.
But there is so much more to attracting tech companies and brands to build a presence in the virtual world. To begin with, activities that currently occur in isolated environments will eventually occur in a single metaverse. These include:
Buying digital land and constructing homes
Purchasing outfits and accessories for online avatars
Shopping in virtual malls with the help of immersive commerce
Participating in a virtual store experience
Buying digital art, collectibles, and assets like NFTs
Studies predict that the metaverse will lead to decentralized, persistent, collaborative opportunities and revolutionary business models. As such, it allows businesses to expand more through the digital space.
Moreover, the metaverse will provide equal opportunity to businesses of all kinds. From small brands to global companies, everyone has a square chance at diving into a virtual world and reaping the benefits of having a presence there.
Metaverse brings opportunities for every industry—from artists, education, and entertainment to gaming, interior design, shopping, influencers, and the service industry. The current high-value projection of the metaverse projects it as a major player in growing the digital economy.
Related article: What is Web 3.0 and why does it matter for a business?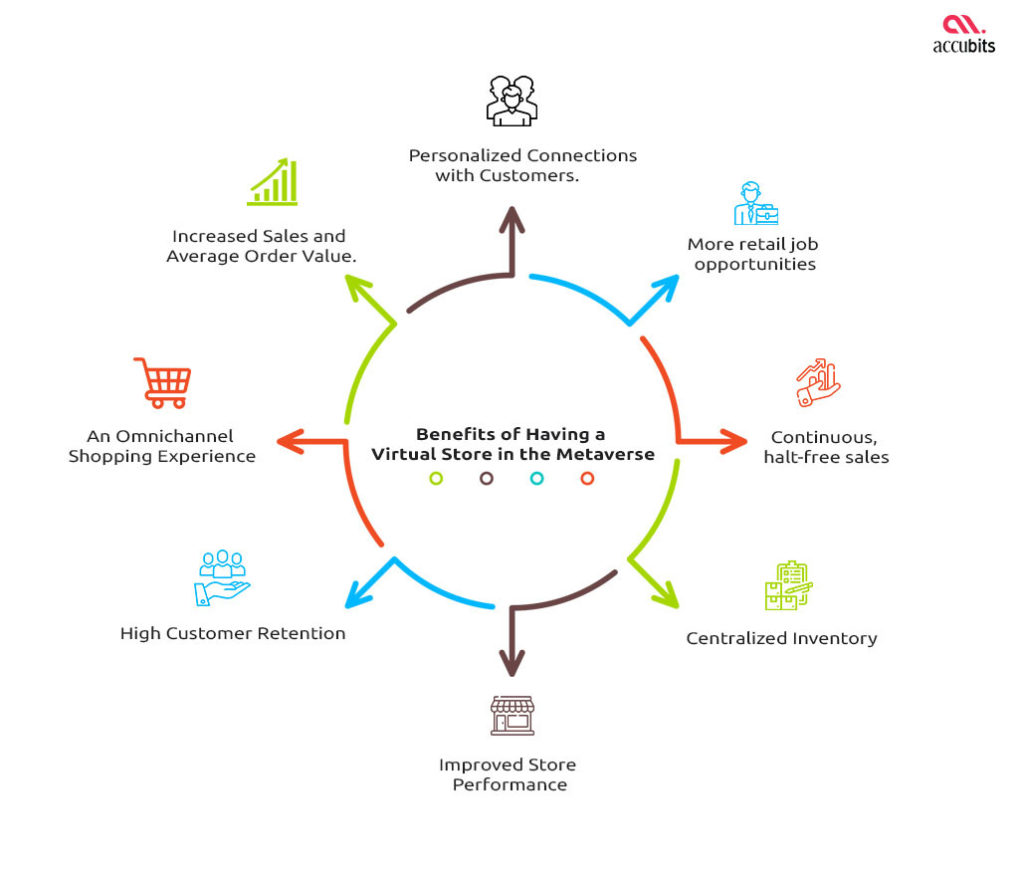 Today, many individual use cases and products are creating their versions of a metaverse. With almost everything shifting online, it makes sense to analyze the benefits a virtual store brings with itself. These benefits are:
Personalized connections with the customer
Virtual stores allow you to connect with customers in a way retail giants can't. Online shopping does not offer the warmth of a human touch—a personal connection that makes customers feel valued and secure. But virtual stores in the metaverse can change that game forever.
In the metaverse, customers can start an online conversation with the salesperson, allowing them to experience the same level of service as in-store shopping. Though it may seem impersonal, it elevates the customer experience to a premium level because the brand engages with the customers in real-time at their convenience, uninterrupted by physical borders.
Increased sales and average order value
Virtual stores allow you to see the products that customers are browsing or interest them in real time. You can use this observation to provide a personalized virtual consultation by offering relevant recommendations and assistance. In addition, this allows you to cross-sell and upsell simultaneously.
With virtual stores, you can own the commerce experience through and through. It allows you to create a seamless journey from your online store to a physical location.
High customer retention
With virtual stores, you can boost customer retention and turn shoppers into lifetime customers. Personalized assistance in virtual stores helps brands encourage customers to opt-in for product information. Brands can then send text and email messages to share new releases, notify when a product is back in stock, etc. This kind of one-on-one personalized conversation leads to a growth in customer loyalty.
Improved store performance
With the help of virtual clienteling apps, brands can measure employee performance and provide helpful feedback wherever necessary, thus improving overall processes and boosting employee engagement. Some common KPIs to consider in this case include:
Chats/conversations initiated by the store associate
Number of orders initiated per store associate
Average star rating or customer satisfaction score
Average order value
Gross revenue generated per store associate
Chat-to-sale conversion rate
Centralized inventory
A virtual store also reduces the hassle of managing in-store stock at multiple locations. You can hold all the stock at a centralized location—a warehouse or an order fulfillment center—that ships all the orders in-store or online.
Continuous and halt-free sales
Virtual shopping allows retailers to continue selling irrespective of where they're working. You can give your team the tools and resources to give customers the confidence to buy when physical stores are not operating.
Couple this with a centralized stock location and give your customers a hassle-free and convenient shopping experience.
More retail job opportunities
Contrary to popular belief that technology eats up jobs, virtual shopping keeps your associates employed. Though virtual, your store will need to provide personalized assistance to thousands (hopefully more) customers.
Brands can develop different employee engagement strategies that encourage them to engage with customers. The associate gets credit for the sale when a customer completes the order.
Want to develop your own virtual store?
Reach out to us today for a no-obligation consultation
Contact us
Now that we've learned the benefits a virtual store can bring to your brand, let's understand the process of setting one up.
The metaverse is a gigantic mall with limitless entertainment and shopping opportunities at the most rudiment level. Just as brands rent or buy a space in a physical mall, you need to buy a space in the metaverse. You can either buy land on an existing metaverse (like Decentraland, Sandbox, etc.) or create your private virtual world.
The complications revolving around blockchain, crypto, and the metaverse are expected to rise in the near future, so if you don't have the proper technical expertise in the above domains. Consult with a trusted global tech leader to dive into its potential use cases. Accubits helps you launch a future-ready metaverse by offering technical and development assistance for your project. Our blockchain, AR, and VR capabilities help us develop 3D virtual spaces, virtual world apps, NFT marketplaces, and other metaverse components.
Choose the right blockchain
Whether launching your store on an existing metaverse or creating your private virtual world, you must carefully consider the underlying blockchain technology. The blockchain you use for your metaverse will define the kind of experience your customers can expect from your brand. Factors like managing high traffic, transparency, decentralization, etc., will all contribute to creating a truly limitless virtual space.
Presently, the following blockchains are taking the lead in developing metaverse stores.
Ethereum: The most popular blockchain, Ethereum uses smart contracts that run exactly as programmed, without any third-party interference. Decentraland, The Sandbox, and Cryptovoxels are examples of metaverse platforms based on Ethereum.
Cardano: Cardano currently powers the Pavia metaverse platform. Pavia uses blockchain to create a decentralized user environment with lower gas fees and a minimal carbon footprint.
Polygon: Designed to make Ethereum more scalable, Polygon currently supports Bloktopia, a decentralized VR experience that allows users to study, earn, play, and purchase land in a 21-story spatial structure.
Binance Chain: It is the home to some of the top metaverse projects. These projects include RPG games such as Cyber Dragon and Alien Worlds to 3D virtual universe-based projects. Metaverse is in its early stages of development, so there are many misconceptions and rumors around it. But still, it's on its way to becoming a mainstream technology.
Add the required elements
Owning a virtual store isn't only about adding the seemingly relevant technology to your website. Metaverse stores are all about creating an immersive experience for shoppers that keeps them coming back.
Two great examples of an immersive metaverse experience include:
The Haptic technology allows people wearing a Skinetic vest to feel sensations from raindrops to bullets.
VR Goggles by Meta allow shoppers to feel what they touch in the metaverse.
Shifting your business to the metaverse will also mean developing, or at least considering using, technologies like virtual reality (VR), augmented reality (AR), and artificial intelligence (AI).
Interactions in the metaverse occur due to the fusion between social networking and AI technologies within a virtual world ecosystem, which aims to provide an intriguing visual experience. Consumers will prefer businesses that can understand that. To adapt to this new reality, developing an AR/VR application that gives your customers access to some of the features of the metaverse sounds like a good choice.
Brands can start experimenting with VR headsets and other supporting technology to get the show off the road.
If you plan to launch a virtual store in the metaverse that runs on a decentralized ecosystem, consult with a reliable metaverse solutions development company to gain better insight into how to build one for your retail store.
Tips to master entry into the metaverse
Here are some bonus tips brands can employ to master their entry into the metaverse.
Strengthen your online presence
You're missing a lot if your business does not have an online presence today. Before diving deep into the metaverse, brands must create a strong, reliable online presence. Present-day online platforms can be considered a training ground for a gigantic arena you will be entering with the metaverse.
This includes mastering basics such as a high-quality website for your company, raising traffic flow, and exploring popular online media outlets like Amazon, Shopify, eBay, Instagram, etc.
Brands may also need to consider a virtual makeover better to fit the tech and social demands of the metaverse. It would also make sense to develop collectible versions of your products, like NFTs.
Master 3-D models
The metaverse will surely bring a new dawn of commerce, but it will rely heavily on 3-D models in its infancy. Therefore, it would make sense for brands to perfect whatever 3-D models are currently in use, as they will be the springboard needed to plunge into the metaverse.
Focus on your target audience
The target audience varies from company to company. Your target audience heavily determines how your products or services are advertised or sold. A metaverse-optimized product need not necessarily be all you need to move your business into the metaverse.
Start with thorough market research and closely analyze aspects like age and gender demographics and the top experiences preferred in some metaverse-like platforms.
Get comfortable with cryptocurrencies
As has been said an infinite number of times, cryptocurrencies are the future. The metaverse does and will rely heavily on cryptocurrencies. To do business in a virtual world, you must comprehend and adapt to virtual currencies.
If your business does not have a cryptocurrency yet, it makes sense to create one and start building its influence would be the wise thing to do.
Stay adaptable
While the metaverse is in the development phase, there are no right or wrong decisions. Doing business in the metaverse is a trial-and-error process that calls your brand to remain adaptable to the changing nature of the virtual world.
Businesses can make use of metaverse communities to virtually test their products. Moreover, this will give them insights into the customers' needs and help them predict future trends and innovations.
Related article: How to build a metaverse virtual world?
Many of the world's popular brands are already immersed in the metaverse. Not only tech companies but artists, designers, architects, bankers, etc., should be ready for such a conversion. Here is a list of brands that are actively betting on the metaverse.
Facebook, a.k.a. Meta: The brand that gave the due momentum to the virtual world, Facebook, launched a Horizon Workrooms app last year. This app allows workers to create an avatar, collaborate with others on a whiteboard, stream what is on their laptop, make notes, and interact with co-workers who video conference into the virtual room—all while sitting in their real-life workspace.
Microsoft: Microsoft launched the Microsoft Mesh, a new mixed-reality platform that allows people in different physical locations to join collaborative and shared holographic experiences on different devices. The platform will also allow geographically distributed teams to have more collaborative meetings, assist others, host virtual design sessions and meetups, etc.
One thing that stands out about Microsoft's metaverse concept is that it is modeled on the real world. It aims to provide a platform to digitally map and monitor everything—from warehouses and factories to retail stores—in a real-world business environment.
Nvidia: Nvidia Omniverse is a platform that connects 3-dimensional worlds into a shared virtual universe. Omniverse is currently used across several industries to design collaborations and simulate real-world buildings and factories.
For example, the Omniverse allows engineers to test a new line design, check ergonomics for workers, and do efficiency tests without being physically present in the factory.
Many architectures, engineering, media, manufacturing, game development, and construction companies use the Nvidia Omniverse for their workflows. This includes big names like BMW, Ericsson, and Bentley Systems.
Roblox: Roblox Company is working to create a virtual universe where users can do anything they dream of. Roblox wants to replace the classroom, the tennis club, the pub, and the corporate office by combining them all into one.
Roblox recently created a rather interesting metaverse-like experience in collaboration with Gucci. The Gucci Garden in Roblox was divided into themed rooms, allowing visitors to immerse themselves into the brand's creative vision and inspirations and share the experience with their friends.
Benetton: The Italian brand's metaverse retail store allows digital shoppers to engage in gaming experiences with the opportunity to collect QR codes which you can then use to make purchases in Benetton's physical stores.
Related article: Top 10 Doubts And Questions On NFTs Answered
The bottom line
As we move into the digital world, brands must focus on creating emotionally appealing retail experiences. In the metaverse, this means using sight and sound to create a space that feels as real as possible.
It also means considering clever tactics to allow for taste, touch, and feel to be a part of the metaverse shopping experience. While this may seem quite a task initially, nothing hasn't been done in the real world.
With Nike and Walmart taking some of the first steps into metaverse retail, it's worth looking into rather than being left behind. Attention to minute details and a better focus on providing an immersive experience will be the key for brands to create an immersive retail experience that is second to none – even in a virtual world.
Need help with metaverse app development?
Reach out to us today!
Contact us